Container Home Floor Plans
Learn how to create attractive container home floor plans in just a few minutes


Create container home plans in minutes, not hours


Duplicate floor plans instead of starting from scratch


Generate photorealistic visualizations in 5 minutes
6 Important Container House Floor Plan Considerations
When you're working with the limited space of a shipping container, creating a floor plan that's both practical and comfortable can be a challenge. Here are 6 things to keep in mind when designing container homes for clients.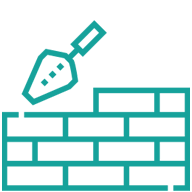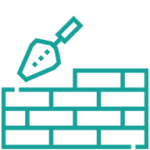 Foundation
Although the foundation won't affect the interior floor plan, it's still one of the most important considerations. There are several types of foundations commonly used for container homes — pier, pile, slab, and beam. To choose the correct one, be sure to check with local code offices and an engineer to see what is safe and allowed in your area.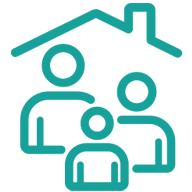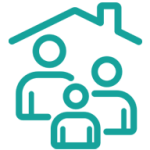 Number of Occupants
The number of occupants is one of the biggest factors to consider when creating the floor plan. That's because additional occupants need places to sleep and more space for moving around. And don't forget pets — cats need their litter boxes and dogs need their beds.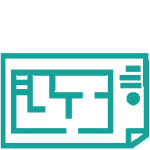 Space and Layout
When creating a container home plan, you can't afford to have wasted space. That's why it's important to first understand your client's needs and lifestyle. Then you can adapt the plan to meet their needs.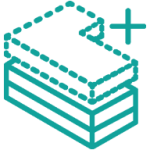 Loft or Single-Level
Since container homes have a fixed height, your options are limited when it comes to adding a loft. One option is to create a raised bed platform with an office or storage space underneath. For more flexibility with loft options like this, go with a high-cube shipping container that's 9 feet 6 inches tall.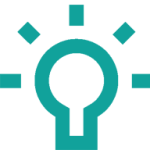 Natural Light
One of the biggest considerations when creating a container home is how much to modify the existing shipping container. Every time you cut steel out of the container it costs both time and money. But, ensuring you have adequate natural light is also important to everyday living. Make sure you know exactly where you want windows and doorways to be, because once the steel is cut…there's no going back!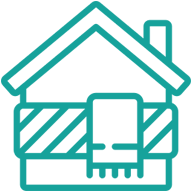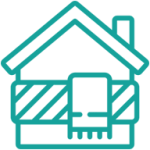 Insulation Square Footage
Insulation is a huge part of creating a liveable container home. While choosing the right type of insulation is a big part of the process, remember that adding this will also take up some of that liveable square footage both on the floor plan as well as the ceiling height.
Container House Plan Examples
Want to see some floor plans in action? Check out a few examples of real container home designs you can create with Cedreo.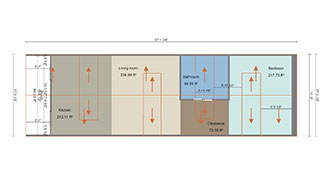 2D Container Home Floor Plan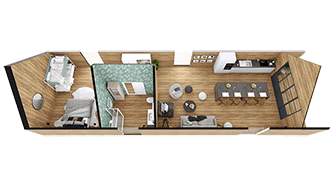 3D Container Home Floor Plan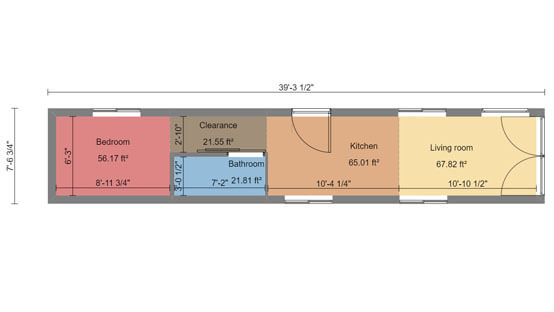 2D Container House Floor Plan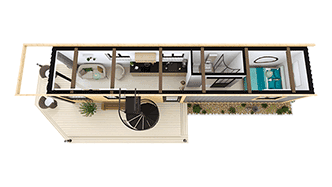 3D Container House Floor Plan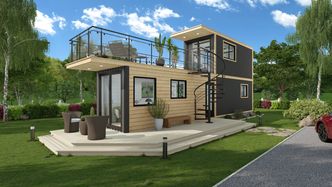 Exterior Rendering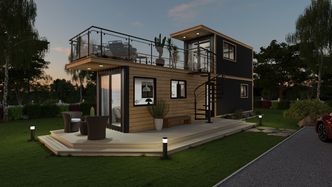 Exterior Rendering at Night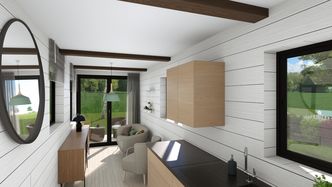 Interior Rendering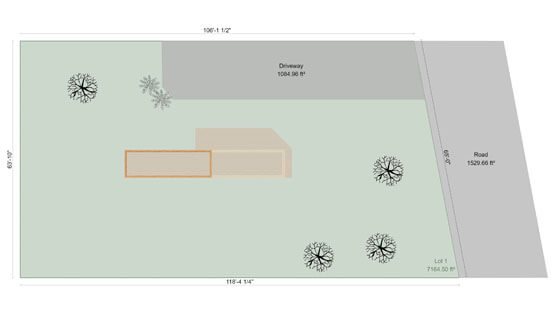 Tiny House Site Plan
Container Home Floor Plan FAQs
Here are some answers to frequently asked questions about container homes.
How much does it cost to convert a container into a house?
Shipping containers range in size and cost, but on average it costs between $10,000 – $35,000. Of course, the cost will also vary based on amenities and materials used to create the perfect space.
Do container homes need a foundation?
Yes. While shipping containers are very strong, solid structures, that doesn't change the fact that the ground moves a considerable amount over time and even more depending on environmental factors.
What size container do I need?
Fourty-foot shipping containers are the most common containers purchased when converting into a home. 40' containers comfortably fit a two-bedroom one-bathroom floor plan with an open living room and kitchen.
How long do container homes last?
Unlike regular homes, container homes do have a lifespan due to wear and tear. If the container is new when the home is built, it should last about 25 years. If the container is used, that lifespan gets shortened to approximately 15 years.