Floor Plan Software: 2D layout, 3D visualization
Everything your team needs to sell, collaborate, and coordinate your home building and renovation projects.
Comprehensive and Intuitive 3D Floor Plan Software
Help your team create plans intuitively and easily with floor plan software dedicated to single-family home builders and renovation professionals.
2D & 3D Floor Plans
Cedreo's floor plan software offers intuitive features for quickly drawing complete 2D plans. Cedreo lets you switch from 2D to 3D plans with a single click. Rooms laid out in 3D give a realistic and convincing overview of the final result, and helps remove any doubts your customers might have before the sale.
Find out more about floor plans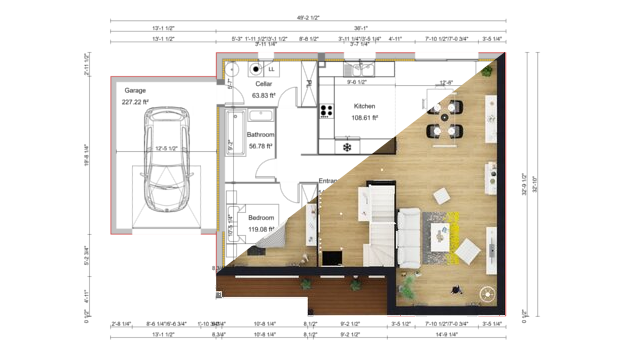 Site Plan / Terrain Modeling
Cedreo simplifies natural terrain modeling and finished site design. In just a few clicks, you can define property limits, set back lines and building layouts, define elevation points, and manage the complete 3D layout of the plot. Get a scaled ground plan of your project.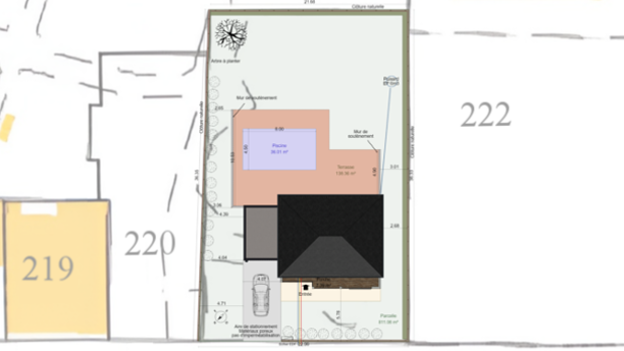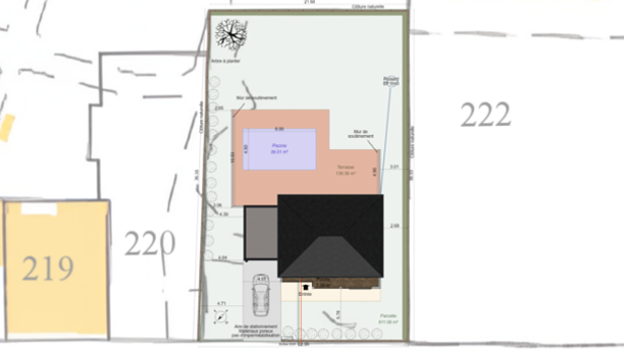 Cross Section and Elevation Views
Once the terrain has been modeled and the floor plans created in Cedreo, the elevations are ready to be generated in just one click. Cross-section plans are also easy to generate. These plans are automatically modified as soon as the floor plan is modified, and can be annotated and downloaded at any time.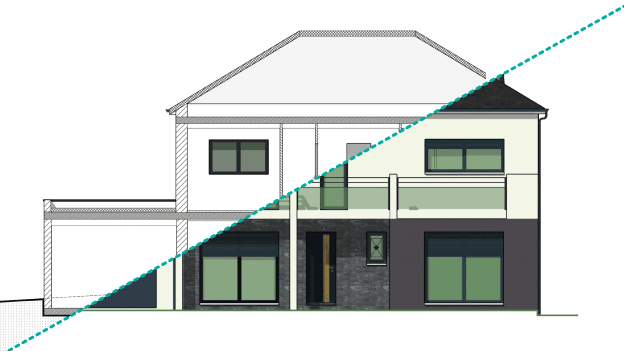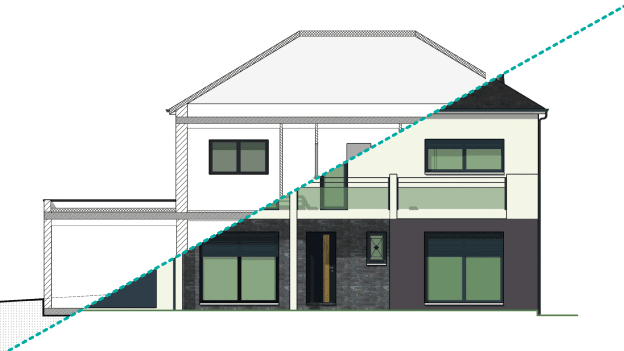 Your House Plans Drawn Faster
No special training is needed to draw professional plans with Cedreo.
Create ground plans, 2D & 3D floor plans, sectional plans, elevation plans, roof plans, etc.
Import plans to use as layers in your project
Configure wall thickness and height
Configure walls, slabs, finished floors, and ceiling thickness
Choose wall types (waterproof, insulated, partition, etc.)
Simultaneous 2D and 3D views
Reduce or enlarge plans with the resize tool
Transpose vertically or horizontally with the mirror tool
Compass rose and house orientation on the plan
Easy-to-use, automatic, and customizable roof integration
Extensive library of customizable doors and windows
Extensive library of symbols
Customizable annotation and dimensions on plans
Automatic surface area calculation
Request a demo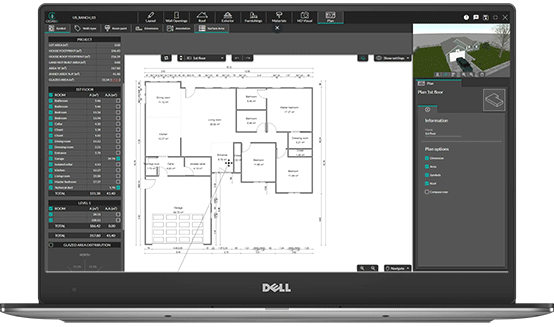 All Your Plans in One Place
Gather all the plans and documents you need to sell your home building and renovation projects.
For each of your projects, you'll find all the essential documents, grouped together in one place, up to date with your latest modifications, and annotations, and downloadable at any time:
Site plans
2D & 3D floor plans
Cross section plans
Elevation plans
Roof plans
Photorealistic 3D renderings
Surface area table
Request a demo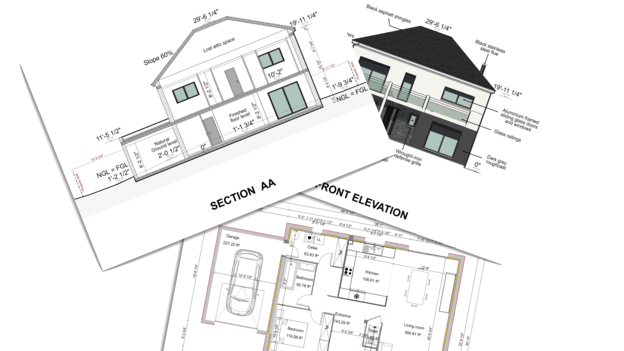 Get Your Team Working Together on the Same Project
Gather and share all validated plans in a single tool, ready for modification, and presentation to the customer.
Help your teams be more productive with the shared plan catalog. Designed to suit all teams, you can use it to group together your modeled sites and flagship projects. Once drawn and validated by the design team, these projects will be ready for use by pre-sales and sales teams.
Request a demo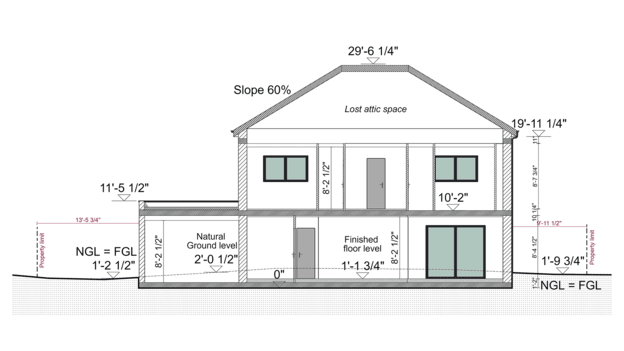 Estimate The Cost of Your Plans
Automate the cost of your project and improve your sales process: a faster and more reliable way to secure your margins.
Estimate the total cost of a complete construction project drawn in Cedreo, automatically. Plot, modify, and benefit from automatic, real-time project cost updates.
Find out more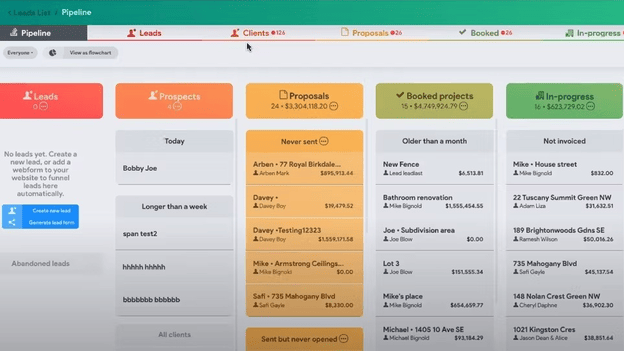 Planning Software for Home Builders and Renovation Professionals
Benefit from a complete toolbox for creating professional plans.
Import Plan
Save time by importing an existing floor plan, ground plan, or property plan, and using it as a layer to start your layout.
Simultaneous 2D & 3D Views
Create a 2D house plan with simple drawing tools and watch it come to life in 3D simultaneously.
Automatic Roof Detection
Add a roof automatically and customize it: roof type, roof pitch and thickness, cladding, add dormers, gutters, and more.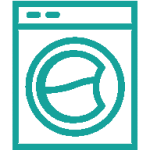 Extensive Symbol Library
Add symbols to your plan to represent your project's technical elements, staircases, or interior layout.
Automatic Surface Table
Detailed tables of living and glass areas are automatically updated as you draw and can be downloaded at any time.
Automatic or Customized Dimensions
Add precise dimensions to your plan to make it easier to read. It just takes a few clicks.
Annotations on Plans
Annotate your floor plans, cross-section, elevation, and site plans to make your project as precise as possible.
Print to Scale at 300 DPI
Draw your plans and print them accurately to scale. Plans can be downloaded in 300 DPI for high print quality.
Ready-to-use House Plan Catalog
Your catalog drawings are available in Cedreo, ready to be modified for your customers, and shared with the design team.
House Plans Created with Cedreo Software
Discover house plans design with Cedreo. Whatever the type of project, draw and design the interior and exterior to help your customers envision themselves in their future homes.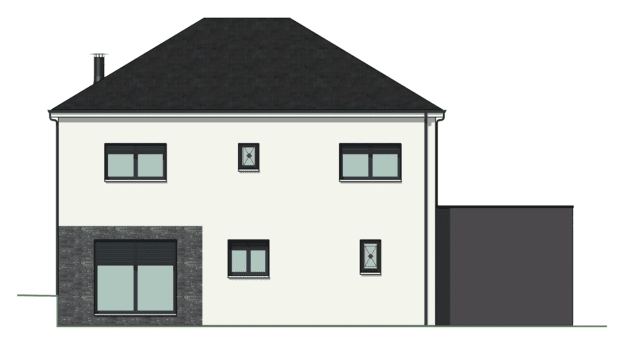 Elevation Plan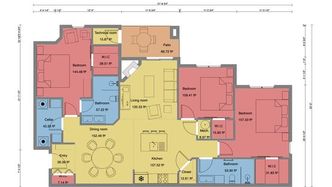 Colored Plan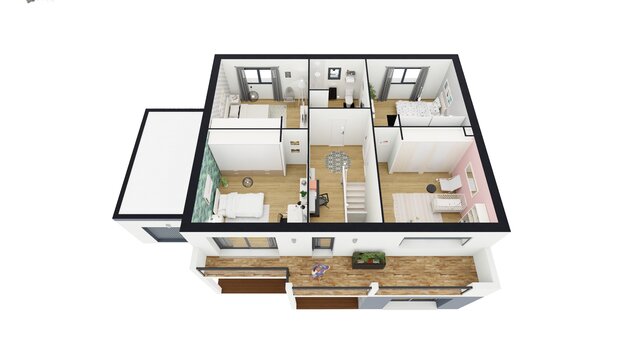 3D Floor Plan
It's easy to use.
But you can always count on Cedreo support.
To get you up and running faster.
Because you can always save time and do more.
Find out more about Cedreo support
Read What our Happy Customers Say About Cedreo