Patio Planner Software
Design 2D & 3D Patio Layouts in Minutes
Create Patio Layouts and 3D Visualizations Online
It's never been easier to get your clients excited about their new outdoor living area! Use Cedreo online patio design software to create detailed outdoor spaces your clients will love.
Stop outsourcing your design work or using complicated CAD programs. With Cedreo, you can create professional 2D and 3D patio designs in minutes. Cedreo's powerful features and extensive library of plants and materials let you quickly create elaborate landscape designs.
Start using Cedreo, and see how you save time and money and close more deals.
Learn more about Landscape Design Software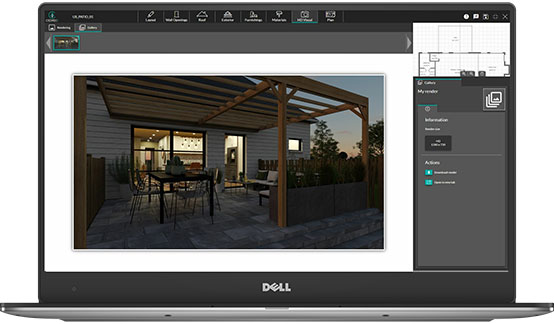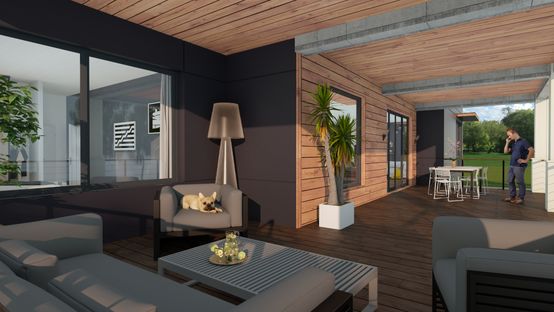 Easy-to-Use Patio Planner Software
You can create detailed landscape and hardscape designs with Cedreo's feature-rich online patio design software. So go ahead and create a multi-level deck, an in-ground pool with a paver patio, or an extravagant outdoor room and fire pit area. If you're unsure of how to do something, Cedreo's support team and tutorials are ready to help you succeed.
Learn more about Backyard Design Tool
Types of Patio Layouts
View patio designs and layouts in three different formats for each stage of the sales and building process: 2D layout, 3D layout, and 3D renderings.
2D Patio Layouts
An accurate 2D layout is the foundation for the rest of the project. With Cedreo, you can create a patio layout and basic yard boundaries in minutes.
Import a terrain layer and draw patio features around the home. The patio planner lets you quickly add a deck, garden, and other popular design features. Include outdoor furniture, plant symbols, and color-coded areas that help your clients understand the 2D floor plan.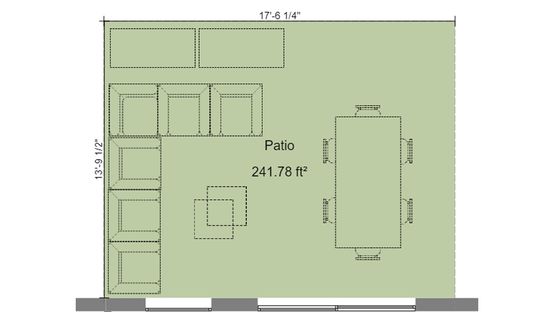 3D Patio Layouts
For your clients to fully understand their new project, they need more than just 2D plans. The Cedreo patio planner provides a realistic 3D floor plan view from above that helps you and your clients better see the flow of the entire design. And unlike most patio design software that makes you switch windows or exit your 2D plan, Cedreo lets you simultaneously view your design in 3D as you draw in 2D.
Drag and drop surface materials for features like driveways, decks, and patios. Include trees, shrubs, and other greenery. Bring the design to life with patio furniture and exterior lighting. As you make changes, the 3D view is updated in real-time, which helps you and your clients make design decisions faster than ever.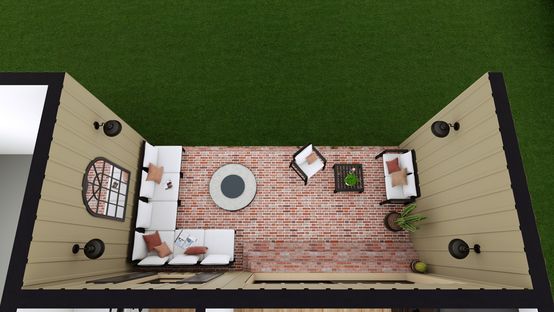 Photorealistic 3D Renderings
No project presentation is complete without a photorealistic 3D visualization. Cedreo's online patio designer helps users like you create professional outdoor renderings that help clients envision themselves in their new garden and patio area.
Customize the camera perspective, time of day, and exterior lighting. Add details like outdoor furniture and children's toys to personalize your design. Once you've got everything ready, submit it for processing, and the patio design software will create your 3D rendering in just five minutes.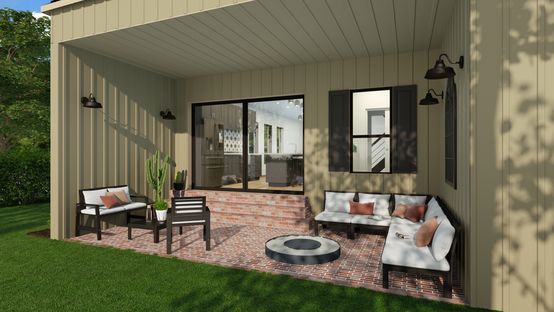 6 Key Patio Plan Considerations
Effective patio planning requires design professionals to get a detailed understanding of the client's wants and needs for their outdoor living area to create the perfect outdoor space. Below are the key considerations every professional patio designer should cover with their clients.
Site
The location of the patio is the primary consideration when planning the garden and patio area. The site of the patio affects how often the space will be used and how convenient it is for its intended purpose. For example, a patio used for outdoor dining should be near the kitchen.
Climate
It's important to consider the climate when creating outdoor living areas. Think about sunlight exposure at different times of day, privacy, sound, and wind.
Views
Think about the view from the patio that's the most appealing. If views aren't very appealing, attractive fences or adding shrubbery can be a quick fix. Don't forget to also examine the distance to large trees that could damage the patio from above or with root damage.
Size
When considering the size of the patio take into account the surrounding garden and landscaping, the style of the house, and how the space will be used. Will the client be using it for large parties or intimate gatherings? Just seating or cooking as well?
Structural Planning & Permits
You will need to reference local building codes for structural planning. For example, if you are incorporating a fire pit in your design, you may or may not need to get a permit depending on the size.
Building Materials
Since the patio will be exposed to the elements, it's important to consider the materials used. Brick and natural stone make great foundations that will last a long time and are sturdy enough for heavy furniture. Wood is another favorite as it can be painted or stained as it shows signs of wear.
Patio Layout Examples
Check out some examples of real patio designs created with Cedreo: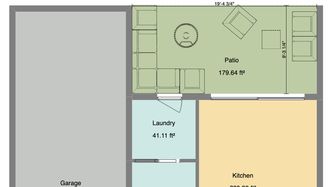 2D Patio Layout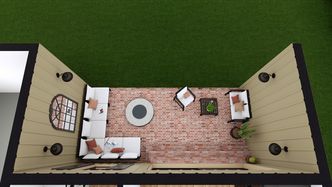 3D Patio Layout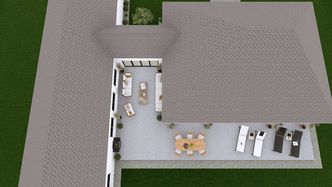 Backyard Patio Design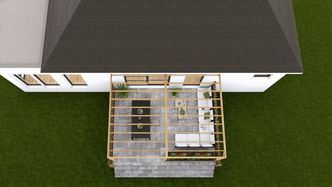 Concrete Patio Design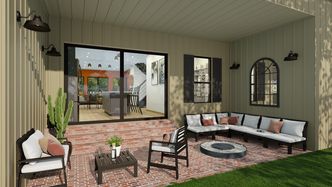 Brick Patio Design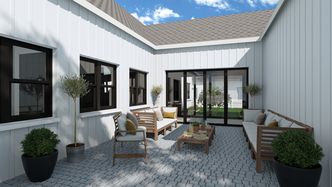 Paver Patio Design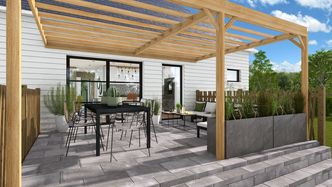 Patio Design with Pergola
Patio Design with Outdoor Kitchen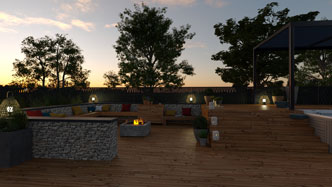 Patio Design with Fire Pit
Common Patio Design Components (and Symbols)
When creating the patio floor plan there are components that are important to highlight. These symbols are useful for not only the planning stage but also for contractors working on the patio construction.

Doors
Door arcs indicate the opening orientation, as well as the direction. Sliding doors are represented by 2 rectangles. This symbol can show where entrances to the main house are located.

Furniture
Many different furniture symbols are available to design the patio layout and how different furniture options will fit the space.


Dimensions
Use these symbols to show the dimension of the patio floor plan. You can hide and add new dimensions as needed.

Electrical Outlets
Use electrical outlet symbols to show where outlets are located for lighting and other electrical needs.

Water Taps
Add water tap symbols to identify where you can access water for hoses, sprinkles, or outdoor showers.

Vegetation
Vegetation symbols show where trees and shrubbery are currently located or will be added for privacy or landscaping plans.
Design Patios Online in a Fraction of the Time
Every part of the Cedreo patio design software makes the road from planning to completion as seamless as possible. And since Cedreo is cloud-based software, you can design a patio online without needing to download a large program.
See how you can create your next patio design in 7 simple steps:
1. Import a Floor Plan
If you already have a floor plan for the home, you can import a scalable version in JPEG or PNG format and use it to trace the walls. After you import a floor plan, you can easily create the entire plan, including measurements, and door and window placement. You can then rotate it to change its orientation on the screen.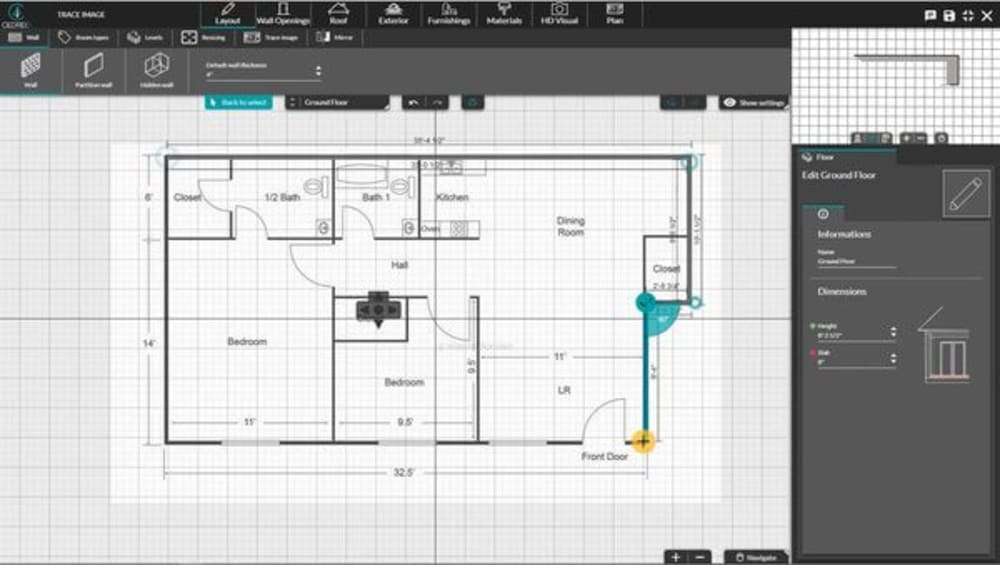 2. Draw Your Patio Layout
Next, all you need to do to create a patio is import a terrain layer, draw the property boundaries and move the layer to the correct orientation. Once you have the terrain layer, add design features like decks, lawns, driveways, and more.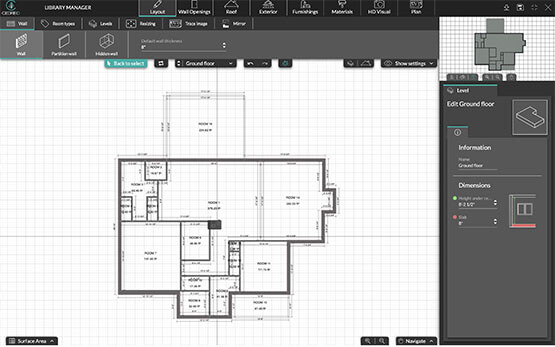 3. Add Patio Furnishings
Help clients visualize their outdoor living space by adding patio furniture. For the 2D plans, you can add architectural symbols for different types of furniture. In 3D plans, add lifelike 3D home decorations and furnishings that reflect popular decorating trends. You aren't limited to the basics — choose from an extensive product library with hundreds of different tables, chairs, swing sets, and more.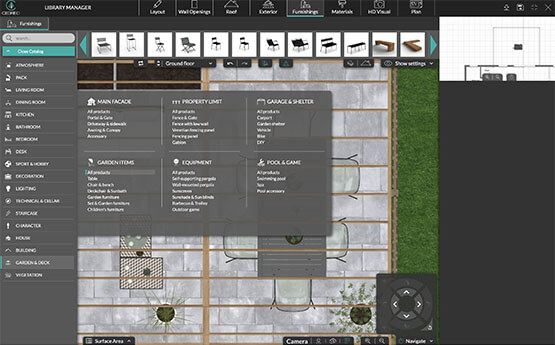 4. Add Exterior Objects
Don't stop with just basic patios and outdoor furniture. Create high-end patios with luxurious built-in design features and realistic garden areas. Add fire pits, built-in barbeques, pools, trees, plants, and more!
5. Customize Materials
With most patio design software, you have to settle for generic and uninspiring features. Fortunately, Cedreo lets you customize many of the design features with a wide variety of surface materials. Choose from different types of stone, brick, concrete, wood, pavers, and more to create almost any style clients would want.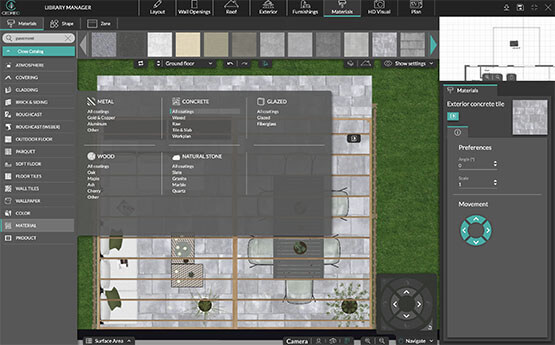 6. Generate Photorealistic Designs
A lifelike rendering of what final projects will look like can be the key to closing your next deal. Once you've finished the patio design, just adjust the lighting settings, choose the view you want, and submit it for processing. In 5 minutes or less, your rendering will be ready to inspire your clients.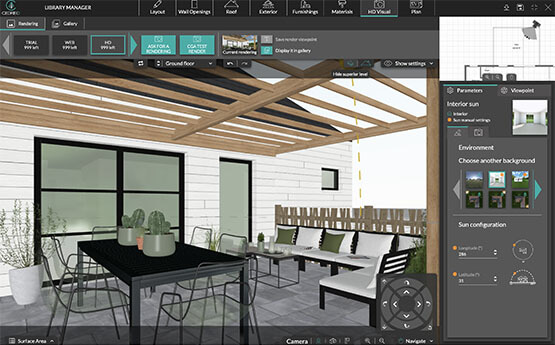 7. Download or Share Patio Designs
Whether you're collaborating with your team or showing off designs to clients, Cedreo makes it easy. With the Enterprise plan, team members can access, edit, and share designs online. And when it's time to present ideas to your clients, you can export designs and renderings in JPG and PDF formats so they're easy for clients to view.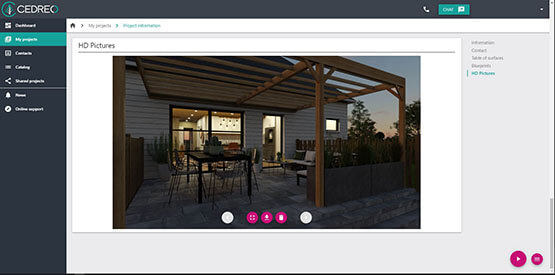 Patio Planner FAQs
What features should Patio Planner Software include?
The best patio planner software allows housing and landscaping professionals to draw a patio layout, select from a variety of materials, furnish the patio and landscape, and generate 3D renderings in less than 2 hours. Keep an eye out for intuitive and time-saving features that help you complete this process with ease.
Is it important to have 2D and 3D patio plans?
2D and 3D patio plans have different objectives, so in short, yes, both are important. 2D patio plans are ideal to show more technical details like measurements, and electrical socket and water tap locations. 3D patio plans are more of a sales tool that helps accurately portray the plans to clients who may have difficulty envisioning the project.
Who uses online patio designer software?
Patio designer software is used by homebuilders, remodelers, landscape designers, and architects who need patio layouts to present home projects to potential clients. Whether it's for a brand-new patio or remodeling an existing structure, it's a great way to showcase the overall design.
What can 3D patio renderings be used for?
In addition to 3D patio floor plans, generating 3D renderings truly brings your designs to life and allows clients to start picturing their life with their new patio. 3D renderings are a huge help in closing the deal and getting the project moving forward!