Floor Plans
Learn how to create a floor plan, the different types and examples, as well as key considerations when designing them.
What is a Floor Plan?
A floor plan is a drawing or a visual representation of a home's interior from above. It shows the placement of walls and includes key elements of the house like doors, windows, stairs, and main furniture. It also communicates the room names and sizes, as well as the dimensions between walls.
Learn how to Draw Floor Plans
Why You Need a Floor Plan
According to research from Zillow, 65% of new home buyers want to be able to see the floor plan or layout. Floor plans are powerful sales tools because they can help clients envision themselves in their new home.

Floor plans help clients understand your vision before construction begins. Creating a detailed layout helps prevent misunderstandings with the clients, which is key to closing deals quickly.
Learn More About Floor Plan Creator
Types of Floor Plans
There are three main ways to create the layout of a house and convey the information homebuyers want to know:
2D Floor Plans
This drawing is a basic, flat representation of the home layout without perspective, showing technical information and measurements of the spaces. This view should be presented along with 3D plans to help the clients envision their future homes.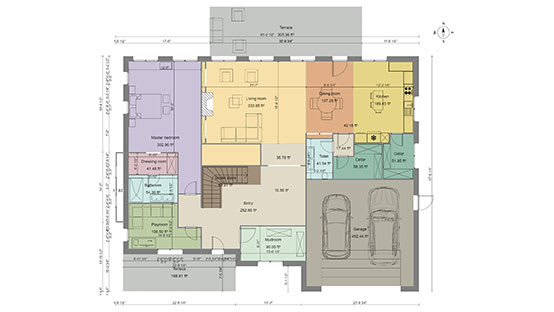 3D Floor Plans
This view, with a 3D perspective, is much easier for the clients to understand, as it is usually fully furnished and decorated. It can also include exterior features, like decks, gardens, and driveways. A 3D floor plan is the most appealing way to showcase a home project in order to sell it.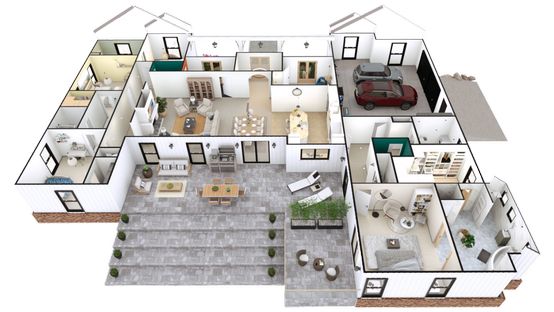 Live 3D Floor Plans
You can also present the house as if it is already built by giving the clients a virtual tour with a first-person perspective. The walkthrough lets you point out specific details and change the point of view while you are talking about the project.
6 Key Considerations
Effective floor planning requires the housing professionals to get a global and detailed understanding of the clients requirements in order to propose the best house layout for them.
It must fit the basic needs like number of garages, bedrooms and bathrooms with a logical space flow and aesthetic architectural balance.
Layout
The perfect home layout is unique to each client. When you create a floor plan, you need to start with the client's requirements and adapt it to make sure it is functional and practical. If you create the ideal room layout, with smooth traffic flow throughout and between rooms, you'll likely convince your clients to work with you.
Size
Overall home size is one of the most important factors for clients, as is room size. Room size should be based on the client's existing furniture, the number of family members, and how your client intends to use specific spaces.
Lifestyle
You need to understand your client's lifestyle to make sure your floor plan works for them. For example, if your client works from home, they may need a dedicated home office with several electrical outlets.
Expenses
The cost of building a new home can vary considerably, based on cabinetry, finishes, window sizes, and other custom features or materials. You can create a few versions of your floor plan to help clients understand how materials and design elements could impact the total cost.
Versatility
Make sure that some rooms can be used for a different purpose if needed, like a guest room that can be converted into a nursery, office, or gym room without restricting traffic flow. The house layout must meet the needs of your clients for years to come.
Sustainability
Many homebuyers today are looking for ways to reduce their carbon footprint. If your client is interested in sustainability, that may influence the types of appliances, lighting, and other elements you include in your floor plan.
Floor Plan Examples
You can design 2D and 3D house, apartment, and commercial plans with unique shapes and sizes to present to your clients.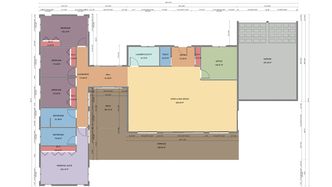 Colored Floor Plans
Common Components and Symbols
Multiple options are available to customize layouts to quickly identify different rooms, furniture, wall openings, and more.
These symbols are especially useful for contractors working on home building or remodeling projects.

Walls
Walls and partitions appear as solid lines and can be differentiated to indicate an indoor, outdoor isolation, or waterproof partition.

Doors
Door arcs indicate the opening orientation — in or out of the room — as well as the direction, shown by the straight line. Sliding doors are represented by 2 rectangles.

Windows
Window arcs indicate the opening orientation the same way as doors for french windows, the hung or picture windows are represented with a rectangle.

Stairs
Stairs are represented by a rectangle with parallel lines to show the steps. The arrow shows the direction of stairs, from bottom to top.

Furniture
Multiple furniture symbols are available to define each room's purpose in a 2D floor plan.

Dimensions
You can hide dimensions for a streamlined floor plan and add new ones as needed.
How to Create a Floor Plan
With Cedreo, blueprint design is fast and easy, whether you're creating designs for homes, apartments, or commercial projects.
Just follow the steps below.
Import a Plan
If you already have a plan, you can import a scalable version in JPEG or PNG format and use it as a layer to trace the walls. Once you import a floor plan, you can easily recreate it, including measurements, and door and window placement. Then, you can rotate it, to change its orientation on the screen. Mirror it by flipping on a vertical or horizontal axis with just one click.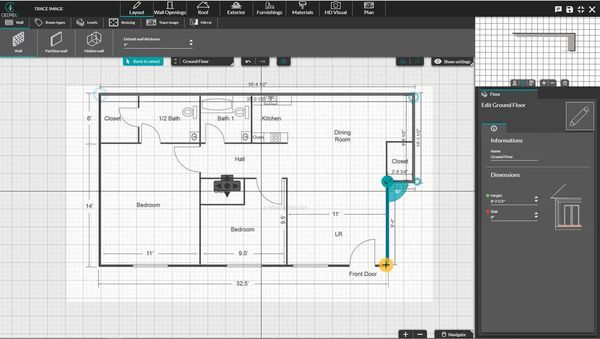 Draw the Floor Plan
When you draw floor plans from scratch in Cedreo, you start with the load-bearing walls and then add the inside partitions after selecting the thickness slab and height under ceiling. This is easy with the grid to guide you while the continuous drawing mode allows you to create the corners of the home design by left-clicking wherever you need.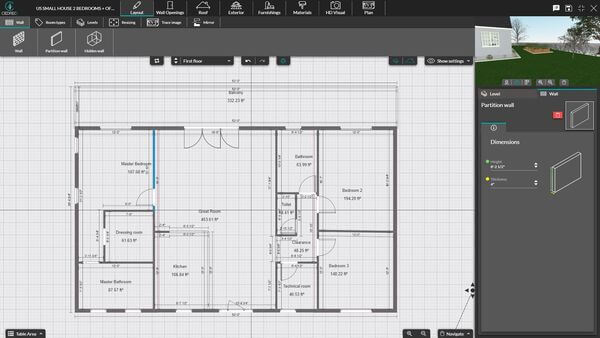 Draw the Exterior Layout
Once you've drawn the layout of the house, you can design the exterior layout. You can import a plot of land in the same way as you can with a floor plan. You can draw the boundaries with a hedge or low wall, add the driveways, lawns, decks, and pool. Then you can apply the coverings of your choice to customize your proposal.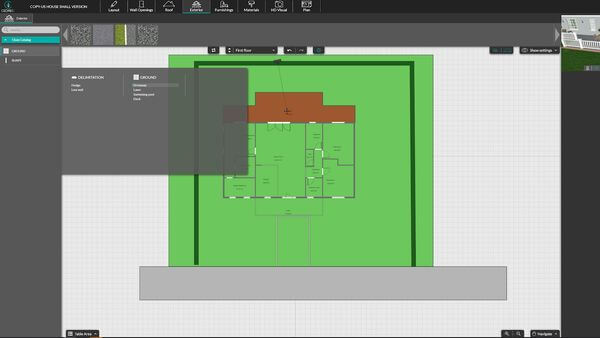 Add Levels
Once you've created the ground floor, you can add a basement or upper level with just two clicks. The ground floor exterior walls are automatically duplicated. On multi-story floor plans, you can hide or display the upper and lower levels in order to see where the partitions of each level are. Thanks to the 3D-view window, you can see your home design take shape in 3D while you're drawing in 2D.
Measure Floor Plan Dimensions
Move a wall or enlarge and reduce the overall house layout on a vertical or horizontal basis — one click, the other walls will automatically be extended or reduced to keep the same angles.

The dimensions between walls appear in metric or imperial, based on your profile preferences. The area calculation updates automatically on the floor plan and on the recap table showing dimensions for rooms and for the overall design.
Learn more about floor plan dimensions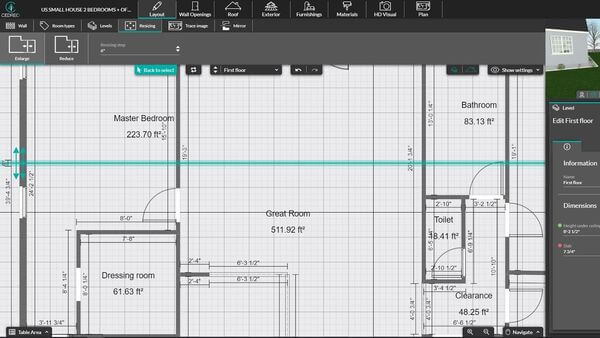 Furnish and Decorate
Now it's time to select the covering materials, furniture, and decor from a 3D library of more than 7,000 customizable products — just click on the product categories and click on the room where you want to apply an item. Thanks to the assistant window, you can easily decide to apply it to the whole house or just one room. Proceed in the same way for the furniture and decoration; once selected, click wherever you want to drop the piece of furniture and rotate it, customize the colors to match the client's style.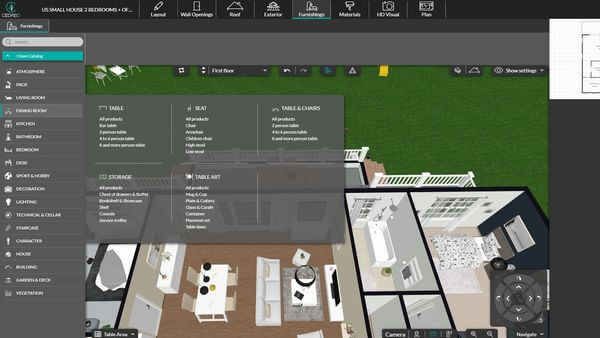 Generate 2D or 3D Floor Plans
It only takes two clicks to download the black & white or color 2D floor plan to scale in PDF format including each room's surface, main furniture symbols, and wall types.

Generate 3D renderings by setting up the Cedreo camera angle to get the desired top view of the house layout and generate the isometric perspective in HD (1280×720) or full HD (1920×1080). It only takes 5 minutes to generate, then it's ready to download.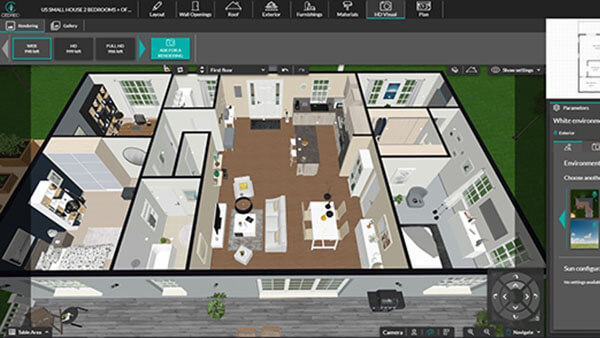 Floor Planning FAQs
What is the Best Software?
The best floor plan software allows housing professionals to draw a house layout, furnish the interior and exterior, and generate 3D renderings in less than 2 hours. Look for intuitive and time-saving features that help you draw a floor plan quickly.
Who Uses Floor Plans?
Homebuilders, remodelers, interior designers, real estate developers, architects, and home designers all need floor plan layouts to present a home project to potential clients. Whether it is for new home construction or renovation, it is a basic way to showcase the overall design and room positions and help clients understand your vision.
What is a Closed Floor Plan?
At the opposite of an open floor plan, the closed floor plan has defined rooms, enclosed with walls. This more traditional layout allows you to attribute a single purpose to each room, unlike open kitchens and living rooms.
Are 2D or 3D Floor Plans Better?
2D plans are ideal to display more technical details like the walls measurements, the living area, and opening locations and directions. They can be downloaded and printed to scale. However, they fall short as a sales tool, because they may be difficult for clients to read and understand. Fully-furnished 3D floor plans give a true feeling of the house layout and traffic flow.