Basement Planner
Design Professional 2D & 3D Basement Layouts in Minutes.
Fast and Easy Basement Designs
Cedreo's basement design planner helps home builders, remodelers, and interior designers create professional 2D and 3D basement layouts in a fraction of the time it takes with most other basement design tools.
Learn more about Floor Plan Creator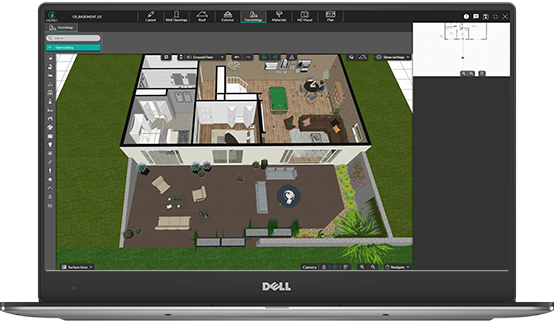 Endless Customizations
Whether you're designing a basement game room with a pool table and wet bar, or a cozy family retreat, Cedreo includes all the furniture, decor, and finishes you need for your basement design plan.
Learn more about Space Planner Software
Create Basement Layouts and 3D Visualizations Online
The basement is an important multi-use space in a client's floor plan. However, designing a finished basement layout can be a time-consuming and frustrating process without the right tools.
2D Basement Layouts
Importing or creating a 2D basement design with Cedreo allows you to show clients all of the basement specifications, displaying the exact measurements for surface area and interior walls. With a couple of clicks, you can add 2D symbols to represent the furniture in the room. And as you add windows and doors to your basement blueprint, Cedreo renders them as symbols on the 2D floor plan.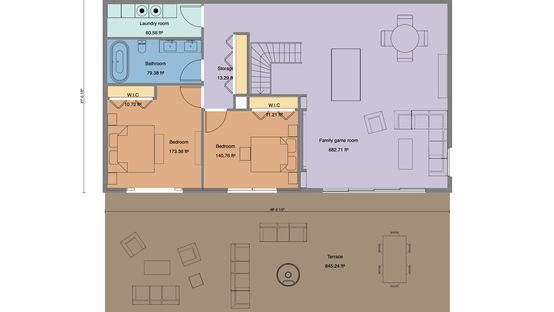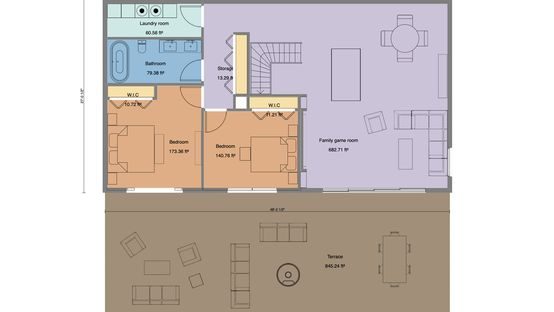 3D Basement Layouts
While you're drawing the 2D layout, the basement design software simultaneously displays your design in a 3D view. Seeing the 3D representation in vivid detail saves you time in the drawing process. Within the 3D floor plan, you can choose from a massive library of 3D furnishings to bring the image to life. Use packs of grouped and fully decorated furnishings to save even more time.
Learn more about 3D Floor Plans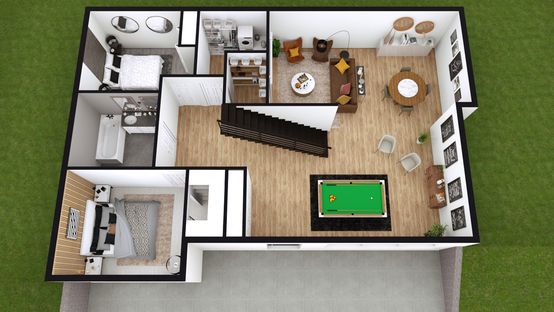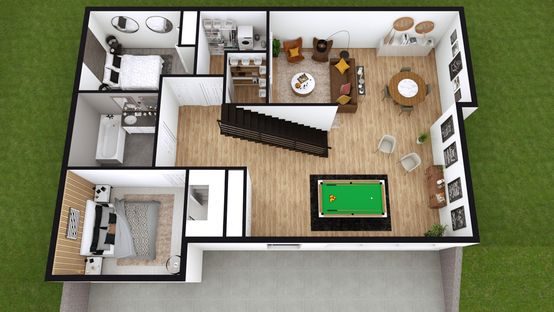 Photorealistic Basement Renderings
With Cedreo's professional basement design tool, you can take clients on a guided tour of the finished basement using photorealistic 3D renderings. Test your basement layout design in near real-world conditions, providing clarity and exceeding client expectations.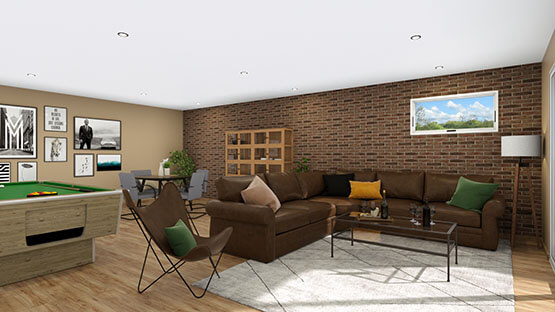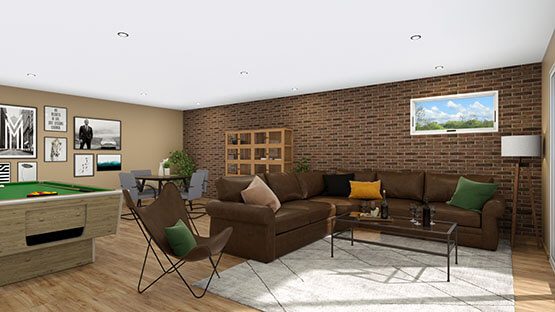 Basement Design Software for Professionals
Home remodelers, home builders, and contractors use Cedreo to accelerate basement planning and earn more business.
Home Remodelers
Because Cedreo doesn't require any CAD experience, home remodelers can begin using it right away.
Sixpence 21
"Cedreo is really easy to pick up. It is easy to navigate through the pages, if you need to go back and tweak dimensions, it is just easy to do." Frankie Sharman, Owner.
Home Builders
Home builders can use Cedreo renderings to enhance their portfolio, website, and social media presence.
Heartwood Build & Design
"The renderings produced with Cedreo allow us to communicate our ideas on the website and social media to attract clients and show them how serious we really are." Sheree Ramm, Co-founder
Contractors
Contractors can use Cedreo to show their build partners and clients a detailed view of every basement project.
Loft One Contracting
"Our ideas are best presented through our renderings. Everything that we convert into an actual project gets 3D renderings and a job will result from that." Rob Zerrenner, CEO
Simple Basement Design Software for Any Layout
From walkout basements to multi-bedroom layouts, any basement design your client can dream up is possible with Cedreo's basement design software. Take a look at a few of the basements designed with Cedreo.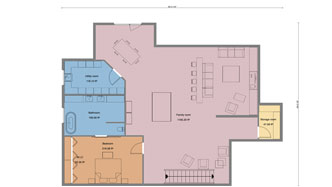 2D basement layout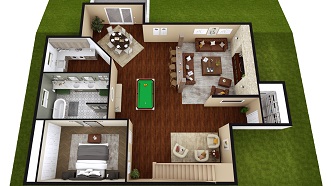 3D basement design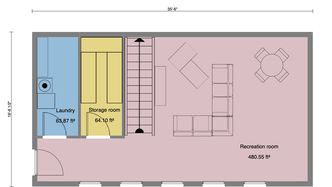 Simple basement floor plan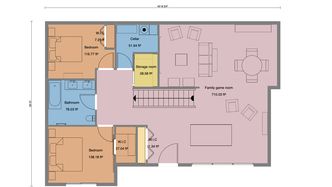 2 bedroom basement layout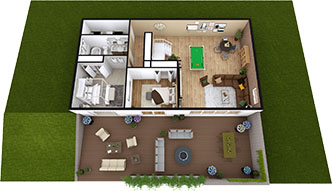 Walkout basement design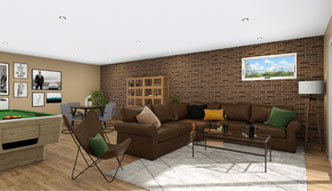 Finished basement rendering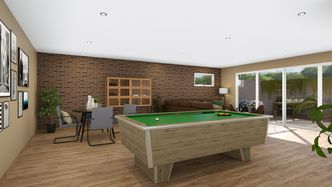 Basement design with game room
Basement design with cinema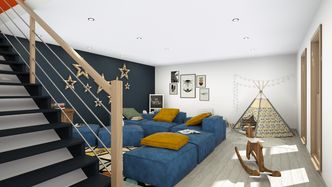 Basement layout rendering
How Cedreo Helps You Close More Deals
Cedreo's online basement planner allows professional home builders and designers to work on both PC and Mac, from any location.


Fast Designs
Cedreo helps you work faster, so clients spend less time waiting for results.


Easy Revisions
You can update your designs on the fly and share them again with clients.


Custom Finishes
Choose from carpet, wood, vinyl, or tile flooring, then customize it.


Natural Lighting
Show how the basement will look when the sun shines through the windows.


360-Degree Views
Let clients see their designs from any angle.


Personalized Details
Add art, decor, and other details that your clients will love.
Design Basement Layouts Online in Half the Time
Knowing how to design a basement is only half the battle. As a busy professional, you need a world-class basement design planner to help you do it as quickly as possible. Here's how to design a basement with Cedreo.
1. Draw Your Basement Floor Plan Layout
You can import an existing basement design project or start from scratch. Intuitive tools, freehand drawing, and preloaded units make the room planning process simple and quick. Once the house's ground floor plan is drawn, just duplicate the layout with a click to create the basement. Want to see it in action? Check out this video.
2. Add Windows and Wall Openings
Choose from a library of more than 650 window and door types. The dimensions of the preloaded window and door units are customizable. Add rolling shutter blinds and window sills, and they'll show up as symbols in the 2D visualization.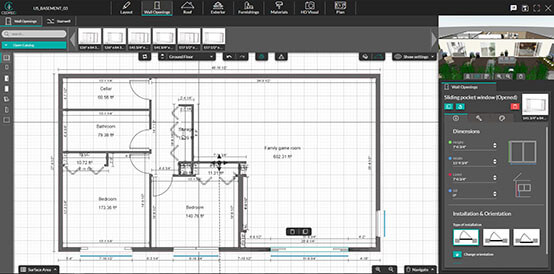 3. Add a Staircase

Create a stairwell opening and connect the finished basement with the rest of the home by choosing from the wide variety of preloaded staircases, and set the dimensions to match the hopper.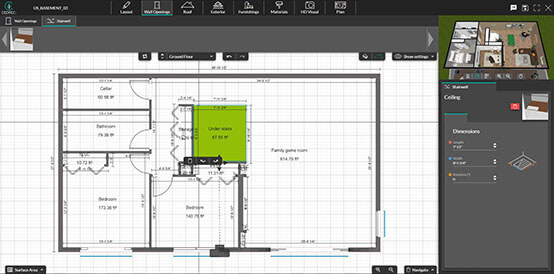 4. Update or Add Dimensions
Update all the floor plan dimensions to customize your floor plan. You can update walls, doorways, window openings, appliances, and more. All of these will calculate in the surface area table to show you the sq footage of specific rooms, or the entire home.
5. Decorate and Furnish

After finishing the basement floor plan, windows, doors, and staircase, it's time to decorate. Add another design element to the 2D and 3D visualizations by inserting tables, chairs, couches, beds, TVs, and more into the basement.
You can choose from more than 3,000 furnishing and decorating items in the basement design planner's product library. And you can take each product a step further by customizing the color and dimensions within the application.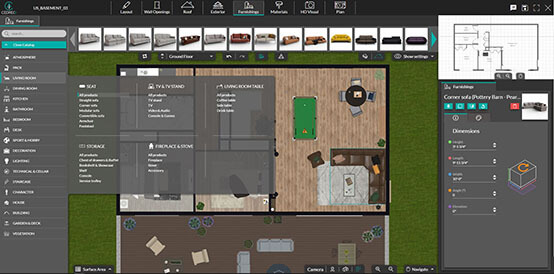 6. Generate a 3D Rendering
As you create in 2D, the finished basement will start to appear in the 3D window. Then, you can set up the lighting details for daylight or sunset views. You can create the photorealistic 3D rendering in less than 5 minutes, and it provides an opportunity to showcase the project in vivid detail. To showcase multiple variations of your basement design and give your client more choices, save the viewpoints and generate a 3D rendering for each variation in one click.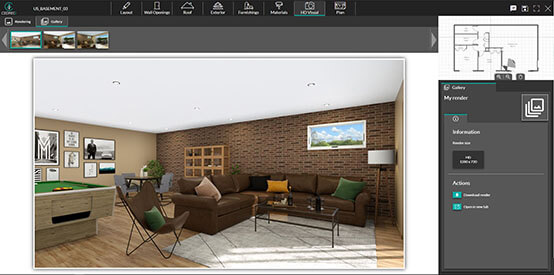 7. Share Finished Design With Team and Clients
Download the 3D renderings and scaled floor plans, and watch your clients' faces light up as they see their finished basement design come to life. After saving money by skipping the 3D design firm, you get to save time by delivering a stunning basement design that meets every expectation.
With the Enterprise plan, you can share your designs with team members and customize them for other clients.
FAQ
Can my team collaborate inside Cedreo?
Yes – Enterprise clients can work on and share designs within Cedreo.
Can Cedreo automate 2D basement footprints?
Yes! Just import the main floor layout (or use the one you created in Cedreo) and duplicate it to begin your basement plan.
Is Cedreo just for basement projects?
No – Cedreo is a feature-rich home design tool that you can use for interior designs, home building and remodeling, and landscaping designs.
Can I try Cedreo for free?
You can! Cedreo offers a 14-day free trial. Sign up now to see how it works.