Online Floor Plan Creator
Easily create professional floor plans in minutes.
Create Entire Home Floor Plan in Hours, Not Days
Cedreo is a full house plan designer that allows you to make layouts for entire homes and their separate floors. You can quickly add upper levels and basements by duplicating all of the exterior walls, to ensure complete cohesion.
Learn more about how to Draw a Floor Plan
Create Floor Plans from Scratch, or Adapt Past Projects
Cedreo's continuous wall drawing feature enables users to quickly outline rooms and define interior spaces. Select wall openings from our library and drop in your markers, and add useful symbols to create an easy-to-read floor plan.

When you need to work faster, the floor planner allows users to duplicate existing floor plans and modify them to meet the needs of a new project. This feature is valuable for home builders with a multitude of construction projects.
Learn more about Floor Plan Software
Simple 2D and 3D Floor Plan Designs
Save time and create accurate design layouts using your Cedreo's library of floor plan symbols.
This online tool is made for home builders, remodelers, and interior designers that want to draw quality floor plans for their home design projects.
Simple 2D Floor Plan Designs
Get a clear top-down view of your interior layout, complete with measurements, surface area, and symbols representing the items and furniture, as well as doors and windows. Modify templates, export and share final images, and print to scale. This house plan designer ensures you get your layouts in any format you need.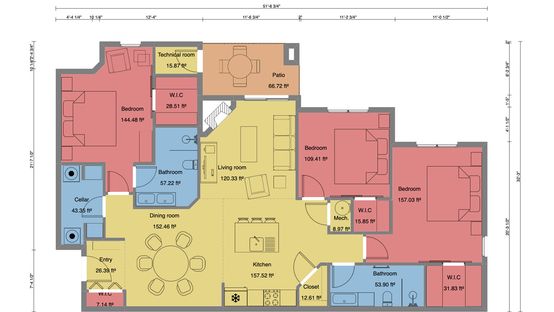 View & Create 3D Floor Plans
Bring your floor plans to life with automatic 3D views showing details like traffic flow, doors, windows, floor coverings, wall colors, furniture, decor, and more. Viewing a 3D floor plan from the top can show clients how each room connects and how furniture will fit into the space.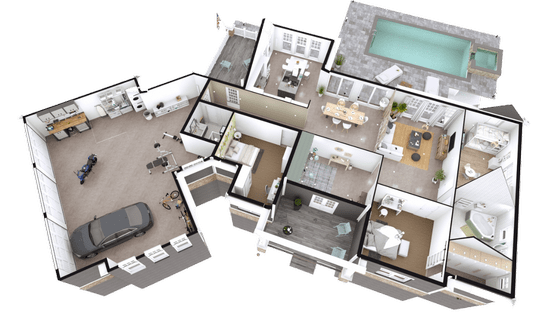 Transform Your Floor Plans into 3D Renderings
Create photorealistic models that provide detailed insights and a sense of scale. The entire space is brought to life via Cedreo's high-quality rendering and extensive library of 3D furniture and fixtures for all types of designs. The online floor plan creator even allows adding lifelike materials that enhance the authentic representation of each room.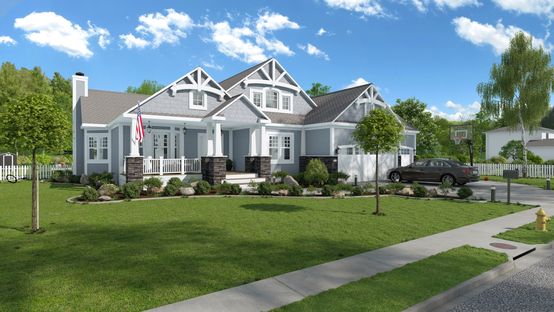 How Floor Plan Creator Software Can Help Your Business
Cedreo's floor plan creator software is designed specifically for professional home builders, remodelers, and interior designers to create exact and detailed floor plans with ease.
Home Builders
Home builders who use Cedreo's floor plan creator can quickly move through the layout and design phase, creating 2D and 3D floor plans that allow clients to visualize the space and close sales deals twice as fast.
Learn more about Home Building Software
Heartwood Build & Design, Home Building Firm
"We can design almost anything.
That's ultimately why we chose Cedreo. Using the 3D renderings most certainly helps in selling the project."
Sheree Ramm, Co-founder
Read the Success Story
Home Remodelers
Home remodelers save time during the design phase with Cedreo's floor plan maker. Sharing 2D and 3D floor plans with clients improves communication and helps to avoid misunderstandings as they will better understand the finished project.
Learn more about Remodeling Software
Loft One Contracting, Remodeling Firm
"Having this ability to do this in-house cuts down on the time needed to present designs. And obviously, it is cheaper. For us, it was a huge win to find Cedreo. "
Rob Zerrenner, CEO
Read the Success Story
Interior Designers
Online floor planners allow interior designers to see exactly how furniture and decor will fit into any space or room. It allows the designer and client to visualize the flow of the space and any additional furniture that may be needed (with dimensions).
Learn more about Interior Design Software
Sixpence 21, Interior Design Firm
"With Sketchup you can get a pencil effect whereas with Cedreo it is photorealistic, and this is what my clients want to see."
Frankie Sharman, Owner
Read the Success Story
Floor Plan Examples Created With Cedreo
Draft layouts for any room type with this versatile house floor plan designer.
Floor Planning Features
That Can Reduce Drafting Time By 50%
Cedreo gives you the tools to rapidly create floor plans without any special CAD or 3D design background.
With almost no learning curve and access to video tutorials and support, you'll quickly be able to start using Cedreo to accelerate your design process and produce stunning project visuals.


Import and Duplicate Floor Plan Projects
Import floor plan files directly into the floor plan creator, then draw new layers over the imported plan. Then you can simply duplicate your layout to create starting templates and make edits as needed.

Draw Walls Continuously & Resize with Ease
Click and drag to continuously draw both load-bearing walls and partitions. Insert corners and angles with a simple left-click. Then, click walls and move them horizontally or vertically to expand or compress layout size.

Draw in 2D
& Visualize in 3D
See a lifelike model of your layout as you draft in 2D. Side-by-side window views provide clarity during the design process.

Customize
2D Floor Plan
Customize and organize using symbols, color coding, and labels for wall and room types.

Select Windows & Doors from 1,300+ Products
Choose windows and doors that match each room's function, dimensions, and style.


Get Area Calculation as you Draw & Print to Scale
Select the scale you need to present your layout and download to PDF for printing. Room areas and full design areas update automatically as you modify you floor plans.
How to Create Online Floor Plans with Cedreo
With Cedreo, it's simple to create 2D and 3D floor plans.
Every step of the floor plan designer is engineered to make your workflow faster.
Planning becomes a seamless process, from drafting to client presentation.
1. Draw the Floor Plan
Once you've clicked "Get Started" and signed up, you can start a new online floor plan by using an existing template, uploading a new floor plan, or drawing from scratch.

Click and drag to place and expand walls, intuitively adjusting the scale of your layout to reflect the real room and house dimensions. Choose doors and windows from the openings library and easily resize them, as needed. Complete each room with items from the extensive symbol library.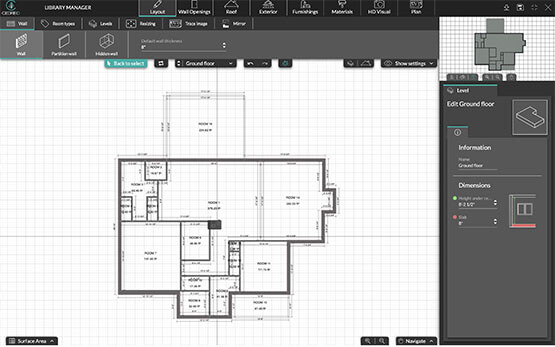 2. Insert Symbols & Color Coding
In the plan step you can access our floor plan symbol library to show the placement of important features. The library includes over 400 symbols from main furniture pieces to more technical symbols like washer/dryer hookups and electrical outlets. In this step, you can also color-code rooms and areas to easily identify spaces with just a glance.
3. Add the Roof
Adding a custom roof is quick and easy, and you can create a multi-slope roof or a roof with different levels. The floor plan creator allows you to draw a roof manually by quickly tracing the desired sections directly on your floor plan.

Select your roof type and simply insert it onto the layout. With just a few clicks, you can adjust the roof parameters for height, angle, slope, and overhangs.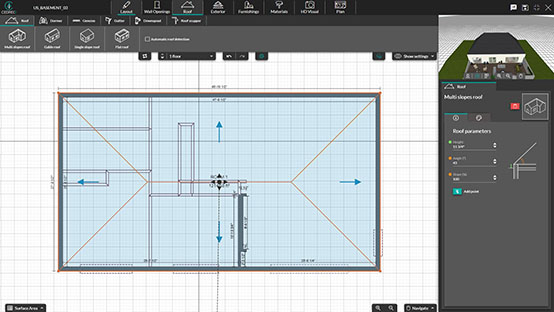 4. Visualize in 3D Simultaneously
Get a live 3D side-by-side view of your layout as you draw in 2D.

Cedreo's servers provide strong processing power online, requiring no extra work from your desktop systems. You get to see changes made in real-time, allowing for easier decision making and more intuitive designing.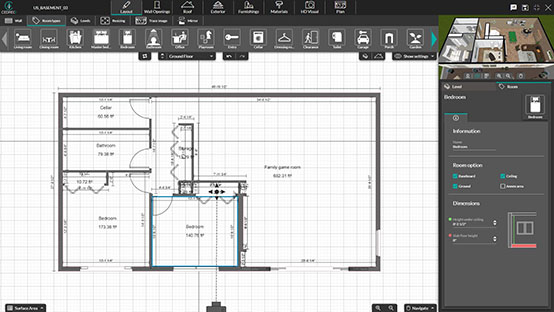 5. Furnish and Decorate
Over 7,000 customizable pieces of 3D furniture, objects, and materials can be found in the extensive asset library.

The floor plan designer gives you all the flexibility you need to realistically capture the interior as it will be in everyday life, and help you impress clients with design models that appeal to their personal tastes.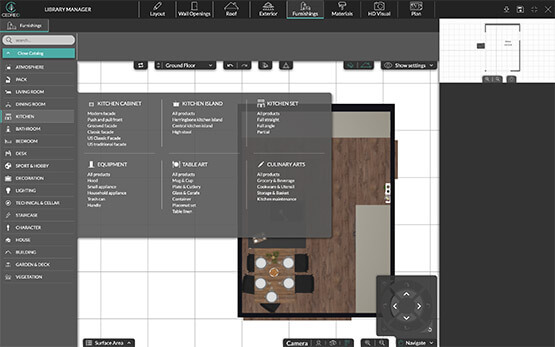 6. Create Photorealistic Floor Plan Visualization
Providing a lifelike visualization of your floor plan can be the key to securing client buy-in. After you've carefully composed your model and filled it with decor, simply choose and save which views you wish to capture in a realistic 3D rendering. Modify the sun's position to get different lighting effects. You can then pick your desired resolution and submit for processing. Our servers will create the rendering for you in under 5 minutes.
7. Download and/or Share with Your Team
All renderings of a specific floor plan can be saved in a project gallery that's accessible to you and — if you have the Enterprise plan — any other team members. Renderings can be directly downloaded from there. It's also possible to export your 2D floor plans from Cedreo, in either JPG or PDF formats. Selecting a PDF format enables you to print to scale.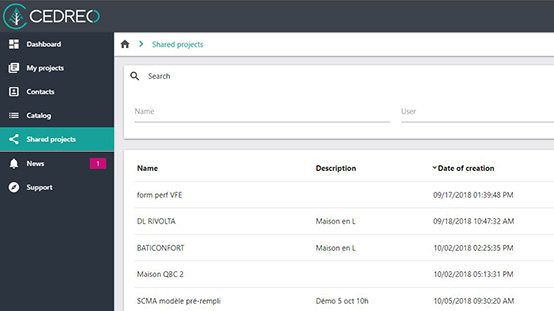 Frequently Asked Questions
Do I Need to Download Software?
No — Cedreo's simple floor plan maker operates completely online. An internet connection and a laptop will suffice to use the app. The only assets you would need to download are your floor plan images and renderings, should you need them printed or want to save them outside of your Cedreo account.
Do I need CAD Experience to Use your Floor Plan Maker?
Not at all! The Cedreo floor plan creator was engineered to be easy to use, so that even designers with no software experience can quickly begin working in the app. An intuitive interface makes the entire drawing and modeling process smooth and simple.
Do you Provide Training and Resources?
Yes! All Cedreo users have open access to training and support. A hands-on team is always standing by ready to answer questions and walk you through the program's functions. One-on-one training sessions are available with Pro and Enterprise plans. Cedreo also maintains a massive library of video tutorials and regularly adds new videos.
Does Cedreo Work on Mac and PC?
Because Cedreo is a fully online app, there are no problems accessing it via Mac or PC, or on iOS or Android devices. As long as your device has a browser that can take you to the website, you'll be able to use the program.