3D Rendering Software
for Exterior and Interior Home Design
Sell more by presenting interior and exterior 3D house renderings to your clients
3D Renderings for Homebuilders, Remodelers, and Interior Designers
3D renderings are used by professionals throughout the home and commercial design industry.
Photorealistic renderings bring your building and design ideas to life so clients can visualize their dream space and make changes before construction begins.
Homebuilders & Contractor
Professional home builders and contractors use 3D renderings to:
Save time and money on conceptual designs
Help home buyers decide faster
Give clients that WOW factor
Spruce up marketing materials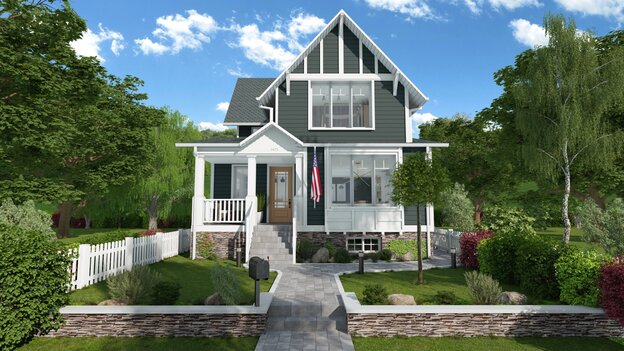 Remodelers
Remodelers use 3D renderings to:
Improve communication with clients
Add personalized details that sell designs
Show photorealistic before and after shots
Allow for easy changes from clients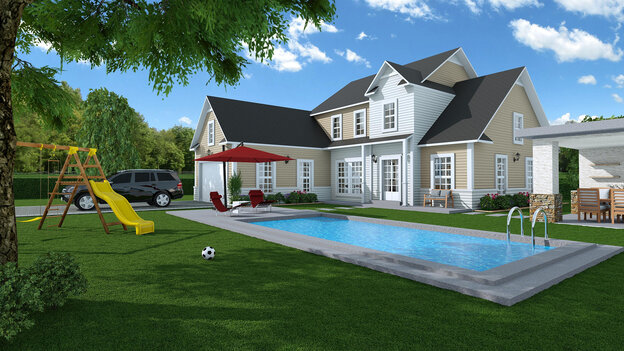 Interior Designers
Interior Designers use 3D renderings to:
Visualize design ideas to clients and adapt on the go
Show multiple views of the same room for different perspectives
Highlight multiple design ideas with the same view for comparison
Improve website with 3D rendering design idea and finished product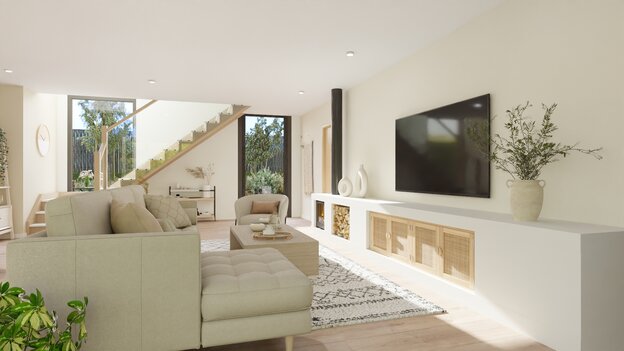 Create Complete 3D Home Renderings in Less Than 5 Minutes
Cedreo 3D house rendering software is both powerful and easy-to-use. You can create photorealistic renderings of a home with accurate lighting and surface shading in less than 5 minutes.

Create appealing presentations that easily communicate your vision and help your clients visualize their new home faster than ever.
Create Architectural 3D Renderings Online
Cedreo is 100% cloud-based, so you don't need a powerful computer to generate your 3D renderings — all designs are created by our servers.


Use your laptop in client meetings to revise designs on the fly and generate updated renderings. All you need is an internet connection.
For Each 3D Rendering Image, You Can Select:
Perspective of the house: interior or exterior
Placement of the camera: eye level or top view
Resolution: HD (1280×720 px) or full HD (1920×1080 px)
Lighting: daytime or nighttime
Sunlight orientation: add, remove, or reorient shadows
Choice of background: standard Cedreo backgrounds or custom backgrounds (possibility of uploading your own image)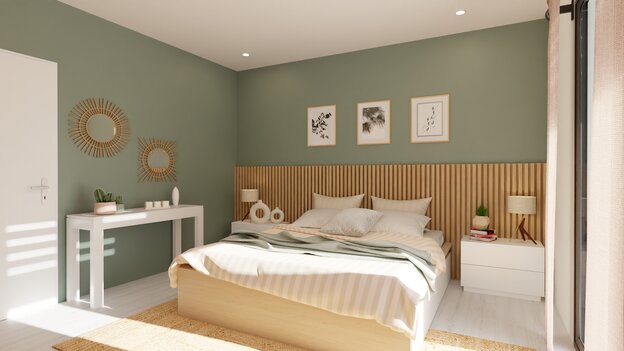 Renderings integrated into their real environment
Customize your 3D visuals using your own background images. Model your project in Cedreo, import a photo of the land on which the project will be built, adjust the scale, then position the building in the photo. All you have to do is adjust the orientation of the sun to generate a rendering that fits perfectly into its environment. Ideal for helping your customers envision themselves in the project, these context-sensitive renderings can also be added to building permits for use by planning authorities.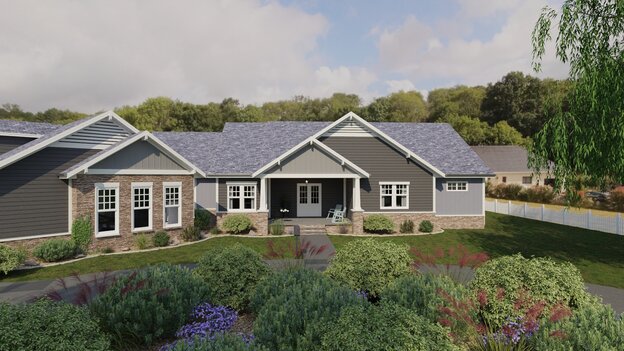 Create the Perfect 3D House Rendering to Win Over Your Clients
Cedreo's lighting effects, shadows, and textures will add more depth to your projects.
Present detailed 3D renderings that help clients visualize their new home — and close deals faster than ever before.
Quick view angle selection
Position yourself in your project in 3D to define the best viewing angle, inside or out.
Sun Orientation
Select the sunset setting and turn on the interior and exterior lights to show a more intimate atmosphere. This view helps clients envision a relaxing evening in their home.
A 3D view in minutes
One click is all it takes to trigger a realistic view of your customer's preliminary home project. It only takes a few minutes to get your visual.
Essential 3D floor plan
Help your customers project themselves by showing the potential of the house and the volume of the rooms. The 3D plan is an indispensable tool for your sales presentations.
Store and download your visuals
Find all your 3D images stored in the project files of your Cedreo personal space, ready to be downloaded and inserted into your documents.
2 formats for your 3D renderings
Create your 3D views in the format best suited to your needs: for your website, for your presentations, for your large-format printed documents.
Customized backgrounds
Integrate your home project into its real environment by using a photo of the terrain as a background.
Save viewpoints
Select the camera position and save the viewpoint. This allows you to find the exact  —camera position for future renderings.
Top view
A 3D plan lets you assess the potential of a space and visualize the layout in 3D.
3D Home Renderings Examples Created With Cedreo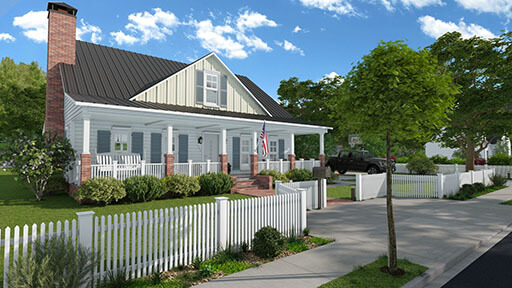 Farmhouse Exterior Rendering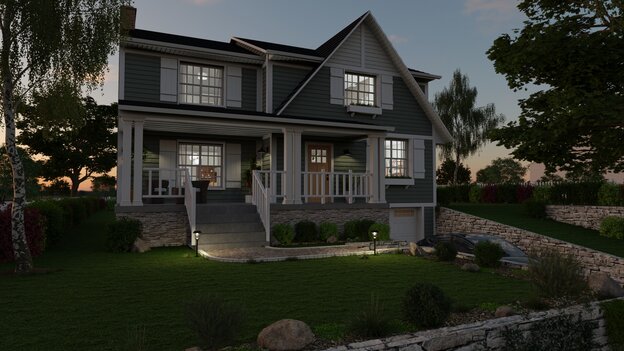 Home Rendering at Night
Open Concept Rendering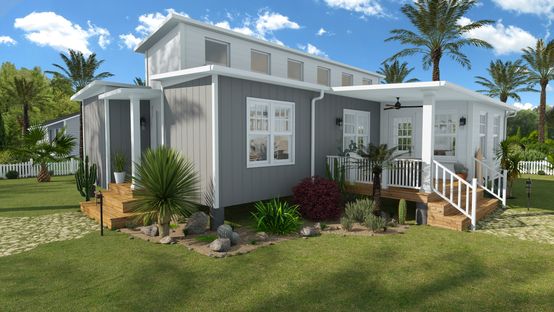 Small House Rendering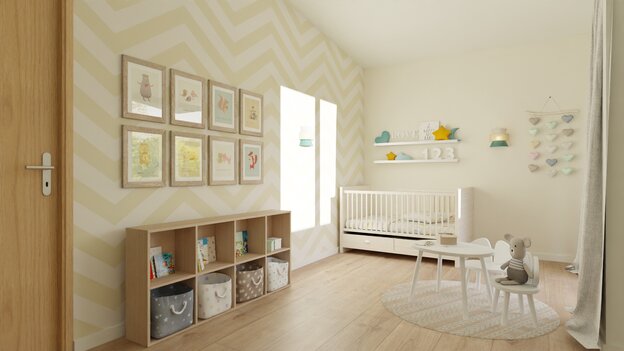 Kids Bedroom Rendering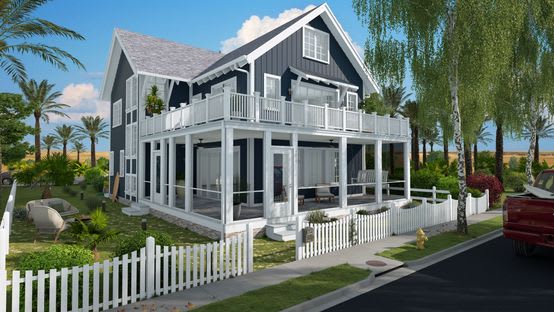 Exterior Rendering Daytime
Cut Costs With 3D Renderings
Stunning Photorealistic Renderings are great to WOW your clients, but a 3D Rendering Software can also help you cut unnecessary costs.
Learn How Here
Read What our Happy Customers Say About Cedreo