Bathroom Floor Plans

With Cedreo, you can quickly create and share bathroom floor plans to streamline your design process and ensure your clients understand your bathroom design ideas.


Create 2D & 3D bathroom designs in 50% of the time


Choose from thousands of materials and decor from our elaborate 3D library


Generate photorealistic 3D renderings in 5 minutes
6 Key Bathroom Layout Considerations
Designing a bathroom floor plan can be challenging. So here are a few key things you should keep in mind when planning a bathroom layout.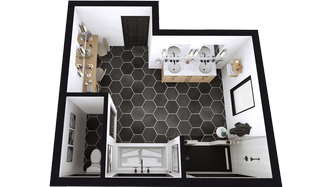 Dry vs. Wet Zones
A popular design trend for larger bathrooms is to fully separate the bathroom's wet and dry zones. A wet zone is an area that includes a shower and bathtub. The dry zone is everything else like the toilet, vanity, and changing area. Designing a wet zone that's away from the flow of traffic helps keep people from getting their feet wet unnecessarily while keeping the dry zone cleaner.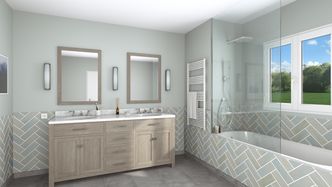 Line of Sight
No one likes to open the bathroom door and be greeted with a prime view of the toilet. Avoid this by creating a bathroom floor plan that keeps the toilet out of the direct line of sight when the door is open. Try placing the toilet off to one side of the doorway or next to a vanity. You can even create a separate toilet compartment or use a piece of frosted privacy glass.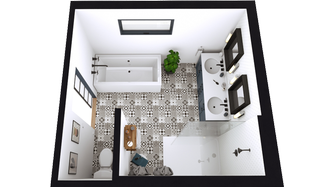 Included Fixtures
Think ahead to how your client will use their bathroom. Will two people need to use it at once? Should the toilet and/or shower be placed in a separate section of the bathroom to afford more privacy? Does the bathroom need a double sink? It's also important to plan efficient locations for smaller fixtures like towel racks and toilet paper holders.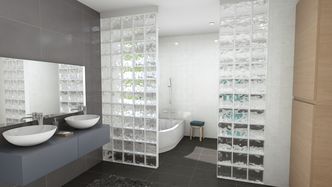 Windows and Privacy
Bathroom windows are both a blessing and a curse. They add natural light that helps the small space of a bathroom feel less claustrophobic, but they can make it harder to have your privacy. As a solution, try using skylights or transom windows where possible. You can also choose opaque window glass to help obscure the view and add a touch of style.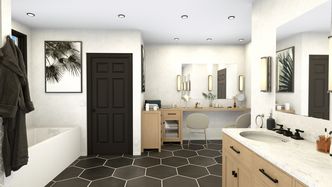 Storage
Bathrooms often need to store many things from linens and towels to bath products and makeup. Ensure your design includes plenty of storage options that don't inhibit the flow of traffic and door openings.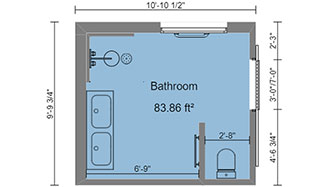 Dimensions
Bathrooms can fit into surprisingly small spaces. Just 40 square feet is enough for a full bath that's laid out correctly. When creating bathroom blueprints, take into consideration the dimensions of the fixtures and the required space around and above them.
Bathroom Floor Plan Examples
Cedreo's floor plan software can create any type of bathroom floor plan, big or small. Here are a few examples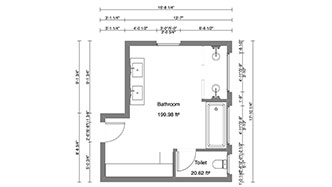 2D bathroom floor plan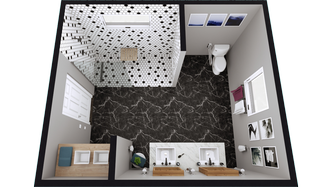 3D bathroom floor plan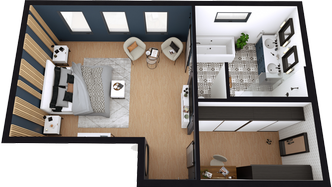 Master bathroom floor plan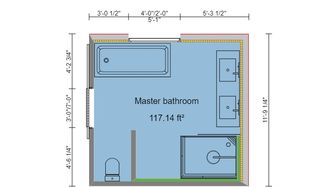 Small bathroom floor plan
Jack and jill bathroom floor plan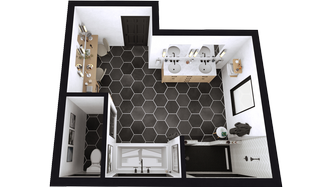 Powder room floor plan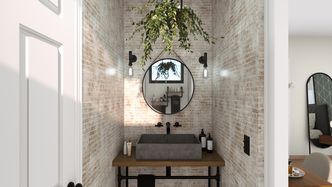 3D bathroom rendering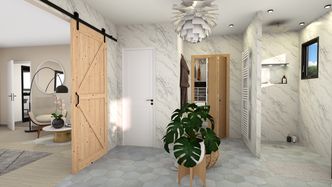 3D master bathroom rendering
Bathroom Floor Plan FAQs
What is the Best Layout for a Bathroom?
A lot depends on the space you have to work with. One of the best layouts for small spaces is the classic "three-in-a-row" with the tub/shower, toilet, and sink next to each other along one wall.
How Much Room Should You Allow Per Person in a Bathroom?
If the bathroom will be shared by two people during the morning rush hour, plan for a double sink with at least 30 inches of width per person. It's also a good idea to allow pathways that are at least 36 inches wide for optimum ease of movement.
How Much Space is Needed Between a Toilet and Shower?
If the toilet is next to the shower, it's best to leave at least 18 inches from the toilet's centerline to the edge of the shower. For toilets that face the shower, try to leave at least 30 inches of space in front of the toilet.
Why is the Toilet Always Placed Next to the Shower?
Fixtures are often placed along the same wall to reduce plumbing costs since all the piping is in one wall.