Wanting to gain more construction leads? Lead generation for contractors is easier said than done.

In the last 20-30 years, finding residential construction leads has evolved from simply relying on word of mouth and a phone number to relying on an ever-growing list of digital marketing tools like search engines, social media, review sites, etc.

So which lead generation strategies actually work for contractors?

In this 5-minute read, you'll learn exactly how to find construction leads for your business with 11 proven strategies.

Let's start by seeing why lead generation is essential for your business.




Why is Lead Generation Important For Residential Construction Companies?
Without lead generation, you're leaving business growth up to chance. With the residential construction industry becoming even more competitive, that's something you can't afford to do.

In fact, according to a recent survey, only 45% of construction and contracting businesses are growing. So if you're not consistently finding construction job leads, you're probably going to be part of that 45% of businesses that are either stagnant or shrinking.

Even if your business is seeing some growth, learning how to get leads for construction is still important. Why?

You'll have steady work. Instead of constantly going through a feast or famine cycle, knowing how to generate residential construction leads ensures you can always have the work you need.

Get better clients. 58% of marketers chose improving the quality of leads as their top priority for lead generation strategies. Fortunately for you, modern lead generation strategies help you find those quality leads that will drive the greatest revenue.

Let's take a look at some of those strategies.




11 Ways to Get Quality Residential Construction Leads
Here are 11 of the best ways to get construction leads. Implement these and get ready to start seeing some growth.

1. Define Your Ideal Customer Profile (ICP)
This is the foundation of all your other marketing efforts. Once you figure out who your ideal client is, you can design a targeted lead generation campaign to find your ideal construction job leads.

Start by answering some questions like these:
What would be the perfect construction/remodeling job for your company?
What types of projects would you like to have more of?
Who would likely hire you for those jobs?
Where do those people live?
What do they expect out of a contractor?
How is your ideal client likely to find you?
Understanding the answers to those questions will ensure you'll get the best residential construction leads and a solid ROI from your marketing efforts.

2. Launch a Website
Your website is your #1 lead generation tool and your virtual sales representative. Whether someone hears about your company from word-of-mouth, an online review, or a social media post, what are they going to do before they even consider giving you a call?

They'll go to your website.
92% of consumers will look at a company's website when deciding on a service provider
75% of potential clients judge a company's credibility based on its website
30% of customers won't even consider a business that doesn't have a website
Imagine that. If you don't have a website, you're already losing 30% of your leads.

Launching a website can seem overwhelming at first. Fortunately, with website builders like Wix and Squarespace, it's easier than ever.

Your construction company's website doesn't have to be huge and elaborate. In many cases, simple is better. Whatever design you choose, it should look professional, be easy to navigate, and have up-to-date contact info.

PRO TIP! – Once you launch your website (or even if you already have one), find out what others think of it. Show it to team members or even current clients and get their honest opinions.

3. Use 3D home design software to sell the vision
3D home design software like Cedreo is another top way to find and nurture leads for construction projects.

Clients love visuals.

Just as a potential client will choose to work with you or not based on how your website looks, the same is true with your project presentations.

Instead of just pitching a client with a black and white 2D floor plan, show them a photorealistic 3D representation of their finished project. When you can bring a project to life like that, it creates an emotional connection for the potential client and builds trust by showing them you are a professional.

3D renderings used to be complicated and expensive to create. But now with Cedreo, you can create residential home designs complete with 2D plans and 3D renderings in just a few hours — no design experience required!

Add 3D home design software to your lead generation strategy today!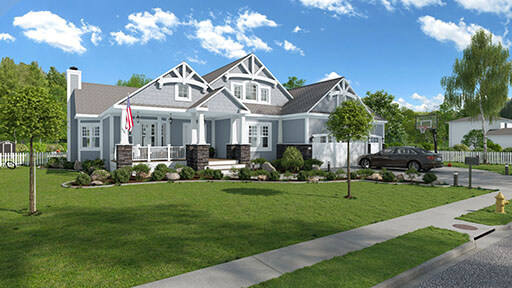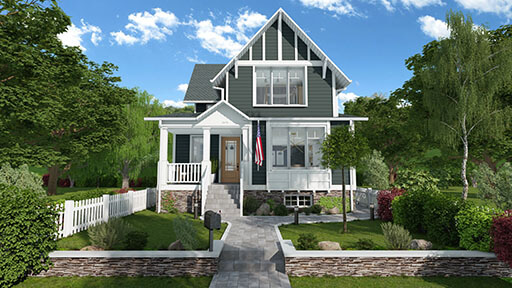 4. Create and Optimize a GMB profile
Google My Business (GMB) lets you add your business info to Google Maps and local search results. Setting it up for your contracting business is a no-brainer since up to 64% of consumers use GMB to find info on local businesses.

And best of all…it's FREE!

Once you create your Google My Business profile, you get access to other tools that help you optimize your presence online — reviews, analytics, Google Search Console, etc.

After you create and verify your listing, you need to optimize it to make sure you get the right residential construction leads. Here are some things you should do:
Make sure all your info is correct. 80% of people don't trust a local business if the contact details are wrong
Add the right categories for your listing
Define your service area and the services you offer
Add plenty of professional photos
Set it up to receive messages and requests for quotes (you'll need to download the Google Business App to receive and respond to messages)
Promptly answer questions and respond to comments
Ask for reviews (more on that later)
5. Create Profiles on Customer Review Sites
In addition to opening up your GMB profile to customer reviews, it's important to do the same on other review sites like Yelp. Some of the lead generation sites mentioned in the next section also double as customer review sites.

Why is this so important?

Online reviews are modern-day word-of-mouth advertising — 88% of people trust online reviews just as much as personal recommendations.

6. List your business on lead gen sites
Lead generation sites are one of the best ways to immediately start finding targeted leads for construction projects. Here are 9 of the top lead gen sites for residential contractors.

ConstructConnect
ConstructConnect has one of the largest databases of construction leads. Plus, it gives you the tools to target specific types of project leads.

Just set your preferences and get thousands of leads automatically selected to be the best opportunities for you.

ConstructConnect also helps you save time by letting you manage all your bids in one place, as well as collaborate with your team on takeoffs.

HomeAdvisor
HomeAdvisor is one of the most popular platforms for residential construction leads.

HomeAdvisor targets homeowners who are looking for home improvement projects. When they sign up and enter the details of their project, HomeAdvisor connects them with contractors on their platform like you.

You can get hundreds of leads, but it can get expensive. That's why it's important to use HomeAdvisor's tools to target specific project types and zip codes.

Porch
Porch helps homeowners find contractors and service businesses for things like moving, installing internet, changing a light fixture, and even larger home remodels. It's a great option if you focus on smaller projects and home renovations.

Similar to other construction lead gen sites, you can set your service area and define what types of projects you're interested in doing.

Then you can choose to pay by lead or you can set a monthly budget and Porch will automatically send you leads.

BuildZoom
BuildZoom works as both a lead-gen site and a mediator between you and potential clients. You can set up a profile, view jobs, and engage with clients all through their platform.

A nice aspect of BuildZoom is the fact that you only pay for leads that result in contracts. Plus, BuildZoom fully vets each prospective client so you know you're responding to real leads and not just people who want to ask a few questions.

Bark
Bark connects customers with all kinds of service businesses including residential contractors. While it might not be your main source of leads, it's worth adding it to your list. It's free to join and you only pay for leads that you decide to contact.

Thumbtack
Thumbtack is a lead gen site similar to Bark in that it caters to all kinds of service businesses — personal trainers, web designers, and contractors.

Customers search for the type of pro they need and if they contact you, you pay for the lead. Fortunately, Thumbtack lets you adjust your targeting preferences so you only get leads from the type of customers you want to work with.

The Blue Book
Instead of paying per lead like other sites, The Blue Book charges businesses a flat monthly fee ranging from $150-$800. Opt for one of the higher pricing tiers and your business will rank higher in their searches.

The Blue Book works well for large companies that are looking to hire subcontractors for big projects.

Dodge
Dodge offers a huge database of commercial and residential construction leads with over 6,500 new projects being added or updated every day. Plus it gives you a variety of tools to help estimate labor costs and manage construction documents.

Angie's List
Angie's List (now called Angi) is a review-based search engine that helps homeowners find contractors and handymen. It's free to sign up, free to list your business, and if someone finds and contacts you, you don't pay anything. Plus, some paid options ensure you show up higher in the search results.

7. Launch a review campaign
Even if you're ranking high in search engines, like the map pack in Google local search, you still need a bunch of great reviews to build trust with potential clients.
95% of people read online business reviews
After reading positive reviews 54% will visit the business's website
So what's the secret to getting more reviews?

Ask for them (especially at the end of a project when the client is excited about the finished project!) You can even ask previous clients or professional associates to post reviews as well.

On average, 72% of customers who are asked to write a review, ended up writing one. So be sure to add this to your project punch list.

8. Use paid ads to get immediate exposure
Ranking high in the search results can take time. Paid ads can give you instant exposure. However, it's best to only attempt paid ads if you've got the time, budget, and know-how to research keywords, write ad copy, and optimize conversions.

That's why a lot of small construction businesses get better results and more construction leads by hiring a digital marketing agency to manage the ads for them.

9. Share your work on social media
Social media isn't just for celebrities and influencers, it's for contractors too. Visual platforms like Instagram and Facebook make it easy to showcase your work and build a relationship with potential clients.

Once you've got your socials set up, try to post new content regularly and avoid turning every post into an advertisement. Instead, share design ideas, post before & after pictures, and introduce members of your team.

10. Offer free quotes
Small construction businesses can use free quotes as an effective strategy to compete with larger companies. It's true, estimates will take time to prepare depending on the size of the job, but they're a nice way to give a great first impression and build trust with a lead.

11. Start a referral program
Satisfied customers are your best salespeople. Since they're already likely to talk to others about their home project, incentivize them with some compensation for referring others to your business.

Another option is to network with tradesmen in related fields and offer them referrals for recommending your business.
Frequently Asked Questions About Construction Leads
How can I get exclusive construction leads?
Some of the best ways to get exclusive construction leads are through SEO, trade shows, review sites, and paid ads. You can also get construction job leads through lead generation sites that select specific projects based on your preferences.
Can I buy construction leads?
Yes, you can buy construction leads. It's one of the fastest ways to start getting a steady supply of quality leads. Just be sure to track your costs to make sure you're getting a return on your investment.
How much do construction leads cost?
A lot will depend on how you're acquiring them and if they're vetted before reaching you. You can expect to pay $25-75 for quality leads. But if you have a solid lead nurturing strategy, you can lower your cost per acquisition since you'll close a higher percentage of your deals.
Use Technology to Close More Construction Leads
Ready to start getting more leads? Then start implementing the steps on our list of the best ways to get construction leads. Some of those steps like Google My Business, a website, and social media need some time before you can see measurable results.

Fortunately, you can implement one of them with your very next project proposal — 3D renderings from home design software like Cedreo.

Thousands of residential construction contractors have already switched to Cedreo.

Its easy-to-use design software is engineered to save you loads of time and hassle while preparing proposals and price estimates. The 3D renderings help you impress potential clients and close more construction leads.

So why not start using Cedreo to…?
Boost conversion rates
Streamline your design process for interior and exterior projects
Simplify client communication
Start using Cedreo today and join the 1000s of other housing professionals who are getting better results from their lead generation campaigns.