Whether you're designing a new addition or building a new home from the ground up, home design software is an essential part of the process. It allows you to get a realistic vision of your project — you can design a floor plan, customize building materials, and even add in the furniture and lighting that makes it feel like home.

The best home design programs also help you ensure that the final build turns out as planned — without going over budget due to unforeseen costs. But, unless you have experience with CAD software, it's hard to know where to start.

In this guide, we'll discuss seven considerations when selecting the best home design software for your project. Then, we'll look at some of the top tools in the industry.




7 Considerations When Choosing Home Design Software
Part of the challenge of choosing the best house design software is, there's a lot of variation between different programs. Some are geared toward architects and veteran contractors who know their way around CAD software. Others fall on the opposite end of the spectrum, targeting homeowners and hobbyists looking to master their next big DIY project.

With that in mind, it's a good idea to define your requirements before moving forward. Here are a few things we recommend nailing down ASAP to help narrow your search:

1. Affordability
What kind of budget are you working with? As with home design software in general, prices vary widely between different options. Some software is free or very affordable, while other platforms can cost hundreds of dollars per month.

If you're a homeowner, it probably doesn't make sense to invest in some of the more expensive, professional-grade tools. However, if you're a professional homebuilder or contractor, that investment might be a drop in the bucket compared to the benefits it brings to your business.

It's worth noting that most of the home design software programs we'll look at in the next section offer a free trial or a limited free plan. We recommend testing out a few options to get a sense of what kind of value it stands to bring to the table — think cost savings, increased customer satisfaction, more efficient workflows, and so on.

While sticker price is important, the point is, you'll want to consider the big picture and the potential return on your investment.

2. Ease of setup and use
Some platforms have a much steeper learning curve than others. Again, if you're looking at pro-level home design software, you're going to find a lot of options for people with professional CAD or BIM experience or a background in advanced 3D modeling.

These options could certainly be overkill for a home builder or designer looking for simple floor planning and rendering options. But even more "advanced" professionals may want user-friendly options that give them more time to focus on the design process or interacting with customers.

For example, Cedreo users can complete an entire 3D home design from scratch in under two hours, making it easy for real estate agents, interior designers, builders, and contractors to put together a presentation and share it with clients and colleagues.

3. Scalability
Scalability refers to a system's ability to increase capacity and functionality based on demand. So, if your business grows, will your software be able to keep up?

As you evaluate different options, be sure you can answer the following questions:
Will the software be able to accommodate a growing number of team members?
Are there limits on projects/templates/downloads?
How will scaling impact the price of the product?
Naturally, scalability isn't a major factor if you're looking for a tool for managing DIY projects. But for small businesses with their eyes on expansion, committing to a tool that can't support growth can create bigger problems down the line.

4. Cloud-based
These days, it's hard to find any type of software that doesn't sync to the cloud. Still, it's worth making sure that the option you choose is cloud-based.

Some older software for home designing (and some of the more technical offerings on the current market) use a ton of power and take up a lot of memory — which, of course, can make projects much slower to load and render.

Today, many of the top home design programs allow you to generate and present 2D and 3D designs from anywhere and save your work to the cloud.

5. Collaboration capabilities
For professionals, it's important to have the ability to share designs with clients and get feedback. This helps ensure that you're always on the same page with clients and colleagues, reducing the chances that a critical detail is lost in translation — or just lost, in general.

With Cedreo, you can make client-requested revisions on the spot, which means less back-and-forth during the design process.

6. Feature set
You'll want to consider what features are most important for your business and your clients.

In other words, what features do you need to do your job better — faster, more effectively, and more importantly, ensure that you deliver a consistently great experience to your customers? Features to look for include:
Photorealistic rendering
Virtual walkthroughs
3D modeling
Presentation tools
Multi-device support
Often, it helps to start your search by looking for tools that align with your specific role/use case.

Some platforms — including Cedreo — cater to more than one group of housing professionals but include features and functionality that speak to each of their needs.

7. Support
What kind of resources are available? As you look at each option on your shortlist, try to answer the following questions:
What kinds of support channels are available?
Does the vendor offer knowledge base content — and is it any good?
Do they offer personalized onboarding?
Is there someone you can call for help?
12 Best Home Design Software (Free and Paid) for 2023
We looked at 12 of the best home design software platforms out there to help you find one that works for you. Below, we'll break them down by features, pricing, and target use case.
1. Cedreo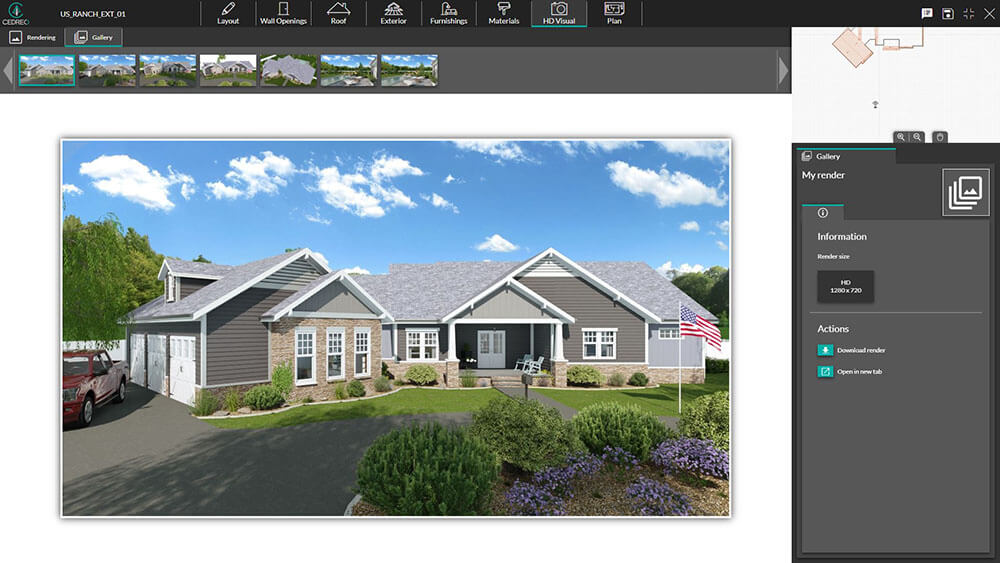 Best for: Homebuilders, remodelers, interior designers, and contractors.

Overview: Cedreo is 3D home building software that allows users to put together an entire conceptual design presentation from scratch in two hours or less. It's the best 3D home design software on our list.

Created with professional home builders and designers in mind, Cedreo includes a number of time-saving tools that reduce expenses, streamline the sales process, and improve communication with clients and other stakeholders.

Users can create 2D and 3D floor plans, generate photorealistic presentations that connect with clients on an emotional level and use designs as a marketing and sales tool. One of its best features is the roof-drawing tool — once you've set the dimensions of a building, you can add a roof with just a few clicks.

Key features:
Generate 2D and 3D floor plans
Customize interior and exterior designs
Create custom presentations and proposals
Save and reuse templates for future projects
Access Cedreo's 7,000+ piece home decor library
Share home design projects with your team and clients
Alter lighting and sun orientation
1:1 onboarding, training, and phone support
Pricing: Cedreo offers four plans:
Free: 1 user, 1 project, limited access to 3D catalog, 20 photorealistic renderings, and blueprint management.
Personal: $119 per project, with full design capabilities.
Professional: $119 per month — 1 user, unlimited projects, 40 photorealistic renderings, full access to 3D catalog, and phone and chat support.
Enterprise: $149 per user, per month, unlimited users and projects, collaboration and project sharing, role, and permission management.
Sign up for a free account and start designing today.
2. SketchUp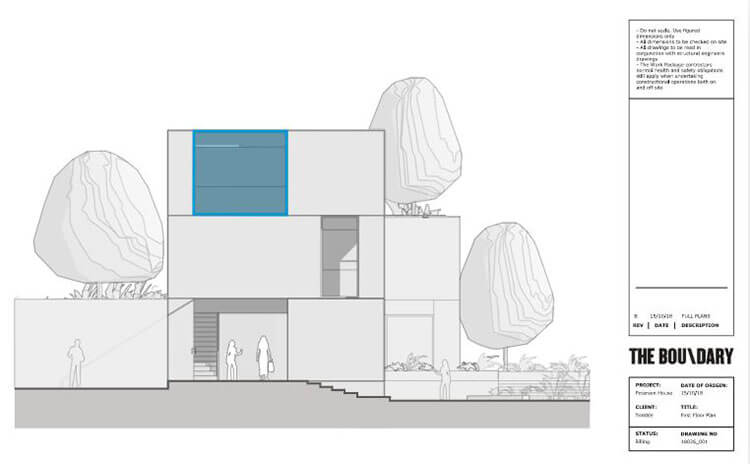 Best for: Architects, home builders, and commercial contractors

Overview: SketchUp is a comprehensive 3D design platform that has been around for more than 20 years. The platform allows users to generate and present interior and exterior designs via photorealistic renders, virtual walkthroughs and flyovers, and animations.

However, unlike Cedreo, SketchUp isn't explicitly designed for home builders and designers, and the platform comes with a steep learning curve — at least for those who don't have existing experience with CAD tools. (Cedreo aims to provide a more user-friendly experience and eliminates many of the steps that can lead to frustration and wasted time).

Key Features:
3D modeling
2D floor plans
3D warehouse — a 3D model catalog containing furniture, textures, flooring, decor, and more.
In-app reporting tools
Mixed reality presentation tools
View controls
Pricing: SketchUp offers three professional plans:
Shop: Web-only version with limited features, $119 per year.
Pro: Web and desktop app with additional features like XR viewer, 3D modeler, 2D design documentation, project insights, $299 per year.
Studio: Web and desktop app (Windows only) — includes everything from the Pro plan, plus energy efficiency features, $699 per year.
3. Planner 5D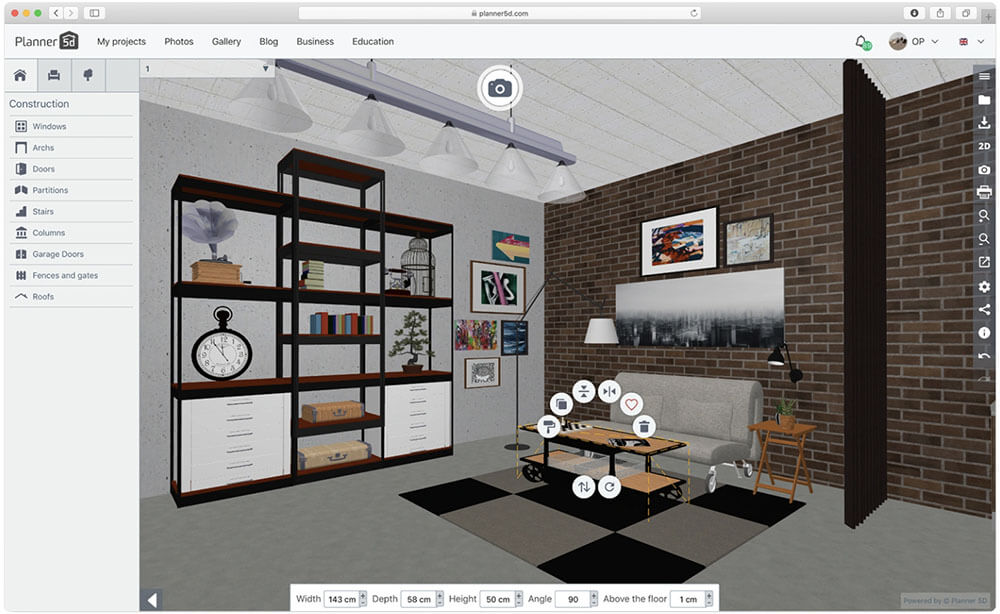 Best for: Homeowners, interior designers, real estate agents

Overview: Planner 5D promises to make home design easy with a three-step process: Design the floor plan and layout, add and customize furnishings, then generate and share realistic visualizations.

For the price, Planner 5D offers a lot. It's easy to generate professional-looking graphics quickly and apply custom textures, furniture, and colors. At the same time, professional designers and builders may find Planner 5D somewhat limited.

Several reviewers on Capterra and G2 Crowd reported that while they were impressed with the quality, they found the furniture catalog and customization options to be lacking. (Note that Planner 5D is upfront about being "designed for amateurs").

A few users noted that they did find this software useful for quickly putting together an idea to show a client.

Key Features:
Intuitive drag-and-drop editor with 2D and 3D design modes
HD visualizations
User-generated item catalog with 5,000+ items and automated furniture arrangement
AI plan recognition
AR 3D projection
Pricing: Free plan available with basic features and limited access to the 3D catalog. Paid version is $6.99 per month, $15.99 for an entire year, or $24.99 for a premium (forever) account.
4. Live Home 3D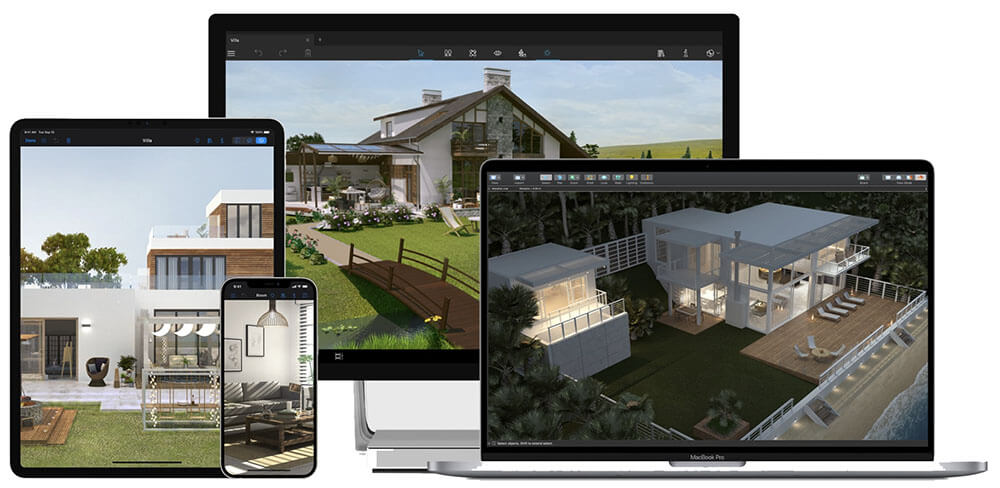 Best for: Architects, home builders, interior designers, landscape designers

Overview: Live Home 3D is the best free home design software for Mac and Windows — with full support for smartphones and tablets.

This tool makes it easy to measure walls and door openings, add appliances and furniture, and bring projects to life with photorealistic 3D renderings.

Live Home 3D offers an intuitive, high-tech experience at a low price point. However, you'll want to be realistic about how many features and add-ons you'll need over time. While the app is free, the paid upgrades can add up if you're not careful.

Key Features:
Create detailed 2D floor plans and 3D renderings
View and present projects in AR
AR room scanner — create a copy of a space and start designing
Catalog with 2,100+ materials, 2,000+ 3D objects, and integration with SketchUp's 3D warehouse.
Automatic 3D visualization
Terrain editing (Pro only)
Elevation view (Pro only)
Pricing: Live Home 3D offers a free version with limited features, as well as a free trial. Paid plans start at $19.99 per feature, charged as a one-time payment.
5. SmartDraw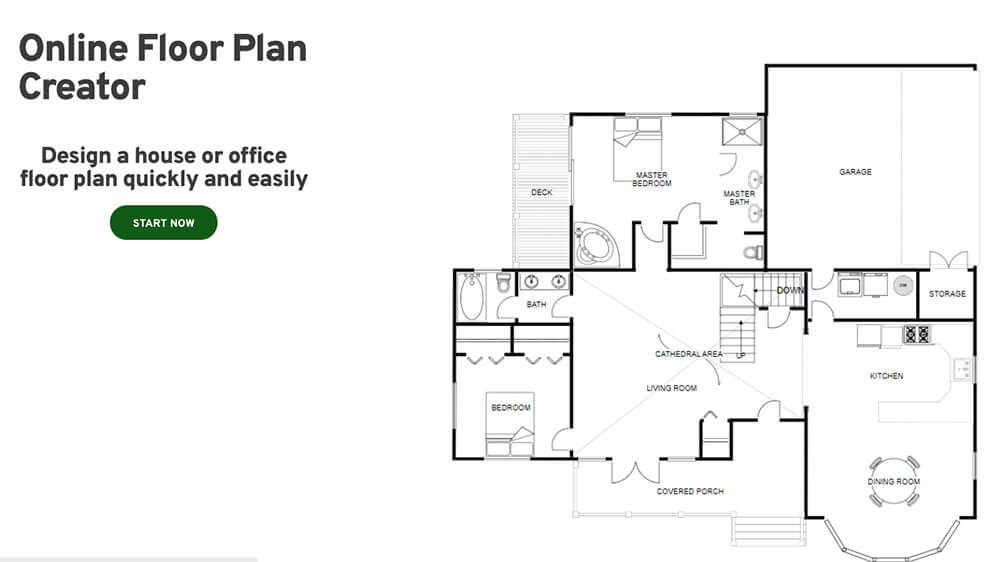 Best for: Interior designers, architects, and contractors

Overview: SmartDraw is a web app that allows users to generate detailed 2D floor plans from any device. While it's designed for professionals, the app is incredibly user-friendly — you can quickly generate floor plans with the exact measurements you need.

What makes SmartDraw unique is, it doesn't just cover the design process, it also includes several productivity tools that can help you manage other aspects of the project.

That said, SmartDraw doesn't offer much in the way of 3D rendering, modeling, or photorealistic visualizations. So, if you're looking for something that handles more client-facing processes, you may need to look for an all-in-one tool or home design software that can integrate with this program.

Ultimately, it seems that SmartDraw is best-suited for helping builders and remodelers determine where to place elements like cabinets, windows, and appliances.

Key Features:
Extensive library of "quick start" 2D floor plan templates
Integration with Atlassian stack, Google Suite, MS Office, PowerPoint, and Dropbox
Diagram-builder with templates for over 70 diagram types
Includes over 34k symbols for a range of disciplines including engineering, software design, floor plans, landscape design, and more
Development platform that allows you to create diagrams and floor plans from real data
Pricing: SmartDraw offers three plans:
Individual: $9.95 per month
Team: Starts at $5.95 per user, per month
Enterprise: Starts at $1 per user, per month
7-day free trial available
6. HomeByMe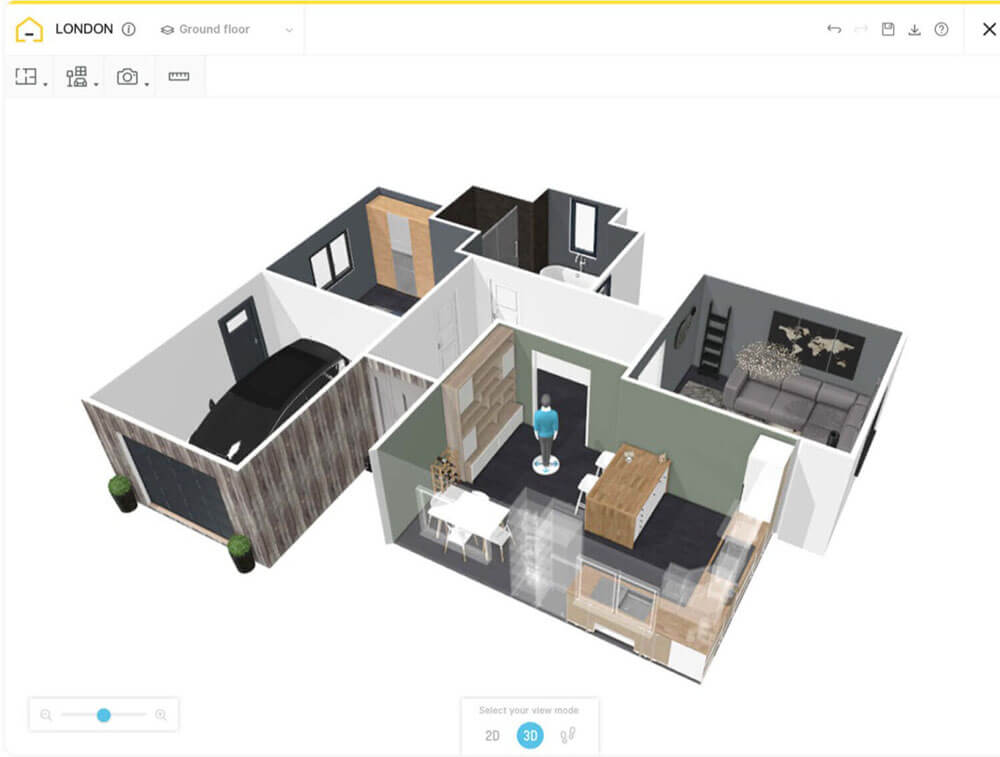 Best for: Interior designers, real estate agents, and furniture brands

Overview: HomeByMe is an intuitive platform that allows users to create 2D floor plans, then furnish and customize designs in 3D — either starting from scratch or by scanning/uploading an existing floor plan. From there, you can update the layout, add and customize furniture, flooring, and light fixtures, then turn it into an HD image that brings your vision to life.

The in-app object catalog features products from real brands like Crate & Barrel, Wayfair, Pottery Barn, and CB2.

Users can also share their designs with clients, colleagues, and other stakeholders, as well as the HomeByMe community. Collaborators can comment directly on projects, making it easy to incorporate feedback and streamline the decision-making process.

Ultimately, HomeByMe doesn't allow you to design the entire home — it's made for interior designers and real estate agents focused more on room design and furniture choices.

Key Features:
2D drawing and drafting
Photorealistic HD interior designs
Product catalog with branded products
Collaboration and presentation tools
Works on mobile and web
Pricing: Contact HomeByMe for a quote.
7. RoomToDo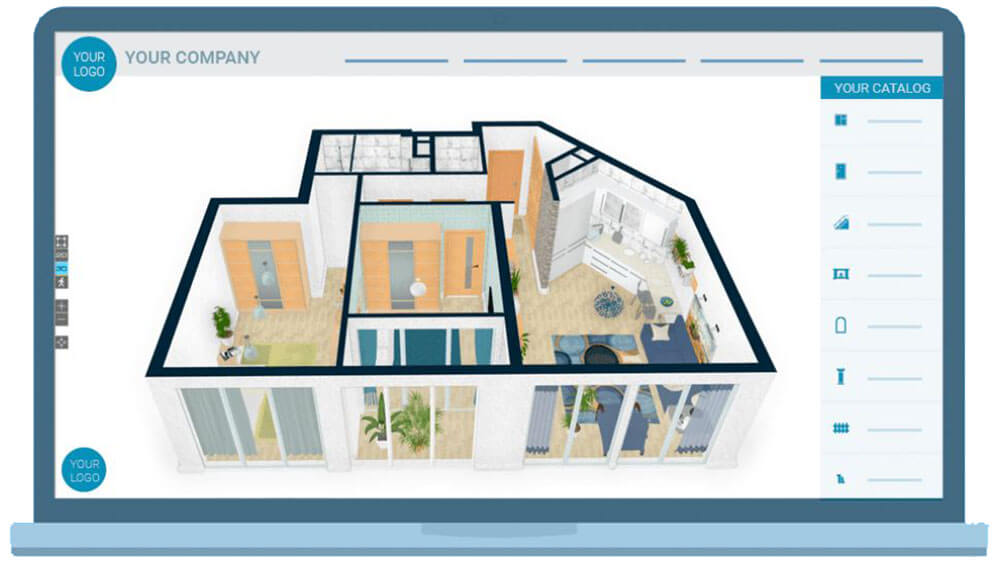 Best for: Real estate agents, interior designers, remodelers, and contractors

Overview: RoomToDo is an interior design platform with an intuitive interface for designing and decorating homes, apartments, offices, and more.

The software includes a feature lineup similar to many of the other entries on this list: 2D drawing tools, the ability to upload and edit blueprints, and features that allow you to add and customize windows, doors, furniture, and materials.

Unfortunately, there aren't that many reviews out there for RoomToDo, so it's hard to get a sense of whether it's a good tool for professional home designers, or if it's better to go with more proven options.

Key Features:
2D drawing
3D imaging
Presentation tools
Reusable design templates
Pricing: Contact RoomToDo for a quote.
8. Chief Architect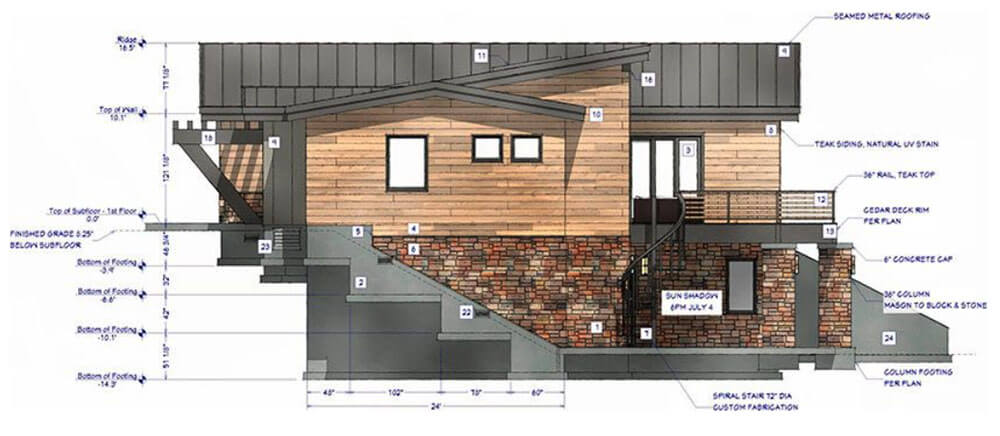 Best for: Architects, interior designers, remodelers, home builders, and contractors

Overview: Chief Architect is perhaps the best CAD software for home design and commercial design — both indoor and outdoor. The platform allows you to create 2D floor plans, 3D models, and even generate a materials list as you go. The cost of this software, however, may be too much for independent contractors or small firms.

Key Features:
2D drawing and drafting
3D imaging
Component library
Landscape design
Presentation tools
Pricing: Free trial available. One-time software licensing fees start at $1,995.
9. Sweet Home 3D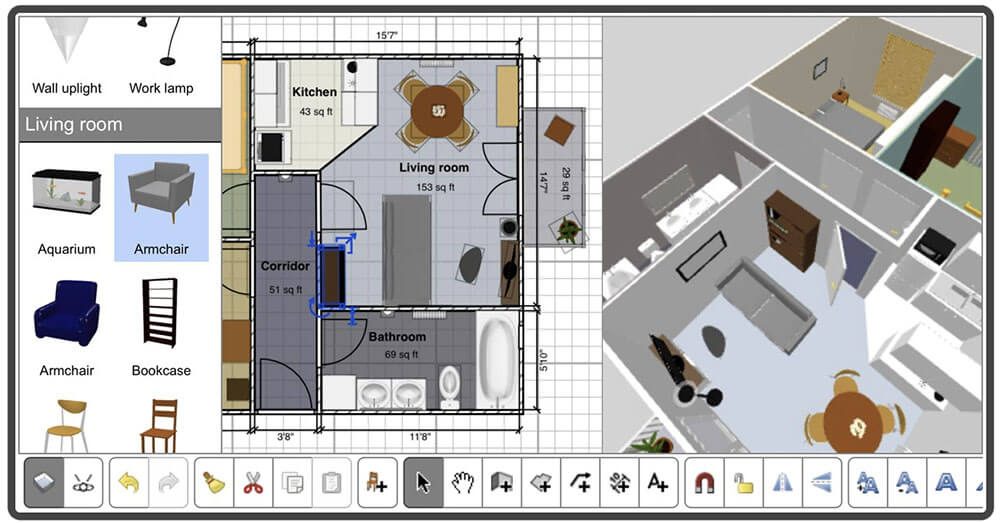 Best for: Homebuilders, contractors, and remodelers

Overview: Sweet Home 3D is an easy-to-use home design platform that's free to download and integrates with a variety of plugins.

Sweet Home 3D comes with a drag-and-drop editor you can use to create 2D and 3D floor plans with exact dimensions — including designs with irregular wall shapes. It's important to note that Sweet Home 3D is best used to design simple structures. You might use it to plan interior remodeling projects — think knocking out a wall, remodeling a basement, or figuring out where to put new furniture.

It probably doesn't make sense to use it for more complex projects that require more details, such as architectural symbols and accurate dimensions. Nor does it make sense for putting together client presentations — you won't find photorealistic renders, virtual tools, collaboration features, or anything involving AR.

Key Features:
Draw 2D plans from scratch or import a blueprint
Toggle between 2D and 3D views
Generate photorealistic images and videos (graphics feel a bit outdated)
Annotate plans with dimensions, arrows, etc.
Access library of 3D models — furniture, textures, plants, and other design elements
Pricing: Sweet Home 3D is free, though you will need to pay for access to additional objects and textures.
10. Homestyler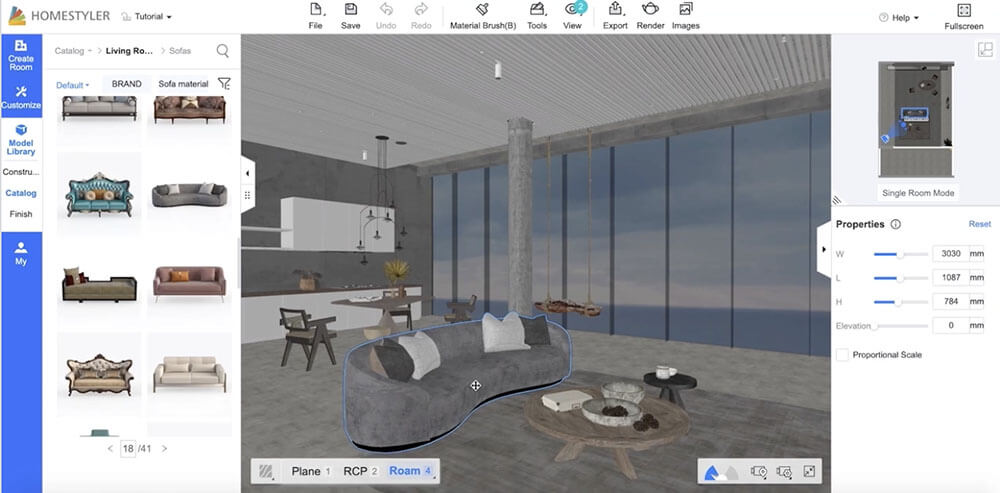 Best for: Mobile users, real estate agents, interior designers, home owners

Overview: Homestyler is a free home decorating app for iOS and Android. Users can get started by snapping a picture of their space, then testing out different wall colors, furniture, and building materials.

The application is best suited for interior decorating — not so much new builds. For instance, its key selling point is its 3D furniture library, which allows you to browse a branded selection of furniture, rugs, light fixtures, and more in a virtual space before buying them.

For real estate agents, Homestyler could be a useful tool for showing clients the "potential" of their new home — adding some "homey" touches that speak to buyers on an emotional level. Interior designers might use it as a collaboration tool for helping clients choose the right dining table, sofa, or wall color.

Key Features:
2D and 3D floor plans with accurate measurements
Furniture library with 3D designs of real items from top brands
HD photorealistic renderings, with panoramic views available
Access to designs from Homestyler's user community
Pricing: Free plan available. Paid plans range from $4.90 to $9.90 per month, with team licensing pricing available upon request.
11. Lands Design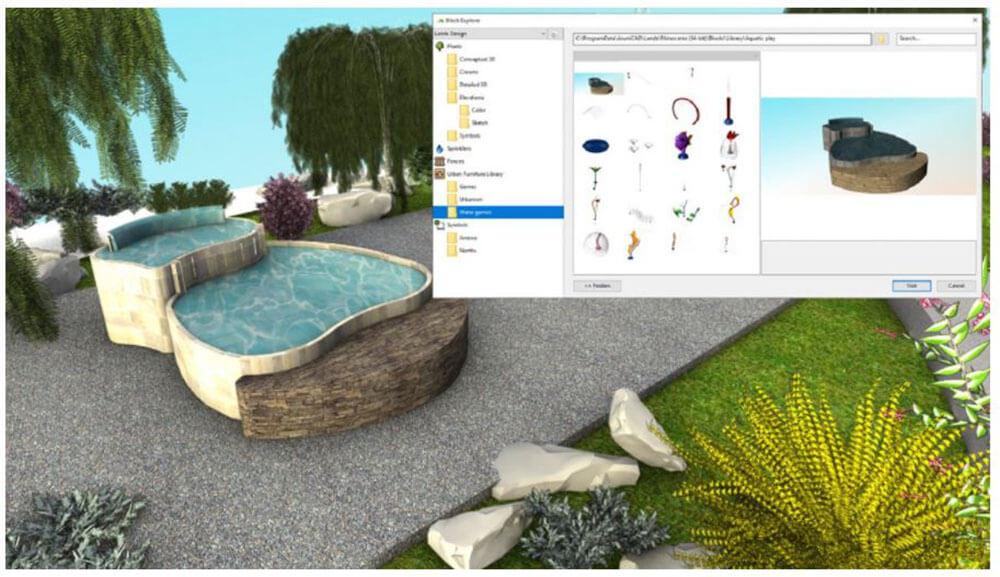 Best for: Landscape design and architecture, green infrastructure, urban planning, forestry, and CG artists

Overview: Lands Design is a BIM platform designed for landscape design, city planning, and other professions that design and build outdoor environments. This software is something of an outlier on this list — it's not made for home building and design projects, it's actually a plug-in for Rhino (a 3D-modelling platform that can be used for home design projects) and an integration for AutoCAD.

Lands Design can take exterior designs to the next level. The platform includes a plant database with 1,800+ species, which can be customized according to soil type, region, climate, wind resistance, and more. The platform also includes terrain modeling tools, parametric designs, and smart objects that can be linked to 2D designs and 3D models.

Key Features:
Terrain modeling tools
Smart objects
2D and 3D plant database with 1,800+ species
Parametric design
Quotes/estimates, billing/invoicing, customer database
Pricing: Software starts at a one-time cost of $795. Expansion packs are available for $295 each. While there's no free version, Lands Design does offer a 90-day free trial.
12. Space Designer 3D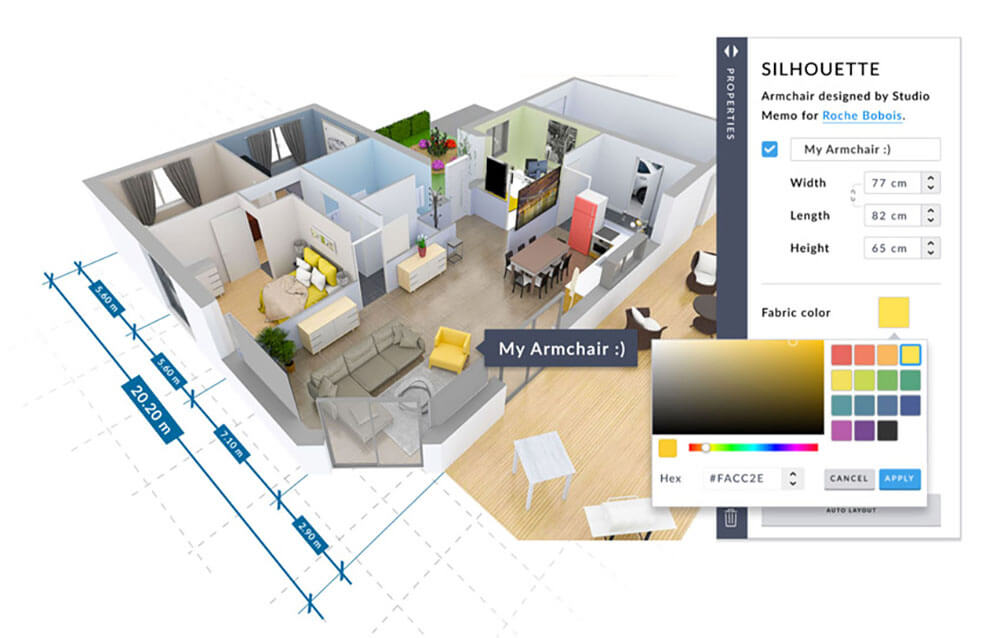 Best for: Annotating room designs

Overview: Space Designer 3D is a modular product, allowing users to choose only the features they need. It offers design tools, as well as tools specifically for e-commerce catalogs. Users can export designs to Revit, Autocad, and other platforms for fine-tuning.

This platform allows designers to add notes and comments to any floor plan, which may help clarify communication with clients. Space Designer's employees can produce 3D renderings for users who don't have the time or skillset to create them, and online training is available, but only for Enterprise customers.

Key Features:
2D drawing
3D imaging and modeling
Detailed annotations
BIM modeling
Client portal
Pricing:

Casual: $9.99 per project, per month.

Regular: $59.99 per month.

Team: $239.99 per month.

Enterprise pricing available upon request.
Which Home Design Software Is Right for You?
Finding the right home design software starts with assessing your needs, experience, and budget.

As a starting point, check out some of the design tools we've outlined above. Many of them offer free trials or some type of free plan, so you can test them out before making any big decisions.

Cedreo's intuitive software makes it easy for home design professionals to create and share stunning presentations in a matter of clicks.

Contact our sales team to get a custom enterprise quote or sign up for a free account and start designing for free.