What Is Commercial Interior Design?
Ever been to an airport, a restaurant, or a hotel? Then you've seen the results of commercial interior design.

Commercial interior designers develop attractive and practical spaces for commercial properties. It's their responsibility to make sure these spaces work well for both the business owners and their customers.

Are you a design professional looking to branch out into interior design for commercial spaces?

In this 5-minute read, you'll learn everything you need to know about the commercial interior design profession like:
What is commercial interior design?
Key stages of the commercial design process
Ways to leverage technology and commercial design best practices to grow your business
Let's get started with the differences between residential and commercial interior design.




Residential vs. Commercial Interior Design: What's The Difference?
Residential interior designers focus on creating living spaces for homeowners. This involves designing interior spaces in houses, townhomes, and apartments. For residential interior designers, the needs and comforts of homeowners are their top priorities.

Commercial interior design is a little more involved. This is because you're creating a more complex space for two groups of people — business owners and their customers or employees.

For example, let's say you're designing the interior space of a luxury hotel — a project much larger than a residential home. You need to take into consideration the hotel owners and their business objectives to maximize the building's functionality and future profits. But at the same time, you also have to design a hotel that's comfortable and welcoming for the guests.

The same goes for just about any commercial building interior design project — retail stores, restaurants, malls, theaters, hospitals, and many more.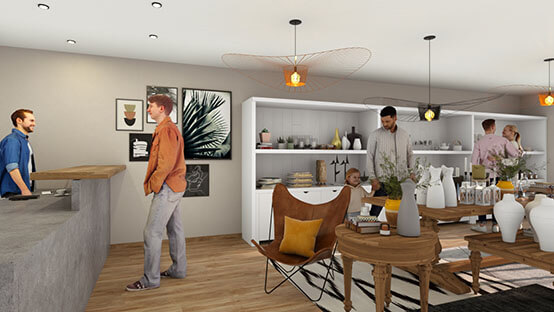 What Does A Commercial Interior Designer Do?
So what exactly does a commercial interior designer do? Just decide which furniture, decorations, and paint colors to use.

Actually, commercial interior designing involves a lot more than that.

When most people hear "interior designers", they think of "interior decorators". Although similar, there are some differences in what they each do.

Interior decorators focus mainly on the aesthetic environment. Interior designers take aesthetics into account as well, but it's just a small part of what they do.

Designers are interested in the overall functionality of the space. They have to figure out ways to create a space that is engaging, comfortable, and efficient, all while being visually appealing.

So as you can imagine, that's not an easy task.

Let's go back to the example of the luxury hotel. To maximize profits, a designer will figure out ways to accommodate a specific number of guests. But the hotel should also impress the guests. Fill the hotel's available space with tiny rooms and limited amenities and guess what? Guests will not be happy.

It's up to the commercial interior designer to figure out the best way to balance all of these factors. That's why the designer needs to work closely with the client and the entire architectural team right from the start of the project.

Then as the project progresses, the designer continues to work with the architects, engineers, builders, and decorators. They collaborate when making important decisions about things like building safety codes, lighting, windows, ceiling design, commercial interior decor, and other architectural details.

By balancing all of these factors, talented commercial interior designers create spaces that directly contribute to a business's long-term success.




Who Uses a Commercial Interior Designer?
You'll often find commercial interior designers working as part of a larger architectural design firm. However, they may also work as independent consultants for building contractors or private clients.

Regardless of who they work for, commercial interior design professionals will collaborate with other housing professionals on a wide variety of projects. These could range from large projects like an airport to smaller ones like a small coffee shop.

On more extensive projects, the designer will usually work with a larger team of designers and architects — each focusing on their area of expertise. But on smaller commercial projects with just interior changes, the designer could likely end up taking the lead with the project and serving as the mediator between the client and the team doing the work.




Key Stages of the Commercial Interior Design Process
Let's have a look at the 6 main stages of any commercial interior design project. These are important to understand and follow for your project to be a success.

Phase #1: Pre-design
At the beginning of any project, there's a lot of information that designers need to gather. The pre-design phase kicks off this process.

They start by gathering information from their client and in some cases, even their client's target customers. Here are a few topics designers should cover during initial discussions:
What does the client want to achieve with their space?
What do their customers or employees need from the space?
How should the design of the space reflect the company's overall branding image?
At this stage, many interior designers even start presenting initial design concepts to make sure everyone is on the same page.

IMPORTANT: Keep in mind that large projects in urban areas will involve a lot more research at this stage regarding things like budget analysis, zoning, and code requirements, etc.

Phase #2: Programming
Once you understand your client's needs, it's time to move on to some of the hard planning. In the programming phase of commercial interior design, the designer works to nail down the client's needs even further.

Designers need to define:
The existing conditions of the commercial space
The client's current and future needs
The space's projected maintenance needs
The total budget
The desired completion date
A big part of the programming is establishing a budget and a timeframe for the project. Once designers know how much money and time they have to work with, they can move on to phase 3, the schematics.

Phase #3: Schematics
Based on the information the interior designer has gathered in the first two steps, they can now start to develop the 2D & 3D plans and layouts.

In the past, commercial interior designers relied heavily on mood boards and hand-drawn sketches. Modern design professionals use interior design and rendering software to plan and visualize layouts for their clients.

A great example of this software is Cedreo. With it, commercial designers can quickly create 2D floor plans, 3D floor plans, and photorealistic 3D renderings — complete with furnishings, textures, and lighting.

Check out an example of the commercial interior decor you can create in just a few hours with Cedreo.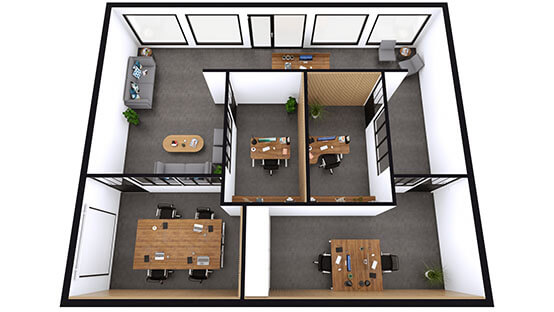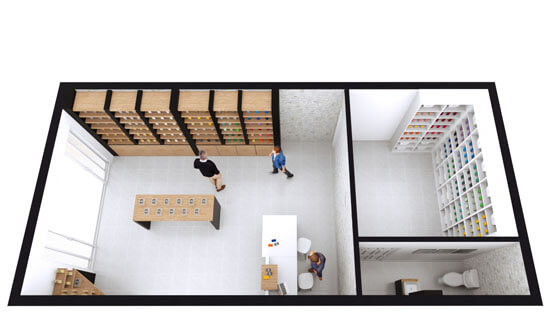 Phase #4: Presentation
Now it's time for the designer to review the plan with their client. For this stage, they must rely on more than just 2D plans. 3D layouts and renderings are essential for clearly transmitting your vision to clients.

More and more commercial designers are also relying on cloud-based interior design software like Cedreo since it lets them show their client design ideas without ever having to leave their offices. Then, based on client feedback during the presentation, they tweak the designs and their clients instantly see the updated version on their computers.

Phase #5: Construction
While commercial interior designing doesn't usually involve doing the construction or remodeling work, designers still work closely with contractors. In this way, they can ensure the project is completed according to the design specifications.

Phase #6: Post-construction
Once construction is finished, designers must walk through the space with their clients. They double-check everything was completed according to plan and that the client is happy with their new space.

If needed, they'll create a punch list with any small items for the contractors to finish or change. Then they make sure that any changes get added to a set of as-built drawings for their client can keep on file.




Commercial Interior Design Best Practices
So now that you've got an overview of the interior design process for commercial spaces, what are some best practices you should follow to ensure each project ends with a happy client? Here are 8 of the most important commercial interior design best practices.

Keep it versatile
Versatility is important for modern commercial spaces. Try to design spaces that can be repurposed as your clients' businesses grow and change.

Although versatile design elements involve more detailed planning and may cost more initially, the investment is worth it. Anytime your client needs to adjust the space, they can do it quickly and without having to disrupt their business for expensive demolition and repairs.

Be purposeful
To design with purpose you first need to fully understand the function of each space. Then, design purposefully so that each element — whether it's a shelf, a partition, or even a decoration — serves a function that contributes to the overall purpose of the space.

For example, don't just add decorations because they "look nice". Purposely add decorations that reflect the company's brand image.

Create an atmosphere
In addition to creating a space that supports your client's brand image, create an atmosphere that promotes the feelings your client's customers or employees should experience.

Does your client want an intimate and romantic restaurant? Then use combinations of furniture and decor to set the appropriate atmosphere.

2D & 3D interior design programs like Cedreo help commercial designers like you test out different design elements. Create renderings with realistic textures and materials that let you and your clients visualize the atmosphere before the project even starts.
Adjust lighting
Proper lighting in commercial spaces does more than just keep people out of the dark. Use it to showcase products, guide clients through the store, and contribute to the overall atmosphere of the space.

PRO TIP: Use 3D rendering software to help you see how natural lighting will affect the look of the interior space.

Use textures and surface coverings
The best commercial interior designers combine a variety of textures and materials to create depth, support the brand image, and contribute to the overall interior environment.

And with 3D interior design software like Cedreo, you can test thousands of different textures and surface covering combinations during the schematics and presentation stages.

Include biophilia
Biophilia is the idea that humans have an innate love of nature and thrive when they have a connection to it. You can apply this to your commercial designs by adding natural elements — greenery, wood, stone, and natural light — to the space.

Adding natural elements like these to commercial spaces has been shown to reduce stress, increase feelings of well-being, and even motivate customers to spend more.

Focus on accessibility
Since a commercial space will be used by the public, it's important to include accommodations for people with special accessibility needs. This could include wheelchair ramps, handlebars at strategic locations, a certain amount of handicapped bathrooms, etc.

PRO TIP: Pay close attention to local building codes. In many places, they specify the amount, location, and types of accommodations required.

Leverage technology
To get an edge as a modern commercial designer, you need to leverage technology to create better designs, save time, and improve client communication.

One of the easiest ways to do that is by using interior design software. All-in-one 2D/3D design programs like Cedreo help you take projects from planning to completion faster than ever.




Create Better Commercial Interior Designs
Ready to take your commercial interior design business to the next level? The right design software helps you do that as long as it…
Is easy to learn
Streamlines your design workflow
Improves product presentations with 3D renderings
Boosts conversions
And doesn't require expensive add-ons
Cedreo does that and much more. Start using Cedreo today and get access to powerful design tools like these.

Floor plans

Draw and view detailed 2D and 3D floor plans simultaneously.

Furniture and decor

Customize the space with thousands of different furnishings and decorations.

Customize colors and surface coverings

Visit Cedreo's extensive design library and choose from a virtually unlimited combination of paint colors, tile, wood, flooring, stone, and more.

Adjust light settings

See how the space will look at different times of the day with accurate depictions of both natural and artificial lighting.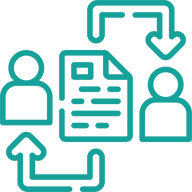 Share with clients

Download and share 2D plans, 3D layouts, and stunning photorealistic renderings in easy-to-view file formats.