An interior design rendering is an image used by interior designers, as well as architects, builders, and contractors to showcase their design ideas.

Interior design renderings help clients visualize the finished product and enable designers to capture and incorporate feedback for a more collaborative design process. Without interior design rendering, designers must communicate concepts using traditional charts, boards, swatches, and insights gleaned from client conversations and can get caught up in the details clients don't care about.

Renderings allow for better feedback, better visualizations, and higher project close rates — and they keep designers focused on the big-picture plan. Let's look at how professionals use interior design rendering software.




What is Interior Design Rendering?
Interior design rendering describes the process of generating 2D or 3D scale drawings of a proposed design within a software program. Renderings may be photorealistic and may depict a floor plan or an immersive view of an individual room.

Regardless of format, design renderings aim to provide clients with an accurate picture of what the finished product will look like so they have all the information they need to approve a design or request changes.

Interior design renderings allow designers to communicate with powerful visuals rather than relying on words or simple mockups alone. Clients can see how appliances and furniture fit into the proposed design, where windows and doors are positioned, how much natural light each room gets throughout the day, and so on.

Traditionally, interior designers have commissioned photorealistic renderings to help them show clients what the finished design will look like. However, this approach has a few significant downsides. For one, it can get expensive. It's also time-consuming and doesn't allow for on-the-fly modifications or customizations, making it difficult to provide clients with a personalized experience that really resonates with their needs.

Today, interior design pros use interior design 3D rendering software (like Cedreo) to bring design concepts to life in a matter of clicks.

In these next few sections, we'll go over the benefits of interior design renders and explain why they're such a critical business tool for designers.




Benefits of Interior Design Rendering
Interior design rendering comes with a long list of benefits, though they all link back to the same idea: They allow design pros to show clients their ideas, rather than tell them what the final product will look like.

Here are some more specific benefits of interior design rendering that really underscore its critical role in helping designers, builders, and architects grow their business:
Clients can visualize their finished space
3D interior design renderings give clients a sense of how a project will look once it's complete. Floor plan renderings help clients understand how rooms fit together and see the traffic flow between rooms. Photorealistic renderings of individual rooms create the kind of emotional connections it takes to win more business.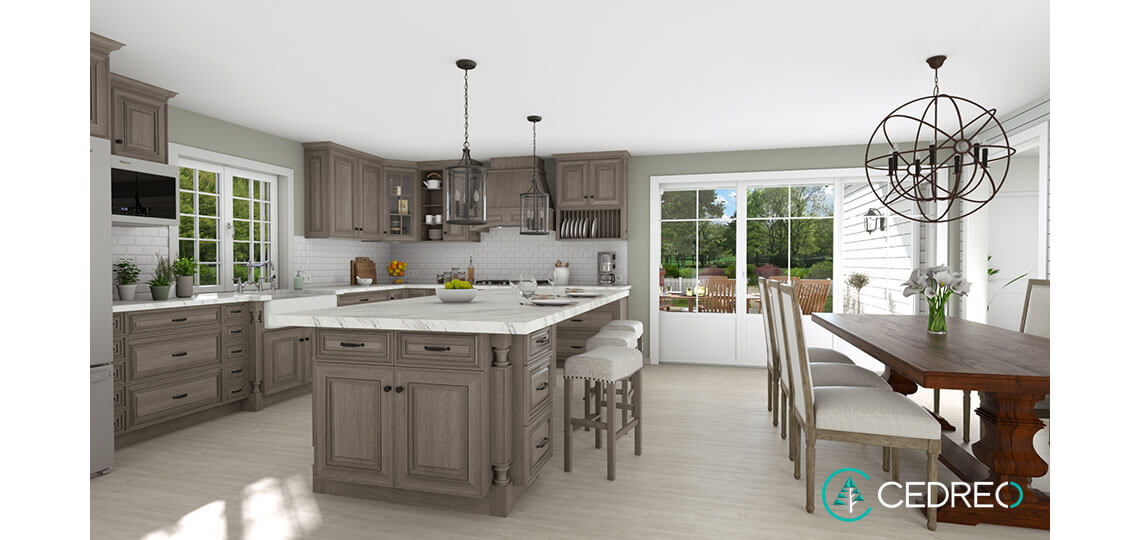 Image: Interior design rendering created with Cedreo.
Designers can add and arrange furniture, update building materials according to client preferences, and demonstrate how lighting and sun orientation influence the look and feel of a space.
Clients can see the design from all angles
3D interior rendering tools allow designers to create floor plans, add furnishings, decorate and visualize designs from a variety of viewpoints. With Cedreo, designers can toggle between floor plans and immersive interior renderings, change camera position, and show clients how the space looks from different angles.
Designers can customize lighting
The ability to change the lighting in 3D interior design renderings goes a long way in grounding concepts in reality and fostering that emotional connection with customers.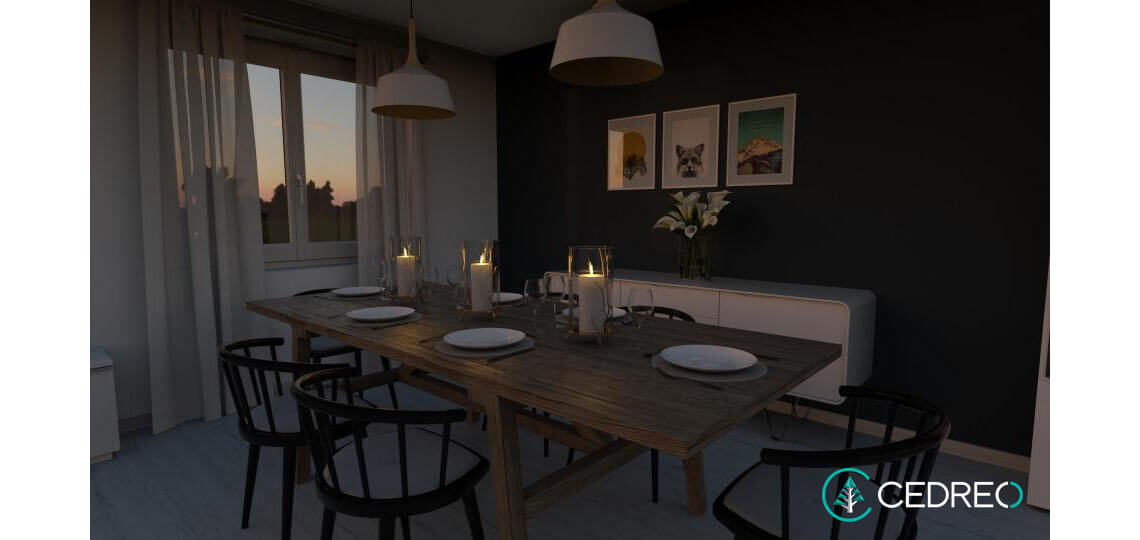 In Cedreo, designers can show clients how sun orientation impacts the look and feel of a room. Designers can also create visualizations that depict the space at different times of day — sunrise, sunset, etc.
Designers can make updates in real-time based on client feedback
Designers traditionally commission photorealistic renderings based on the information they've gathered about a prospect or client, often after the design process is well underway. But presenting a client with a 3D rendering in the early stages of a project helps designers meet client expectations and streamline the approval process.

With cloud-based interior design software, client feedback informs the direction of the project. Designers can show clients multiple versions of a design throughout the entire creative process, update designs based on client feedback, and finalize plans on the spot.

Ultimately, with interior design 3D rendering, designers waste less time reworking designs and stay focused on the work that creates the most value for the client.




Use Interior Design Renderings as a Sales Tool
Photorealistic renderings are a game-changer when it comes to building trust with clients and getting buy-in for a project.

As much as most people like to believe they buy based on logic, the reality is, they buy based on emotion. And visualizations are an effective way to evoke emotion. Accordingly, interior design rendering software can stir the emotions that boost sales numbers and improve the efficacy of your marketing efforts.

Interior designers can use 3D renderings for marketing both industrial and luxury residential interior projects. For example, you might feature photorealistic renderings in your social media feeds, digital ads, email marketing campaigns, your website, and more. You might use them as part of a personalized presentation to land a VIP client or bring in new leads by showing off your talents.

As a presentation too, interior design renderings can positively influence clients by showcasing every detail that goes into an interior project. Decision-makers can see how various options look, as designers can incorporate their feedback on the fly.

3D rendering is also an important planning tool. Designers can easily identify problems with a layout, keep track of requested changes, and share information with project collaborators.

Interior design software like Cedreo allows users to generate renderings throughout the process, ensuring that everyone involved in the process is happy with everything from the layout and furniture choices to flooring, paint color, and quality of light.




Create Professional Interior Design Renderings in Minutes
While there are many apps that allow you to create 3D renderings, they may not include the specific features that homebuilders, designers, and remodelers need. With Cedreo's easy interface and comprehensive design library, you can generate photorealistic 3D renderings in a matter of minutes.

To further illustrate our point, we'll walk you through the simple, six-step process of generating an interior design rendering that brings your idea to life:
Step #1. Choose your atmosphere

To streamline the process, Cedreo has created a series of pre-made atmospheres to help you "set the mood" for a particular design (contemporary, charming, etc.). Users can select an atmosphere to see all furniture, decor, and materials that fall within that broader category.
Step #2: Drag-and-drop furnishings and decorations

Cedreo's 3D library includes 7000+ pieces of furniture, decorations, and building materials.

Users can hand-pick individual products as needed, or select collections of home furnishings or accessories.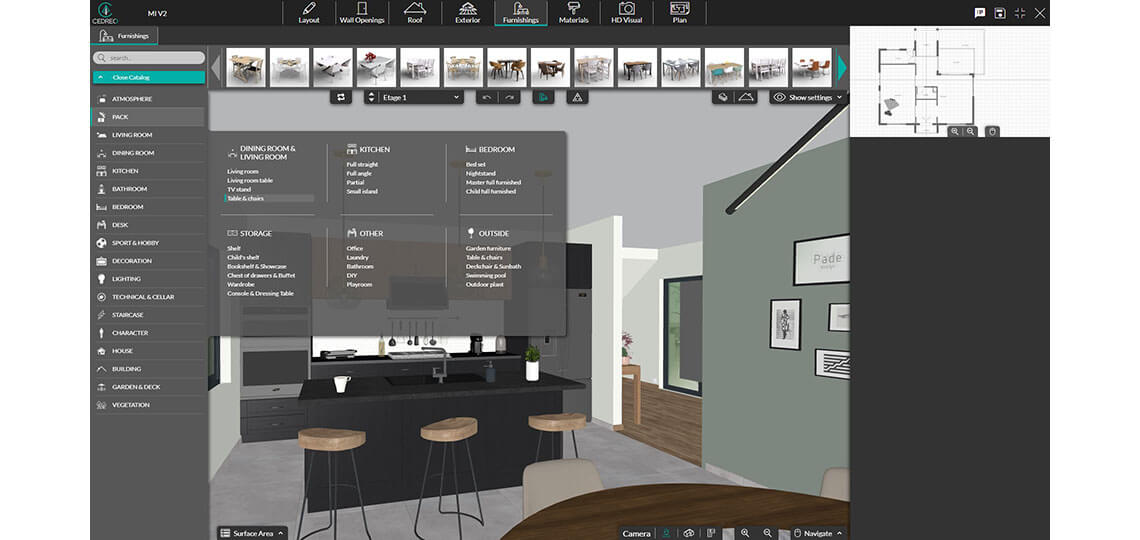 Step #3: Customize materials and surface coverings

From there, users can further customize objects, materials, and surface coverings to match client needs.
Image: Customizing material and surface coverings in Cedreo.
Step #4: Generate photorealistic renderings

Cedreo allows you to generate photorealistic renderings in a single click.

You can also opt to manage the interior lighting and sun orientation automatically or select the sun's position manually by dragging and dropping the mouse along the longitude and latitude axes based on how much sun you'd like to bring into the room.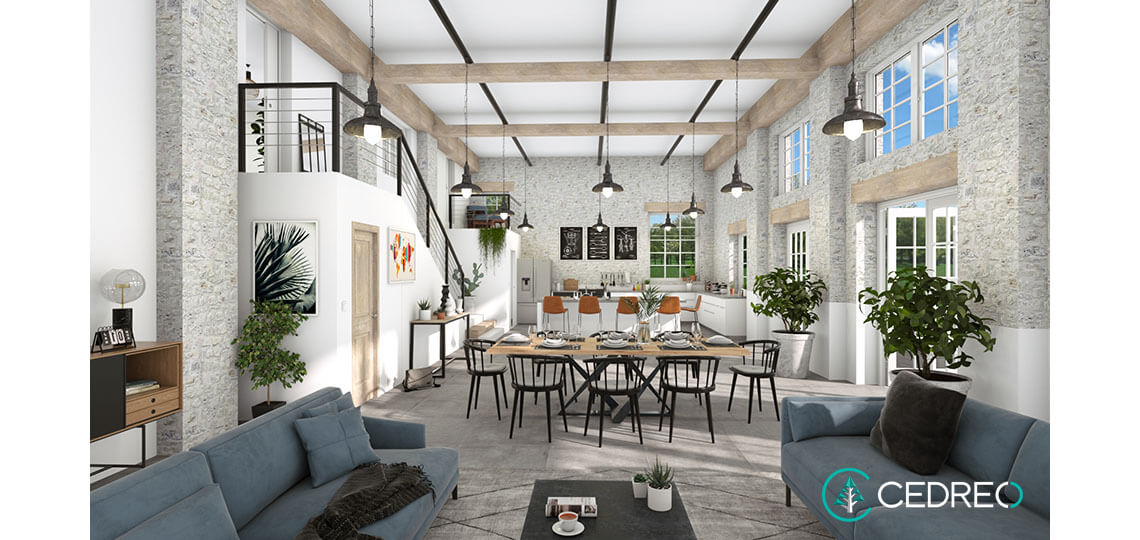 Step #5: Save camera viewpoints so you can create design variations from the same angles

Projects can be saved and stored — down to the viewpoint — so you can quickly generate and reuse design variations from the same angles. Saved viewpoints allow designers to test different layouts/views/surface coverings without having to reposition the camera to create a new interior design rendering.
Image: Adjusting the viewpoints in Cedreo.
Step #6: Share with clients and team members

When you're satisfied with your rendering, you can share your design with your colleagues or clients. Because Cedreo is cloud-based, users can instantly generate renderings, update the plan, and download the latest version to share it with key decision-makers.
Interior Design Rendering Examples
We've looked at the benefits of interior design renderings and how to create one of your own using Cedreo. Here, we've included some examples to give you a better idea of how interior designers can use 3D renderings to really connect with clients.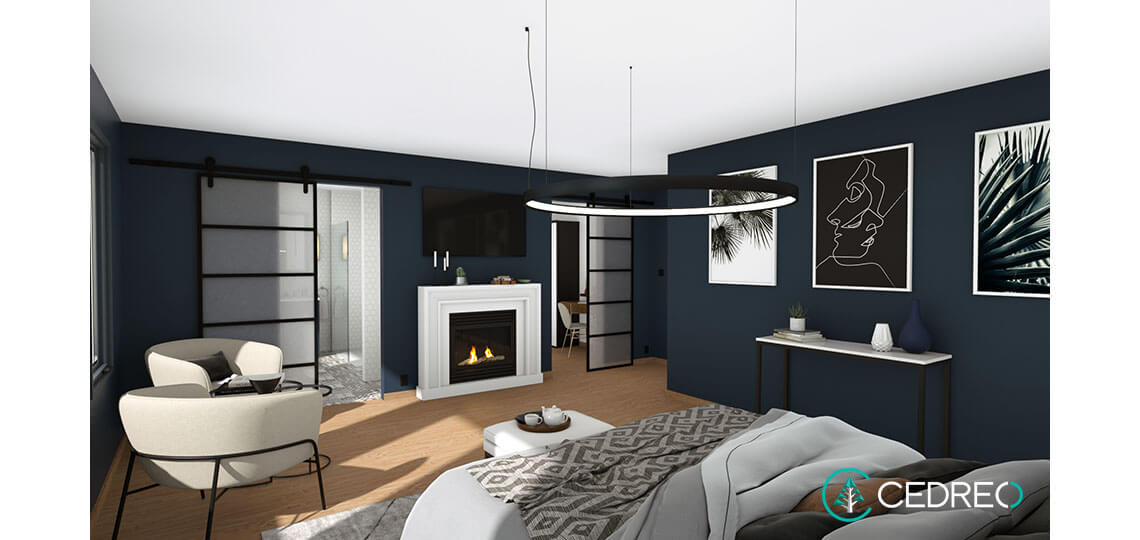 Interior rendering of a modern bedroom with a built-in fireplace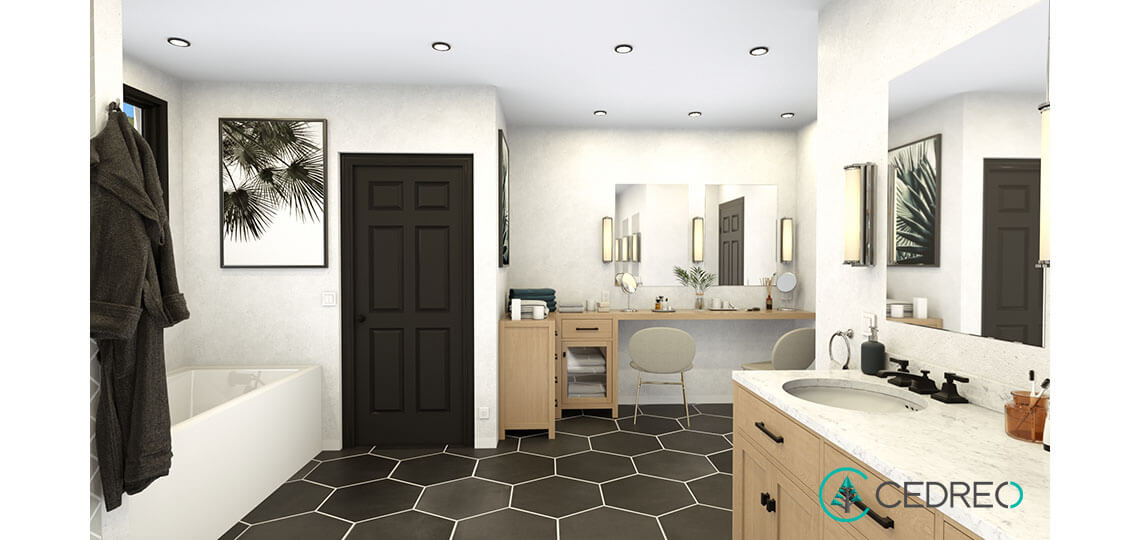 Interior rendering of a remodeled bathroom.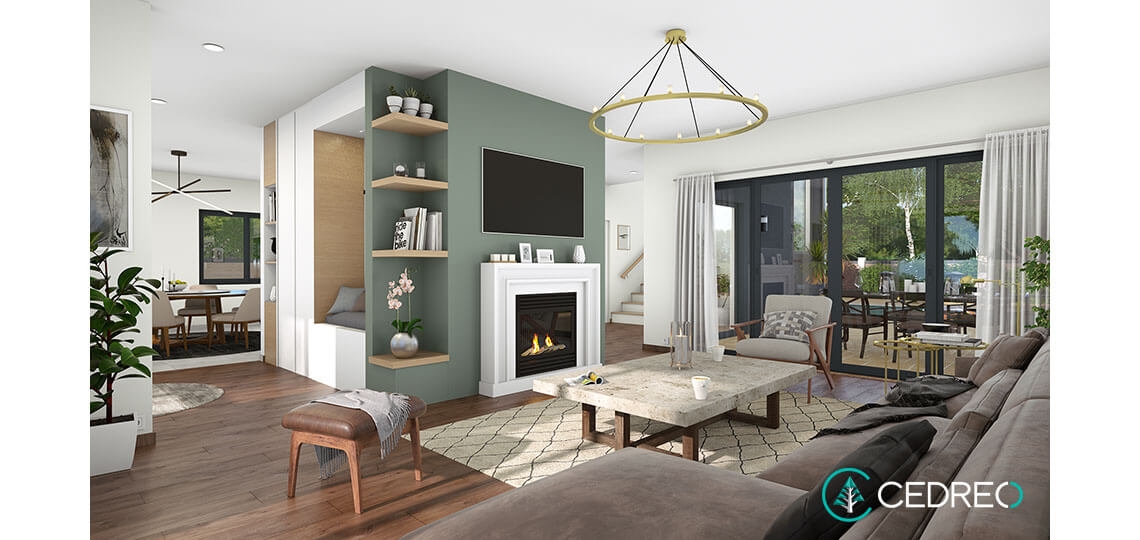 Interior rendering of a furnished living room with view through to the back patio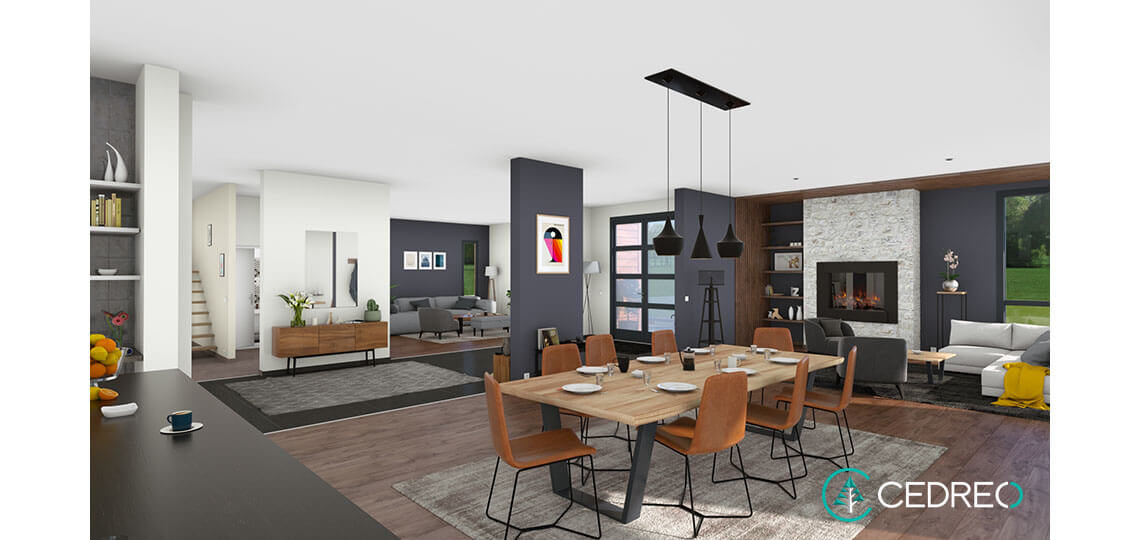 Interior rendering of a modern living room
Conclusion
Cedreo's interior design 3D rendering software can save designers time and money, prevent rework, and shorten the time to winning deals and getting projects approved. This powerful, user-friendly platform makes it easy to create and customize photorealistic renderings with accurate lighting, textures, and shading — in five minutes or less.
Get started for free to see it in action.