As an interior designer, trust and communication are key to making the client / professional relationship deliver the best possible project. You need to convince your potential clients that they can rely on you and assuage any doubt they might have. You show them that your vision is the best for them in terms of style, but also to resolve issues of space and that it is the perfectly adapted for their specific needs.

Homeowners who want to renovate their home usually spend a lot of time researching before narrowing it down to 2 or 3 interior designers to contact and find the perfect fit to make their ideas come to life.

Here are 10 tips to convince your clients they should trust you:
1/ Prove Your Reliability Online
The first point of contact between a potential client and you will be your website. This is where they'll get their first impression about you and the level of quality you can deliver. You need to pay special attention to your online communication as this will help you stand out.

Make sure you have a clear and well structured website with appealing elements like beautiful visualizations of your work, the description of your working process so they see that you are organised and your contact details.
You can also use the Facebook Messenger button on your site so they can start chatting with you very easily..

Don't forget to update your social media pages regularly with the latest interior design trends and projects you are working on.
Instagram and Houzz are essential to showcase your work and attract new clients.
Your Todo List:
Create a gallery page on your website with past designs
Clearly describe your working process and include a typical timeline
Create an Instagram and Houzz profile to update your social media followers with your latest designs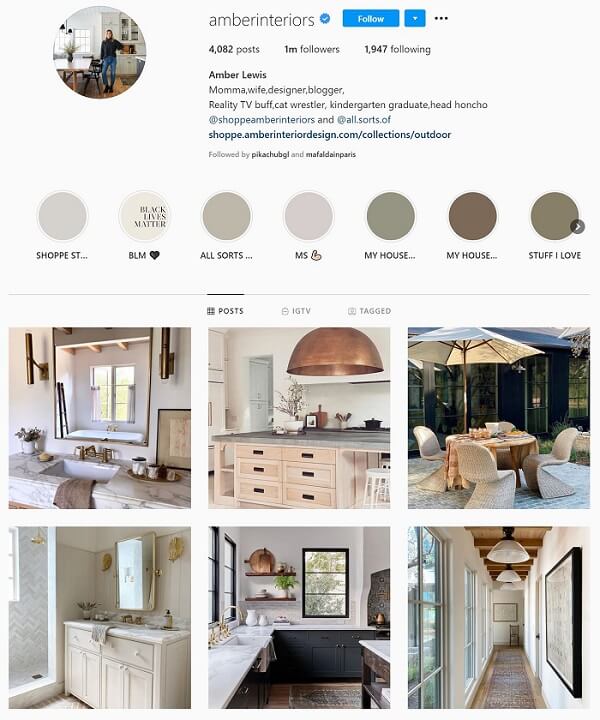 2/ Display Your Clients Reviews
There is no better way to convince new clients and gain their trust like reviews.
It is the words of your clients talking about the quality of your work, how easy it is to communicate with you and the uniqueness of your design ideas…

You can make the most out of them by using them on your website of course but also post them on your social media.

Social proof is the most efficient way to create trust in your interior designer skills.
They play a big part in reassuring the client as they see from several people that you did a great job so you should encourage your clients to spread the word about your business.
Your Todo List:
Select a platform to collect reviews (through Google My Business, Facebook, Houzz…)
Ask your clients to leave reviews after the project is completed
Promote your reviews on your website and social media pages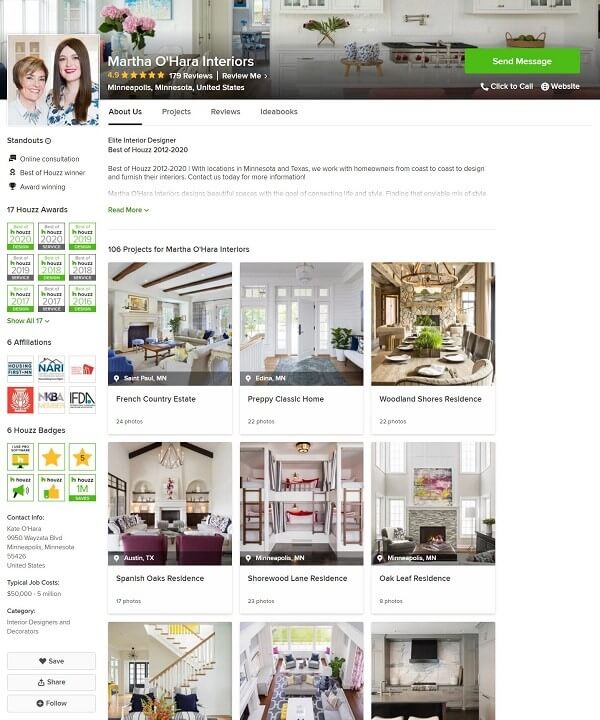 3/ Impress Your Clients with an Outstanding Interior Design Portfolio
During the initial meeting, your past projects are the best way to showcase the quality of your work. It is critical to present different design style you have produced for other clients so they see what you can do and it will help you find out what design style your client would like. You could use photos of the spaces after the work is done or photorealistic 3D visualizations that you used to present your work.

It is essential to create a portfolio organised by style and room type to easily access your work while you are preparing the meeting. The benefits of using 3D visualizations is that you can include all the designs created for past prospects even if it didn't go through. So be sure to keep all of the conceptual designs you created even if they weren't used. They are still useful to show off you unique style.
Your Todo List:
Organise your past projects by room type and style and gather as much information as possible to create the 3D visualizations if you don't have any visuals, Issuu can help you create amazing portfolio.
Select an easy-to-use software to create photorealistic 3D renderings
Create a presentation template with a tool like Canva or Inssuu (example below) to easily showcase during meeting with your clients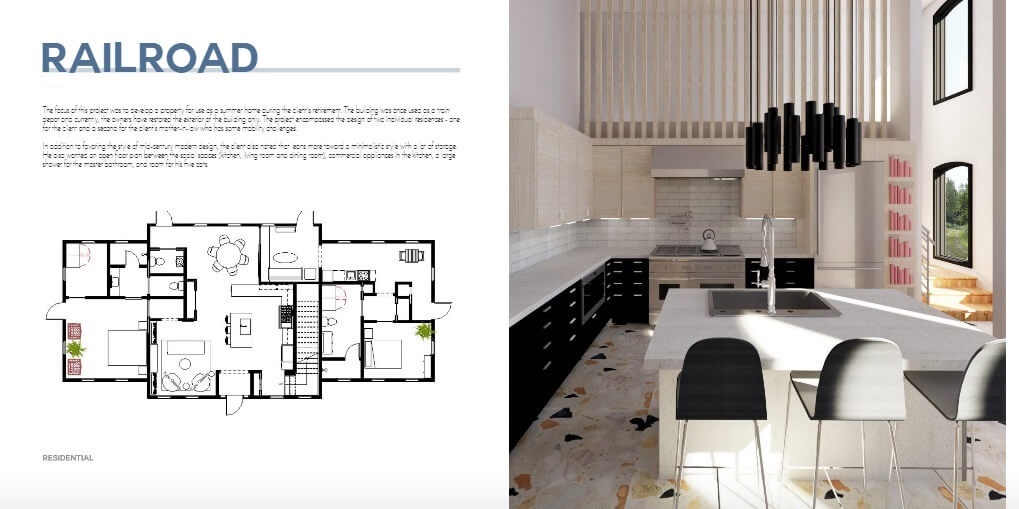 4/ Listen Carefully to What the Clients Want to Meet Their Requirements
The discovery meeting will allow you to increase the trust level between you and the client. When you listen to them and show them that you understand their needs, they will feel reassured and will be confident that their ideas and your vision will lead to a beautiful project.

This meeting is key as it is from this moment that you will spend time, energy and effort working on the structure and layout of the new space. Then, you only have to draw the floor plan, furnish, decorate and create 3D visualizations.

You'd better make sure that your work fits the clients requirements, don't hesitate to ask questions to make sure all details are covered to avoid any misunderstandings later on.
Your Todo List:
Create a form with questions that will allow you to define all aspects of the project
Ask the client to send you all the images they like so you get a precise ideas of the style and color they want to avoid misunderstandings
Suggest creating a moodboard on Pinterest to organise their ideas for each room for example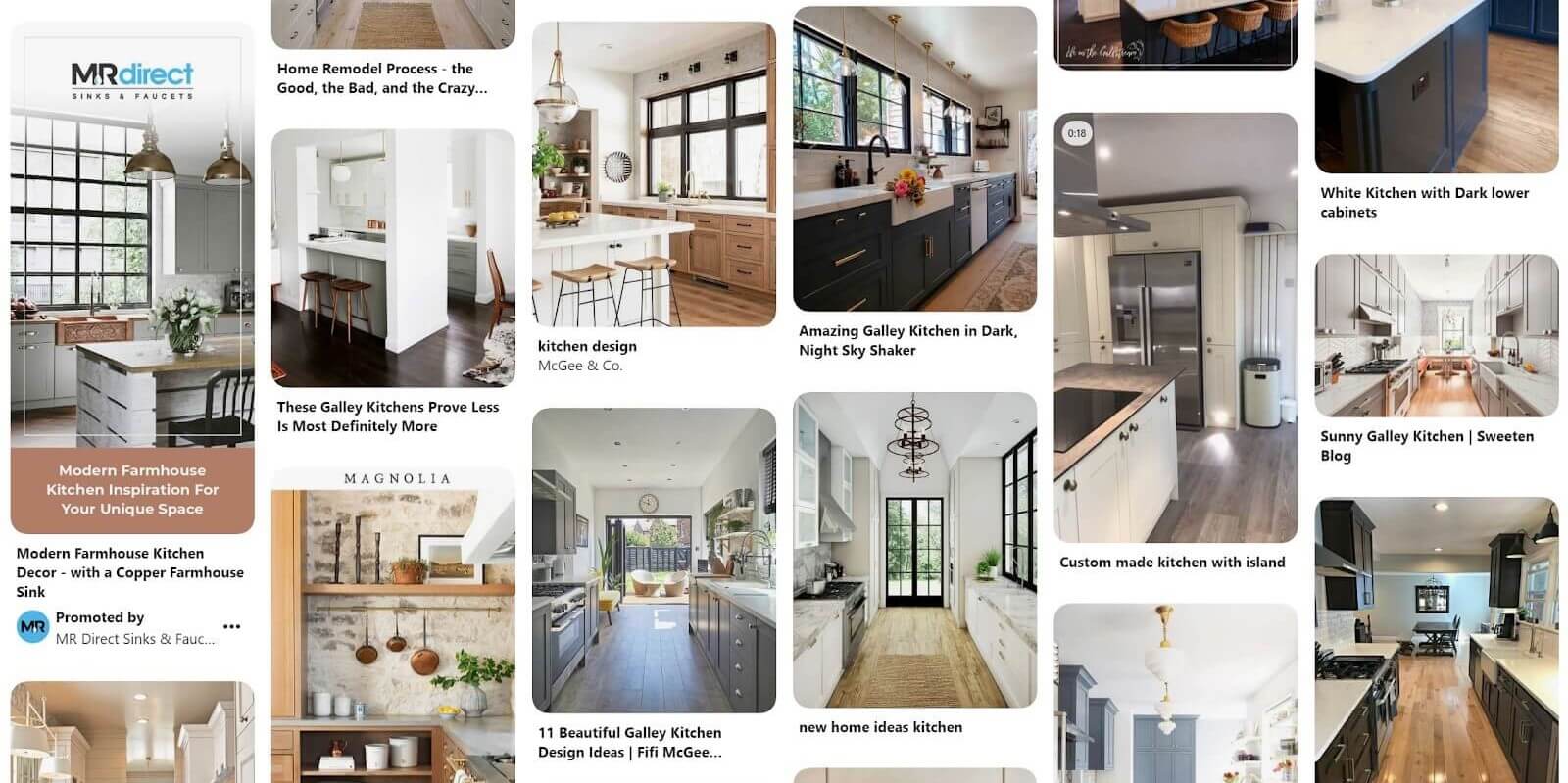 5/ Use Your Interior Designer Experience to Create a Unique Project
Clients ask for interior designer services in order to get a design they wouldn't have thought off by themselves. Your skills, ideas and creativity will be key to selling the project and not only stick to the images of the styles the clients could have shown you.

They also expect a greater service with a complete presentation with the 2D floor plan to see the measurement but also 3D floor plans to see the entire project and 3D renderings to feel the interior atmosphere of the new space that will be as close to reality as possible.
Your Todo List:
Draw the floor plan in 2D with the measurements, including existing windows and doors
Select the wall colors and covering materials and choose the right furniture and decoration and customize them according to the atmosphere you want to get for the room
Create the 3D floor plan rendering and interior 3D renderings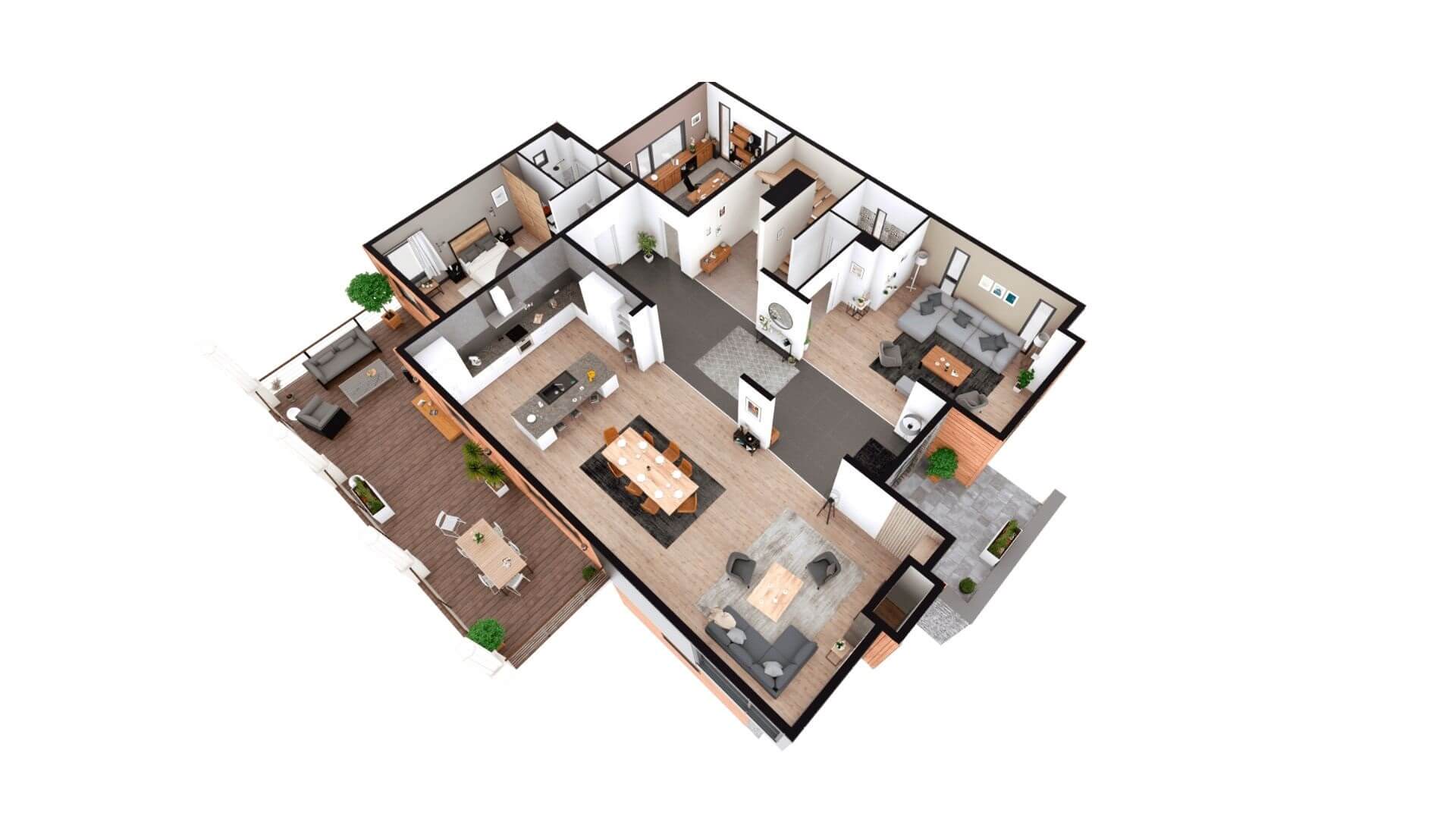 6/ Come Prepared to the Meeting with Multiple Design Options
Once you have finalised your first design proposals, this is the time to showcase your work and convey your ideas for the renovation project. You will have a better chance of getting hired if you present several unique design options to serve the same overall objective.

Once you've drawn the floor plan, you can easily change the wall colors, covering materials and furniture to help the clients understand your vision of their spaces and let them choose the end result they like the best.
Your Todo List:
Duplicate your initial design to create several options to choose from
Choose the 3 best options that match your ideas and the client requirements
Put together a proposal with all the documents (2D and 3D floor plans and multiple 3D visualizations) to showcase your work in its best light

7/ Prepare Design Options for Varying Budgets
Keep in mind that your client might have tight budget constraints. Your clients will always like to see a lower cost for an equally nice result! Of course you should present your work in the best possible light but including more affordable options will show that you have their best interests at heart.

As you will be presenting several options, you will be presenting different ideas and styles the clients can then decide if they, for example, would prefer a high-end floor covering or kitchen countertop because they like the style or if they would prefer the less expensive version.

This is a great way to upsell and, the clients have more control on the design and the budget allocated to each part of the project.
Your Todo List:
Allow for various budgets when drawing up your designs
Give yourself some leeway in your designs so that you can upsell

8/ Entertain Your Clients and Let Them Be Their Own Interior Designer
Adapting the design on site definitely helps to sell the project and it is more important than you may think!

When you work directly with the client making the changes on the fly, they will feel included in the design process. If they feel like they own the design, you don't have to worry about selling it anymore.

While you are presenting your design, you can customize it in real time so the clients see it and you make sure that they are 100% happy with your proposal before the end of the meeting. It saves a lot of time, avoids multiple email exchanges and speeds up the decision making process.
Your Todo List:
Be sure to have your laptop and mouse ready during the meeting so you can make the changes
Show them the 3D view with the changes to validate them

9/ Ensure a Crystal Clear Communication
Using 3D photorealistic visualizations to present your work avoids misunderstandings as the clients will be able to see all the details before the work begins. They will help you to make sure that the clients understand your vision perfectly and that you are on the same page. With hand-drafted or a basic 2D floor plan, you would have to rely on their capacity to guess and imagine what you have in mind.

You can easily present multiple perspectives of the same room to make sure the clients are happy with the design. The objective is to show them what they will get when the work is done, removing the possibility of disappointment on their side. It will reinforce the level of trust between the interior designer and the clients. In addition, a great buying experience leads to positive reviews and recommendations to future clients.
Your Todo List:
Use 3D renderings throughout the conceptual design process to align your ideas and the clients understanding
Once the fine-tuned design is approved, use 3D renderings to zoom in on details to make sure your clients are satisfied
Don't hesitate to modify your design or create another 3D rendering on the fly during the meeting with your client to get the client's final approval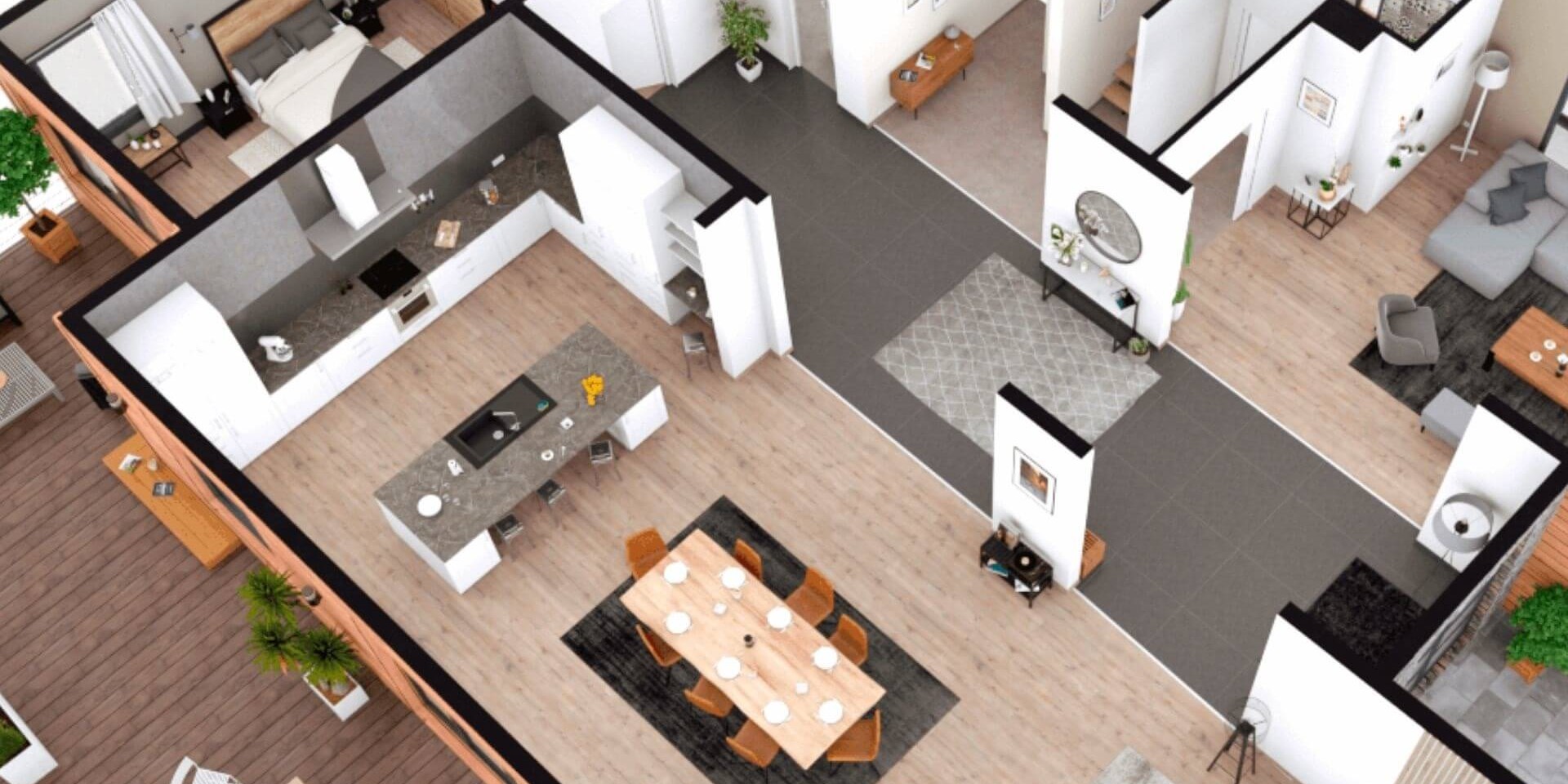 10/ Keep in Touch with Your Clients After the Meetings
It is important to send the clients the different interior designs that you presented and revised with them so they can soak up the atmosphere in their own time. In addition, it is a good way to stay in contact through every step of the project.
Your Todo List:
Create a shared folder for each new client so they can access all 3D renderings and floor plan easily
If you have some doubts or want to validate the overall idea, schedule a meeting or a call before you spend too much time in a design.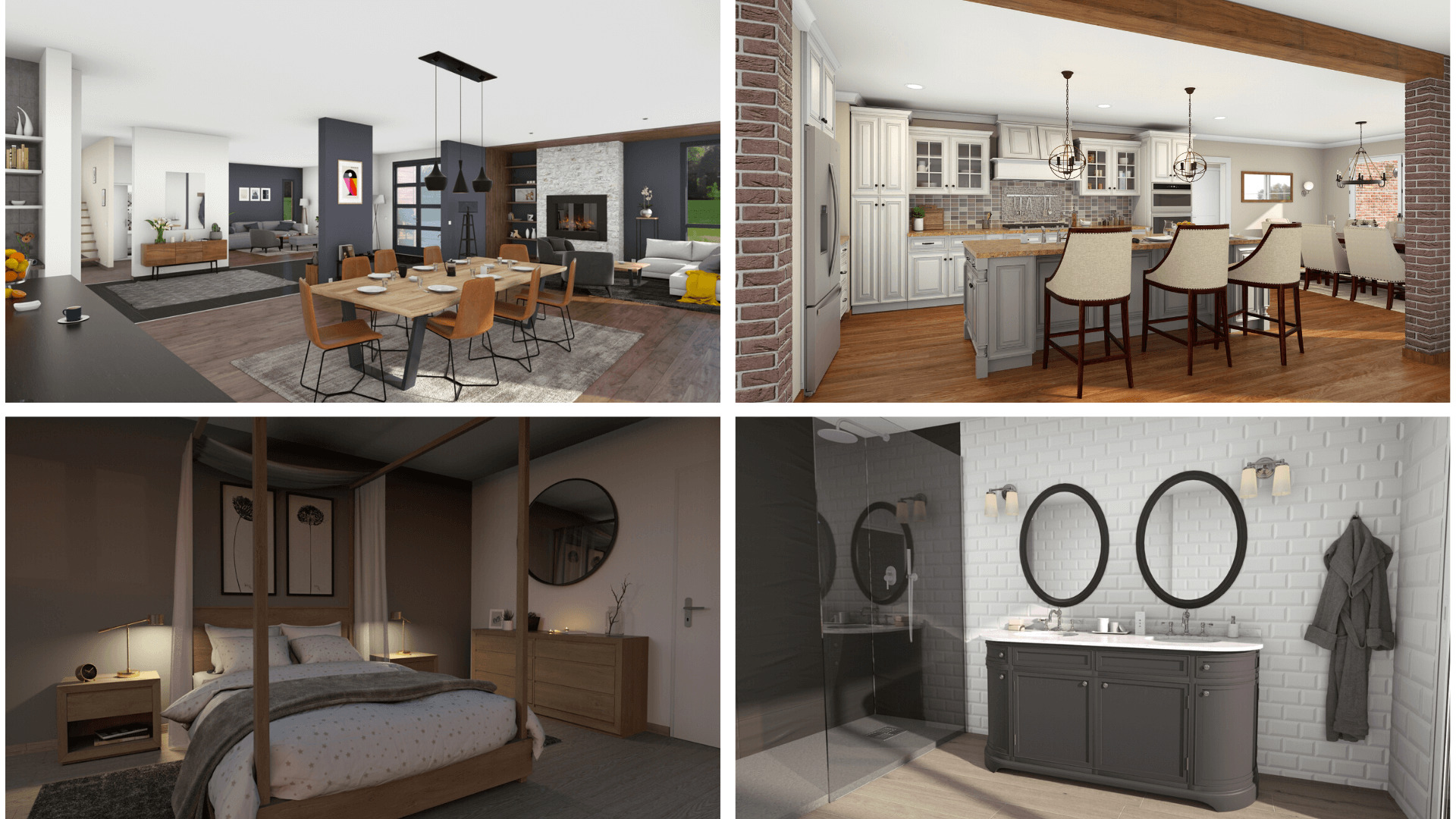 Why You Can't Launch and Grow Your Business Without the Right 3D Interior Software?
3D renderings are the key to get agreement quickly from your clients and avoid unexpected surprises, so you won't waste time and you will ensure the best experience for your clients. You will save both time and money as you will drastically reduce the back & forth and avoid misunderstandings between you and the clients. You will win over more clients by helping them visualize their new space as if they were there, in no time.

Cedreo is an easy-to-use interior design software to help you create stunning 3D renderings to sell your projects faster and translate your design ideas into unique proposals.
In Short, Cedreo Will Allow You To:
Convey your ideas in a clear way
Translate your vision into something that is easily understood
Attract new clients
Ensure your projects are well organised
Communicate smoothly with your clients
Promote your work
Save time and money during the drawing and customization phases
5 minutes is all it takes to generate a photorealistic interior 3D rendering and then build your portfolio to showcase your work in its best light.

Start for free now and get appealing interior designs faster than ever.

See how a savvy interior designer is using Cedreo to work more efficiently and get more clients.