Apartment Floor Plans
Use powerful home design software
to create attractive apartment floor plans that work for you and your clients.


Create entire floor plans in 50% of the time


Easy-to-use features for any level of designer


Generate stunning 3D visualizations in just 5 min
6 Key Apartment Floor Plan Considerations
Here are a few important factors to take into consideration when drawing your client's apartment floor plan. These key considerations will ensure you draw and optimize the best apartment floor plan.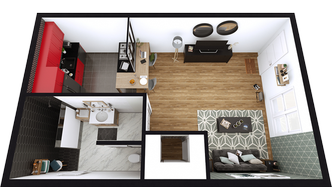 Define the space
Apartment dimensions are what is going to define the entire layout of the living space, from the technicalities of your floor plan to the furnishing step. Defining the apartment space may vary according to your client's wants and needs. You can easily modify the apartment floor plan in our layout step by moving, deleting and re-drawing walls where necessary.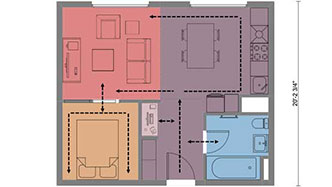 Foot Traffic
Moving easily from room to room is key when drawing an apartment floor plan. Room placement greatly influences foot traffic – the way in which a person moves around space – and must therefore be convenient as well as easily accessible. Foot traffic must also be considered when furnishing your client's interior. With our 3D rotation for our 3D objects, you can re-position any product to optimize the floor plan space.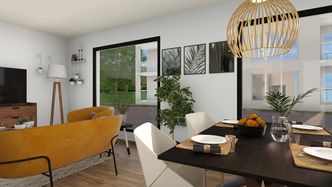 Window Placements
Window placements can greatly impact the way interior light sources are placed and how the general interior space is perceived. In our Openings step, you can choose from a wide range of windows and resize them accordingly to fit your apartment floor plan.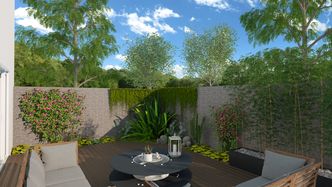 Balconies
Including balconies in your apartment floor plans acts as an outdoor extension of your client's living space. Not only does it increase the value of the apartment floor plan but also the living quality for your client's future apartment.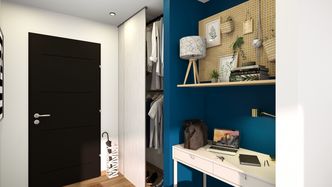 Storage Space
Whether big or small, storage space is crucial for apartment floor plans. It enables your clients to visualize themselves living in their future space without having to live among clusters. Choose from a wide range of storage products in our 3D library, or draw built-in storage using our layout step!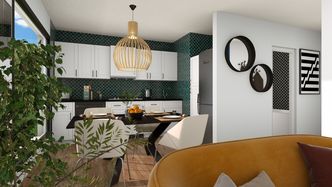 Interior Design
Using our furnishing and materials steps you can visually optimize your apartment floor plan designs to add value to your business proposal. It's all in the details when presenting an apartment floor plan to your client! So make the most of our 2D and 3D apartment floor plan views, and add that special touch with some 3D renderings.
Apartment Floor Plan Examples
To help you get inspired here are a few apartment floor plan designs drawn using our Home Design Software.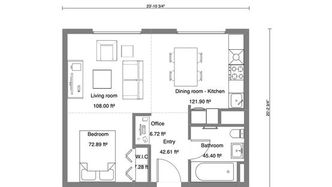 Studio Apartment floor plan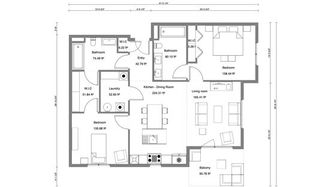 2 bedroom apartment floor plan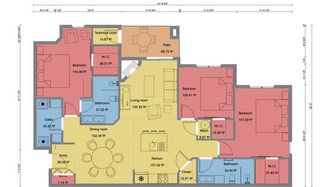 3 bedroom apartment floor plan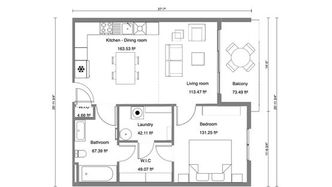 Apartment floor plan with balcony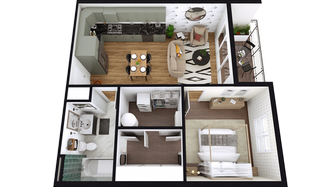 1 bedroom apartment floor plan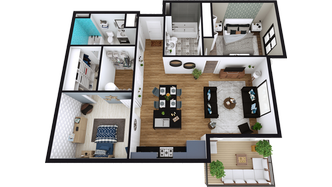 Open floor plan apartment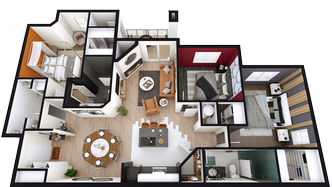 3 bedroom / 2 bath apartment floor plan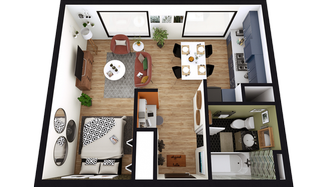 Small apartment floor plan
Apartment Floor Plan FAQs
Can I Use Cedreo for an Apartment Remodel?
Absolutely! You can import an already existing floor plan into our layout step, trace over it and alter the living space to complete a new and improved apartment floor plan.
Why is Apartment Floor Plan Customization important?
The more you go into detail when designing your apartment floor plan the easier it is for you and your client to visualize the construction project and collaborate on making sure both parties have what they need. You can do this by adding color codes and technical symbols using our floor plan step.
Who uses online apartment design software?
Home builders, remodelers, and contractors who need apartment layouts to present construction projects use online apartment design software. Cedreo enables you to showcase a whole project with our different 2D and 3D viewpoints, as well as 3D renderings to complete your portfolio.
Is there a limit on apartment layouts I can create?
Nope! With Cedreo you can create as many apartment layouts as you need to close the deal with your client!