With housing shortages on the rise and more people looking for sustainable building methods, it's no wonder prefab (short for pre-fabricated) homes are becoming more popular than ever.

Prefab homes are nothing new. But with modern technologies, they're more of an attractive option than ever.

In this 5-minute read, learn…
What are prefab homes?
Pros and cons of prefab homes?
Things to know before buying a pre-fab home
Let's start with the first question. You might be surprised by the answer!




What are PreFab Homes?
What do you think of when you hear the term "prefab home"? You might first think of a mobile home or "trailer" as they're sometimes called. And it is true that technically a mobile home is a type of prefabricated home. But modern prefab homes are so much more!

So what exactly is a prefab home?

A prefab home is a home that is — entirely or in part — manufactured off-site and then transported to a property and assembled. Sometimes the entire home may be built in one piece in a factory. And other times, parts of the home — like wall panels or bathroom pods — are built in a factory and then assembled on-site.
Here are 3 common types of prefab houses:
Manufactured Homes (Also called Mobile Homes) – These are completely assembled in a factory and then transported to the home site.
Modular Homes – Modular homes have large sections that are built in a factory. Sometimes, an entire home is made up of just two pieces. Those pieces are then transported to the homeowner's property and assembled on-site.
Kit Homes – Kit homes come in a variety of options. Some are available in modular sections that are almost move-in ready. Others come as a kit with prefabricated wall and roof panels that you or a general contractor need to assemble. A lot of the kit home options allow for greater customization since less of the home is manufactured off-site.
So is a prefab home the right option for you and your clients? Keep going to learn more.




Pros & Cons of PreFab Homes
Here are some pros and cons of prefab homes. This will help you decide if a prefab home project is the best option for you and your clients. Let's start with the pros.
Prefab Home Pros
Cheaper: Prefab homes are typically cheaper than homes a general contractor would build piece by piece on-site. It's more efficient to build pieces of a home in a factory setting. There is usually less waste and workers aren't at the mercy of the weather. Plus, if you've got the skills to assemble a kit home yourself, you can save loads of money on labor.
Faster: Similar to the last pro, since most of the home is built in a factory, prefab home manufacturers can usually build an entire home kit in just a few weeks. Then, depending on how much was pre-built at the factory, assembly on-site can take as little as a few days.
Customizable: Modern prefab home builders know that clients want to be able to customize their homes instead of just getting a cookie-cutter home. That's why more home manufacturers are offering plenty of customization options. Most even offer clients the ability to customize parts of the floor plan as well as the finishes.
Durable: In the past, modular and mobile homes have gotten a bad rap for being of low quality and less than durable. However, times have changed and it's best not to judge all modern prefab homes in the same way. In fact, most prefab homes are just as durable as regular stick-built homes.
Prefab Home Cons
Damage Risks: Since prefabbed parts of the home need to be transported from factory to site, there's always the risk that something gets damaged in transit. Some can also worry that the structural integrity of large sections could be compromised on long trips.
Delivery Limits: A lot of prefab builders have delivery limits. So if you're looking at a specific manufacturer, be sure to check to see if the property is within their delivery limits. If it's not, you'll have to go with another manufacturer.
Limited Options: If you live in a rural area, it could be difficult to find prefab home companies that deliver to your property. This could limit your options when it comes to quality and customization.
Differing Standards Among Manufacturers: There are few standards as far as what it means to build a kit or modular home. Each manufacturer offers different options with their homes so be sure to research thoroughly to understand exactly what you're getting. Some offer move-in-ready homes while others just offer prefabbed wall panels that don't even include drywall.
Can Sometimes Be More Expensive: In certain areas, once you factor in delivery costs and labor as well as land and utility connections, a prefab house may cost the same or even more than a normal home.
You Still Need a Foundation and Utility Connections: When calculating the overall price of a new prefab home, don't forget to get quotes for site prep including excavating, foundations and utility hookups.
So those are some of the advantages and challenges of buying prefab homes. Let's expand on those a little more in the next section.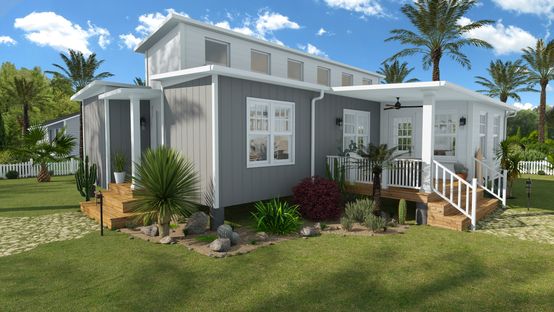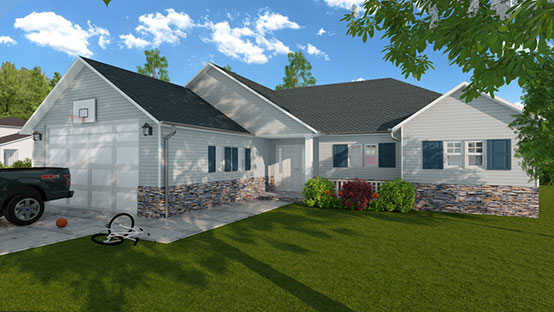 5 Things to Know Before Buying PreFab Homes
Let's dive a little deeper into several factors you should keep in mind when looking at prefab homes for you or your clients.
1. Time Frame
So how long does it take to go from purchase to moving in? There are a lot of factors to consider.

If you…
Already have a property
That property doesn't require a lot of excavation and site work
You're opting for a simple foundation without a basement
And are purchasing a manufactured or modular home with limited customization
…then you can expect it to take anywhere from a few weeks to several months.
If you're content with a standard floor plan package, some manufacturers may even have mobile or modular homes built and waiting to be transported to a property.

But in most cases, you'll have to wait 3-4 months for it to be built. If you plan well, while the home is being built at the factory, you can be doing the site works at the property.

Then, it will take anywhere from several days to a month or two to assemble the home on the property.
2. Expect to Pay More than Just the Base Price
It's easy to get enamored with the low prices some prefab home companies offer. It's common to see simple 1 and 2-bedroom prefab homes as low as $60-70,000. So make sure you read the fine print and know exactly what you're getting.

First, understand exactly what the prefab home manufacturer is offering.
Is the price for a move-in-ready home?
Does it include finishes like flooring and paint?
What about lighting and bathroom fixtures?
How much does it cost to upgrade to better-quality finishes?
Next, get some quotes for foundations and utility hookups. Even a simple concrete foundation without a basement will likely cost $10-15,000 or more.

And if your home isn't connected to the city sewer lines, don't forget to calculate the price of your home's septic system. That could easily cost $5-10,000 or more depending on which type is required in your area.
3. Prefab Homes Come in all Shapes and Sizes
Try not to have any preconceived ideas about prefab homes. As you start looking at different options, you'll see that the possibilities are endless and you'll likely be able to find an option that suits you or your clients.
If speed is your preference, then go with a manufactured or modular home. They'll be faster to build and faster to assemble on-site.
If sustainability is at the top of your priority list, then go with something like a prefabricated shipping container home.
If you or your clients are looking for a budget-friendly, energy-efficient home, then go with a prefab tiny home.
And if you've got the skills and means to build a home yourself, a kit home gives you the exact pieces you need. You just provide the labor.
*Are you looking for a way to showcase your prefab home designs? Cedreo home design software lets you create an entire set of 2D and 3D plans in as little as two hours. Create realistic 3D visualizations that impress clients and help you sell more homes!
4. Customize Your Prefab Homes
If you or your clients want to customize a prefab home, don't wait until after it's built to start remodeling it. Check with the manufacturer to see what customization options are available during the building process.

More and more people want to express their personalities through their homes and prefab home manufacturers are stepping up to the challenge by offering more customization options than ever.

While the customizations do add an extra expense to the initial cost of the home, it's cheaper than remodeling it later to fit your needs.
5. Modular Homes Can Have a Bad Rap
Although modern modular homes can be just as well-built and durable as regular homes, keep in mind that some people still think of "modular" homes as "mobile" homes.

So if you plan on selling your modular home in the future, be prepared to explain to some buyers how your house was built and why it's just as good as a regular home.




Conclusion
With their budget-friendly price and customization options, modern prefab homes are only going to grow in popularity. So if you're a home builder, it pays to offer prefab house options to your clients.

And if you need an easy-to-use home design program that can showcase your prefab homes before they're even built, why not switch to Cedreo? No other home design program lets you do so much, so fast. Sign up today for the FREE version to see what it can do for your business!