Floor Plan Software for Mac
Mac users can create professional 2D and 3D floor plans in a fraction of the time.
Draw 2D Floor Plans
Draw a web-based, professional, 2D floor plan on your Mac, complete with walls, furniture symbols, and named rooms. Export it as a PDF or JPG at scale for printing.
Learn More About 2D Floor Plans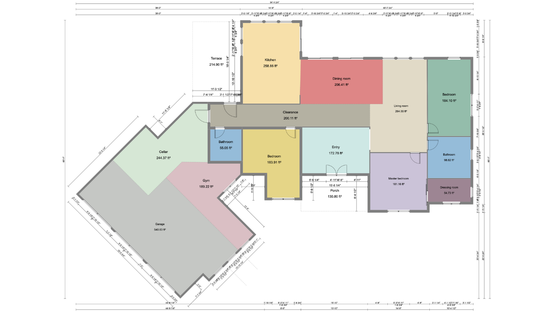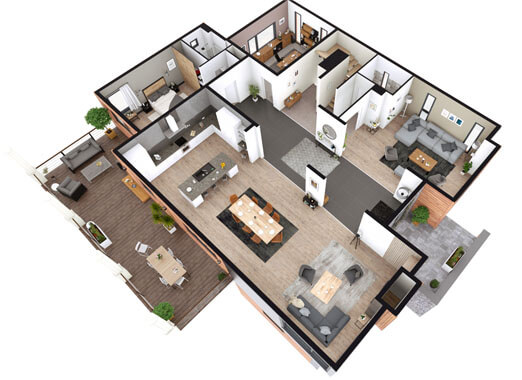 Design 3D Floor Plans
As you draw in the 2D window, watch the floor planning software for Mac bring your home design to life in the 3D window. The 3D floor plan provides a realistic view from above, helping clients visualize the finished project.
Learn More About 3D Floor Plans
Feature-Rich House Design Software
Cedreo includes all the tools you need to create professional floor plans, decorate 3D living spaces, and demonstrate different options for customers.
Cedreo Decor Library
Grouped product packs

Drag-and-drop interface

Customizable windows and doors

Numerous materials
Create tile backsplashes, paved walkways, and chic living spaces with Cedreo's library of objects, materials, and decor.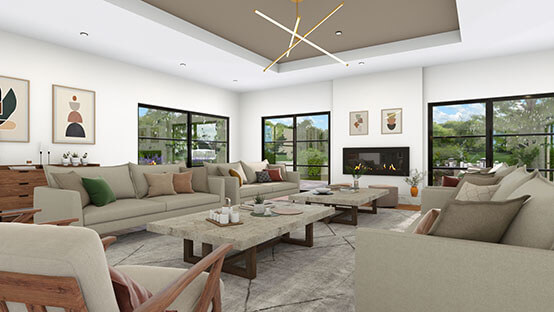 Photorealistic Renderings
360-degree views

Bird's-eye views

Custom sun orientation

Daytime and nighttime views
Cedreo is the best floor plan software for creating lifelike views of a project. Show clients their new room from any angle and how it will look at different times of day.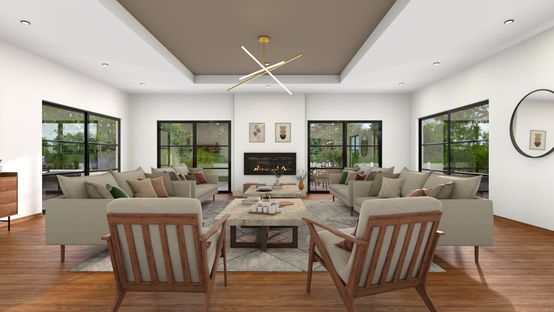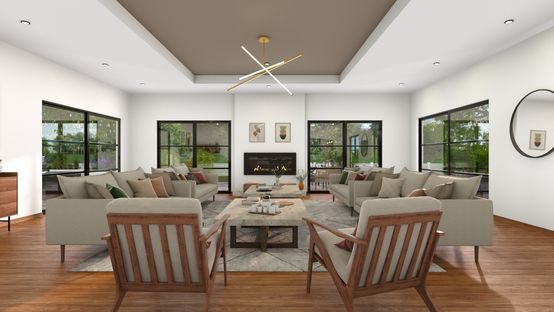 Multi-Level Functionality
Duplicate floor plans

Add levels

Align roofs

Save versions
Duplicate a floor plan to add a basement or level, then use Cedreo's intelligent roofing feature to quickly add a perfect roof. Save variations to show clients different options.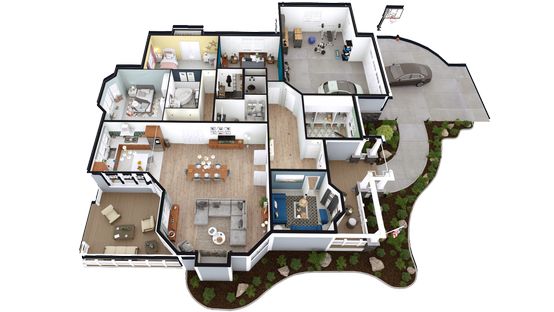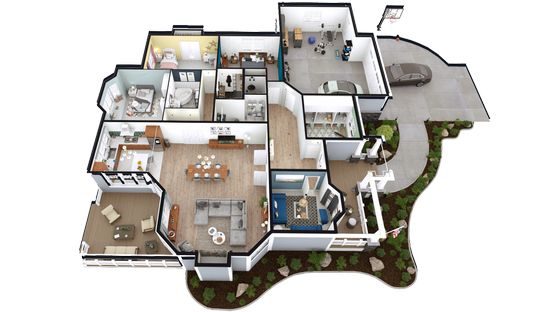 Intuitive Features for Mac Users
Meet the floor plan software Mac users love to use for all kinds of design projects! With intuitive interior design tools and a 100%-online design environment, Cedreo can easily cut drafting times in half. Following are some of the features that make it easy to create, save, download, and share your online floor plan creations.
Import Existing Plans
Use Cedreo's blueprint software for Mac to import your existing plan and draw on top of it.
Customize Room Names & Dimensions
Name each room in your 2D design so clients can easily understand the floor plan. Highlight key components with custom dimensions, displayed in both 2D and 3D.
Get Area Calculations
Cedreo blueprint software for Mac automatically calculates and displays the living area for each room, as well as the total area of the design.
Access a Library of Symbols
Create floor plans that make perfect sense with symbols that define each room, window, door, opening, and furnishing, as well as locations of plumbing and appliances.
Draw & Print to Scale
Draw floor plans of any size and export them in PDF format to print to scale.
View 3D & 2D Designs Together
A real-time 3D view allows you to see the 3D floor plan take shape as you draw it in 2D.
Floor Plan Examples From Our Mac Users
Cedreo is the floor plan software Mac users love to use. Check out some of the floor plan designs our Mac users have created below.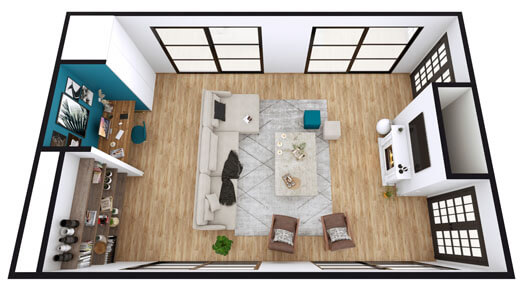 Family room floor plan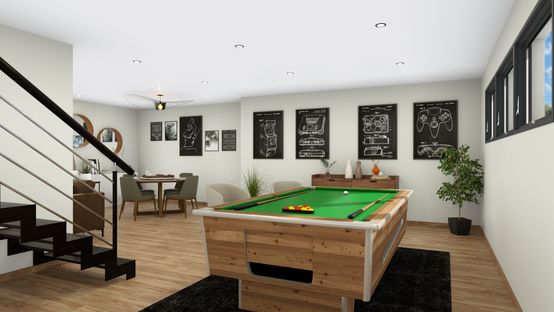 Game room floor plan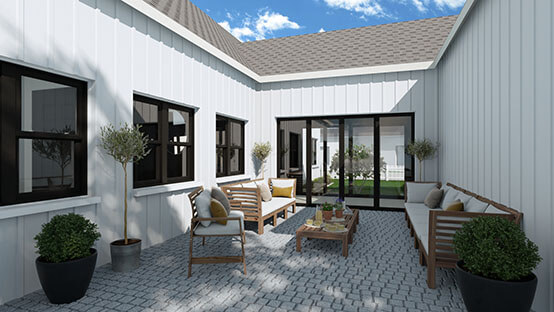 Sun room floor plan
The Best Way To Create Professional Floor Plans
Cedreo is the floor plan software Mac users trust to create designs that delight clients and close more deals.


Home Builders
Show clients their finished home — before it's built!

Interior Designers
Add furniture and decor, and customize the colors and materials.


Home Remodelers
Create interior and exterior views of remodeling projects.


Landscapers
Easily design an outdoor living space, garden, or pool area.


Architects
Turn complex plans into simple client-friendly 3D designs.


Contractors
Choose from Cedreo's finishes and materials to customize your work.
How It Works
Blueprint software for Mac users doesn't have to be complicated. With just a few clicks — and a few minutes — you can create 2D floor plans and 3D floor plans in Cedreo.
1. Draw or Import Floor Plan
Start a new project or import an existing project from any operating system to begin working in the floor plan software Mac users love. Start drawing the exterior walls of your floor plan, then add interior walls, furnishings, windows, doors, a roof, and a yard.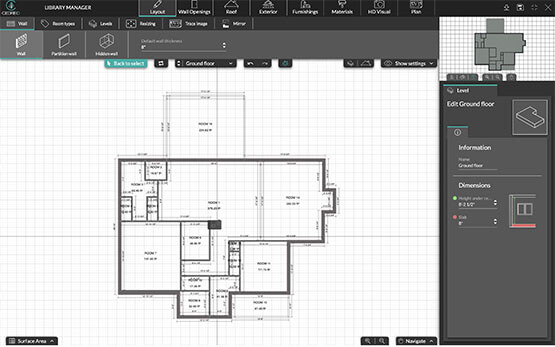 2. Add Furnishings and Decor
No other floor planning software for Mac offers a library of more than 3,500 customizable furnishings and decorations. Choose pieces individually, or select a themed collection to ensure a cohesive look.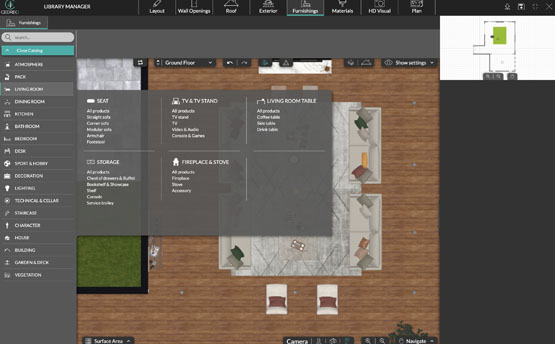 3. Customize Dimensions
Customize dimensions in your floor plan to help clients understand the measurements that will define their future home. You can also customize the dimensions of doors, windows, and various other features inside the online floor plan.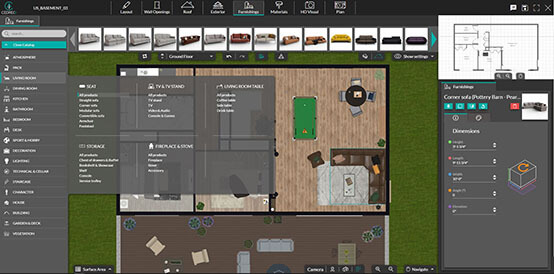 4. Visualize in 3D
Create a 3D rendering of the floor plan as well as eye-level 3D views. With Cedreo's floor plan software for Mac, you can design in 2D and watch the 3D design take shape in another window. Add finishing touches in 3D and watch them seamlessly populate the 2D design.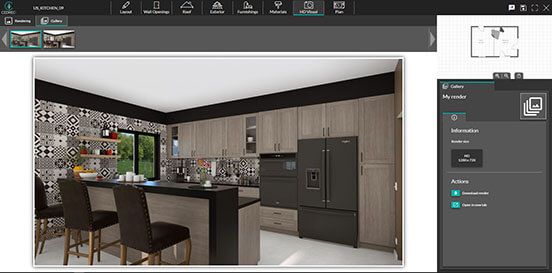 5. Download or Share With Clients and Team Members
After you create floor plans, you can export them to share with clients and colleagues. If you have Cedreo's enterprise version, you can share your design with team members in the platform and even work on the design at the same time.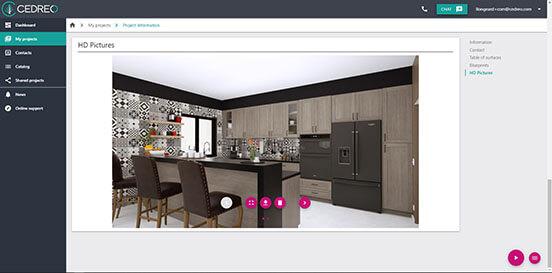 6. Revise on the Fly
Thanks to Cedreo's lightning-fast processing speed, you can easily modify your designs during client meetings and update your 3D renderings in minutes.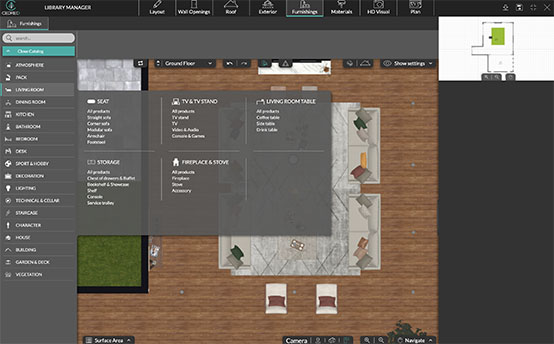 7. Save Designs as Templates
With Cedreo, you don't have to start from scratch every time. Just save your favorite designs as templates, and modify them for future projects.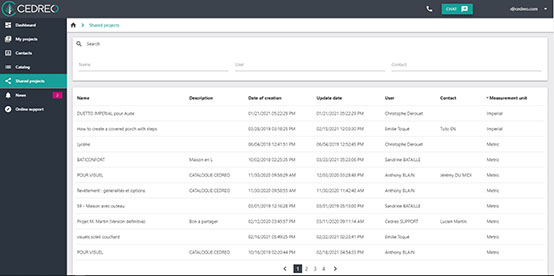 FAQs
Let's cover some frequently asked questions:
Is Cedreo only compatible with Macs?
Cedreo is compatible with Macs and Windows-based computers.
Can my colleagues and I share work inside Cedreo?
Cedreo Enterprise users can share and collaborate on work inside the platform.
How do I start using Cedreo?
It's easy! Just sign up for free and get started on your project.
Do you have any testimonials?
We do! Take a look at our Success Story page to see how other professionals have used Cedreo and what they said about the experience.