Master Bedroom Floor Plans
With Cedreo, you can quickly create and share master bedroom floor plans to streamline your design process and ensure your clients wake up in their dream bedroom.


Create Floor Plans in 50% of the time

Save floor plans to create multiple design options


Generate photorealistic visualizations in 5 minutes
6 Key Master Bedroom Layout Considerations
Designing a Master Bedroom Floor Plan is a very personal and intimate process. To help you hit the nail on the head with your client's wants and needs for their potential safe space and sanctuary, here are 6 key layout considerations to go over with your client and consider during your master bedroom floor plan layout drawing.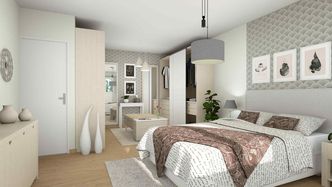 Spacing
A Master Bedroom Floor Plan has to be both practical and relaxing as it often accommodates more than one person and doubles as more than just a sleeping space. Finding the right balance between the two can really help your clients project themselves into their future sanctuary space. You can do this by accurately drawing your master bedroom floor plan in Cedreo, and with our multiple 2D and 3D floor plans as well as our 3D render viewpoints, you can make sure the space layout is accurate on screen as well as in real life.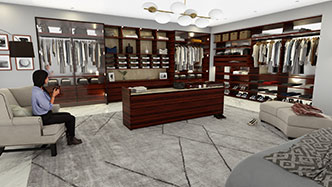 Walk-In Closet
Storage is one of the top key elements clients look for in a new home. In a master bedroom, this storage can take the form of a walk-in closet. Walk-in closets not only increase home value but provide dedicated dressing room space to help your clients prepare for the day ahead in an organized and well-thought-out space. Using our furnishing and materials step you can easily add walk-in closets to your client's floor plan and cater to their needs in terms of dimensions, materials, and customization.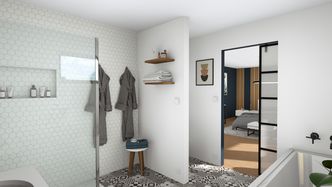 En Suite Bathroom
One of the main features which characterize a master bedroom is an en suite bathroom. However, be careful how you integrate this en suite! When including an en suite bathroom in your Master Bedroom Layout, opt for a closed floor plan en suite. Even though most clients will be sharing a master bedroom with a significant other, privacy is key to keeping and encouraging healthy resting space.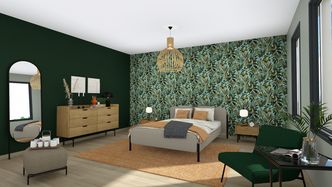 Aesthetic
Choosing the right aesthetic for your client's master bedroom floor plan is tricky. The nature of the room, usually having multiple purposes and being an intimate space, means designing the floor plan can make or break a deal. To help you optimize your business proposal without needing elaborate interior design knowledge we've created some ready-made atmospheres in our furnishing and materials step. All you have to do is select the atmosphere and test out different furniture placements to present to your clients.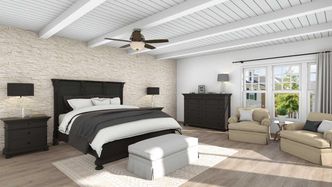 Lighting
Lighting is key for any floor plan layout design and it is no different for master bedroom floor plans. Between functional lighting, ambiance lighting, and natural lighting it's important to cater to all activities which may take place in the master bedroom. Activities such as getting ready for the day or even working from home, as well as downtime like reading, napping, and of course sleeping. Use Cedreo's instant lighting simulations to make sure your lamps, light fixtures, and windows are optimized for the best lighting.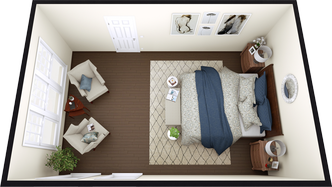 Placement
Depending on the home floor plan you're working on, the master bedroom could be placed on any floor of the house. For example, if the master bedroom is situated on the ground floor, try to keep it away from outside accesses, such as the front door, back, or garage door. This encourages a safe and relaxing space for your clients to rest in. With Cedreo you can create as many master bedroom floor plans on any floor to see which would best fit your client's wants and needs.
Master Bedroom Floor Plan Examples
Impress clients with your master bedroom floor plans by showing detailed 2D plans or high-definition 3D renderings. Let your future work do the talking.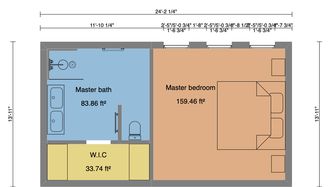 Master bedroom layout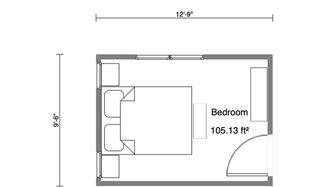 Small master bedroom layout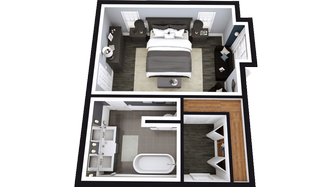 Master bedroom with bathroom and walk-in closet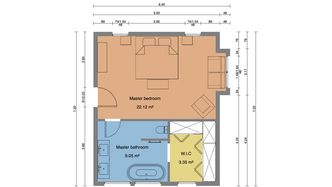 Master bedroom layout with dimensions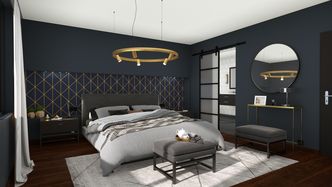 Modern master bedroom layout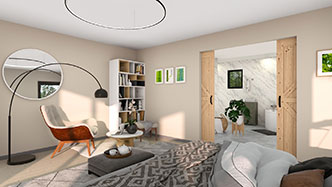 Luxury master bedroom with en suite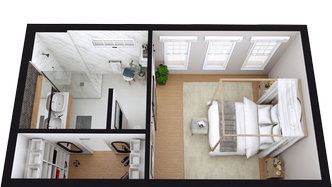 Large master bedroom layout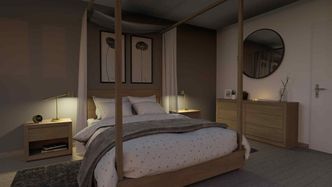 Ambiance lighting master bedroom render
Frequently Asked Questions About Master Bedroom Floor Plans
What Floor should the Master Bedroom Be On?
While master bedrooms have traditionally been on the second floor, first-floor master bedrooms are increasing in popularity. First-floor master bedrooms are ideal for individuals with mobility issues or for aging adults. But many young families still prefer a second-floor master bedroom to be close to young children or for the privacy it offers. A discussion with your clients will help you assess whether they prefer an upstairs bedroom with more privacy or a downstairs with easier access.
How big is a Master Bedroom?
The average size of a master bedroom is 200 to 250 square feet. If your client has large pieces of furniture or wants a luxury ensuite, you should consider between 300 to 600 square feet. The good news is that a floor plan made with Cedreo can help you make the most of whatever size your client has.
How to decorate a Master Bedroom?
Master Bedrooms, like any bedroom, are first and foremost rooms dedicated to sleep. This is why when decorating a master bedroom layout you must use calming tones and colors, such as blue or green, for a relaxing atmosphere. Furniture placement must be carefully thought-out to provide functional space which goes with the soothing atmosphere wanted. You can use our atmosphere packs in our furnishing step to help you decorate a master bedroom.
What Should Be Included in a Master Bedroom?
Start with the basics: bed, bathroom, and clothes. Once you have a plan for how the master bedroom will connect to the master bathroom, make sure you know where the bed will be. Then, you should plan space for the client's clothes, and, depending on the space you have to work with, your client might also want a sitting area or space for additional furniture like a vanity, bookshelf, or side table.
Create Stunning 2D and 3D Master Bedroom Floor Plans Online… in Minutes
See Pricing Plans