Basement Floor Plan
Cedreo's online basement floor plan designer allows you to quickly create stunning layouts.


Design basement floor plans online in minutes


Reduce costs related to outsourcing and communication mistakes


Access your floor plans from anywhere with your laptop and wifi to make changes on the go
6 Key Basement Floor Plan Considerations
Basement floor plan design requires careful consideration of a few key factors. Going in with a firm idea of how you'll approach each point will ensure that your layout meets client needs and provides maximum functionality.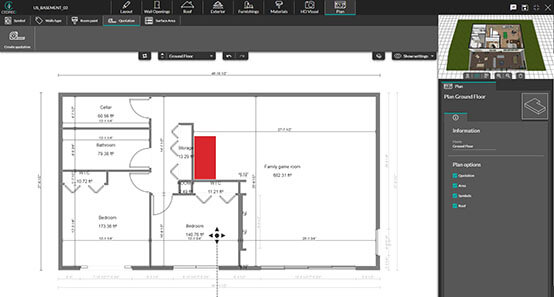 Plan the Layout First
Basements can often be tight quarters. Making the most efficient use of the space available necessitates some thorough planning. Think about the way the client intends to use the space, what the most common traffic patterns will be, and what parts of the room should be most accessible. This will help you develop a functional layout. A few versions may need to be evaluated in order to find the layout that accommodates the best traffic flow. Cedreo's quick editing makes it simple to change up your layout and figure out what works best.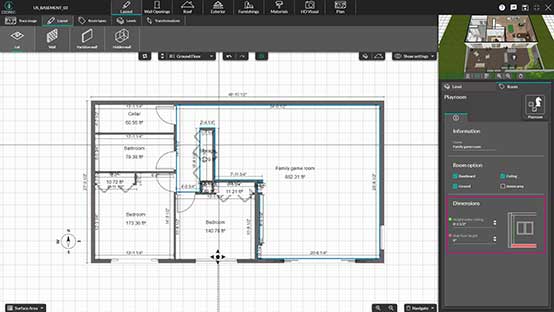 Determine Your Ceiling Height
Ceiling height is an important consideration for basements, not only for building code compliance but also for comfort. When deciding upon the height of your ceiling, don't forget any ductwork or piping that may run through and reduce the open vertical space. If these utility lines are meant to be covered by a drop ceiling, that extra space will need to be accounted for in the ceiling height.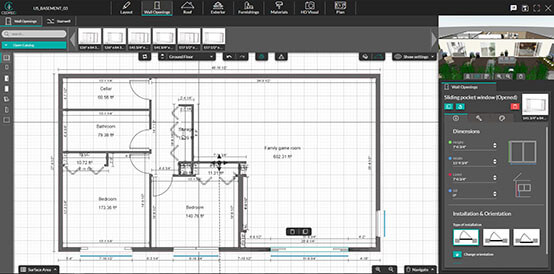 Identify Open Space Requirements
Egress points are important safety features in basements. Check with your local building codes to determine how much space you'll need to allot for a window that can be opened and climbed out of in the case of emergency evacuations. The codes will give you guidance on how far the bottom sill can be from the floor, how wide the window must be, and other critical measurements.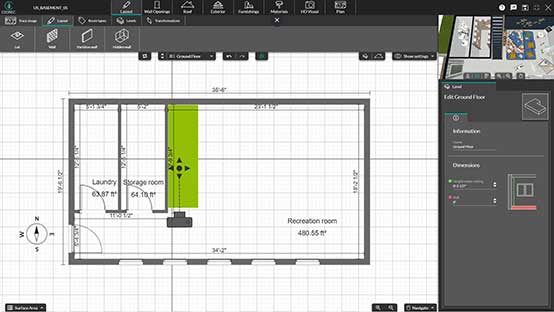 Factor in Storage Needs
Basements are often used as storage spaces, even when their primary function is something else. Ensure that your design facilitates all of the storage your client needs by considering the rest of the storage space available in the home, and whether or not the basement's own mode of use will require any storage accommodations.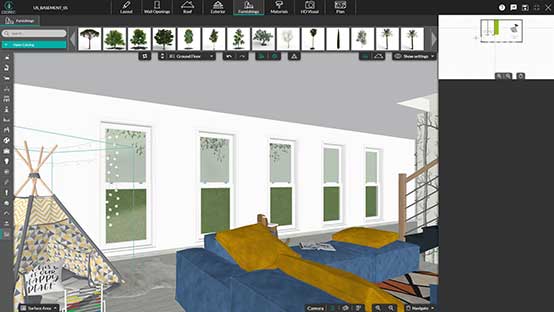 Consider Lighting
The submerged structure of basements often makes it difficult to access enough daylight. Your design will need to account for how to best leverage the natural lighting opportunities available via windows, and possibly even outdoor landscaping. The design plan will also need to provide artificial illumination in the form of recessed lighting or individual light fixtures. Because basement ceiling heights are often on the lower side, you may need to avoid hanging fixtures.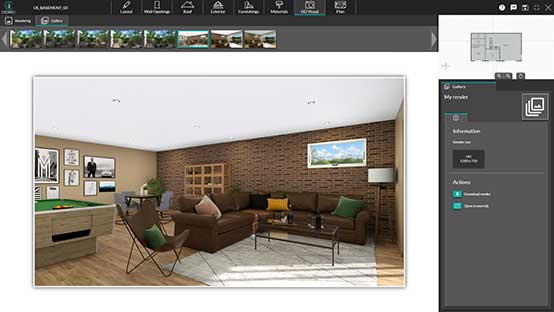 Choose an Interior Design Style
In order to bring all the previous key layout considerations together for your basement floor plan, having a general interior design style idea can help with these decisions. For instance, considering lighting goes with choosing the colors of the walls. The furniture used will depend on the open space requirements and built-in storage if there is any. When drawing floor plans every detail of the construction project comes together, which is why they are so important.
Basement Floor Plan Examples
Cedreo empowers you to draw beautiful layouts for any type of basement design.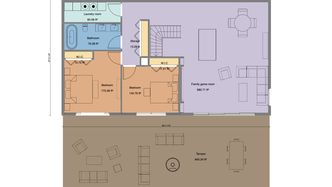 Walkout Basement Floor Plan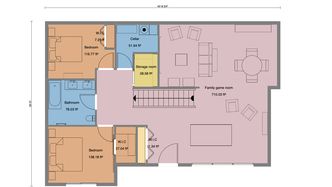 Basement Floor Plan with Stairs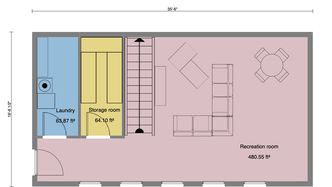 Simple Basement Floor Plan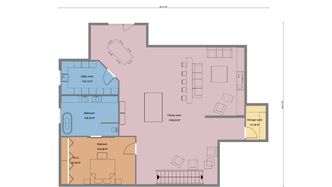 Complete Living Space Basement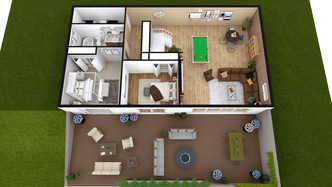 Basement Floor Plans in Daylight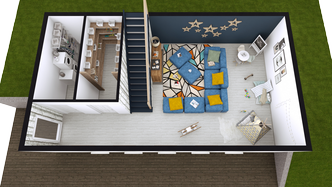 Rectangular Basement Floor Plan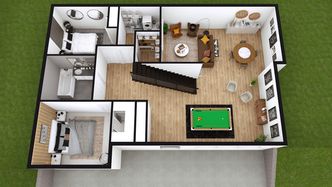 2 Bedroom Basement Floor Plan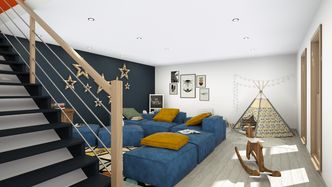 3D Basement Rendering
Basement Floor Plan FAQs
Let's discuss some frequently asked questions about basement floor plans.
Is there a difference between 2D and 3D floor plans?
2D floor plans enable you to communicate the more technical aspects of a construction project. This can include aspects such as dimensions, windows and doors, opening orientations, wall types, and load-bearing. 3D floor plans provide a more tangible view of a construction project with visible design elements and furniture placement.
Why do I need both 2D and 3D floor plans?
From a technical perspective, you don't need both 2D and 3D floor plans. However, presenting both of these floor plan types to your clients can add that wow factor to your business proposal and help them project themselves into their future homes.
Can I easily change the floor plan?
Just as you can easily draw a floor plan in minutes, you can easily change one at any given moment during the construction project process. Cedreo Software is there to help you bring your client's vision to life.
Why are floor plans so important for my business?
Floor plans are the first step when conceptualizing a design. They encourage discussion between you and your client and help to align ideas, as well as respect the budget. Floor plans are the first thing you present in your client portfolio. First 2D, then 3D floor plans, and to top it all off the 3D renderings created with our software to really sell the dream.