Bathroom Planner
Design 2D & 3D bathroom layouts in minutes.
Design Professional Bathroom Layouts Online
With powerful and intuitive bathroom design software like Cedreo, it's never been easier to get your clients excited about their dream bathroom. All it takes is just a few clicks to design an entire bathroom, complete with dimensions, fixtures, and finishes – no CAD experience required. Cedreo's bathroom planner includes everything you need to create the ideal bathroom design for your clients.
Learn more about Floor Plan Software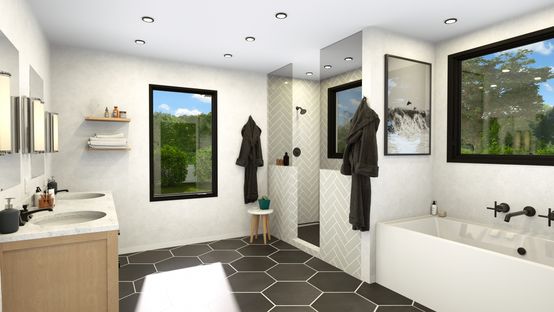 Easy-to-use Bathroom Planner Software
With Cedreo's feature-rich online bathroom design software, you can create detailed 2D floor plans and instantly see them in 3D. Whether you're knocking down walls to create a luxurious master ensuite or adding a small powder room to the living space you can do it all with this easy-to-use software. And if you have any trouble along the way, Cedreo's support team and tutorial library are always here to help.
Learn more about Bathroom Remodel Software
A Bathroom Design Tool that Does It All
There are three main ways to create the layout of a bathroom and convey information your clients want to know: 2D floor plans, 3D floor plans, and live 3D floor plans. See how the Cedreo bathroom design tool helps you bring bathroom plans to life and close deals faster.
Sketch 2D Bathroom Floor Plans
Use the bathroom designer to quickly create a 2D floor plan online that ensures you're making the best use of a bathroom's space.
The intuitive drawing tools allow you to make a basic plan for the bathroom with just 4 clicks. Easily view the updated dimensions as you add and adjust walls to create a 100% accurate plan. Then, simply drag and drop doors, windows, and furniture symbols.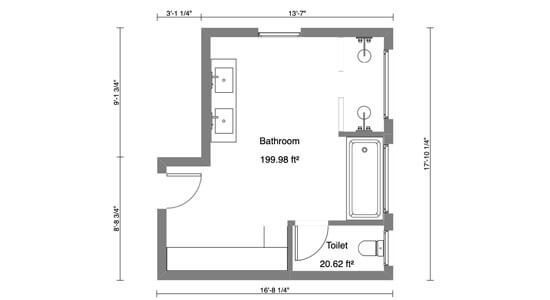 Convert to 3D Bathroom Floor Plans
With Cedreo, you don't have to rely on your client's imagination. This easy-to-use online bathroom designer simultaneously generates the bathroom design in 3D as you draw in 2D. You can quickly update bathroom floor plans based on the client's feedback and instantly see the changes reflected in the 3D floor plan.
Complete your bathroom plan using Cedreo's extensive design library of colors, materials, and bathroom fixtures. Then, share a first-person perspective to show clients how all of the bathroom design elements work together.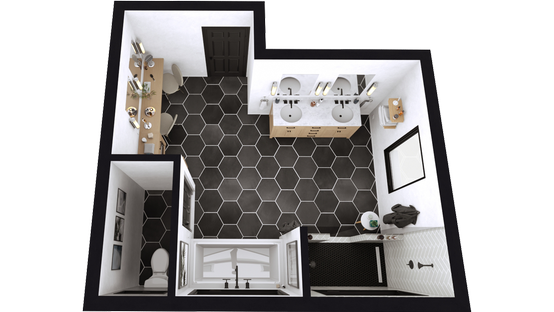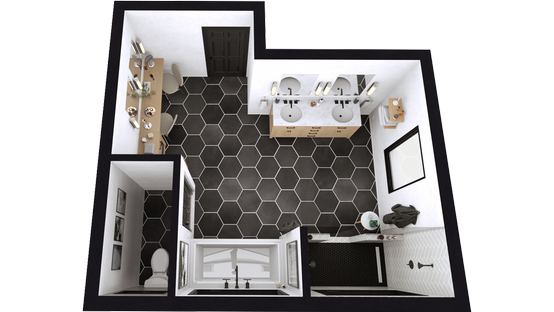 Generate Photorealistic Bathroom Designs
Some bathroom design software offers 3D views, but with Cedreo, you can take it a step further and create photorealistic 3D renderings. They're a more immersive way to show your clients how their finished bathroom will really look.
Use the bathroom design tool to create realistic renderings by customizing lighting, time of day, and camera perspective. Cedreo's 3D renderings even help your clients make design decisions faster since they can quickly envision the final bathroom layout, fixture locations, color scheme, and more.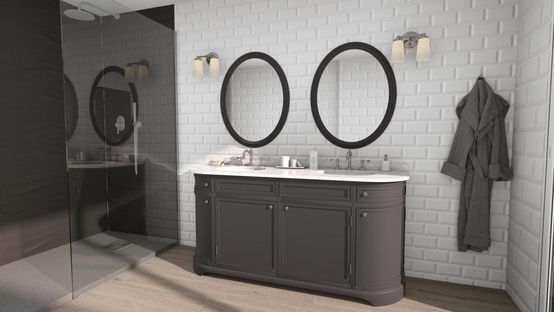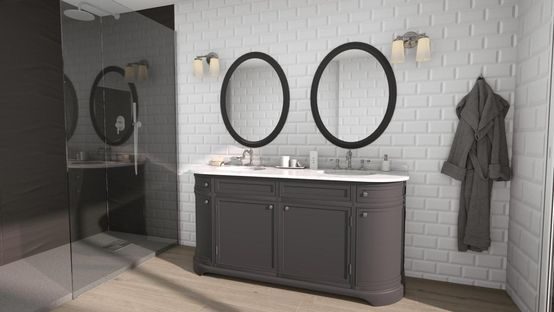 Bathroom Design Key Considerations
When designing a bathroom there are many things to consider depending on your client's wants and needs. Using an online bathroom planner helps create clear communication between you and the client to ensure they get the bathroom of their dreams.
Functionality
Layout and functionality should be top considerations when designing a bathroom. For example, while it's easiest to put all plumbed features as close as possible, sometimes that isn't the most functional layout. It's best to get an idea of how many people will be using the space on a regular basis and for what.
Lighting
Most bathrooms have minimal access to natural light so creating the right lighting plan is essential. Avoiding harsh lights and shadows should be taken into account for vanity lighting whereas more ambient lighting might be preferred in luxury areas like near the tub.
Accessibility
Accessibility is primarily based on who will be using the bathroom, or who will be using it in the future. Bathrooms should be created with safety in mind whether that's young children or those with mobility/disability needs. Some solutions are non-slip surfaces, support features, and wider entrances.
Ventilation
Ventilation is a huge factor when designing a bathroom, both to reduce humidity and dissipate odors. Exhaust fans help remove humid air from the room, whereas a ventilator will allow fresh air to enter.
Storage
Storage can be tricky in bathrooms, especially in smaller bathrooms. Will the vanity provide enough storage space for everything your client needs? Is there space inside the bathroom or in the hall to create a linen closet? Medicine cabinets can also add extra storage without taking up any square footage.
Materials
Because of the abundant use of water in bathrooms, wall and floor materials are different than almost any other room. Materials need to not only withstand moisture but also be cleaned easily. The most commonly used materials are ceramic, glass, and smooth plastic tiles.
Bathroom Design Examples
With Cedreo, it's never been easier for remodelers, home builders, and interior designers to create stunning bathroom designs in just minutes. From 2D floor plans to photorealistic 3D renderings, this is the bathroom planner that will help you close more deals. See some examples of real bathroom designs created with Cedreo's bathroom design software.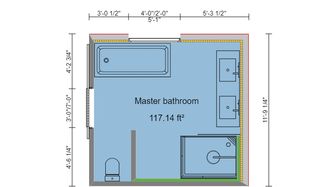 2D bathroom floor plan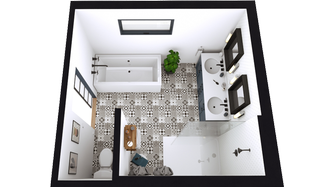 3D bathroom floor plan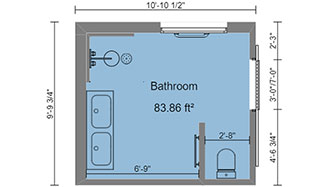 Small bathroom floor plans with shower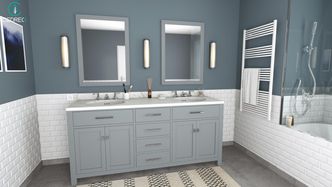 Bathroom layout
Master bathroom layout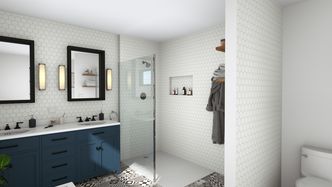 Master bathroom floor plan with walk-in shower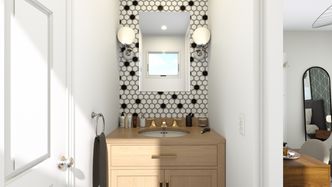 Powder room layout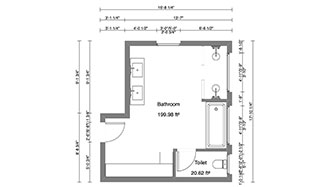 Guest bathroom layout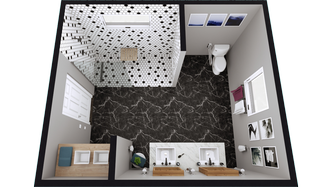 ADA-compliant bathroom layout
Common Bathroom Floor Plan Components (and Symbols)
Designing a bathroom involves a lot of planning, especially where main plumbing features will be located. Below are some very important components (and symbols) you'll want to incorporate into your 2D bathroom floor plans.


Shower
Insert a shower tray or cabin symbol to indicate where the shower will be located as well as what type and the dimensions.


Bathtub
Choose from one of the many bathtub symbols to indicate the type, size, and orientation of the bathtub within the space.


Washbasin
Use the washbasin and cabinet symbols to show where the sink or double sinks will be located in the layout.


Toilet
The necessity of any bathroom, use the toilet to show where and what type of toilet will live in this space.


Towel Racks
Storage was one of the considerations covered above. Use towel rack symbols as another use of storage, especially in smaller bathrooms.


Dimensions
Add and hide dimensions throughout the bathroom floor plan. These are especially important when choosing bathroom fixtures.
Use Cedreo to Design Your Bathroom Layouts in a Fraction of the Time
The online bathroom planner lets you access your designs across all your Mac and PC computers. And with cloud-based 3D rendering, you don't need a powerful processor to complete your designs. Design a bathroom online today and modify it quickly to meet your client's expectations.
1. Import a Floor Plan
If you have the floor plan for the house, you can import a scalable version in JPEG or PNG format and use it as a sort of stencil to trace the walls. Once the floor plan is important, you can easily create the entire plan, including dimensions and symbols. You can rotate the floor plan to change its orientation on the screen.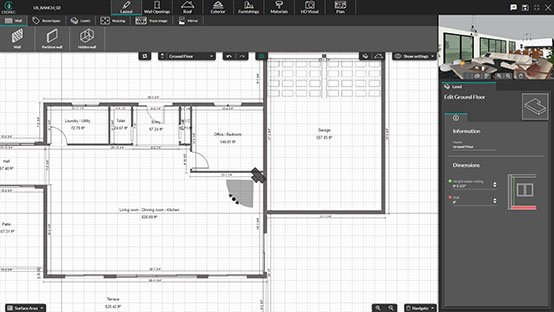 2. Draw Your Floor Plan
Use Cedreo's continuous drawing mode to create floor plans from scratch. Or trace over your imported plan. It's so easy to use, you can draw most bathroom layouts in 5 minutes or less. But don't let its simplicity fool you — this bathroom design tool creates stunning designs suitable for professional presentations and marketing materials.
Add furniture symbols and define the wall types, such as insulated, waterproof, or exterior walls. View measurements and surface areas to help ensure accuracy. And choose from 650+ types of doors and windows from the extensive product library.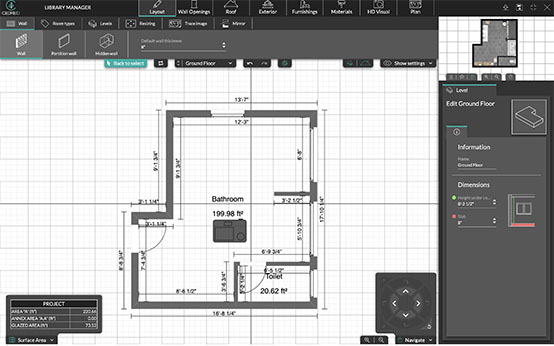 3. Add Bathroom Furnishings
Choose vanities, cabinets, and fixtures for the bathroom layout from Cedreo's library of 7,000+ materials and furnishings. With just a few clicks, you can drag, drop, move, resize, and customize the colors of objects and furnishings to finalize the layout. Select floor coverings, tile, and paint from the material library and finalize your design.
4. Customize Materials
With many bathroom planner software you have to settle for generic and often uninspiring features. Cedreo let you customize almost anything with a wide variety of surface materials. Choose from different tiles, marble, wood, and more to create any style your clients are looking for.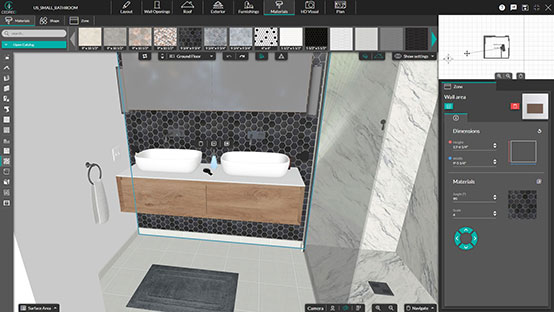 5. View Bathroom Designs in 3D
As you draw, you can adjust the 3D perspective to view the bathroom layout from different angles. Then, use the bathroom design program to create a high-quality 3D rendering. You can adjust the sun position to show your clients how much natural light enters the room. It takes Cedreo just 5 minutes to create a photorealistic rendering that makes it easier than ever for clients to envision the possibilities.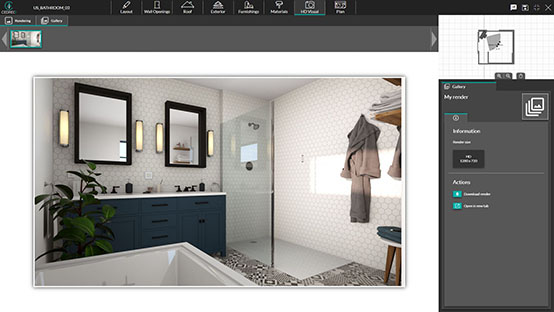 6. Download or Share the Design with Your Team
At any time you can download or share designs with your team for input and feedback. Cedreo Enterprise plan users can even share projects with the team members inside the platform.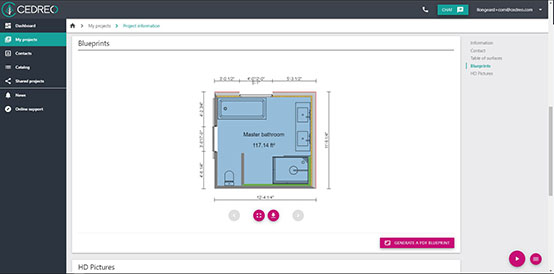 7. Present 2D Floor Plans & 3D Visuals to Your Client for Feedback
Once your bathroom design is finalized, you can download floor plans and 3D renderings and present your conceptual design to clients.
The 3D renderings you created are available in the gallery of each project and can be downloaded in JPG format to share with clients. And because the software is cloud-based you can bring your laptop and make changes in real time.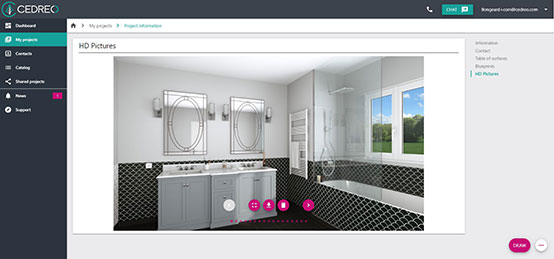 Bathroom Planner FAQs
What features should Bathroom Planner Software include?
When choosing a bathroom planner software you want to look for intuitive and time-saving features that are also efficient. Like importing floor plans, easy to read area tables and a large library of decor and materials.
Is it important to have 2D and 3D bathroom floor plans?
Yes, 2D floor plans help contractors see the placement of essential elements like plumbing fixtures as well as dimensions. 3D floor plans bring your vision to life so your client can realize your design vision.
Do I need CAD experience to use Cedreo?
No CAD experience is required! Cedreo is known in the 3D home design market as being easy to use for any level designer. And, if you have any issues our support team and full library of tutorials are here to help!
How long will it take to complete a bathroom floor plan?
With Cedreo you can complete an entire home floor plan in under 2 hours. Depending on the size of the bathroom you're designing and the elements, it can take anywhere from 30 min to an hour.