Floor Plans With Dimensions
Cedreo's easy to use online design tool helps bring your floor plans to life for amazing client presentations.
Create Dimensional Floor Plans in Minutes
With Cedreo, you can create easy-to-read professional floor plans in minutes. Draw plans from scratch or upload an existing plan. Move or add walls, and Cedreo will automatically update your floor plan measurements. Add furnishings and textures to help clients visualize how the project will look when complete.
Learn more about Floor Plan Software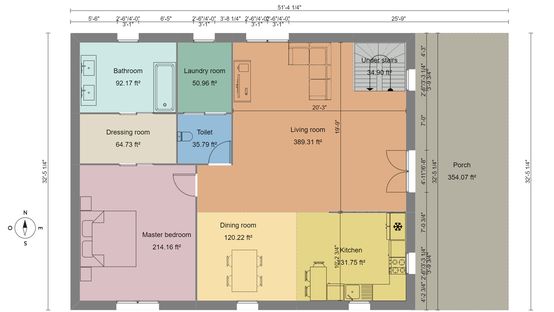 Draw Floor Plans with Dimensions With Ease
Cedreo is the go-to platform for home builders, remodelers, and interior designers for drawing and rendering complete floor plans. It's never been easier to create dimensional floor plans, all online. Bring your designs to life in 2D and 3D for the most professional client presentations every time. Plus, do it all in just a matter of minutes. Your design time is valuable, so let us help you make the most of your projects and deliver first-class results.
Learn more about how to draw floor plans
Every Floor Plan Dimension in One Place
Floor plan dimensions are necessary to plan, design, and complete new construction and remodeling projects.
Cedreo's floor plan software helps you create floor plans with every dimension you need.
Meters vs Feet
Cedreo has users around the world, which means it's important we offer both imperial and metric dimensions options. If you work with foreign clients you may also need to switch between meters and feet, and with Cedreo that's easy to do.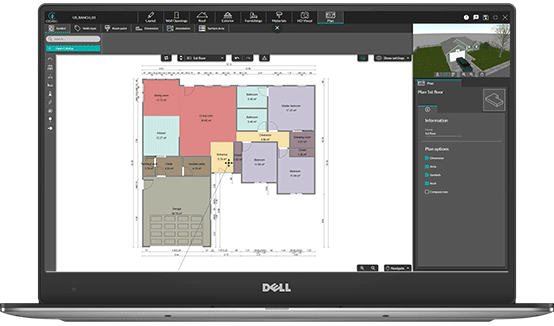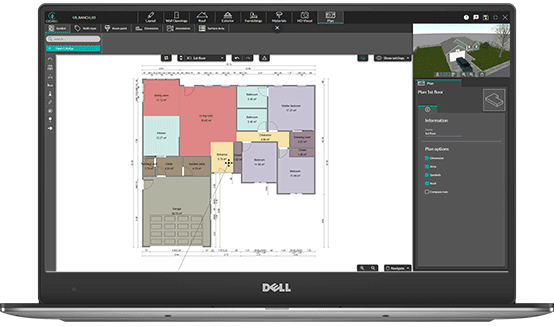 Configure Measurements
Inside and outside measurements differ to create overall dimensions and actual liveable space. Both measurements are needed for different things. You can add all the dimensions, or just include the ones you wish to see.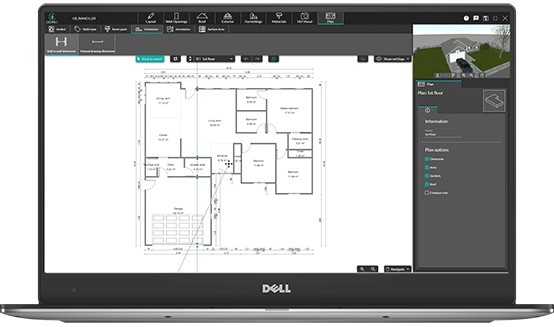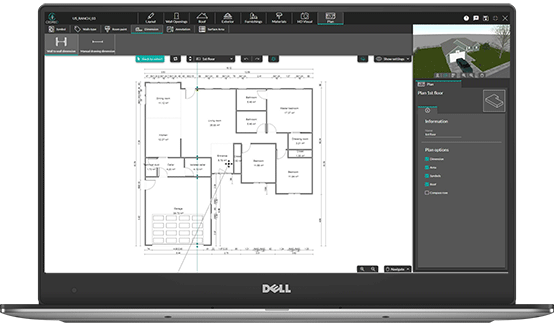 Calculate Total Area
Calculating total area, as well as specific rooms, helps designers create functional, useable space. With Cedreo's easy surface area table you are able to view the total area of a floor, room, or entire house.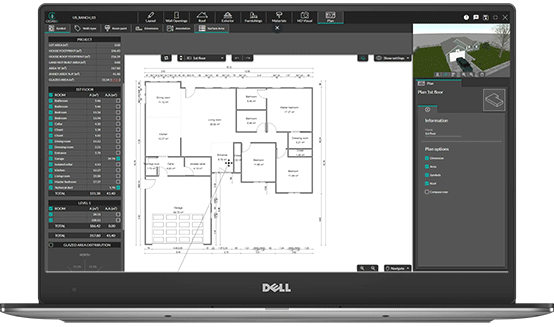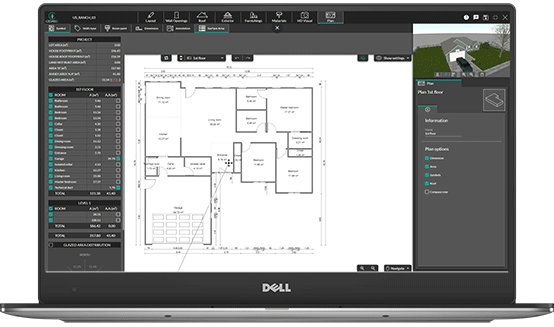 Why Do You Need Floor Plans With Dimensions?
There are many reasons that adding dimensions to floor plans is beneficial. Here are a few examples:
Property Sales & Marketing
If clients are unable to visit the home, or the home isn't complete yet, they may have trouble visualizing the space. Sharing detailed floor plans with dimensions can help clients understand the space and close deals.
Close Remodeling Sales
It's often hard for homeowners to understand the ins and outs of a remodel. Detailed floor plans with dimensions help clients visualize what the added square footage will add to their current home.
Communicate Measurements
Many people are involved in construction and remodeling projects. Floor plans with dimensions help easily and effectively communicate the project details to everyone from designers to contractors.
Calculate Areas
Once dimensions are added to floor plans, Cedreo's area table automatically updates to show you the total area as well as the area per room. This helps clients plan furniture decisions, calculate ventilation and materials needed, as well as resale value.
Avoid Costly Mistakes
Knowing the dimensions and area of everything from the walls to countertops helps avoid overordering materials, ordering the wrong size appliances, and more.
Building Permit Requirements
Major building and remodeling projects require building permits. Often to receive these permits you will need to submit a floor plan with dimensions.
Examples of Floor Plans With Dimensions
Give your clients the most professional presentation you can. Help them visualize the final project through Cedreo's easy floor planning software.
Impress clients with 2D and 3D floor plans with dimensions that will bring your design and their vision to life.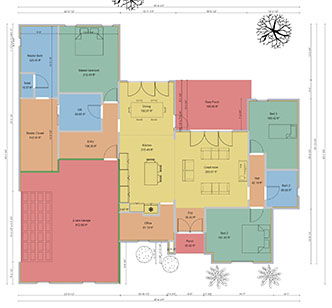 Complete house floor plan with dimensions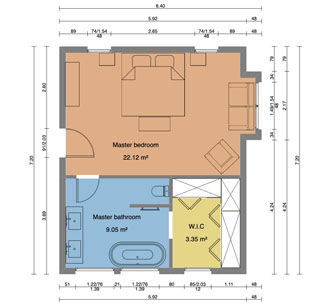 Master bedroom floor plan with dimensions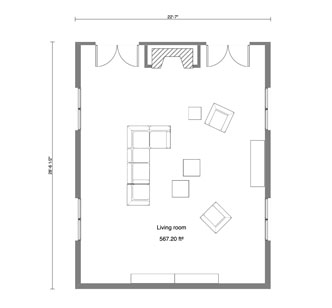 Living room floor plan with dimensions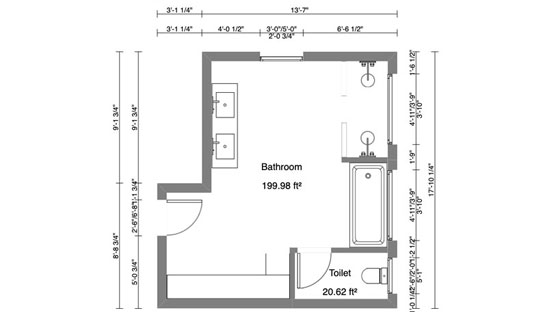 Bathroom floor plans with dimensions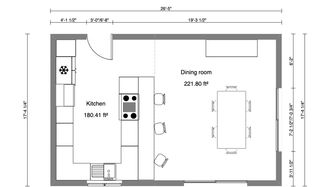 Kitchen floor plans with dimensions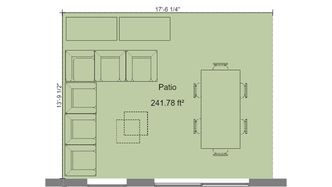 Patio floor plan with dimensions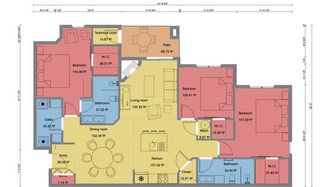 Apartment floor plans with dimensions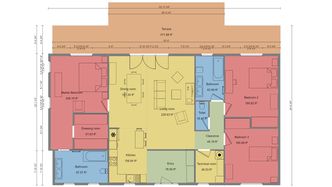 Multi-level floor plans with dimensions
Commercial floor plans with dimensions
How to Read A Floor Plan With Dimensions
Floor plans with dimensions can feel overwhelming at times.
Here is a few ways to read detailed floor plans with dimensions.


Floor Plans to Scale
Drawings are done to scale. Standard fractions are used in relation to the actual size of the project.


Site Plan Dimensions
Creating a full site plan with dimensions shows the dimensions/area of the entire plot as well as the buildings on the property.


Total Home Area
Calculate the total area of the home in imperial or metric measurements.


Ceiling Heights
Add dimensions to show the ceiling heights on each floor to determine window and door openings.


Room Dimensions
Detailed floor plans so the dimensions and areas of each room, including areas within open floor plans.


Layout Features
Dimensions on appliances, kitchen and bath components, as well as doors and windows to ensure everything fits correctly.
How to Draw a Simple House Floor Plan With Dimensions
A simple floor plan with dimensions is a basic layout of a home, but there's no reason not to make it a stunning and detailed visual presentation.
Cedreo gives you the tools you need to easily create feature-rich floor plans that will make your clients happy.
Step #1: Start From Scratch or Import an Image
Create your floor plan by drawing from scratch or uploading an existing floor plan with your house dimensions. You will have the ability to resize the floor plan, and even enlarge or reduce walls. Just draw right over an existing floor plan to get it ready to customize. With continuous drawing mode, it's easy to draw walls and make changes in real-time.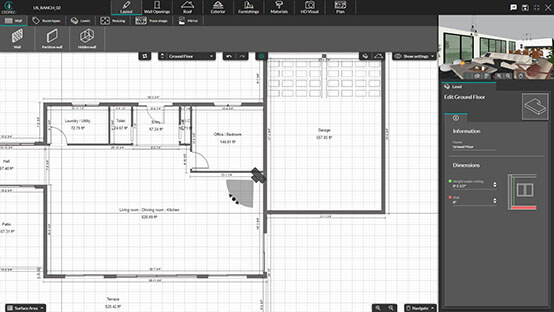 Step #2: Draw Walls and Add Openings
The next thing you will want to do is add the inner walls to divide the large area into rooms. A good rule of thumb is to start with the largest room in the house and build the other rooms off of it. Once levels and internal walls have been added, the next step is to insert wall openings, such as doors and windows, from the Cedreo product library. Use the software to duplicate wall openings and keep dimensions accurate. Drag and drop doors into place, and the 3D view will update in real-time to reflect the additions.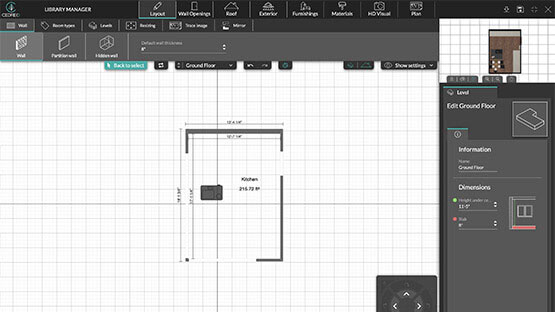 Step #3: Add the Roof
The Cedreo online design tool allows users to add a roof automatically, based on the exact dimensions of the building levels. You can choose from several different roof types, including multi-slope, gable, single-slope, or flat roofs. Then, using the roof automation tool, add a roof in just one click. Add features like dormers, downspouts, and gutters. Once you add one piece of guttering, Cedreo can automatically add the rest with a single click.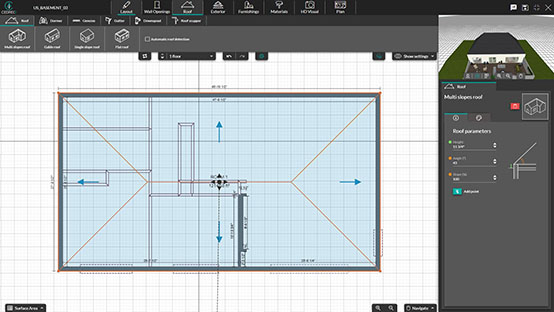 Step #4: Add Dimensions
Easily customize room sizes, activate or deactivate floor plan measurements, or move them within your plan, all during the planning step. You can even decide what dimensions to show on your plan when it's rendered for presentation to your client. Color-code sections of the floor plan and add furniture and appliance symbols to make the 2D floor plan even easier to read.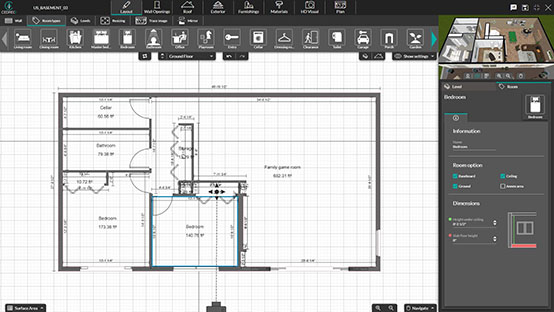 Step #5: Add Furnishings
Instead of drawing furnishings individually, just search Cedreo's 3D library of over 7,000 customizable pieces of 3D furniture, appliances, decorative objects, and surface coverings, and then add them to each room. We even offer an anti-collision feature that stops you from accidentally placing items on top of each other when adding them to the plan.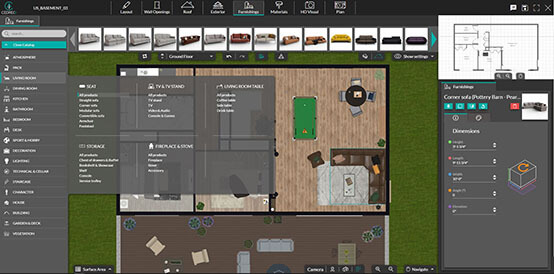 Step #6: Make Final Customizations
Review your designs and make any necessary changes before rendering your final plan. (Remember: You can save several versions of a floor plan if you want to present different options for a client). Have peace of mind knowing that changes are quick and easy to make if needed.
Step #7: Finalize Your Area Table
The last step in creating a floor plan with measurements is to finalize the area table on the drawing. Decide which parts of each level are to be included in the home's overall calculations and if you want to customize the dimensions of any areas. Just select which house floor plan dimensions to include in the final plan.
Floor Plans With Dimensions FAQs
Can I hide and edit dimensions on the floor plan?
Yes. You can add, hide, and edit any dimensions you need on your floor plan in Cedreo's floor plan software.
Can I add interior and exterior dimensions?
Yes. You can add interior and exterior dimensions, as well as site plan and exterior object dimensions.
Do I need dimensions to plan my interior layout?
You don't need dimensions to plan your interior layout, but it does ensure that materials are ordered correctly and that appliances, features, and furniture fit within the space.
How Do I Calculate Square Footage?
Calculating a floor plan with dimensions can be time-consuming, but the best way is to measure the width and length of every room, then multiply those to calculate the area. Cedreo does it for you with a surface area table that includes dimensions for each room on the floor plan and total area calculations for internal and external.