Living Room Floor Plans
With Cedreo, you can quickly create living room floor plans to help clients visualize their new space and close deals faster
6 Key Living Room Layout Considerations
In order to draw a successful living room floor plan, you'll need to keep in mind a few important factors. The guidelines below will help you to ensure that the design you draft achieves the best possible balance of beauty and practicality.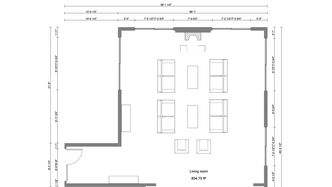 Living Room Dimensions
Draw living rooms that are comfortable for your client's needs by finding the proper dimensions. The ideal length and width of the room will be determined by the resident's daily usage habits and their household size. For instance, a large family may require ample room for seating and for children to play. You can easily alter the dimensions of your Cedreo floor plan by dragging and moving walls.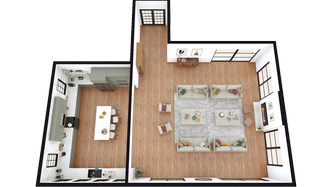 Living Room Function
Living rooms are often versatile areas that serve many purposes. They may be the main space for entertaining, relaxing, and sometimes even work. Your living room sketch will need to account for the different functions your client has in mind, providing the right layout and design accommodations for each.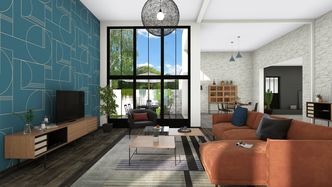 Furniture and Decorations
No floor plan is complete unless it includes furniture arrangements and home decoration. Inserting these elements allows your client to get a clear idea of how the area can be used, and just how much space is available to them. Adding these items is made easier with Cedreo's ready-to-use library of room furniture and decorations, all of which can be modified in size, aesthetic, and orientation.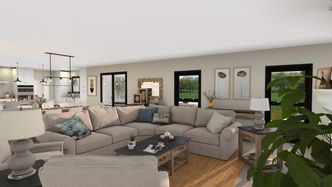 Natural Light Sources
The most useful sketches of living rooms account for natural light sources and how they affect interior lighting conditions. This information can be critical for making design decisions, and accurately representing it can give your clients more realistic expectations of how the room will look in day-to-day life. Cedreo enables you to adjust the sun position and simulate both daytime and sunset light conditions.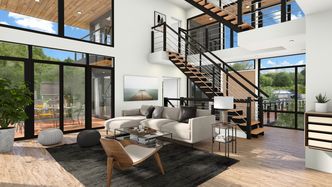 Main Focal Points
A good living room design will guide the eye to focal points: distinct features that serve as the primary aesthetic focus. These can be statement decor pieces such as paintings, or even windows with fantastic views. Accounting for focal points in your plan can help you create more compelling imagery for your clients and get them excited about the design.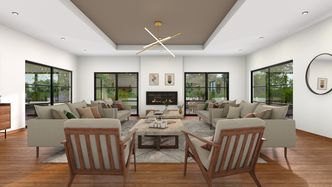 Living Rooms "Zone"
Even small living room floor plans can have distinct spaces, or "zones". These are typically spaces that serve different purposes, therefore tying back to the consideration of function. For example, one living room zone may be dedicated to TV viewing, while another may be more concentrated on conversation by providing a defined space for separate seating.
Living Room Floor Plan Examples
Here are a few living room floor plan inspirations to help you see what you can draw and design with Cedreo.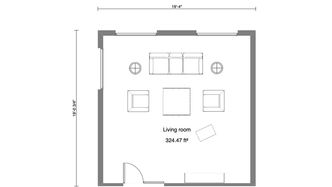 Small living room layout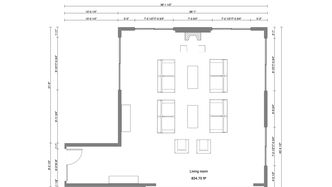 Large living room layout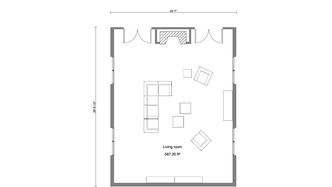 Rectangle living room layout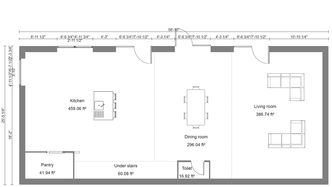 Open living room layout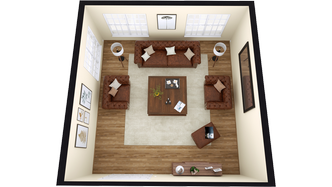 Square living room layout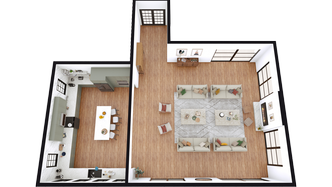 Open living space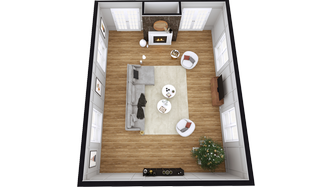 Living room layout with fireplace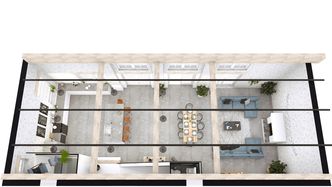 Open living space with natural light source
Living Room Floor Plan FAQs
What Floor should the Living Room Be On?
As with any architectural project, the placement of a room type completely depends on the needs of the end-user and the function of surrounding spaces.
For example, homes for elderly or disabled residents may find it most suitable to have living rooms on the same level as sleeping quarters. Living rooms meant to function as family play areas may be better on levels separate from entertaining zones or home offices
What Dimensions should I Use for a Living Room Floor Plan?
Living room dimensions should be mindful of both the user's lifestyle and the potential furnishings. Small living room floor plans may only need dimensions of 10x13ft total, but larger rooms with sectioned spaces may require dimensions of 15 x 20ft or more.
Cedreo makes it simple to check if your living room blueprints have proper dimensions with automatic room area calculations and optional measurement displays.
How do you Decorate a Living Room Floor Plan?
Easily decorate your living room sketches with Cedreo's 3D customizable product library containing over 3000 assets. Choose from furnishings and decor in various styles to consider multiple layout ideas: nordic, contemporary, charming, modern luxury, etc. These sorted categories allow for quick matching, resulting in impressive and cohesive interior designs.
Furnishings can be placed on any available spot in your Cedreo floor plan and rotated to the desired orientation.
How do I choose the right Living Room Layout?
There are all sorts of living room layout types as shown above, and they usually depend on the type of construction project. Whether it's a new build, remodeling, or renovation project, available space, window, and heating placements are the technical features to take into consideration. Once these are factored in, you can use Cedreo Software to come up with multiple living room layout proposals to find the one that suits your client's wants and needs to a T.
Create Stunning 2D and 3D Living Room Floor Plans Online… in Minutes
See Pricing Plans