Kitchen Planner

Design Professional 2D & 3D Kitchen Layouts in Minutes.


Create kitchen plans in minutes


Easily download and share plans


Generate stunning 3D renderings in 5 minutes
Design Kitchen Layouts Online in Less Time
Project visualization just got a lot quicker with Cedreo's easy kitchen layout app. Design the perfect kitchen for your clients — with more details in less time.
With Cedreo, you can design kitchens online and do it right the first time.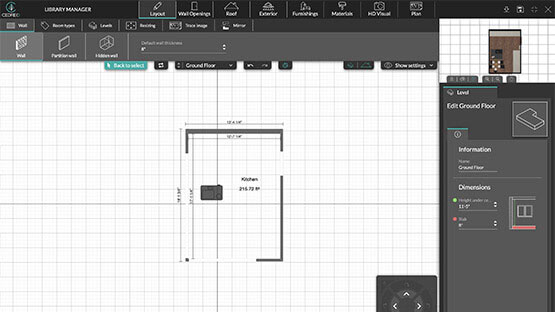 Create your floor plan
With our continuous drawing mode, you can trace over an existing floor plan or draw one from scratch.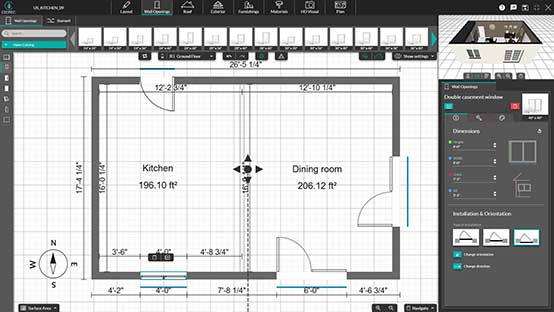 Drag, drop, and customize
With our easy drag-and-drop feature, you can add doors, and windows to your client's liking, add kitchen furniture symbols for major appliances, customize dimensions or colors, and edit wall types (waterproof, interior isolation).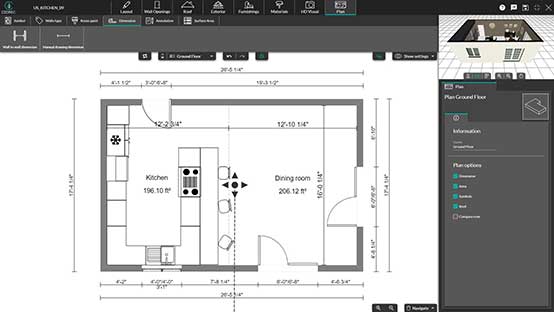 Get accurate measurements
Get measurements of the surface area and walls to complete the project.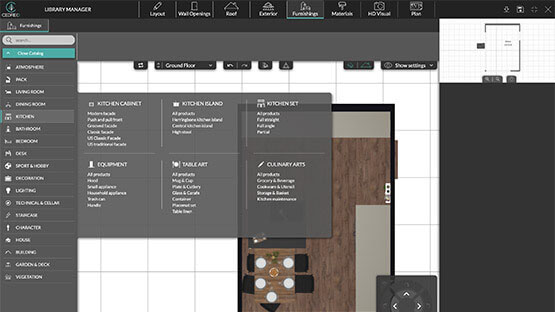 Add furnishings
You can pick from a broad array of colors and materials. The kitchen design menu lets you drag and drop appliances, cabinets, home decor, islands, and kitchen cabinets with ease. Generate easy-to-read floor plans and beautiful concepts by selecting the look your client wants for a variety of equipment, including fridges, hoods, and sinks).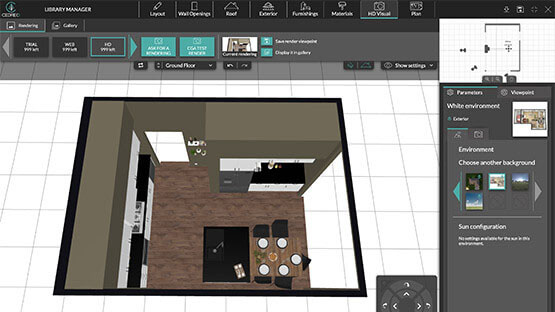 View 2D & 3D designs
Create correctly scaled 2D kitchen floor plans with clear labeling, then transform them into 3D projections to impress clients. With our kitchen planner, you can have a fully-realized 3D rendering of your proposed floor plan in less than 5 minutes!
Share & make changes on the go
You can quickly and easily download images to share with colleagues and/or clients. You can also show floor plans and make changes in minutes for a faster decision-making process.
Your One-Stop Online Kitchen Planner and Design Solution
Cedreo is the best kitchen layout planner to get your team on the project faster. With Cedreo's enterprise version, your team can collaborate on projects in real-time. And with Cedreo's fully cloud-based platform, your projects load quickly and don't consume valuable hard drive space.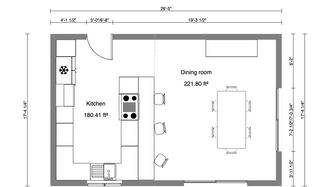 Kitchen 2D Floor Plan
2D Kitchen floor plans show the location of technical items and dimensions.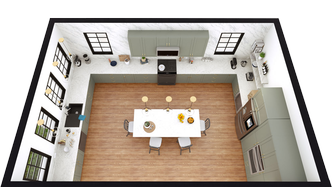 Kitchen 3D Floor Plan
Bring your kitchen floor plans to life.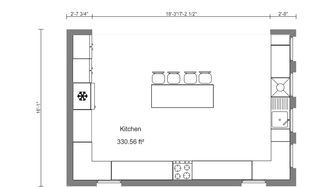 U-shaped Kitchen
U-shaped kitchen designs can be tricky for traffic flow, floor plans can help.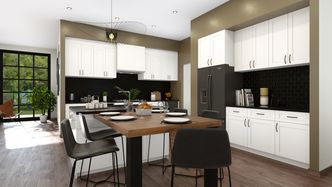 L-shaped Kitchen
The L-shaped kitchen can work for both large and small spaces.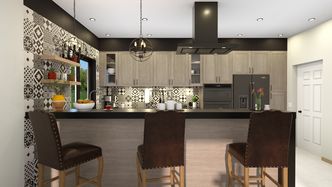 Small Kitchen
Floor plans help plan the functionality of small kitchens.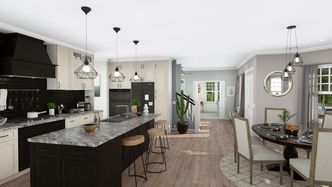 Kitchen Layout with Island
Know precisely how big your kitchen island can be with accurate floor plans.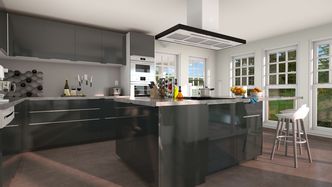 Kitchen Rendering
Clients can see exactly how their new kitchen will look with a 3d rendering.
Outdoor Kitchen
Create an outdoor kitchen and dining space with Cedreo.
Kitchen Design Software FAQs
It's time to cover some frequently asked questions about kitchen planning and kitchen design software.
Is there a limit to the number of kitchen designs you can create?
No, you can create as many kitchen designs as you want with Cedreo's Pro and Enterprise plans. The personal plan allows you to create just one project.
How long does it take to create a 3D rendering?
Once your floor plans are created, with just one click it takes less than 5 minutes to generate a photorealistic 3D visualization.
Do I need to be a professional kitchen designer to use Cedreo?
No, Cedreo is easy to use and doesn't require any previous kitchen design experience. Whether you're a beginner or a professional, Cedreo is the perfect kitchen planner for all your projects.
What features do I need to look for in Kitchen Design software?
Finding software with intuitive and easy-to-use features is key when choosing the best. The ability to upload current kitchen plans, drag-and-drop functionality, expansive library of materials, and appliances are all things you should look for.