Looking for best interior design software? Read on.

Whether you're part of a massive interior design firm or just starting out on your own, the right interior design software is invaluable to your success and that of your business.

By now, you've probably figured out that a project is best completed when your clients and vendors are included in the design process from the beginning. Professional interior design software can help facilitate this collaboration, empowering you to produce incredible pieces of creative work while also streamlining your overall flow, meaning business runs smoothly.

How much does interior design software cost? In some cases, it's free! And many of the best interior design software platforms offer tiered pricing.

Keep reading to learn:
Key features to look for in interior design software
The 13 best (free and paid) interior design programs
Learn More About Cedreo Interior Design Software
Key Features to Look for in Interior Design Software
We understand that choosing interior decorating programs can be intimidating. Some are free interior design software, some cost a little, and some cost a lot. On top of that, they may include different features — but which features do you actually need?

Fear not. We put together this list of interior design software features that can help you get faster design approvals and ultimately win more projects.

Let's take a look at the key features to look for in interior design programs.
2D and 3D floor plans
You want to be able to provide your clients with floor plans, ideally in both 2D and 3D.

A good interior design software program will let you include details on your floor plans with a variety of symbols and colors.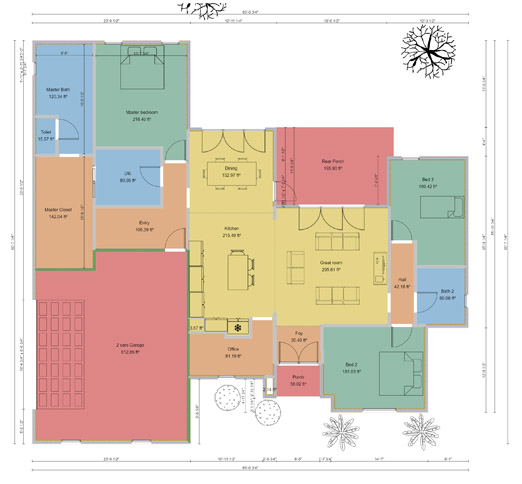 Image: Full-featured 2D floor plan created with Cedreo.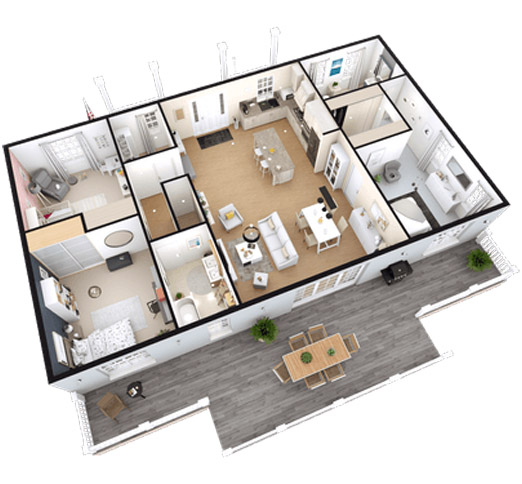 Image: 3D floor plan created with Cedreo.
With Cedreo, you can draw and download 2D floor plans and generate photorealistic 3D renderings of fully furnished projects with a single click.

You can include furniture symbols and colors for each room, display measurements and surface areas, and even make multiple 3D renderings of the same room from different perspectives.
3D visualizations
For a realistic preview of what a project will look like, 3D renderings are helpful because they eliminate the guesswork and imagination that is often needed to sell the value of an interior design project.

Clients want to see exactly what their house is going to look like when it's done.

With Cedreo, you can visualize your 3D home design and show your clients what to expect in their home building or renovation project. This makes it a perfect tool for time-crunched interior designers, as well as home builders and remodelers.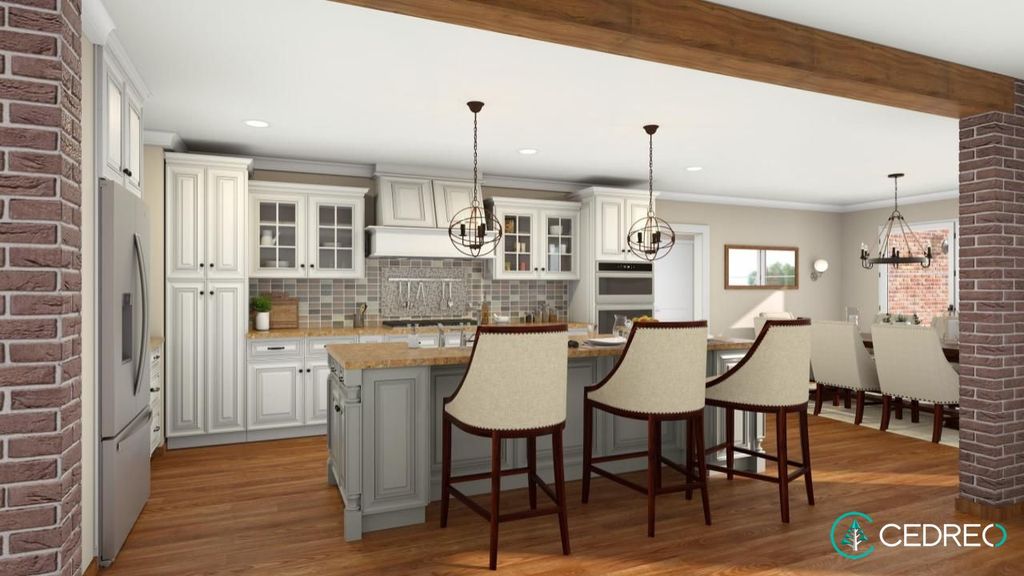 Image: 3D interior design with Cedreo.
Home decor
When creating visuals for clients, it's important to have a good selection of home decor to enhance the mockup and make it as realistic as possible.

Cedreo lets you pick from over 7,000 pieces of furniture, decor, and materials to customize the interior and exterior of any home design.

We add new items every month to ensure our design library is always on-trend, but if you don't see what you're looking for, you can ask your dedicated Customer Success Manager to create custom products or coverings to fit your client's needs.
Image: Customizing interior designs with Cedreo's library of 3,000+ furnishings and objects.
Room templates
Interior design programs that give you the option to start from room templates can save you a lot of time, letting you complete a home decorating plan in as little as a few minutes.

Cedreo has a feature called "grouped product packs" that groups complementary products, letting you quickly furnish a complete living room or kitchen in 3D.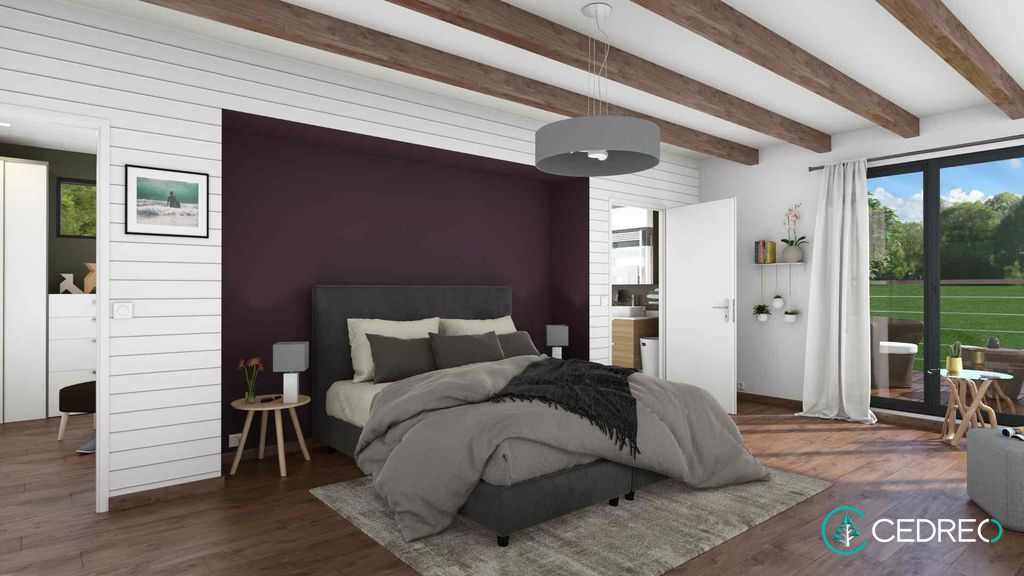 Image: Creating a 3D interior design plan in minutes with Cedreo's grouped product packs.
Light editing
The point of interior design software is to help both you and your client visualize how the end product will look. An important but often overlooked aspect of home design is lighting. Be sure to choose interior design software that lets you alter the lighting in your rooms.

With Cedreo, you can choose daylight or sunset lighting and change the orientation of the sun to create shadows, then generate professional interior 3D renderings in less than 5 minutes. This feature can be used to make multiple 3D renderings of the same room from different perspectives.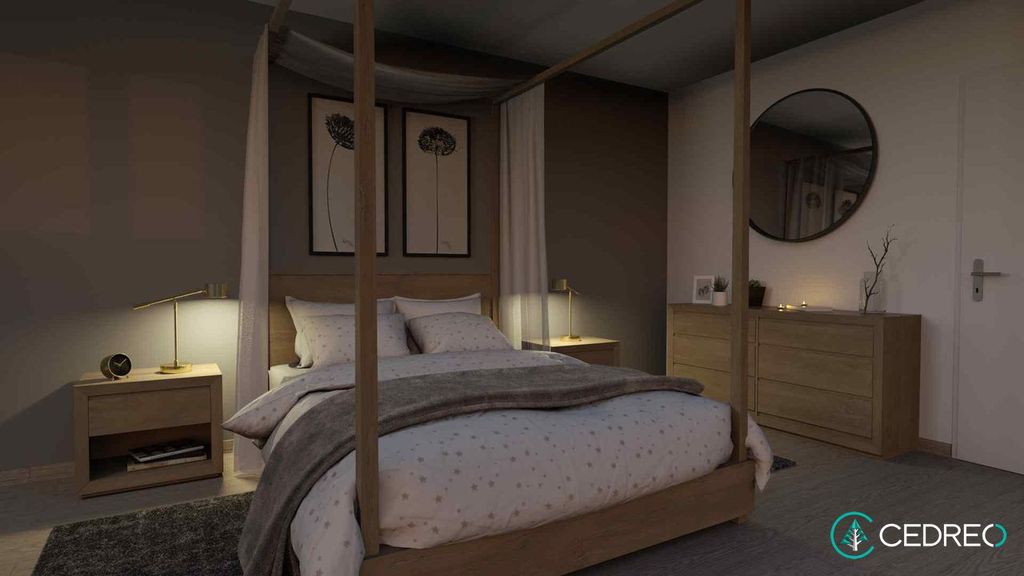 Image: Control lighting in any room with Cedreo.
Custom finishes
With the ability to customize finishes in interior design software, you can show clients how flooring, countertops, tiles, and other details work together in the overall design. Look for platforms that let you customize finishes and update them based on client feedback.

Cedreo offers a large selection of over 3,500 surface coverings, textures, and materials to customize the home's interior, including paint, flooring, tiles, and fixtures.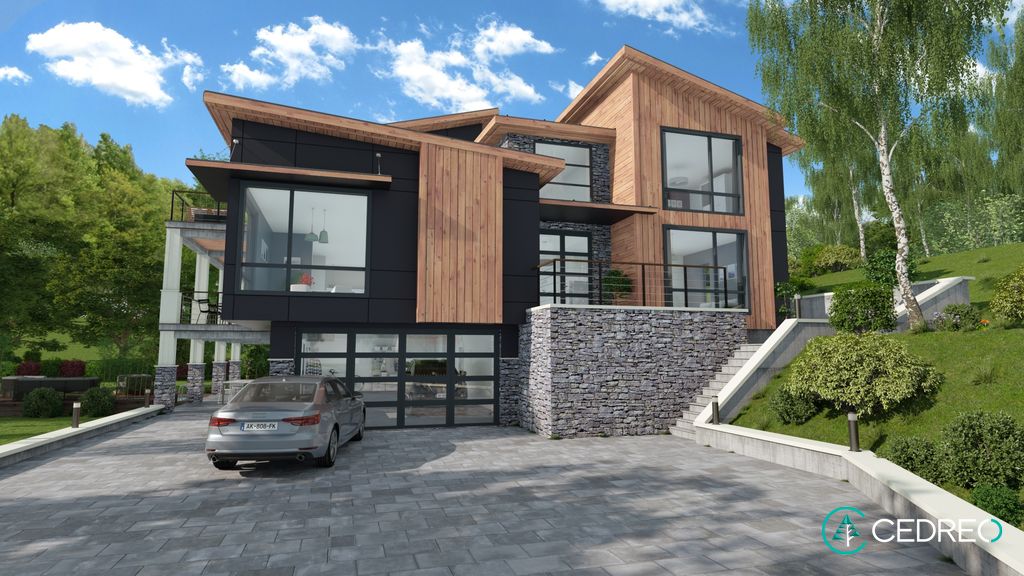 Image: 3D exterior design with Cedreo
12 Best Interior Design Programs for 2023
Overwhelmed by all of the options in interior design software? We created a list of the top 13 top interior design software programs (both free and premium), to help you focus on the best solutions.

We'll cover the key use cases, most valuable features, and pricing information so that you can choose the right interior design software for your business and budget.
1. Cedreo
Of course, we're going to kick off this list by introducing ourselves. Cedreo is the best home design software for interior designers and remodeling pros, allowing you to easily create home projects with 3D renderings in minutes.

Cedreo helps designers close more deals with stunning 3D designs. All you need to do is design your house plan, furnish the interior using one of the 7,000+ objects available in the 3D library, and add custom wall and floor coverings.

With a few clicks, you'll have a 3D rendering that you can share with your client and team, and you can save it as a template for future interior design projects.

Key interior design features:
Instant photorealistic visualizations
3D library with 7,000+ customizable furnishings, decorations, and materials
Blueprint imports
Control outside sun orientations and light inside the house
Unlimited projects
Project sharing within your team
One-on-one training sessions
Phone support by Cedreo experts
Instant roof creation
Pricing: Try our free offer, or check out all of our plans and pricing.
2. Roomeon
Roomeon is a feature-rich 3D interior design software that includes a good amount of objects to design with and has a rotating feature that provides a 360-degree viewing experience for your clients. You have the option of three views: first-person, 3D, and overhead.

Roomeon also has a feature to customize the lighting in different rooms, known as the "Create the Mood" feature. This is useful for simulating how different times of the day affect your design.

Roomeon provides furnishings from real brands like IKEA, meaning you can likely find those exact furnishings at a store near you.

Key interior design features:
Multiple viewing options
Ability to customize lighting
Furnishings from common brands
Pricing: Roomeon is a free program.
3. SmartDraw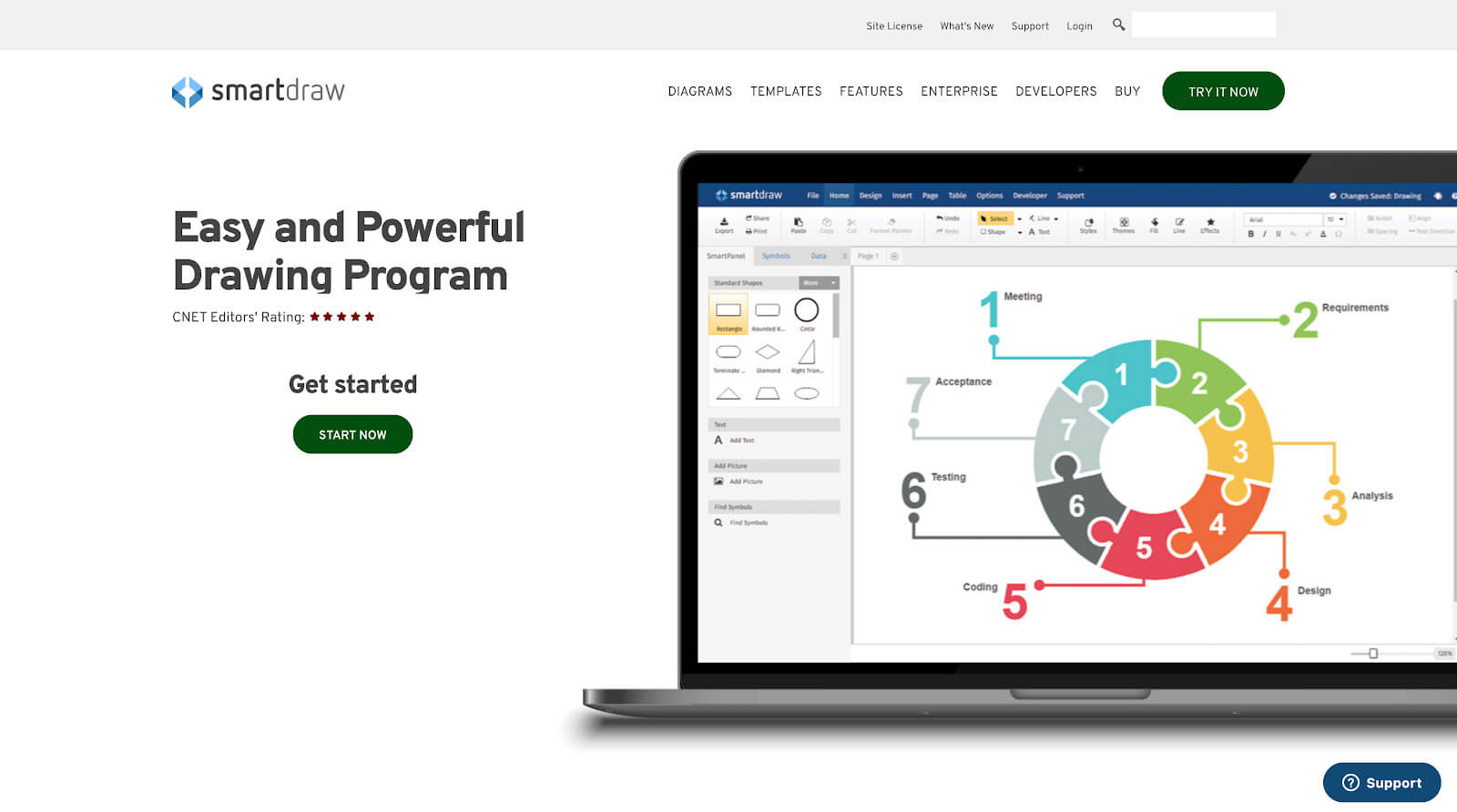 SmartDraw is an online-based design tool that can be used to create 2D floor plans and diagrams. You can access the tool on your computer, phone, or tablet, so you can work from wherever you are.

While SmartDraw is a handy tool to draft 2D models, it doesn't offer 3D rendering or modeling. This is a drawback as most people want to see exactly what their house is going to look like.

SmartDraw is an inexpensive tool and easy to use, though, making it a good starting choice for the beginner designer or small teams of up to five people.

Key interior design features:
2D rendering
Inexpensive
Easy to use
Pricing:
Free trial available for 7 days.
Individual User: $9.95/month.
Multiple Users (5+ users): $5.95/month.
4. Planner 5D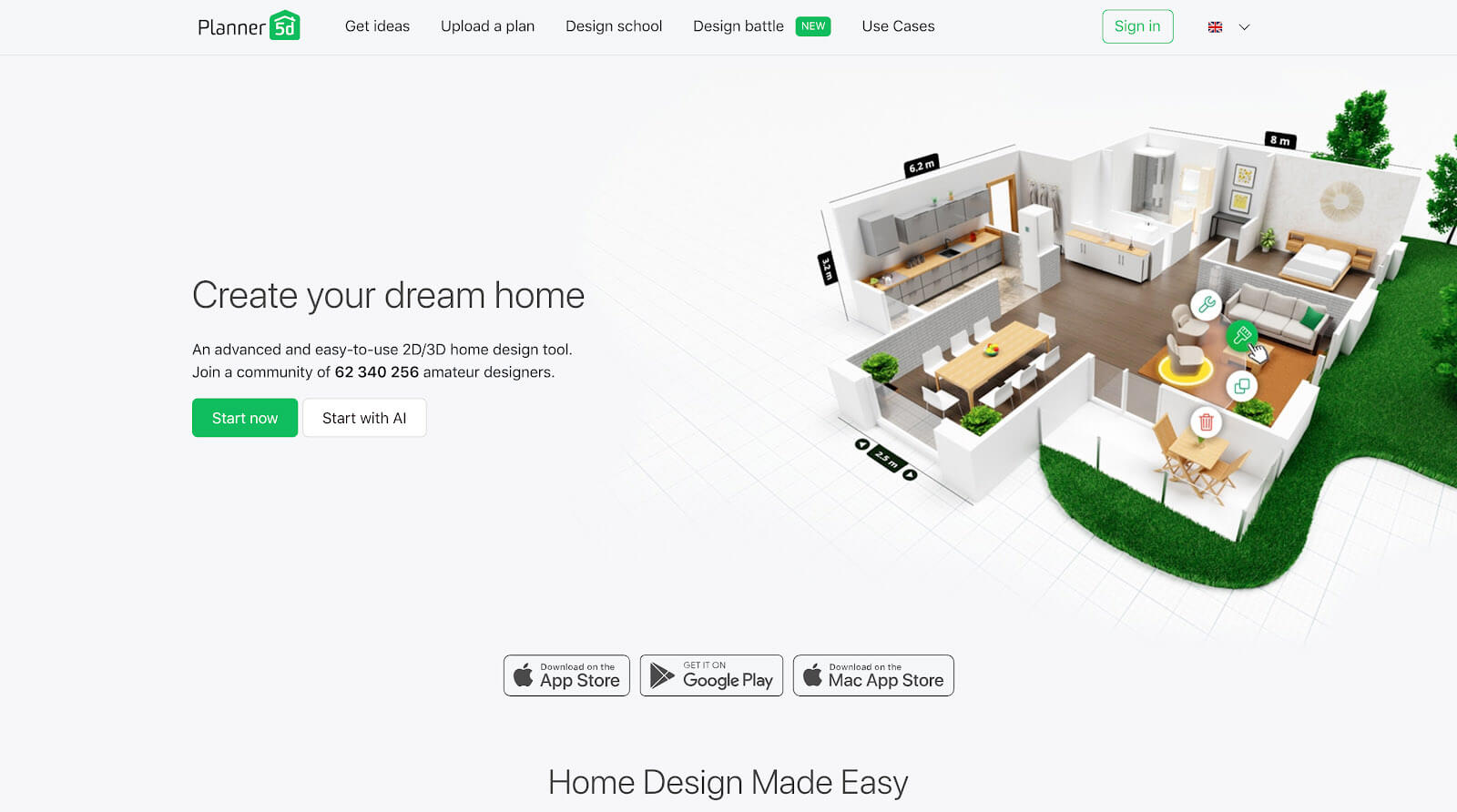 Planner 5D is one of the most popular interior design rendering solutions on this list. It can create both 2D floor plans and 3D renderings and offers a wide range of design tools. It can be accessed from mobile devices as well as your computer.

Planner 5D is free to use for simple floor plans and interior designs, but the ability to create photorealistic 3D rendering does come at an additional cost — and depending on the number of designs you're creating a month, this cost can add up, so it may be a plan better suited to large firms.

In short, if you're looking for the basics, this is a solid free option. However, keep in mind that the 3D rendering quality is poor compared to other platforms. If the quality and presentation of your designs is important to you, it might make sense to look at another more robust option like Cedreo.

Key interior design features:
2D rendering available for free
3D rendering available at a premium
Mobile-friendly
Pricing:
Free version available, with limited access to the catalog and no ability to customize furniture.
Premium: $59.99/year.
5. Ivy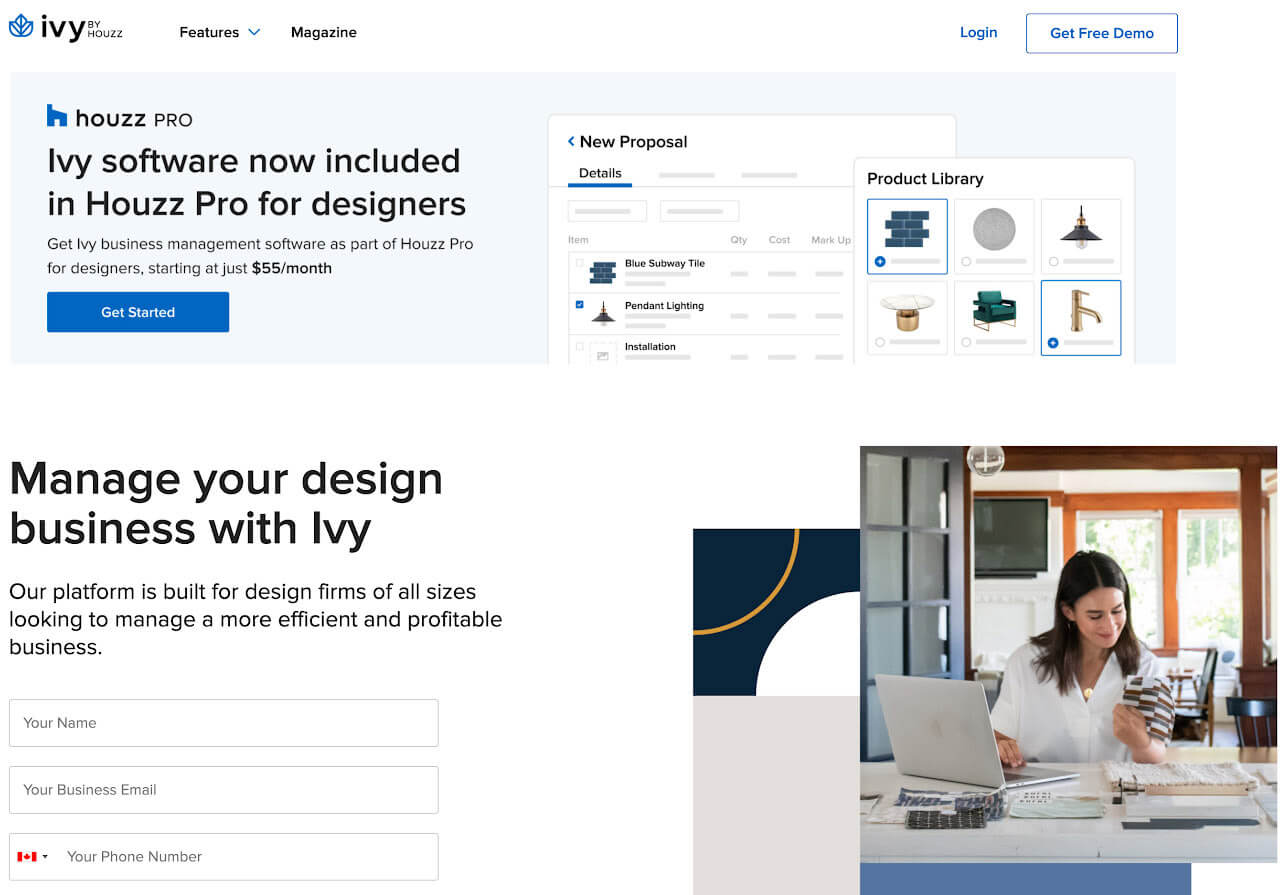 Ivy is an interior designing tool created by Houzz. It's easy to use, making it a good program for both novices and industry veterans. The app does not allow designers to create floor plans or generate 3D visualizations of a room.

The most unique feature about Ivy is the ability to connect directly to clients, letting you upload your design ideas and share them in real-time. The client can then approve the different components of your design right in the app, or request revisions. This saves both of you time and tracks any changes.

Ivy is one of the pricier apps on this list, but the most expensive tier also includes other useful features like payment and business management tools, potentially replacing other apps you may be paying for separately.

The downsides to Ivy are that it doesn't have many features, and licensing can be a challenge. As a result, if you're designing your own home or flipping homes for profit, this may not be the tool for you. If you're working on larger, higher-scale projects, however, this could be the solution you need.

Key interior design features:
Easy to use
Ability to connect with your clients directly through the app
Designed for large businesses
Pricing:
Starter plan: $65/month.
Essential plan: $99/month.
Ultimate plan: $399/month.
6. Infurnia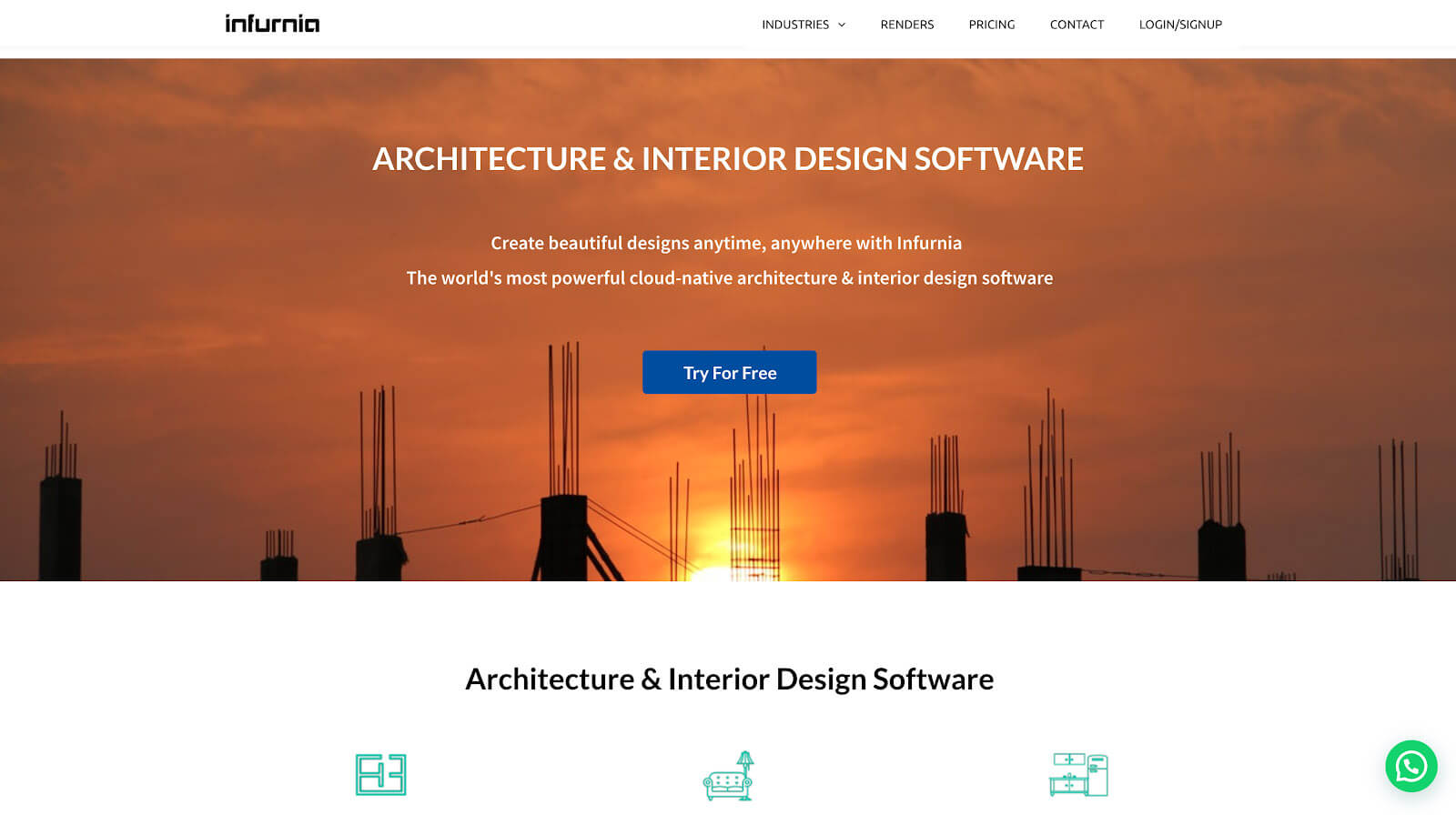 Infurnia is another solid interior design tool. It's a feature-rich platform specifically for interior designers. It's cloud-based, making it perfect for designers on the go — you can make edits using a web browser without having to install a desktop version that takes up room on your hard drive.

With Infurnia, you can create 2D drawings and floor plans as well as photorealistic 3D, panoramic, and VR renderings. It also provides a space to collaborate in real-time,, making it a powerful tool for teams of multiple designers.

Lastly, it has a large catalog of furniture, floorings, wall coverings, customizable staircases, and modular kitchen tools for every design need.

Key interior design features:
Cloud-based platform
Supports both 2D and 3D renderings
Real-time collaboration capability
Large library of furnishings and customizations
Pricing:
Free offer with limited features.
Business: $600/month; includes 10 design licenses.
Enterprise: $7,500/month; includes 100 design licenses.
7. Live Home 3D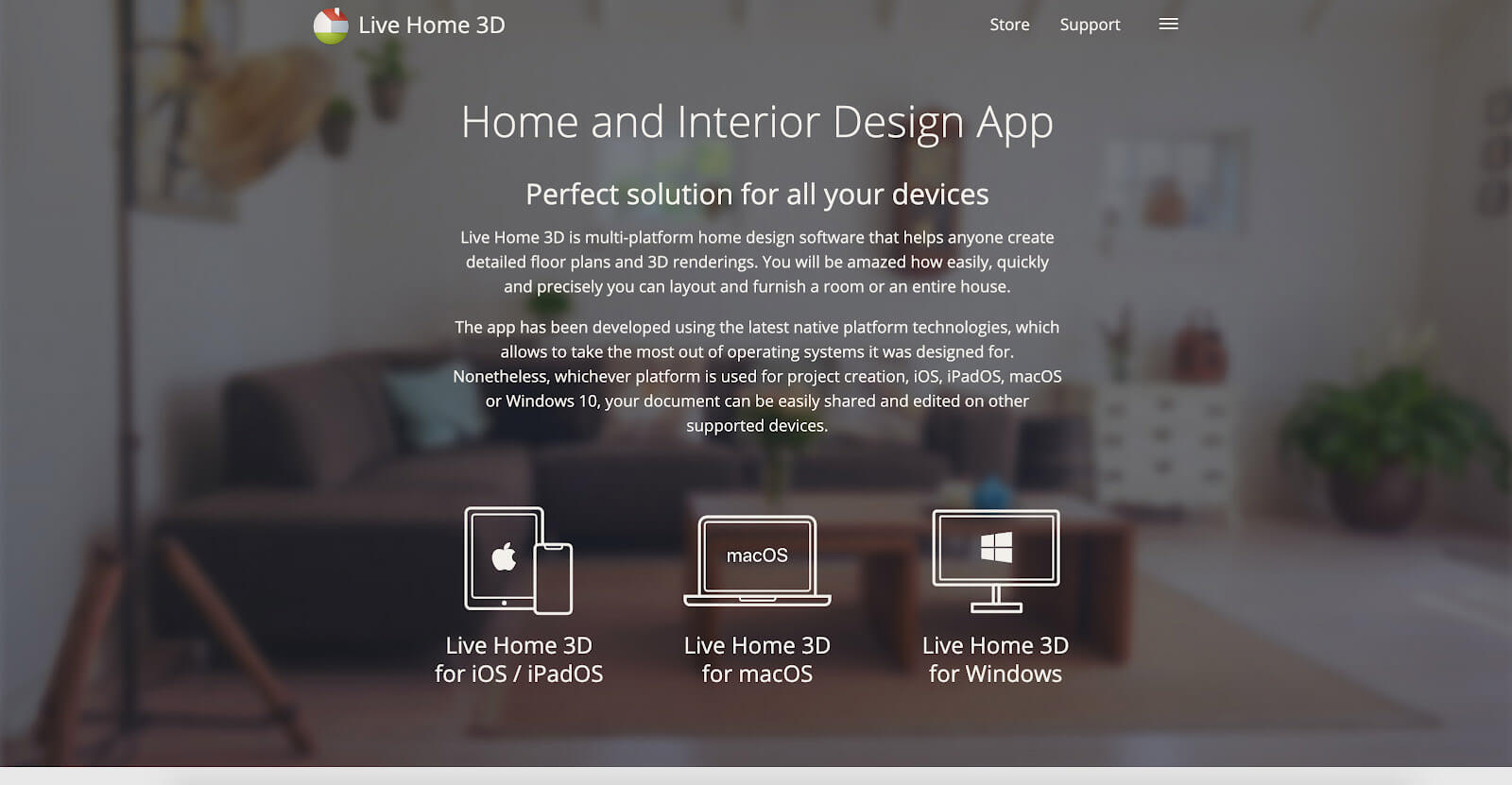 Live Home 3D is a home design software to help even the novice designer create detailed 2D floor plans and 3D renderings quickly and easily.

Like the other interior design tools on this list, Live Home 3D lets you plan out the layout and furnishings of a single room or an entire house. Compatible with both Mac and Windows, this program works on all your devices and enables you to pick up where you left off, no matter where you're working.

Simply draw your 2D floor plan, render it into 3D to get a more realistic look at the environment, and build out the interior. You can even shoot interior movies and export your designs to 360-degree panoramas, stereo 3D videos, and 360-degree videos.

Key interior design features:
Supports both 2D and 3D renderings
Multi-device compatibility
Ability to export to 3D panoramas and 360-degree videos
Pricing:
Pricing ranges from $4.99/month for a one-month subscription to $49.99 for a lifetime license. Some product packs are available for an additional fee of $4.99/each.
8. Roomstyler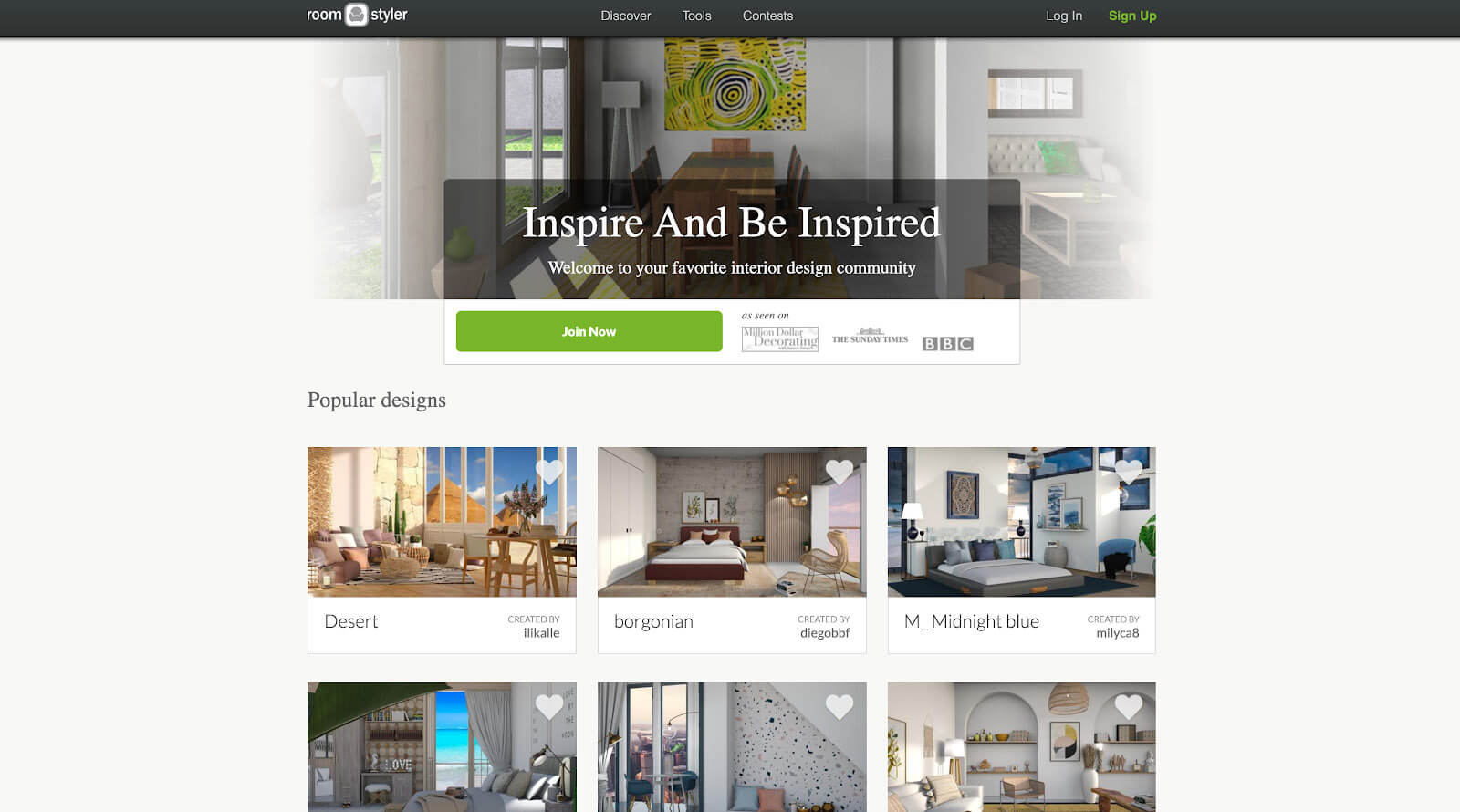 Roomstyler (formerly known as Mydeco) is an intuitive home design app that helps you design rooms from scratch. You can choose from a library of preloaded room layouts or come up with your own using easy drag-and-drop walls, windows, and more. Your changes will instantly be reflected in both 2D and 3D and can be viewed from any angle.

Like most of the other programs on this list, Roomstyler gives you the option to customize coverings in terms of colors, sizes, and placement. It also offers the option to furnish the interior with products from real-life brands including IKEA, John Lewis & Partners, Moooi, and Marcel Wanders, among others. This helps both you and your client better imagine exactly how the design will look once the project is completed, down to the last appliance and piece of furniture.

The app is relatively easy to use, and Roomstyler offers tutorial videos that you can watch if you need assistance. The program is cloud-based, so you don't need to download a desktop app or sacrifice valuable room on your hard drive to use it.

Key interior design features:
Library of room templates and customizable coverings
Supports both 2D and 3D rendering
Furnishings from real-life brands
Pricing: Roomstyler is a free program.
9. Sweet Home 3D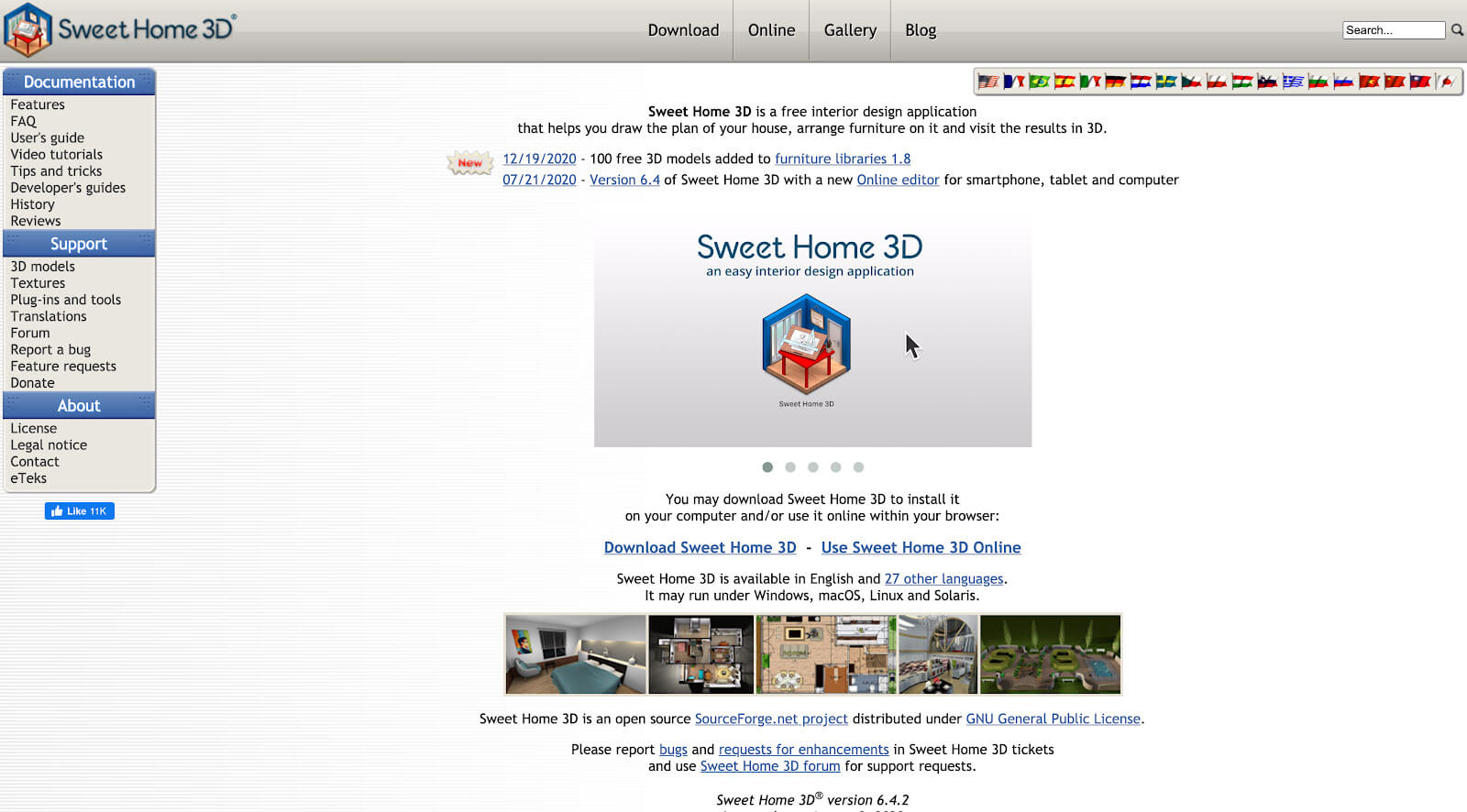 Sweet Home 3D works much like many of the other interior design tools on this list. You begin by drawing a 2D room layout, add walls, and drag-and-drop objects like doors, windows, and furniture. Edit the colors and sizes of objects to best fit your space.

Once you're happy with your design, you can take a virtual 3D tour to make sure you didn't miss anything and get a holistic view of your design before presenting it to your client. You can also take photos and videos during the virtual 3D tour.

A unique feature of Sweet Home 3D is that you can draw irregular wall shapes rather than conforming to straight lines — it's all about total creative freedom. You also have the ability to see simulated 3D visuals in real-time when you make changes to the 2D plan.

Key interior design features:
Supports both 2D and 3D rendering
Virtual 3D tour capability
Ability to draw irregular wall shapes
Pricing:
Free version available with 100 pieces of furniture and 26 textures.
Paid versions for Mac available with 1,500 pieces of furniture and 418 textures for $15/month.
10. Design a Room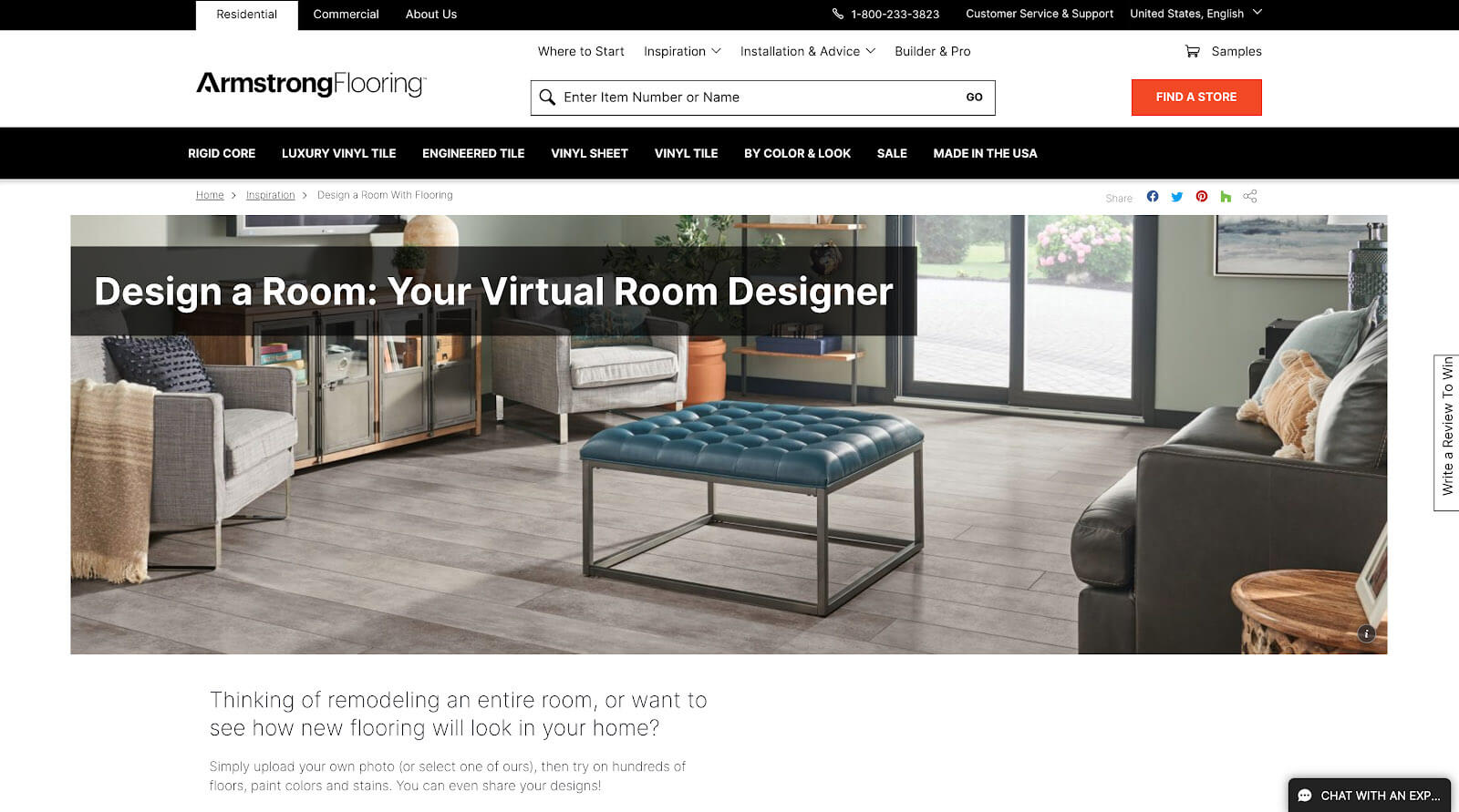 Design a Room by Armstrong Flooring is a great app to use if you're redesigning an existing room or home rather than creating one from scratch. That's because this app works by having you upload a photo of your existing room or select a photo from hundreds of available templates.

From there, you can edit the room by customizing the flooring, paint, and stain of the furniture. Unfortunately, the design options are pretty limited after that, which is why we recommend it as a tool for personal use or for making minor changes to your existing floor plan.

Key interior design features:
Ability to upload a photo of an existing room
Customize the flooring, paint, and furniture stain
Pricing: Design a Room is a free program with limited capabilities and catalog.
11. Space Designer 3D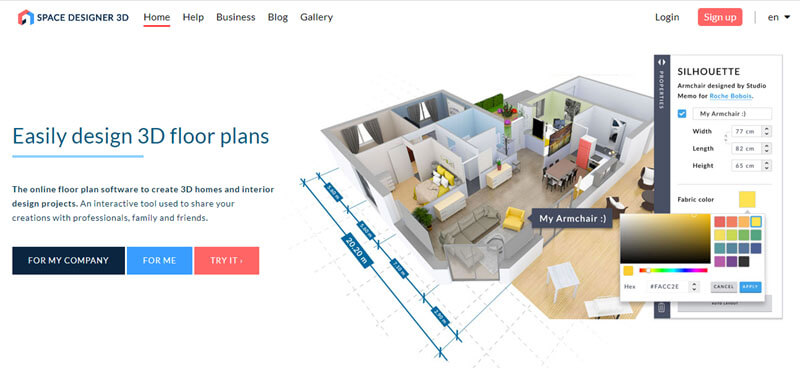 Space Designer 3D enables users to design 3D floor plans for interior design projects. The tool is useful for architects, designers, as well as homeowners and casual users. Space Designer 3D lets you share work with clients and team members..

Those looking to visualize a home space can create new floor plans and see ideas come to life with 3D remodeling capabilities. The software lets you visualize and modify your projects before and as they're built. Further, guiding clients through decision making is easy when they can quickly see how their home will look.

Key interior design features:
Annotate every detail for simple communication
Calculate areas automatically
Import, duplicate, and modify projects from anywhere
Pricing:
Casual users can access the tool for $4.99 per month.
Regular and Team memberships, which are excellent for guiding customers, are available from $24.99 to $99.99 per month.
12. Coohom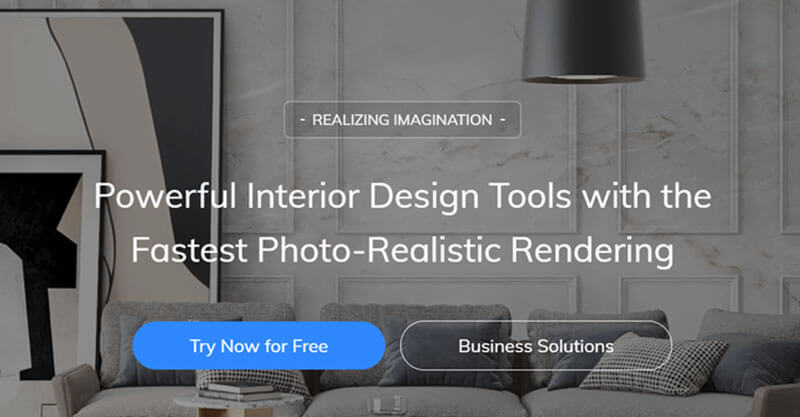 This interior design software allows professionals to quickly and easily create 3D spaces clients will fall in love with. The intuitive drag-and-drop interface allows for 3D designs to be made with less hassle. Fast photo-realistic renderings let homeowners visualize new designs and remodels, helping interior designs close projects faster..

Coohom comes packed with over 100,000 furniture models to decorate 3D home designs with just a few clicks. Coohom also helps users quickly render interior spaces, letting clients see exactly what the finished project will look like.

Key interior design features:
Intuitive floor planner
100,000+ furniture and decor models
Full 720 virtual tours
Pricing:
Basic accounts are free for casual users
Advanced capabilities are available for $25 per month
13. Spoak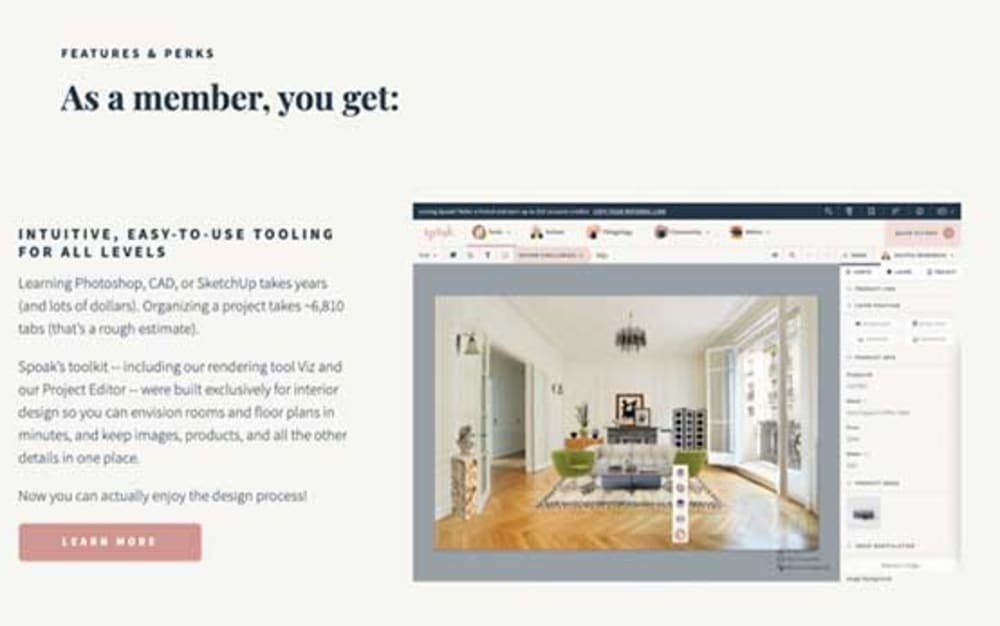 Spoak is an interior design tool that also includes online classes and a dedicated community Slack channel membership. Its "Thingology" feed is a collection of images from member users that showcase design elements,

color palettes, and bookmarked items discovered online. Users can add any of these images to their own projects.

This platform lacks some of the technical design features you'll find in other software on our list, but it might be the perfect product for aspiring interior designers — the online classes could be helpful for building design skills. And with the Plus and Premium plans, users can apply for jobs from within the Spoak platform.

Key interior design features:
Unlimited mockups and mood boards
Unlimited floor plans
Notes section for collecting feedback
Simple project editor for organizing files
Pricing:
Play (for individual users): $11.99/month.
Plus: $19.99/month.
Premium: $79.99/month.
Which Interior Design Software is Right for Your Business?
When choosing an interior design program, it's important to consider your business needs and goals. From there, you can determine which features you need and whether a premium program or free one would be best.

As a starting point, we recommend checking out the companies that stood out to you the most from this list. Chances are, they offer a free trial or demo option, so you can take the software for a test drive before deciding to invest your money.

Want to learn more about how Cedreo can help you increase your sales, optimize the way you work, and improve your interior designs? Get started for free or get in touch with our sales team today.

Happy designing!