Bedroom Floor Plans
Draw bedroom floor plans faster than ever and help your clients visualize their new space.

Decrease drafting time by 50%


Easy drag-and-drop features


Generate photorealistic renderings in under 5 minutes
6 Key Bedroom Layout Considerations
Before you get to work drafting your bedroom floor plan, it's important to be mindful of some key factors that will influence the quality of your room design. Bedrooms are unique spaces that should deliver a lot of functionality to clients, and be mindful of the particular modes of use expected. We explore the 4 main factors that shape how successfully a bedroom layout satisfies user needs..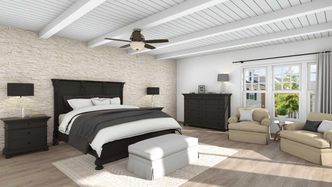 Furniture
Between beds of various sizes, wardrobes, dressers, closets, and sometimes even desks, chests, and sofas, bedrooms tend to be home to several bulky pieces of furniture that serve critical functions. Your bedroom floor plan should carefully consider the placement of furnishings to maximize layout flow and usability. With Cedreo, ready-made representations of common furnishings can be dropped right in place, and even modified to match the dimensions of the specific pieces you'll use.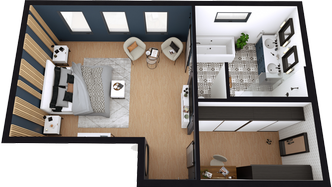 Spacing
Managing the space in your bedroom layout is important to maintain a relaxing atmosphere and, in many cases, accommodate more than one person using the bed, closet, and en-suite bathroom (if present). Cedreo allows you to draw bedroom floor plans with dimensions so that you can easily ensure that the layout you see on your screen will be spacious enough in reality.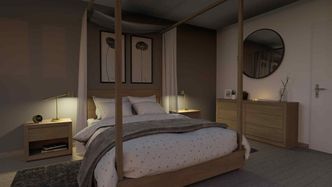 Lighting
Well-controlled lighting is absolutely integral to good bedroom design. There should be enough light for performing important tasks such as cleaning or dressing but managed in a way that maintains the serenity of the room and avoids disturbing restful eyes. Cedreo's instant lighting simulations show how your design's light conditions will look in real life, allowing you to make informed decisions for the selection and placement of light fixtures and windows.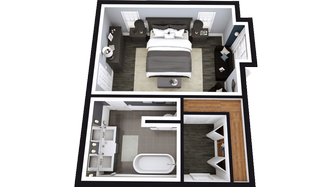 Storage
Bedrooms are commonly the main storage hub for personal belongings such as clothing and accessories. A lack of storage capacity in these rooms can easily create problems with organization and functionality. As such, storage space should be a top priority when drafting your bedroom floor plan. Cedreo makes it easy to plan-in closet spaces, as well as other storage solutions provided via furniture.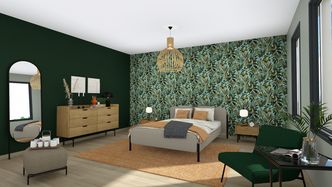 Color
Choosing the right colored walls for bedroom floor plans is key to helping your clients project themselves in their future bedrooms. Calming colors such as blue, green, and pink are often used as they evoke a calming atmosphere which is perfect when creating a sleeping layout. Check out our bedroom atmospheres in our Materials step and create the perfect, relaxing environment for your clients. They'll sign in no time to get that well-needed beauty sleep!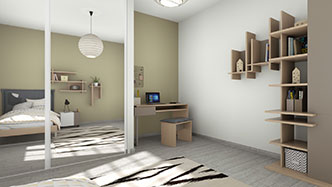 Multi-Purpose Bedroom
Since the pandemic, bedrooms have become multi-purpose rooms. Doubling sleeping space with working space or reading nooks for instance. This last key layout consideration takes into consideration the last 5 we have seen. With Cedreo you can create multiple-bedroom floor plans to present to your clients to be sure their wants and needs are met. Multiple bedroom floor plans enrich your business proposal and encourages customer communication to avoid any issues down the road!
Bedroom Floor Plan Examples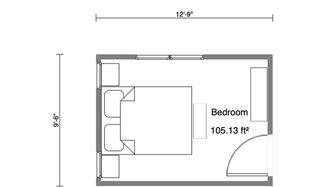 Small bedroom layout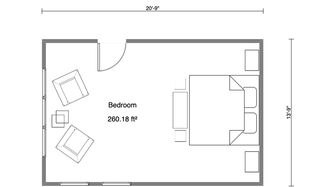 Large bedroom layout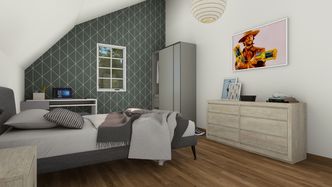 Sloped Roof Bedroom Layout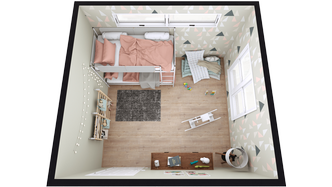 Kids bedroom layout
Bedroom with desk layout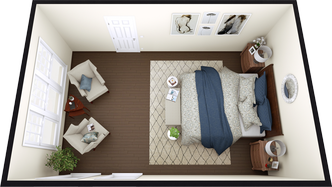 Rectangle bedroom layout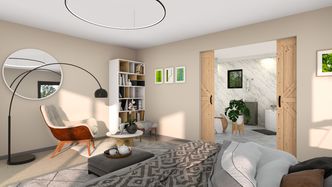 Luxurious Parental Bedroom layout
Frequently Asked Questions About Bedroom Floor Plans
Cedreo is used by thousands of home builders, remodelers and interior designers to bring bedroom floor plans to life. With Cedreo, you don't need to be skilled in 3D design to create professional bedroom layouts.
What is the Best Software for Creating Bedroom Floor Plans?
Cedreo is the best software for creating bedroom floor plans because it is an easy-to-use, all-in-one floor plan software that allows you to produce professional visualizations at rapid speed, giving you a valuable competitive advantage. Make both 2D and 3D bedroom layouts without any extra training needed. An intuitive interface enables you to put together construction-ready floor plans and models with minimal effort.
How Long does it Take to Draw a Bedroom Floor Plan?
With traditional methods and separate software programs, it can take hours or even days to get a bedroom floor plan done from start to finish. But with Cedreo, it's possible to complete the entire process in under an hour. Thanks to easy use and rapid conversion to 3D, you can get every type of visualization you need before your workday is even over.
How do you Convert a 2D Bedroom Floor Plan Into a 3D Bedroom Floor Plan?
In Cedreo, you can instantly access a 3D visualization of your bedroom floor plan in the 3D preview window. This window appears alongside your 2D window, allowing you to see the 3D view in real-time while you draw in 2D. Even imported 2D floor plans can be converted in Cedreo, so there's no need to start over from scratch if you've already drafted your plans outside the program. To create a 3D rendering, simply select the desired format and submit your request. Within minutes, you'll have a fully-generated 3D rendering ready for use.
Do I have to Furnish a Bedroom Layout?
The more detail you add to a bedroom floor plan the more your client will be able to visualize and project themselves in their future space. Enriching your business proposal to the max with 2D and 3D floor plans as well as 3D renderings will get you to close deals faster. With Cedreo furnishing a 3D bedroom floor plan has never been easier with our ready-made furnishing atmospheres. No need to be an expert in interior decoration, we've got you covered!