RV & Travel Trailer Floor Plans
Learn the hassle-free way to quickly create RV and travel trailer floor plans.


Design RV Floor Plans in Minutes with Intuitive Features

Save Design Templates to Reuse and Change On The Go


Generate Photorealistic Renderings in Minutes
6 Things to Consider When Designing RV & Travel Trailer Floor Plans
How can you design the best possible travel trailer floor plan? Follow these six design considerations.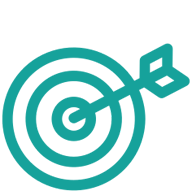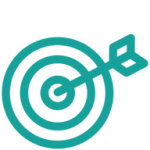 Consider Client Needs
Who will be using it, a couple or a family with kids? Will they spend most of their time outside? Do they need a large kitchen for preparing family meals? How low will they be staying in their RV?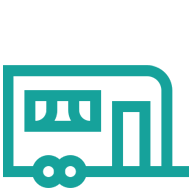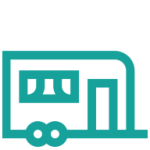 What Are You Starting With?
Are you starting with an empty trailer bed to build an RV from scratch or are you redoing an existing travel trailer like an Airstream? If the trailer already has plumbing and electric, your floor plan options may be limited.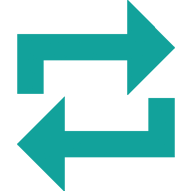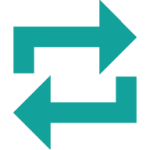 Traffic Flow Is Even More Important
Because of the small space, be sure to consider how people will need to move through the RV. This is especially true if you're designing an RV for families with kids. For example, consider how people will access storage or the bathroom while someone is working in the kitchen.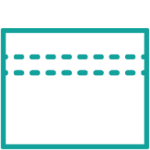 Use Wall Slides to Add Space
Slideouts are a great way to open up the trailer's layout. Look for ways to add sliedouts in the kitchen and living areas to add extra space and make it easier to move around the RV.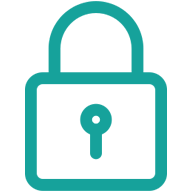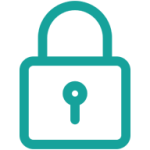 Create Different Zones for Privacy
This is especially important for families with kids or for campers traveling in groups. Add curtains or pocket doors to close off bathrooms, bedrooms and changing areas.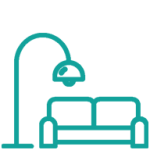 Extra Space in Living and Dining Areas
If you need to save on space, start with the sleeping areas and try to leave as much space as possible in the living and dining areas. Those are the areas that get used the most, especially during bad weather.
RV & Travel Trailer Floor Plan Examples
Wondering what types of RV layouts you can create? Check out these real travel trailer floor plans created with Cedreo.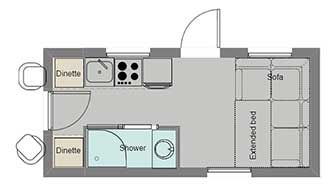 2D RV Floor Plan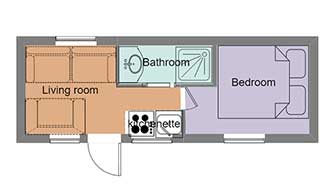 2D Travel Trailer Floor Plan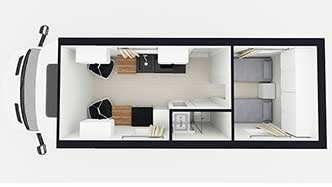 3D RV Floor Plan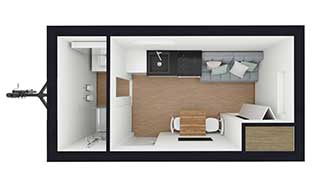 3D Travel Trailer Floor Plan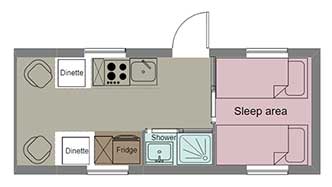 RV Floor Plan with bedroom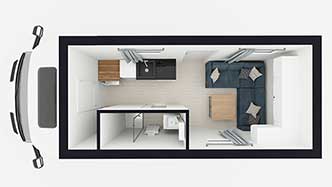 RV Floor Plan with Loft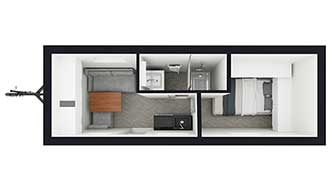 Travel Trailer Floor Plan with bedroom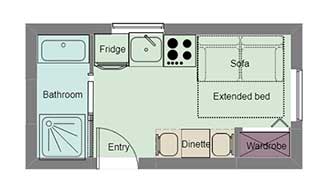 Travel Trailer Floor Plan
RV & Travel Trailer Floor Plan FAQs
RV & travel trailer floor plans present unique challenges. Here are some answers to clarify some of your design questions. And don't forget to check out Cedreo's design blog for more tips and tricks.
How do you maximize sleeping space in RVs?
Some good options for maximizing the space in an RV or travel trailer are: bunk beds, fold out sofas, murphy beds, dinette booth beds and overhead beds. Also, plan on using RV mattress sizes which are smaller than standard mattresses.
What are the standard lengths for RVs and travel trailers?
The standard lengths for RVs and travel trailers can vary depending on the type and manufacturer. Generally, Class A motorhomes range from 26 to 45 feet, while Class B and C motorhomes are shorter, typically ranging from 17 to 32 feet. Travel trailers can range from 13 to 33 feet in length, while fifth-wheel trailers are usually between 22 and 40 feet long. RV manufacturers may offer custom sizes or lengths outside of these ranges, so it's essential to do research and consider the specific needs before finalizing your layout.
How big should an RV bathroom be?
The ideal size of an RV bathroom depends on personal preferences and the type of RV. It should have enough space for a toilet, sink, and shower, and allow users a little space to move around. For smaller RVs, a compact bathroom with a wet bath (combined shower/toilet) can save space. Larger RVs can have a separate shower and toilet area with extra storage.
What are the best ways to make the most efficient use of space in a travel trailer?
One of the best ways to maximize space is to choose multi-functional furniture that can serve more than one purpose – like a dinette that converts into a bed or sofa. Using vertical space is also key, by adding shelving, cabinets or hanging organizers to make the most of wall space.
Create Impressive RV & Travel Trailer Floor Plans…Faster than Ever!
See Pricing Plans