Home Gym Floor Plans
Learn how to plan a well-equipped home gym layout in just a few minutes.


Create entire gym floor plans in 50% of the time


Easy-to-use features & a robust learning center for any level designer


Bring your plans to life with 3D renderings in just 5 min
6 Key Home Gym Layout Considerations
Want to design the perfect home gym for your clients? Here are 6 key factors you should take into consideration.

Types of Workouts
The type of workouts your clients like to do will determine the type of equipment and space needed in the layout.

Space
Gym equipment can take up a lot of space. So first consider how much square footage you have to work with.

Size of Equipment
Whether the gym has cardio machines, weights or a combination of both, make sure you know the size of each piece's footprint.

Lighting
Get creative with your gym lighting. Add some LED strip lighting. It's functional, budget-friendly, and allows you to change the color and mood with the press of a button.
Storage
A well-equipped gym has a lot of accessories. So think about how you're going to store yoga mats, dumbbells, kettlebells, machine handles, foam rollers and other gym accessories.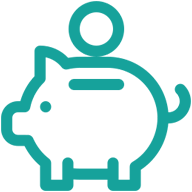 Budget
Plan to splurge on the machines your clients will use the most. But opt for less expensive dumbbells, kettlebells and weight plates. They are simple and even the less-expensive ones hold up well.
Home Gym Floor Plan Examples
Check out these examples of real home gym floor plans you can create with Cedreo. Can you imagine adding these to your project proposals?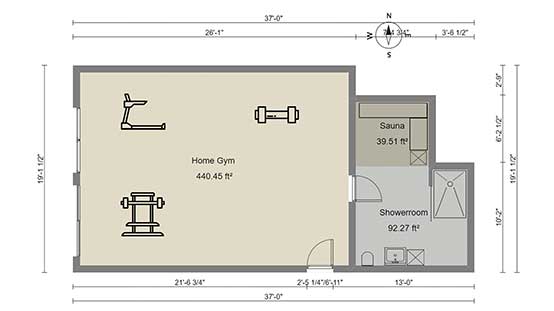 2D Home Gym Floor Plan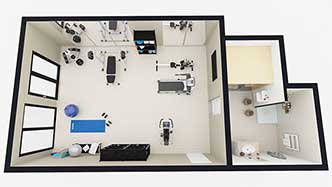 3D Home Gym Floor Plan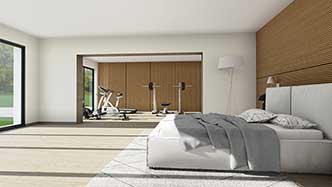 Home Gym Area inside Bedroom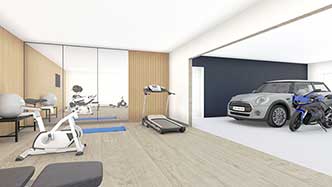 Garage/Gym Combo Floor Plan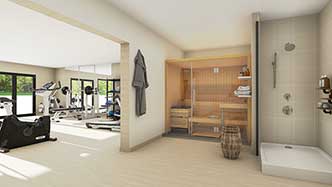 Home Gym with Bathroom & Sauna Floor Plan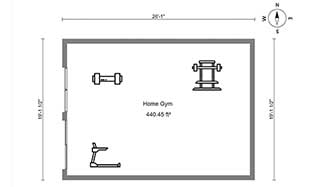 Small Home Gym Floor Plan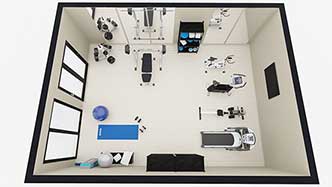 Home Gym Layout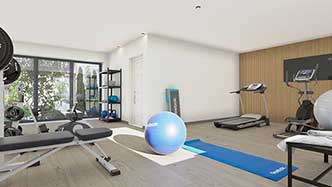 Home Gym Design
Home Gym Floor Plan FAQs
Got some more questions? Here are some answers. And don't forget to check out the Cedreo design blog for more info.
What's a good size for a home gym?
A good size for a home gym is between 200 and 400 square feet. That's about the size of a single-car garage. It will give you enough space to fit a few pieces of both strength and cardio equipment in the gym.
How much does it cost to build a home gym?
The average cost to build a home gym is around $2,000. If you stick to just the essentials and get them used, you can build a decent home gym for just a few hundred dollars. But if you plan on having several commercial-grade cardio and strength training machines, you can easily spend several thousand dollars or more.
What's the best color to paint a home gym?
The best gym color depends on the mood you want to set in your gym. For intense workout areas, go with equally intense colors like reds and oranges. Blue helps your gym feel cooler and can have a calming effect for zen workouts. White gives you the flexibility to accent with a variety of colors.
What is the best flooring for a home gym?
The best home gym flooring depends on your workouts. If you stick to cardio on treadmills or other machines, any hard surface floor that is easy to clean will work. If you use weights that will inevitably hit the floor at some point, avoid laminate and hardwood and stick with rubber, vinyl, or concrete.