Renovating your bathroom can be one of the most effective ways to add value to your home, improve its functionality, and elevate its style. However, this project can be intimidating due to typical bathroom remodel costs. In this post, we'll assess the factors that contribute to the overall expenses and provide tips for effectively managing your budget.
How To Create a Bathroom Renovation Budget
Setting a budget for your bathroom overhaul requires research, organization, and reasonable goals. By following the tips below, you'll be able to plan a budget that is practical and easy to stick to.
Set Realistic Expectations
Expecting luxury-tier results for a rock bottom price is likely to result in disappointment. While you can certainly save money by choosing look-alike materials and doing some of the work yourself, it's best to count on your renovation being a considerable investment.
Take a look at the average bathroom remodel costs covered in the next section, and compare them to your project's desired scope. This will give you a general estimate of realistic total costs for the amount of work you're planning.
Note Your Local Price Trends
Your location can significantly impact the total cost of your bathroom renovation. Living in an expensive coastal city, you'll see far higher prices than you would in the midwest, for instance. These differences can account for a price discrepancy higher than 50%.
So don't base your budget on national averages alone. You'll need to also investigate the average remodeling costs of your particular city or state to get a more accurate idea.
Define Your Maximum
It's best to know what financial line you can't cross before starting your project. That way, you can make choices that keep your budget well within that limit. If you dive into work before figuring out how much you can comfortably spend, you may end up with a project that bloats far beyond what you can afford.
You may need to put your project on hold until more funds are available, or take out loans that put you in a compromising position. All of this can be avoided by naming a maximum amount that you can keep in mind during planning.
Make a List of "Must Haves" vs. "Nice to Haves"
Depending on your financial capacity, you may not be able to bring every part of your dream bathroom to life. But that doesn't mean your budget can't still accommodate a stunning remodel that meets your needs.
You'll need to evaluate your priorities for the project, creating a list of what items absolutely must be part of the remodel, and which you can live without. For example, his and hers sinks may be essential for a peaceful morning routine, but an imported stone countertop may be an indulgence. Once you know what features are non-negotiable, you'll be able to calculate what room is left in the budget for those extra luxuries.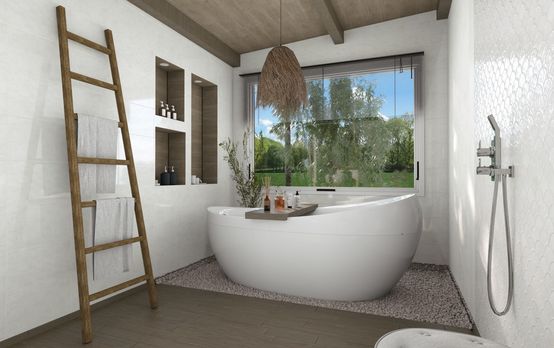 Add a Cushion for Unexpected Expenses
Renovations are very prone to unexpected work popping up. That's because the existing infrastructure of the bathroom can often have problems that are only discovered once demolition is under way.
This could take the form of water damage in the subfloor, for example, or old plumbing systems that need to be replaced before work can proceed. Material price fluctuations are also a real risk: since the start of the pandemic, the industry has been seeing sharp increases in building materials, sometimes very suddenly.
Therefore, it is recommended that you set aside 30% of your project's budget to cover any surprise costs that arise. This will save you stress and help you avoid a complete budget blowout.
What is the Average Cost to Remodel a Bathroom?
Many homeowners aren't familiar with the usual cost to remodel bathrooms, making it difficult to set a budget that is actually achievable. But expenses can vary widely depending on the scale of the renovation and the quality of materials chosen. 
We've calculated the average cost to remodel bathrooms based on these factors. Generally speaking, you can expect to pay anywhere from $70 to $250 per square foot, depending on your choice of materials and the extent of the remodel. But you can find a breakdown for each quality tier below.
Basic Bathroom Remodel
A basic bathroom remodel describes a no-frills renovation for a small bathroom. This usually includes refinishing cabinets, repainting the walls, adding new tiles and countertops, and updating fixtures such as faucets and lighting. If you're just making minor cosmetic changes and upgrading the toilet, shower stall, or tub, you may be able to spend only a few hundred dollars.
Average Cost: $1,500-$3,500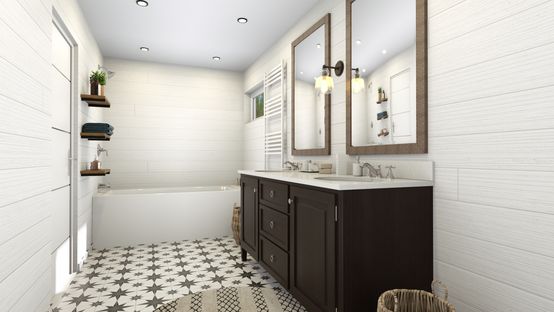 Mid-Range Bathroom Remodel
A mid-range bathroom remodel would entail moderate work in a medium to large bathroom. This usually includes a complete replacement of all surface finishes and fixtures, as well as the toilet and tub or shower. It can also extend to the addition of new features, such as an extra sink, a standalone tub, new outlets, or shelving units. If you are knocking out a wall to make more room, or changing the structural layout in another way, expect about $5,000 of your budget to cover that construction work alone.
Average Cost: $6,600 to $16,700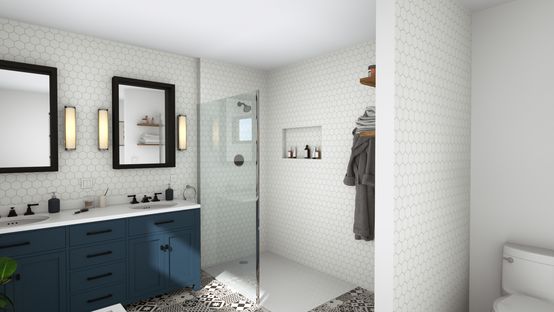 Luxury Bathroom Remodel
A luxury bathroom remodel goes for the "wow" factor, utilizing upscale materials and designer elements. Walk-in showers, spa tubs, built-in shelving, heated towel racks, and fine marble countertops or floors are all commonly seen in these premium projects. Work may also entail the extension of plumbing to accommodate extra hookups, as luxury bathrooms tend to include both showers and tubs, double sinks, and sometimes even saunas.
Average Cost: $6,300 to $30,000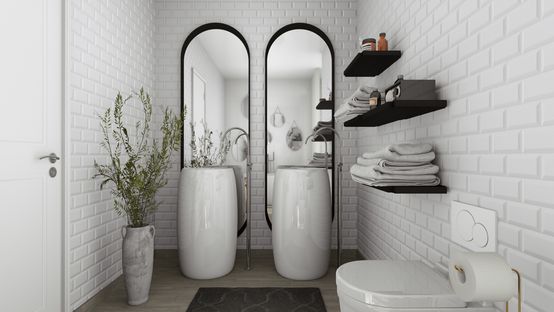 Will a Bathroom Remodel Improve Home Value?
The cost of bathroom remodeling can be easily justifiable when it boosts the value of your home. According to Zillow, the national average ROI of a mid-range bathroom remodel is 70.1%. This figure is higher on the Pacific coast, where average ROIs can exceed 87%. The lowest ROI is in the North-Central and Mid-Atlantic regions of the U.S., where you can expect about 59%.
For just minor cosmetic changes in a bathroom, expect to recoup $1.71 for every $1 you spend. Simply repainting, refinishing, and swapping out some fixtures is well worth the investment.
Luxury bathroom remodels see the lowest ROI, averaging just over 56%. The premium pricing of the materials used makes it hard to recover costs, but the extra glitz can attract high-income home buyers.  
Tips to Cut Remodeling Costs & Additional Factors to Consider
There are a variety of ways to cut bathroom remodel costs. Unfortunately, there are also plenty of ways for costs to rack up. Be sure to consider the points below when planning to more efficiently manage your total expenses. 
Refinishing & Refurbishing
In some cases, refreshing your bathroom's current features can be far more affordable than installing completely new elements. This is especially true in the case of cabinetry and showers or tubs, which each take up to 25% of your project's costs. Refinishing cabinets typically runs $7.75 per square foot (including labor, $0.57 without), while refinishing a shower or tub can cost $500-$1000. 
DIY Bathroom Remodel
You can lower the costs of any level of renovation by doing all or a portion of the work yourself. This can include demolition, painting, tiling, or even the design. In this case, you could subtract the cost of labor from the total budget. Labor accounts for as much as 40% to 65% of your total remodeling budget. Rates average at $50 to $75 per hour, but can be higher for specialists such as plumbers, electricians, or designers, who may charge as much as $200 per hour.
However, you'll need to account for any extra expenses that need to be made, such as equipment purchases or rentals. This can amount to several hundred dollars or more.
Don't forget to account for the skills and physical ability necessary to perform some of the work. If you're likely to struggle doing demo, operating hefty machines, or executing polished installations, you'll probably find professional help to be a worthwhile investment. 
Permitting
Making changes to your bathroom's wall structure, plumbing, or electrical wiring will likely require permits from your local building authority. Foregoing permits could result in quite a predicament later on, possibly requiring rework to fix installations that don't meet code requirements.
If you've hired a General Contractor to handle your project, they'll manage the process of obtaining proper permits. Otherwise, you'll need to submit the applications yourself. Bathroom remodeling permits are priced at $200-$800, depending on the scope of work. 
Addressing Accessibility Needs
When one of the household members has mobility issues, it's wise to include accessibility features in your renovation. These can include everything from supportive handrails ($100-$500) and non-slip flooring ($3+ per linear foot), to widened doorways ($300-$2500), walk-in bathtubs ($4000-$12,000), and built-in shower seating ($200-$1200). Wet room conversions are a common solution for accessibility, averaging $9000.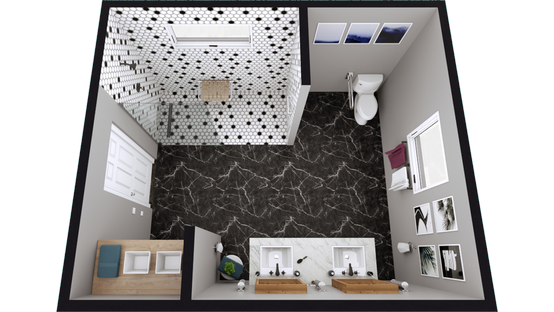 Start Renovating Bathrooms with Ease
Getting started with your bathroom remodeling project doesn't have to be a big hurdle. You can easily start planning your renovation with Cedreo. Our intuitive program allows you to quickly draw floor plans, explore decorating options, and create professional quality 3D models of your desired design.
Cedreo simplifies the process of visualizing your design plans and figuring out how your design choices will take shape. The resulting floor plans and models serve as valuable reference points for your Designer, General Contractor, and any other professionals who may be contributing to your remodel. In fact, Cedreo is a favorite tool among Designers and Builders who want a fast and efficient way to plan their clients' construction projects.
The best part is that you can try Cedreo for FREE, without any time limit. Signup for a trial membership and start planning your project. If you find our program to be a useful tool, you can get complete access to all features for a single affordable fee. Cedreo is the best software on the market for homeowners looking to plan their remodels like pros, without paying pro prices.