A beautiful deck is more than an outdoor floor space. It's a comfortable and inviting spot for relaxing, eating, and entertaining. Decks also provide the perfect vantage point for viewing a charming garden, breathtaking backyard landscape, inviting swimming pool, and any other outdoor feature.

A thoughtfully designed deck can be the feature that convinces your clients to move forward with a home building or renovation project. But the design has to be perfect, which means you need deck design software.

Not sure which software you should use to design a stunning deck for your client? We've got some tips for you. Keep reading to learn about the best deck design software available in 2021.

To learn more about Cedreo and its expansive deck design capabilities, don't hesitate to reach out to our friendly and knowledgeable team.
14 Best Deck Design Software Platforms (Free and Paid) for 2021
Looking for the best free deck design software? Interested in going all-in with a comprehensive, professional floor plan software that can create both indoor and outdoor spaces? In the list below, we'll cover the best deck design software for every use case.
1. Cedreo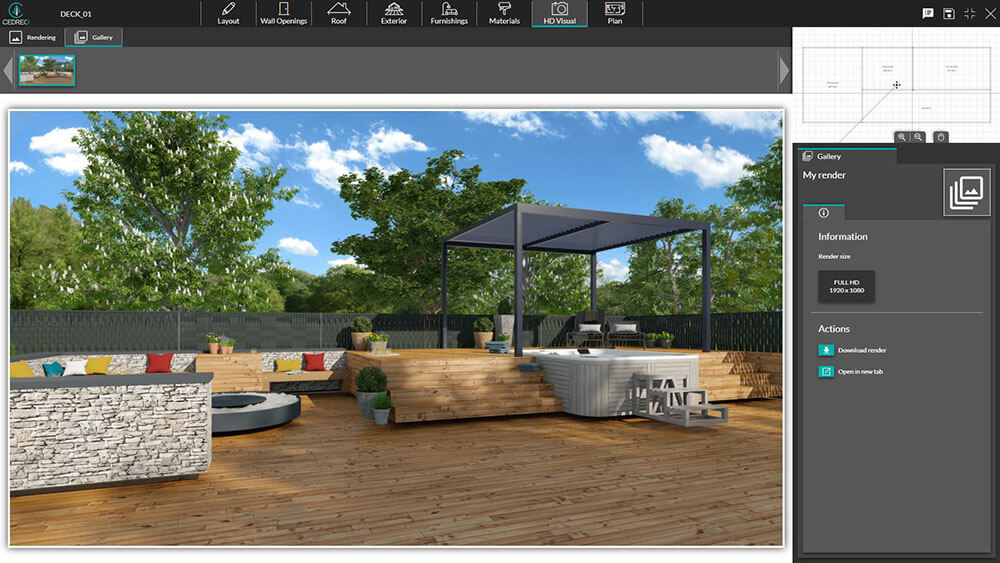 Best for: With a wide range of features, intuitive interface, and cloud-based functionality, Cedreo is the best deck design software for personal users and DIY deck designers, professional home builders, interior designers, and landscapers.

Offering full 2D and 3D design functionality, Cedreo can make any client's deck dreams come true. Dozens of deck surface options, a huge library of outdoor furnishings, and quick-draw dimensions make the deck design process easy for professionals and fun for clients. Cedreo is designed to save time in creating detailed images, without the need for CAD software.

Key features:
Simultaneous 2D drawing and 3D rendering
Exportable photorealistic renderings
Adjustable outdoor and indoor lighting to set the right mood for the deck space
Thousands of surface coverings for outdoor spaces
Customizable furnishing library with more than 3,000 choices
Convenient product search bar and grouped furnishing collections
Ability to import existing designs and draw on top of them as a base layer
Click-to-turn boundary drawing for quick yard and deck design
Cloud-based project gallery to store multiple variations of your deck design
PDF and print-to-scale options for online and offline presentations
Pricing:

Cedreo positions itself as the best free home deck design software by offering one project, one user account, blueprint management, and 20 3D renderings completely free of charge. For $119 USD per month, the Cedreo pro plan expands on these offerings by adding unlimited projects, chat and phone support, and a monthly cache of 40 3D renderings. The Cedreo enterprise plan includes 80 3D renderings per month, unlimited users, unlimited projects, support, project collaboration, and sharing and role and permission management, for $149 USD per month.

These features, along with unmatched support, make Cedreo the best deck design software on the market in 2021.
2. AZEK Deck Designer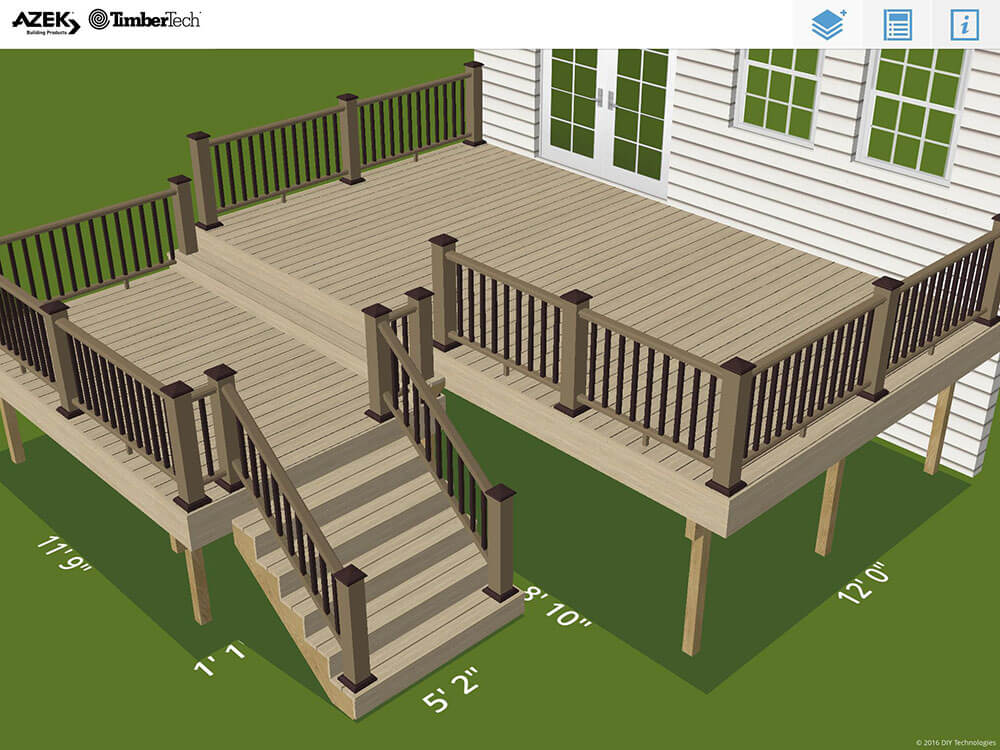 Best for: Because it is free but limited in its product library, supported devices, and functionality, AZEK Deck Designer is best for personal use.

Those looking for the best free deck design software may want to give AZEK Deck Designer a try. This software is 100% free and offers a library of more than 140 furnishing and decorations to use in your deck design. However, these products are limited to products from TimberTech, the company that created the software.

AZEK Deck Designer is available via a web browser or a free app for iPads. The app enables users to create a quick 3D deck design with basic furnishings and features, making it perfect for drawing samples to get inspiration and show to a professional deck designer or builder.

Key features:
App-based software
3D deck drawing and design
TimberTech product library
Ability to attach a real photo to the design to put it in the context of an existing home
Downloadable project material lists
Pricing:

AZEK Deck Designer is free. Simply create an account to get the full functionality of this software.
3. SmartDraw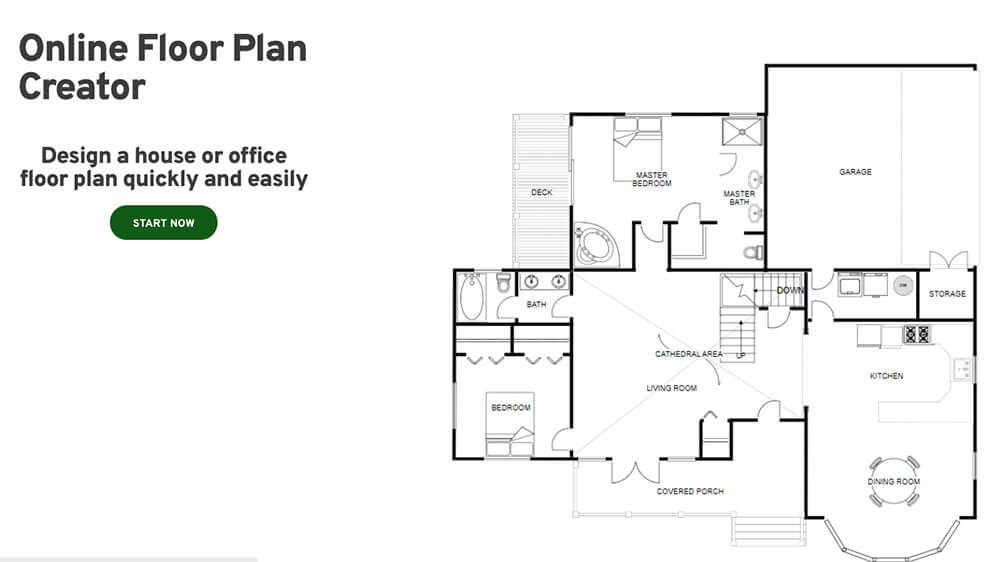 Best for: With 2D deck design functionality but a lack of 3D rendering capabilities, SmartDraw is best for DIYers and beginning designers who need a reliable 2D drafting program.

SmartDraw is well known for its 2D design capabilities. The software offers in-depth 2D design with drag-and-drop functionality but lacks a 3D rendering option. You can still design deck floor plans and even use premade graphics to represent 3D objects like elevated deck supports. You can also include furnishings, from outdoor plants to hot tubs, in your 2D deck design to give a top-down view of how the deck could look in real life.

Key features:
Drag-and-drop deck design and furnishing
2D deck design
Online collaboration
Thousands of preloaded design templates
Design import and export via third-party add-ons
Pricing:

SmartDraw's free trial is an attractive option to those who would like to try before they buy. After the trial, the software is $5.95 USD for each feature you want to use, which means you can customize it to meet your deck design and pricing needs.
4. Sweet Home 3D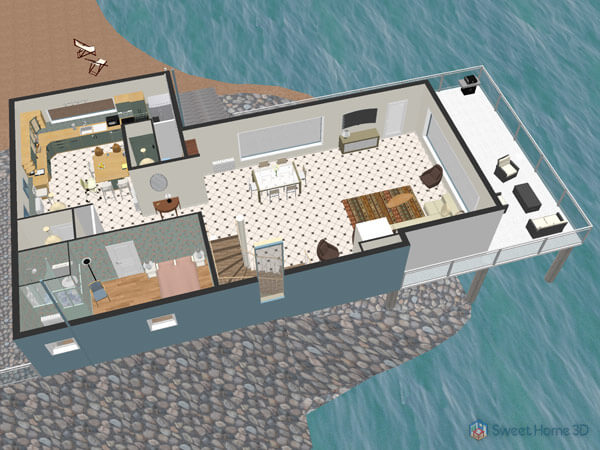 Best for: Designers who need a detailed 2D deck design but a relatively simple 3D illustration may enjoy Sweet Home 3D's deck design software.

Sweet Home 3D is a free, open-source home design software that was first released in 2006. Since then, users have added hundreds of features and capabilities, including import and export options, an object library, basic 3D design renderings, and the ability to create photorealistic images and videos of designs.

The 3D visualizations are somewhat less detailed than those of comparable home design programs, but the basic images can communicate the most important information about most designs. Because the product is open-source, users can request features to be added to Sweet Home 3D, and other users can create them and contribute to the platform.

Key features:
Open-source software to allow for feature innovation and bug fixes
Basic 3D viewing capability with touring controls
Photorealistic videos and images to showcase deck designs
Ability to import 3D models to add to the software's object library
Available in 29 languages, including English
Pricing:

Sweet Home 3D is completely free to use, offering all of its features to those who register for an account. The software is marketed as a free interior design tool, so it appears that there are no plans to charge a fee to use Sweet Home 3D in the future.
5. Home Designer Software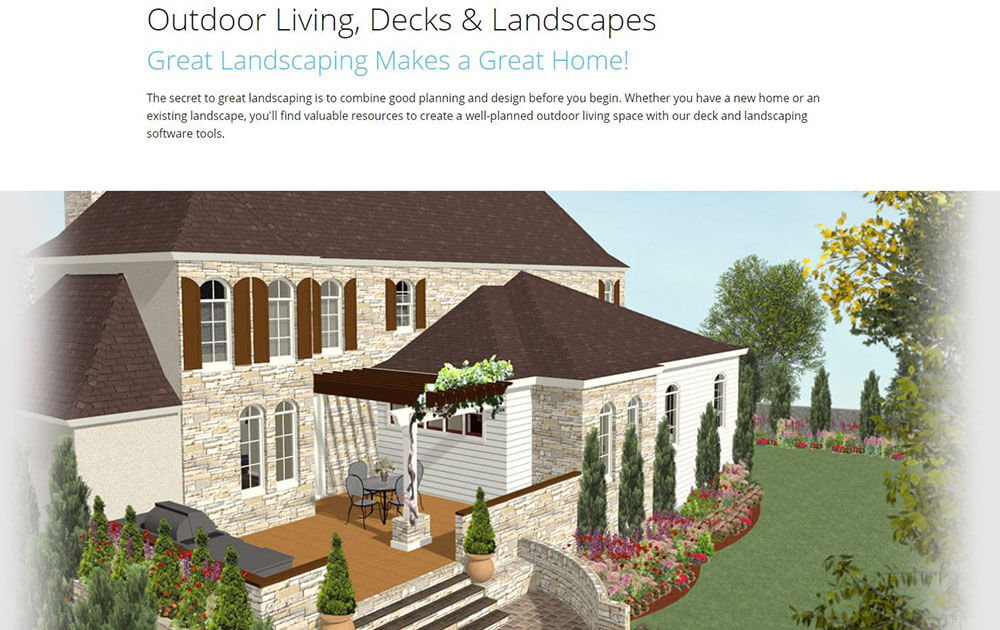 Best for: Home Designer is best for professionals and DIYers who need broad functionality and have computers that can support a large program.

A key offering from Chief Architect, the Home Designer software is a popular choice for architects and designers who have full professional computer setups and deep CAD knowledge. Home Designer requires a lot of system functionality and free disk space, so make sure your computer is able to accommodate this software if you go this route.

The tradeoff for the digital real estate required to run Home Designer is a broad offering of deck design features, including customizable floor coverings, railings, supports, and objects like outdoor furniture and plants.

Key features:
Limited versions for DIYers and a full-featured version for professional use
Tools created specifically for deck design
Extensive library of outdoor plants and outdoor kitchen products
Ability to import photos to use as design backdrops
Well-developed lot and terrain customization capabilities to show irregular lot shapes and sizes
Pricing:

Two of the Home Designer software options are not intended for use by design and building professionals, but the pro version of the software is available for a monthly fee of $59 USD or a one-time download fee of $485 USD.
6. Idea Spectrum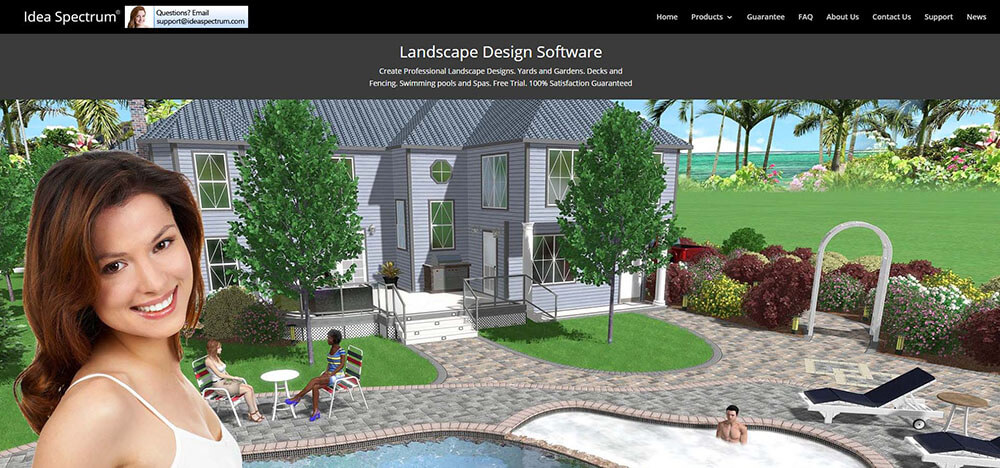 Best for: Idea Spectrum covers the full spectrum of yard, landscape, pool, and deck design but lacks indoor design functionality, making it best for designers and builders who need to design only outdoor spaces.

Idea Spectrum is one of the best deck design software options for people who have no experience with professional design or CAD — two versions of this software are intended for homeowners who want to experiment with deck design ideas.

This software also offers free support and a 30-day money back guarantee.

Key features:
Ability to design your deck over a real photo backdrop
Waterfalls, ponds, and other outdoor features to complete the view from the deck
More than 17,000 furnishings and decorations from 15 well-known brands
SketchUp model importation
Pre-designed spas and pools
Simple user interface
Pricing:

Idea Spectrum comes in three paid versions: Architect 2020, Pro 2020, and Plus 2020. Architect 2020 is intended for professional use and costs $399.95 USD to download. Indicated for use by homeowners and aspiring designers, the Pro 2020 and Plus 2020 versions are $149.95 and $99.95, respectively. Keep in mind that future updates to the software may require an additional fee. Idea Spectrum offers a free trial for all users.
7. Planner 5D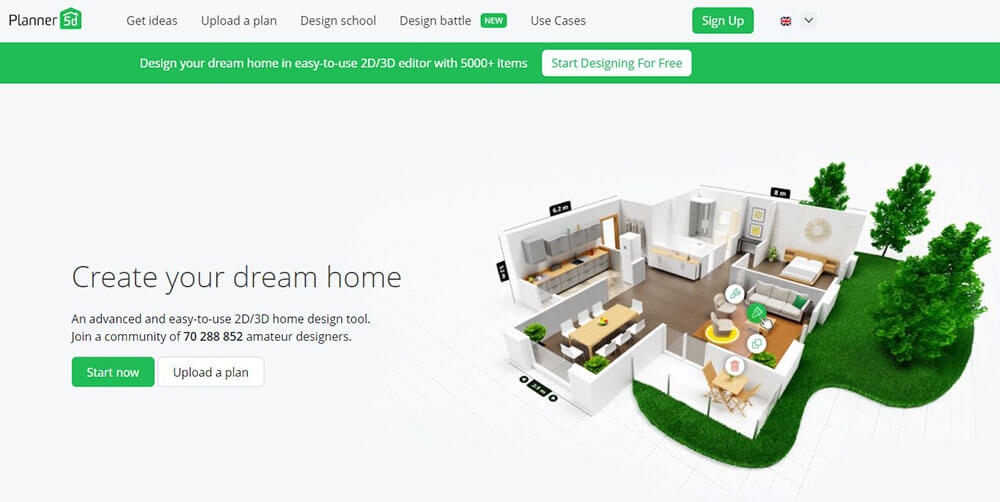 Best for: Created with amateur and aspiring designers in mind, Planner 5D is best for those who would like to design a quick and simple deck on their smartphone or tablet.

Like Cedreo, Planner 5D allows users to design in 2D and view their work in 3D in real time. Planner 5D was created primarily for amateur users and mobile devices, which means it is easy to use but may lack some of the most advanced features that professionals need.

Still, the software offers a library of more than 5,000 customizable products and gives users access to a large community of designers who use the app. The community access feature gives you the ability to share designs and get feedback, as well as get product support.

Key features:
Large library of customizable design items
Real-time 3D rendering
Realistic snapshot feature for simple sharing of deck designs
AI-enabled automated furniture arrangement
Augmented reality touring of designs
Floor plan uploading
Pricing:

Planner 5D has a somewhat confusing pricing structure. There is a free version and free trial, but the free options don't come with full functionality. To get all features and three HD renderings for one month, you pay $6.99 USD. A year's worth of access is $15.99 USD, and a premium account is $24.99 USD. Meanwhile, prices for commercial use are nearly double those for personal use.
8. SketchUp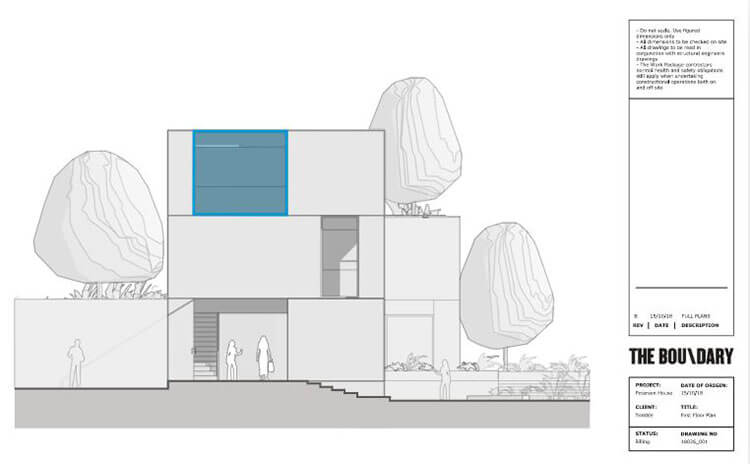 Best for: SketchUp may be an especially attractive option for those who need a large library of 3D objects and the ability to show detailed land contouring.

SketchUp is a broad design software that can accommodate deck designs but is more tailored to design for films, video games, and engineering applications. For tech-minded designers, SketchUp may be attractive because of its compatibility with augmented reality (AR) and virtual reality (VR) headsets that allow you to view your designs. Without AR or VR headsets, you can still see photorealistic renderings of your deck designs if you add a third-party extension.

Key features:
VR and AR viewability
A 3D modeler to create objects for use in your designs
Desktop and online functionality
Unlimited cloud storage
Design sharing and collaboration
Pricing:

The free, limited version of SketchUp is available for use online. To get real-time 3D visualization of your deck design as you design in 2D, as well as all of SketchUp's other features, you will need SketchUp's Studio plan, which is $699 USD per year. The less expensive Pro plan offers VR viewing and a 3D modeler for $299 USD per year, while the Shop plan for personal use is $119 USD per year and offers AR viewing and access to SketchUp's library of 3D models.
9. Fiberon Discovery Deck Designer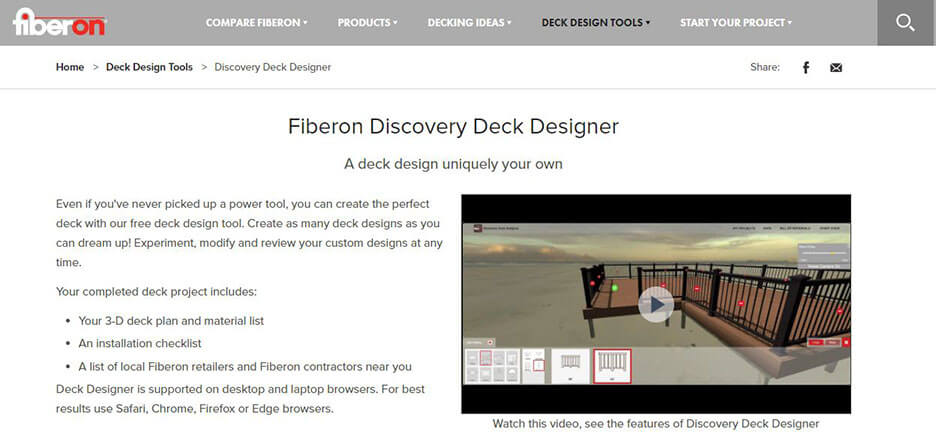 Best for: Because Fiberon Discovery Deck Designer connects users with local contractors and retailers, this one of the best deck design software options for beginners or homeowners who would like help building or remodeling a deck.

The Fiberon Discovery Deck designer is fully online, customizable, and free. However, this offering does come with a catch — you must use only Fiberon products to design your deck, and the program is designed to connect you with Fiberon contractors and retailers who can build and furnish the deck.

That means this option will work well for those who would like to add a deck to their homes and like Fiberon products, but it isn't ideal for designers and builders who need to showcase professional deck designs and maintain existing relationships with contractors.

Key features:
Pre-designed deck templates
Materials list generated with each completed deck design
In-browser deck design
Customizable materials and deck furniture
Contacts for nearby Fiberon retailers and contractors
Pricing:

Fiberon Discovery Deck Designer is completely free, but it is designed to sell products from Fiberon, which makes the decking, railing, furniture, and accessories used in the designs you can create with the program.
10. MiTek Deck Designer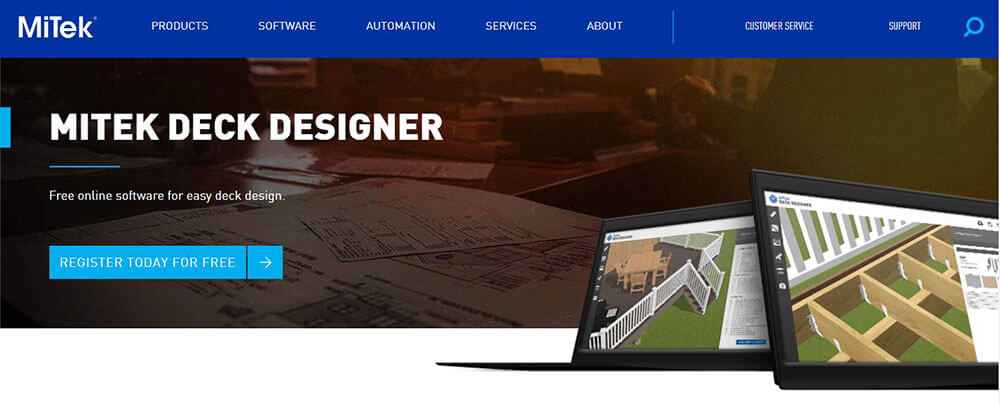 Best for: MiTek Deck Designer is a strong option for homeowners and designers who want to connect with construction professionals to complete their new or remodeled decks.

MiTek Deck Designer is similar to Fiberon Discovery Deck Designer in that it's free and meant to generate business for the company that made it. In this case, MiTek is a residential construction company that can build the decks users design inside the deck design software.

The software is focused specifically on deck design, and the availability of products appears to be wider than the availability in programs released by furniture and product retailers.

Key features:
Automated deck-building permit submission forms
List of materials for each project
Ability to save projects as CSV files to share designs
Cloud-based software
Multi-level deck designs
Pricing

MiTek Deck Designer is free, but the catch is that the program works with MiTek construction professionals. This can limit options for both homeowners and designers who would like more control over their deck projects.
11. Trex

Best for: TREX is best for those who need easy-to-use and intuitive features but do not care to pick particular products outside of the TREX brand name.

TREX is one of the best deck design software options among those that require you to use materials from a specific retailer — TREX, in this case. Unfortunately, using products and materials from only one retailer can limit your creative options.

Within the app or desktop software, however, you can still build, arrange and customize your deck to the same degree that most deck design programs allow, as long as you stay within the TREX product environment. The 3D design interface is relatively advanced and provides a good starting point for inspiration to use in a more professional software.

Key features:
Available as desktop software or an app
Automatically generates list of items necessary to build the deck
Ability to order sample boards to check out materials before using them in the final design
3D drag-and-drop design interface
In-app price comparison tool for products and materials
Pricing:

Like similar offerings from companies that sell deck-related products or services, TREX's deck design software is free to download and use. Of course, this unbeatable price point comes with the limitation of being limited to TREX products in the design.
12. HomeByMe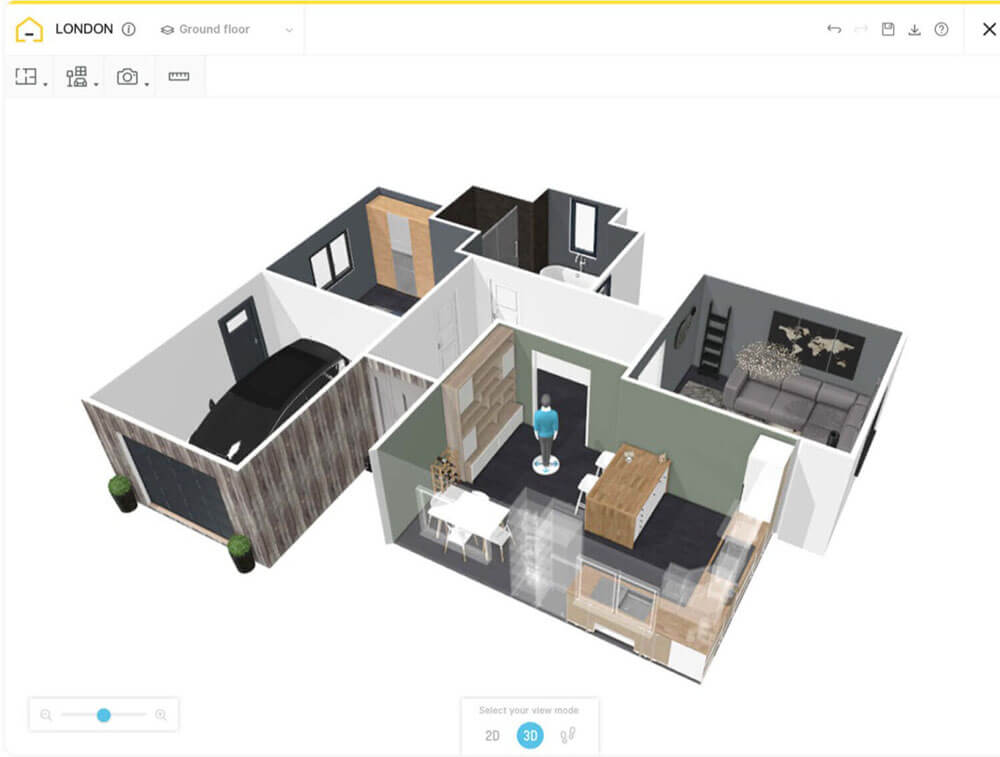 Best for: The standard version of HomeByMe is best for homeowners who would like to experiment with different interior designs, and the Pro version is intended for interior designers. However, the application showcases only a few of its outdoor design abilities on its website.

HomeByMe is an interior design tool that offers photorealistic images and 3D visualizations with each design, as well as a large catalog of products from real brands. The app and browser-based software appears to be highly functional for interior applications, but the company's website offers only a glimpse of this software's outdoor design applications.

HomeByMe comes with access to a community of interior designers and software users who can offer feedback and advice on your designs.

Key features:
Feedback from a community of users and professional designers
Mobile app and browser-based software
Pro version meant for use by interior designers
Pre-existing room shapes to drop into designs
Catalog of more than 20,000 real products, which you can bookmark for purchase
Pricing:

The HomeByMe Pro subscription is $299 USD per year and comes with unlimited images and 3D projects. Subscriptions are also offered monthly for $29.99 USD. With annual subscriptions, HomeByMy offers a 10% discount on the 360-degree image capability.
13. VizTerra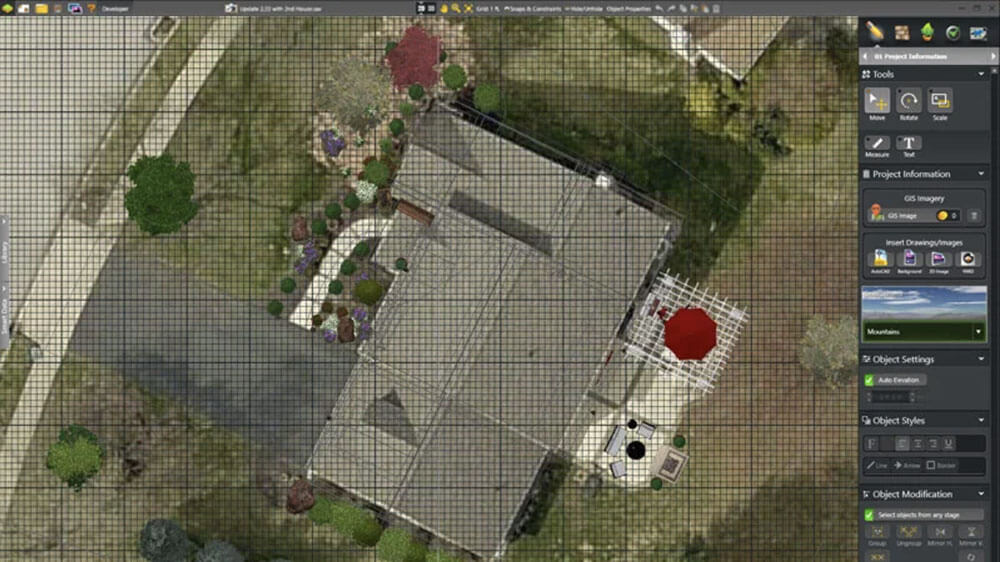 Best for: VizTerra does not offer any indoor floor plan capabilities, so this software is best for designers who need to design only outdoor spaces..

VizTerra is one of the most advanced outdoor-only design products, which can be attractive to designers and builders who don't work with indoor floor plans. The software offers GIS data integration to place designs in their future real-world locations and get nearly exact property dimensions. Both 2D and 3D design functionality are available, and a handy presentation mode can showcase the design at different times of the day.

Key features:
Presentation mode includes transitions that showcase different times of the day
High-resolution images (up to 8K)
Integrated deck design software with separate tools
Real-world GIS data integration to design decks in their future locations
CAD and site map import functionality
Pricing:

VizTerra is $97 USD per month to use after the end of the free trial. The creator of VizTerra — Structure Studios — offers two other, more expensive outdoor-focused design programs that have the same capabilities as VizTerra but add pool designs, VR viewing, and 360-degree imaging.
14. Lands Design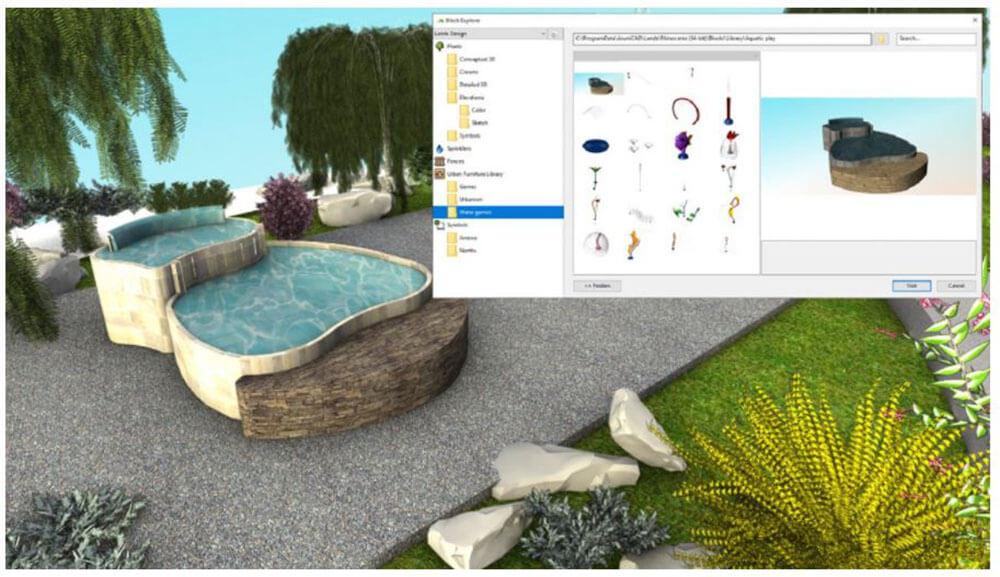 Best for: Lands Design offers the broad scope necessary to create large public works projects.

Lands Design markets itself as an "advanced" solution for landscape design, and its features for designing large landscapes are truly advanced. However, the program's applications for deck design may be somewhat limited compared to other offerings, because it focuses on large-scale public works projects, such as green infrastructure, managed forests, and urban planning.

With that said, Lands Design does get into deep detail with features that cover irrigation, hardscape details, vegetation, and large-scale collaboration.

Key features:
Integration with CAD tools
Plant database with more than 1,800 plant species
Virtual tours and walk-through mode
Online collaboration
Customizable terrain with elevation, contours and curves
Pricing:

A commercial license for Lands Design is $795 USD, and the upgrade that allows integration with AutoCAD is an additional $295 USD. There is a downloadable free trial of both versions.
Which Home Design Software is Right for You?
Finding the right home design software starts with assessing your needs, experience, and budget.

As a starting point, check out some of the design tools we've outlined above. Many of them offer free trials or some type of free plan, so you can test them out before making any big decisions.

Cedreo's intuitive software makes it easy for home design professionals to create and share stunning presentations in a matter of clicks.

Contact our sales team to get a custom enterprise quote or sign up for a free account and start designing for free.