When trying to find a good architectural design software, it can be difficult to figure out which one offers the best features and level of usability. Plenty of programs have virtual home design, drawing, and rendering capabilities, but not all have simple interfaces or favorable pricing.

In this quick guide, we compare the pros and cons of the top software choices on the market, from Chief Architect vs SketchUp, to Cedreo. Our assessment will evaluate the basics of each program, how useful it is when designing in 2d and 3d, and the overall value it provides to designers and their businesses.




Chief Architect, SketchUp, and Cedreo: Overview and Use Cases
We've chosen to compare Chief Architect, SketchUp, and Cedreo, as these are some of the most widely-used home design programs in the industry today. Each one has its own set of features, applications, and cost tiers, making them suitable for different project types and business models. By the conclusion of this evaluation, we'll identify which one is the most broadly appealing for industry users.

Chief Architect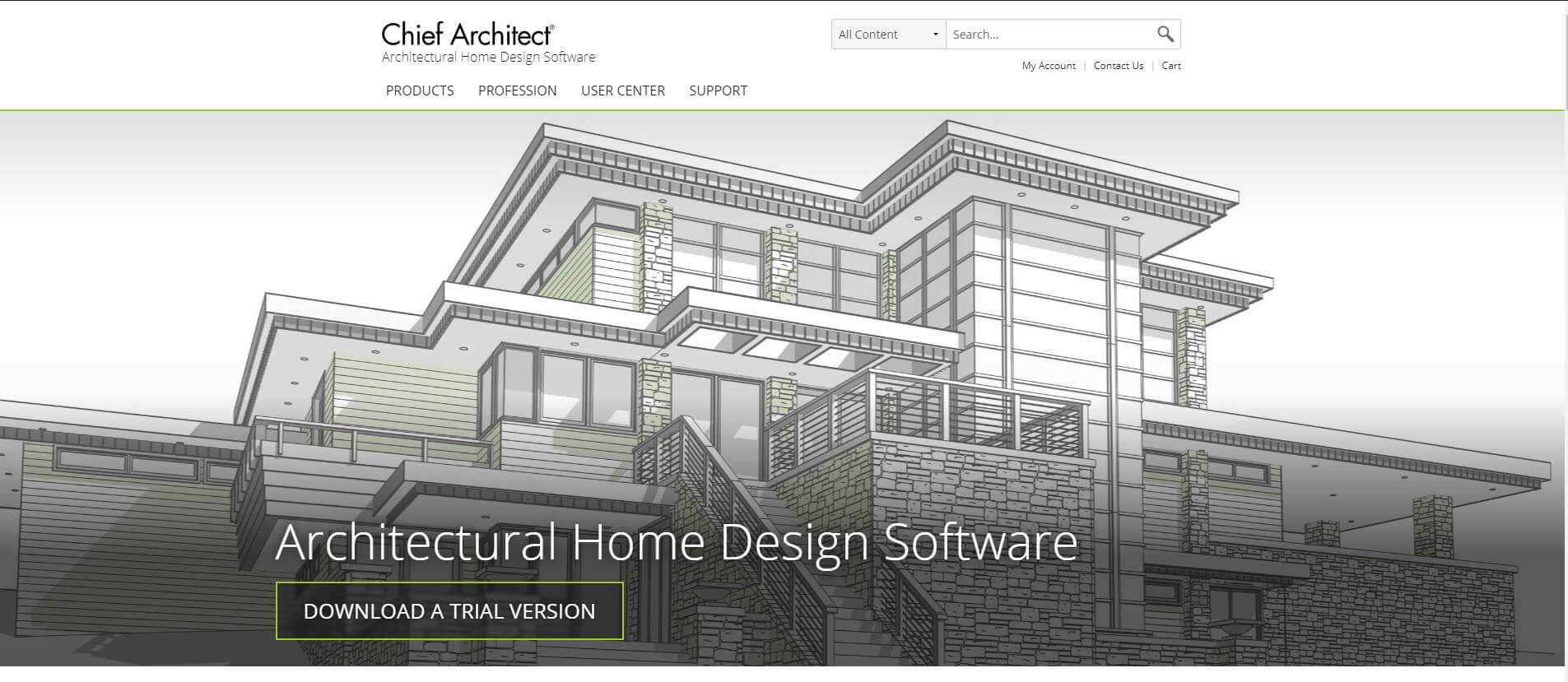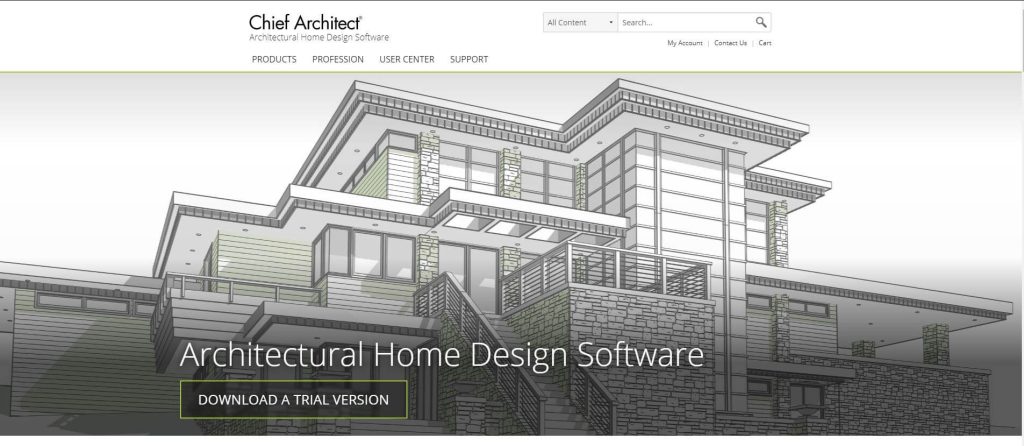 Chief Architect is a specialized software made for drafting drawings and 3D models of home designs. Using Chief Architect, designers leverage building information modeling (BIM) tools and AutoCAD tools to create detailed representations of their projects.

Chief Architect may be ideal for architects but overly complex for designers.. The software is desktop device-based, operating on Mac or Windows computers. This can be a drawback for designers that don't have devices with the processing power and memory to run such an intensive program.
Best for:
2D and 3D residential project rendering
Some light commercial work
Remodeling
SketchUp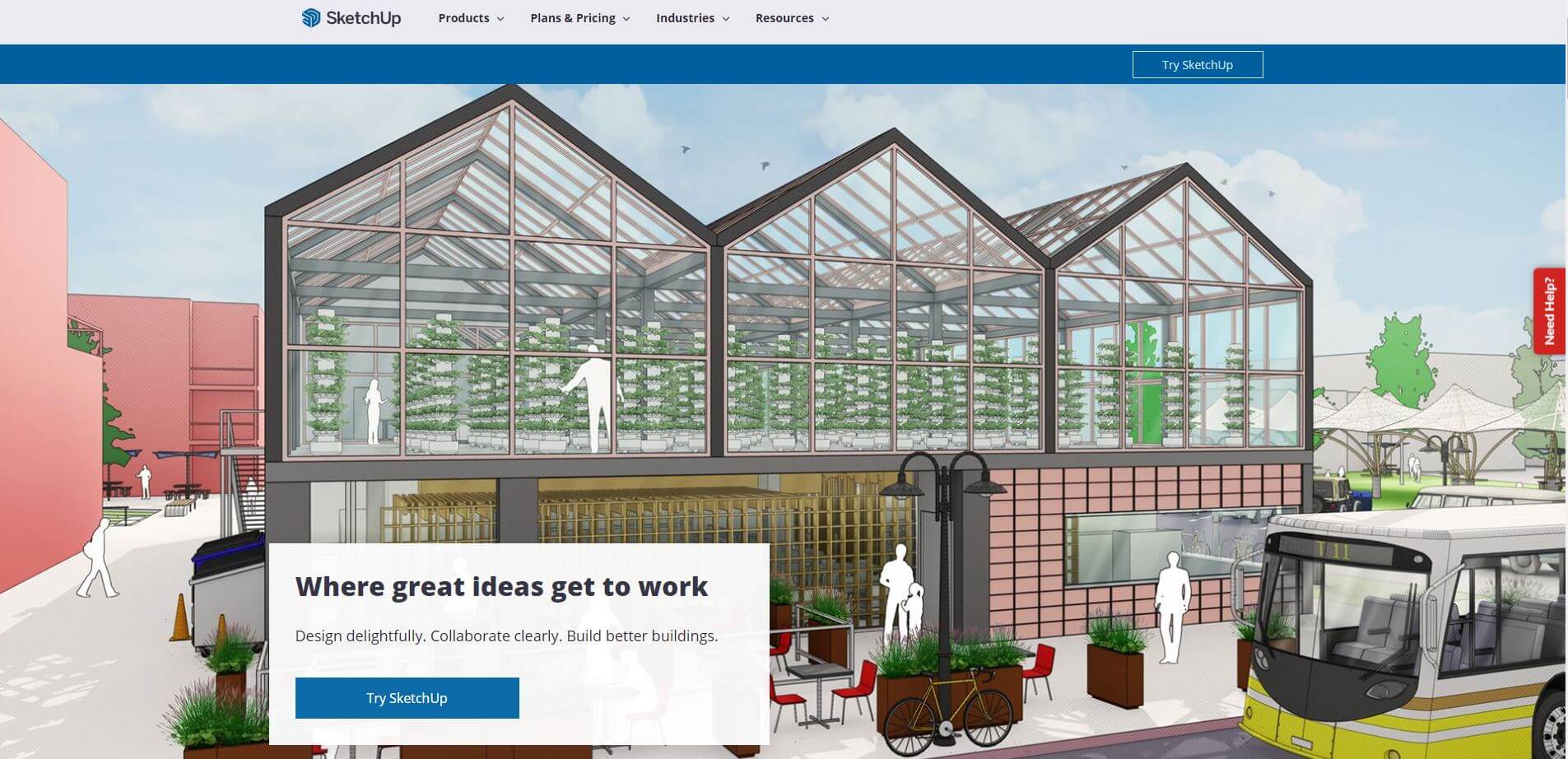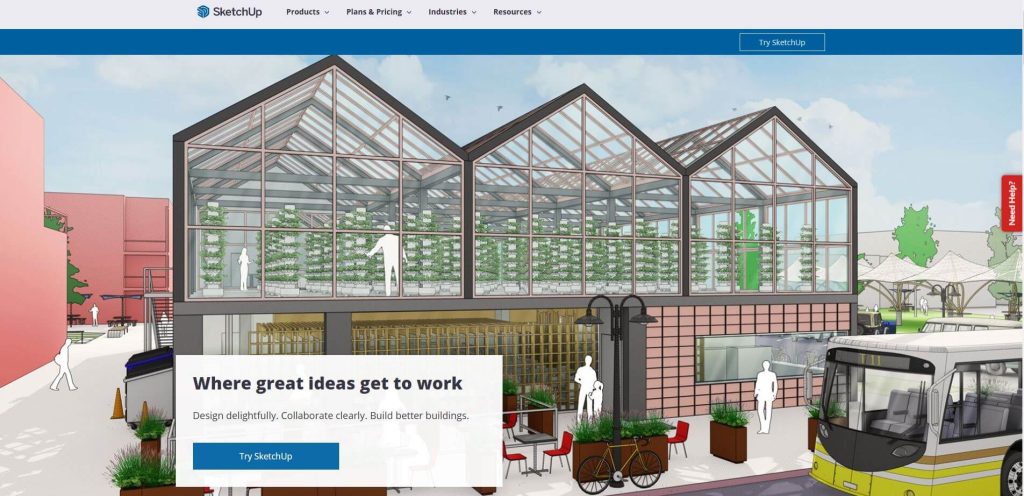 When comparing Chief Architect vs SketchUp, one of the key differences is that SketchUp is an open-source software. This means that a variety of developers can build their own models and add-ons for SketchUp, resulting in an ever-growing number of resources that can be accessed for users. The program is a more generalized tool for virtual model-making in 2D and 3D, for everything from architecture and interior design to 3D printing. Its cloud and desktop-based use options make it a more accessible Chief Architect alternative.
Best for:
Residential and commercial construction
Interior design Experimental architecture
Landscape architecture
3D printing product design
Cedreo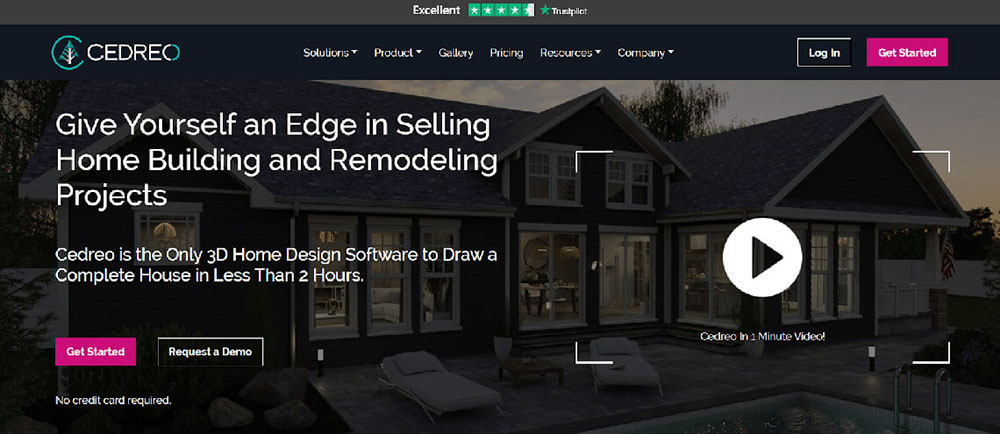 Comparing Chief Architect vs Cedreo, and SketchUp vs Cedreo, it's easy to see a number of points in favor of Cedreo. As a fully cloud-based 2D and 3D design program, it is the most accessible software of the three. It offers the perks of specialization found in Chief Architect while expanding on the simplicity of SketchUp.

Cedreo offers the highest level of user-friendliness, eliminating the learning curve for busy home builders, remodelers, and interior designers. Cedreo is the only 3D home design software that enables the completion of entire home designs in under 2 hours. It allows designers to create detailed floor plans and full interior designs with no special training or version access necessary. The program can also generate top-quality renderings of complete 3D models from interior and exterior views in just 5 minutes. It does have a proprietary library of models and materials, which is continuously updated.
Best for:
2D and 3D residential floor plans
Interior design
High-resolution interior and exterior 3D rendering
Landscape architecture
Quick, training-free project deployments
Completely web-based use
Chief Architect vs SketchUp vs Cedreo: Pricing Comparison
Costs for 3D modeling and design software can add up quickly, making pricing an important consideration when selecting the right program for your business. Each software here offers different pricing models, which can work for different budgets.
Chief Architect
Free plan: No

Pricing model: Per license/user

Paid plans:

$199 per month for rental of both Premier and Interiors versions

$2,995 for purchase of Premier version

$2,195 for purchase of Interiors-only version
SketchUp
Free plan: Yes

Pricing model: Per license/user

Paid plans:

Free web-only personal license

$119 per year, web-only Shop plan

$299 per year, desktop and web Pro plan

$699 per year, desktop and web Studio plan
Cedreo
Free plan: Yes

Pricing model: Per license/user

Paid plans:

Free single-project plan

$119 per month Pro plan

$149 per month Enterprise plan
Chief Architect vs SketchUp vs Cedreo: Feature Comparison
Analyzing SketchUp vs Chief Architect, and SketchUp vs Cedreo reveals some significant differences in features. Cedreo is by and far the most feature-rich program of the three, with the ability to easily draw 2D and 3D floor plans, generate 3D renderings, and seamlessly work from existing plans and templates.

SketchUp is superior to Cedreo for projects that don't relate to traditional architecture, such as 3D sculpting and product modeling. Chief Architect comes out as the least versatile option and most difficult to use, although it does provide considerable value via its detailed AutoCAD and BIM tools.
| Features | Chief Architect | SketchUp | Cedreo |
| --- | --- | --- | --- |
| 2D Floor Plan | ❌ | ✔ | ✔ |
| 3D Floor Plan | ✔ | ✔ | ✔ |
| 3D Rendering | ✔ | ✔ | ✔ |
| 3D Printing | ❌ | ✔ | ❌ |
| 3D Sculpting | ❌ | ✔ | ❌ |
| Import Blueprints | ✔ | ✔ | ✔ |
| Surface Area Calculations | ✔ | ✔ | ✔ |
| 3D Library | ✔ | ✔ | ✔ |
| Auto Roof Detection | ❌ | ❌ | ✔ |
| Interior Design | ✔ | ✔ | ✔ |
| Lighting & Sun Orientation | ✔ | ❌ | ✔ |
| Share Designs | ✔ | ❌ | ✔ |
| Draw to Scale | ❌ | ✔ | ✔ |
| Custom Camera Viewpoints | ✔ | ✔ | ✔ |
| Reusable Project Templates | ✔ | ✔ | ✔ |
| AutoCad Tools | ✔ | ❌ | ❌ |
| Cloud Renderings | ✔ | ✔ | ✔ |
| Cloud Storage | ✔ | ✔ | ✔ |
Chief Architect vs SketchUp vs Cedreo: Customer Support Comparison
Given that project deadlines are often tight and even the best technology can be finicky, good customer support is a critical selling point for design software — especially for the programs that aren't so intuitive to use. Our review of Chief Architect vs SketchUp and Cedreo found that all three companies offer fairly extensive customer support options.

Chief Architect
When considering Chief Architect vs other programs, it's worth keeping in mind that their customer support is commendable. They have an in-depth knowledge base filled with tutorial articles, as well as videos on another section of their site. There is also a forum where users can discuss and resolve issues. Live phone support is available as well, but only for users with an active Support and Software Assurance, which expires after one year. For users of version X2 and newer, paid support is available for $125 per incident.

SketchUp
SketchUp has the weakest support of the three softwares, with most of it being self-guided. There is a community forum, a help center with informative articles, and free courses that teach the fundamentals of the program. Much like Chief Architect, phone support is available only for Pro subscribers with current Maintenance and Support subscriptions.

Cedreo
Cedreo is the frontrunner, offering robust support through various channels. This includes live customer support via phone, e-mail, and chat, as well as live training sessions with dedicated managers for Pro and Enterprise users. Cedreo's extensive knowledge base includes video walkthroughs and tutorial articles, which are continuously being expanded and updated.

Chief Architect vs SketchUp vs Cedreo: Home Design Deep Dive
Our assessment of Chief Architect vs Cedreo and SketchUp wouldn't be complete without a closer look at how each program handles some of the key aspects of home design projects. In this next section, we'll examine how each system helps designers complete critical documentation and make more impressive presentations for clients.

Floor Planning
Floor planning is an essential part of construction documentation, but not all of these softwares handle it with ease. Looking at Chief Architect vs the others, we can see that the program is a strong choice for floor planning. It streamlines the process by allowing for quick click-and-drag room sectioning and snap-on joining. Once you create a basic layout, you can automatically convert it into 2D and 3D floor plans ready for decorating. You also have the option of tracing over imports of existing floor plans.

SketchUp also has good floor planning capabilities, but it is the most complicated out of the three. Using SketchUp, you can import CAD files of existing floor plan documents, and also draw on your own. Plans can be converted into 3D layouts as well. However, friction arises from having to manually enter all dimensions, and the fact that the look and feel of drawing floor plans in SketchUp just isn't that intuitive.

Using Cedreo gives designers a leg up on floor planning because it combines many useful functionalities into one smooth process. Existing floor plan files can be imported, then traced upon to develop a quick model. Or, you can draw them yourself, laying walls just by clicking the positions of your desired corners. Dimensions and room areas are automatically calculated, and you can even see your 3D floor plan take shape while you work on your 2D design.. This level of convenience is missing in the other platforms we reviewed.

Interior Design
Interior design requires a great level of detail and flexibility in 3D modeling programs. Comparing Chief Architect vs competitors concludes that the software provides significant value for interior projects. A large 3D library is filled with a multitude of materials, furnishings, and decor. An interiors-only version is available at a lower price tier, for designers that need to keep their software costs low.

SketchUp similarly offers a wide library of models and textures, but the more generalist application of the software can make it a bit more time consuming to complete interior models. This is in contrast to Cedreo, which is specifically for the swift and easy creation of home design projects and 3D renderings. Cedreo's simultaneous 2D and 3D floor plan viewermakes it simple to arrange furnishings and decor for the most harmonious layout.

3D Rendering
Both Chief Architect and Cedreo have strong rendering abilities, but the fact that Chief Architect can only render on desktop may rule it out for many designers. The intensive processing power required can be too much for many computers, requiring that designers upgrade their systems entirely before they can even use the tool. With Cedreo, you can generate fast and beautiful renderings in the cloud, putting zero strain on your desktop device. Cedreo delivers high resolution renderings ready to download and share with clients.

SketchUp, on the other hand, was not created to be a 3D rendering program, so it doesn't have that functionality built in. However, it is possible to use a third-party SketchUp extension to generate renderings of your SketchUp models. The quality and user-friendliness of these extensions varies considerably.

Chief Architect vs SketchUp vs Cedreo: Which Tool is Right For Your Business?
All three of these softwares are quality choices for home design work, but the usefulness of each one depends on your business needs. Chief Architect works best for architecture firms that need a program focused on building 3D renderings and detailed 2D construction documentation. SketchUp is more versatile, making it suitable for both residential and commercial construction, although its best suited to 3D sculpting and product modeling.

Cedreo is the best tool for professional home designers, remodelers, and interior designers who need a streamlined, all-in-one workflow that allows them to quickly move from project to project. From simple floor plan composition to cloud-based 3D rendering, Cedreo empowers users to tackle every angle of home design in one convenient program.