Where do you find your new construction jobs? If you're still relying solely on the old-fashioned methods, you are missing out on the thousands of jobs available on construction bidding websites.

These sites help contractors like you find new work that perfectly suits your areas of expertise in a fraction of the time. That means you get more revenue, more successful jobs under your belt and more satisfied clients.

This article will help you understand more about these websites and how to use them to grow your construction business. Read on.




What Are Construction Bidding Websites?
Construction bidding websites are what they sound like: bidding websites for construction jobs that provide a long list of available contracts, as well as in-depth details for each. These sites compile available jobs in one convenient place, providing everything you need to know whether making a bid is worth the time or effort.




How Do Construction Bidding Sites Work?
Constructing bid sites work by sorting through all of the available contracts. They group them by job type, location, budget and various other factors. Then, website users visit the website and select the categories or descriptors that matter to their construction businesses to get a detailed list of jobs that match their parameters.

Some commercial and residential construction bidding websites also allow you to sign up for a daily email digest that includes all of the newly added jobs. You may also be able to sign up for email alerts that are triggered when a job matching your preferences is posted.




How Do You Win Construction Bids?
You win construction bids on bidding websites in much the same way that you win bids through other avenues: You demonstrate that your company is the best for the job and offer a competitive price that they can't ignore.

However, construction bidding websites can give your company an edge in the bidding process because they typically include so much information about the available jobs. Read the job postings closely before making bids, and use the extra information to your advantage. Do this by describing your capabilities and credentials specific to the areas described in the post on the bidding website.




11 Best Construction Bidding Websites
Now that you know a bit more about construction bidding sites, you're ready to start making bids and winning work. But where do you go? Which sites should you trust? We're here to help with this list of the 11 bidding websites for construction jobs.
Overview:

If you're located in British Columbia, this is a can't miss construction bidding website. BidCentral is the largest such site in the province, and it comes packed with features that can even have jobs coming to you, rather than the other way around.

Key Features:
Public and private projects for bids across British Columbia
Contractor directory that allows job posters to invite you to bid
Interactive bidding calendar
Automatic project update notifications
Opportunity matching emails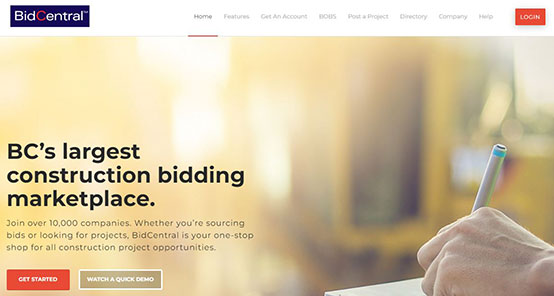 Overview:

An offering of well-known construction industry website Construct Connect, BidClerk is one of the leading bidding sites. It maintains more than 1.1 million active contacts and says more than 400,000 jobs are added each year.

Key Features:
Custom saved searches and bid alerts
Document search
Analytics tools to help you plan your bidding activities
LinkedIn connection integration
Bidder directory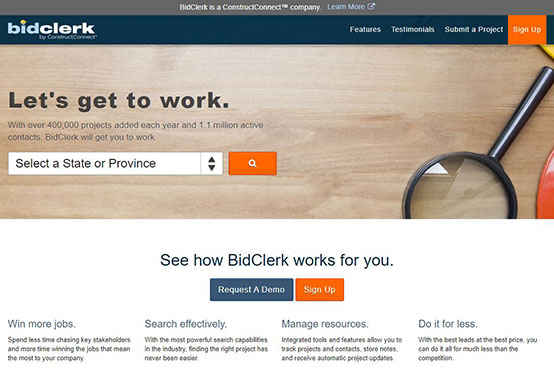 Overview:

Serving the western provinces of Canada, Biddingo.com maintains a wide variety of jobs open for bidding that go well beyond construction. Still, the construction section of the website remains one of the most active, with tens of thousands of open jobs at any given time.

Key Features:
Focus on Canadian government contracts
Direct relationship with many government agencies
Daily bid emails for registered users
Simple online download of bid documents
Historical bidding information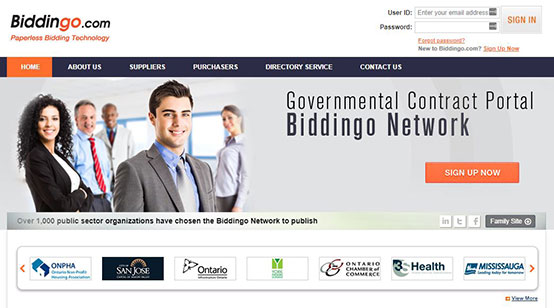 Overview:

BidNet is a United States-based construction bidding website that focuses on government contracts, including at the city, county, state and federal levels.

Key Features:
Comprehensive e-procurement solution that allows buyers to find you
Regional purchasing groups
Business insights for bidders
Pricing guidance
Personalized daily bid emails
Overview:

Covering 27 states and the District of Columbia, Construction Bid Source is one of the most comprehensive bidding websites available today. Signup is free, and the site provides a simple state-by-state navigation.

Key Features:
Free to use
State-by-state breakdown of available contracts
Daily email notifications with paid membership
Owner contact information viewing with paid membership
Downloadable bid documents with paid membership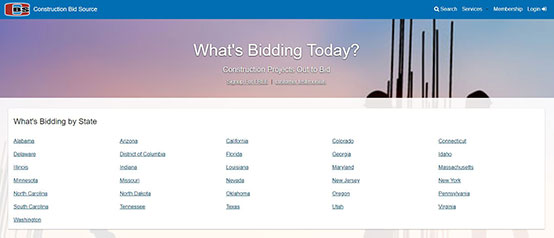 Overview:

Another ConstructConnect company, Construction Market Data is a comprehensive construction data platform that includes a section devoted to bidding for contractors.

Key Features:
Intelligent Leads feature that actively helps you find bids based on your preferences
"Top 10 Projects" tracking to inform you when big business is coming to your service area
Construction industry forecasting data
Economic news
Available contracts sorted by state, building type, building code and more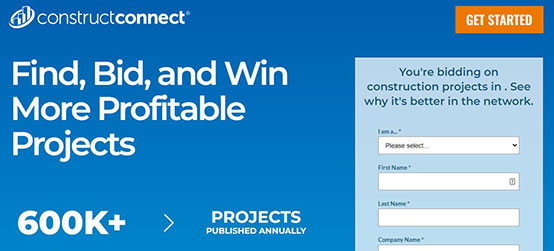 Overview:

ConstructionWire functions as both a construction bidding website and an active sales tool your company can use to actively seek more residential customers.

Key Features:
Detailed project reports
Free trial available
In-depth company profiles
Contact information for company decision-makers
Integration with common sales platforms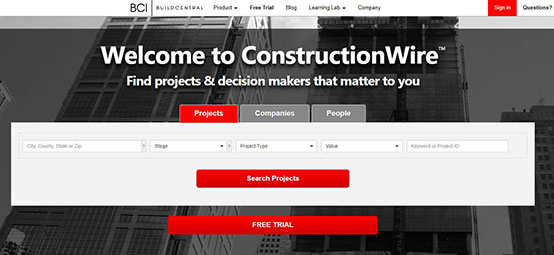 Overview:

Dodge Construction Central has built a comprehensive sales and marketing tool for construction companies, and a repository of available contracts is one its central features.

Key Features:
Bid management system
Integration with common sales platforms
Massive data repository to inform current and future bids
Industry trends monitoring to make sure you stay in the know
Online lead management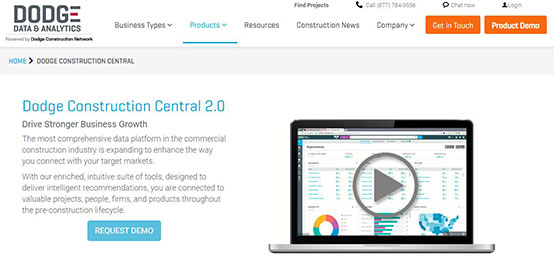 Overview:

It's all in the name for GovernmentBids.com. This isn't one of your standard residential construction bidding websites — it's a huge platform of thousands of available government contracts perfect for growing your business.

Key Features:
Nearly 200,000 bids published in the past year
Comprehensive customer service to take your call when you need help
Bid browsing and smart search
Federal and regional construction categories
Bidding advice portal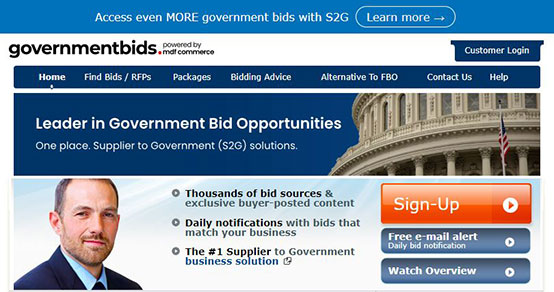 Overview:

iSqFt is another ConstructConnect company. This particular construction bidding website focuses on both public and private projects with handy sub-categories for general contractors and subcontractors across the U.S. and Canada.

Key Features:
Private, customized database of subcontractors and vendors
More than 1 million contractors in network
Time-saving pipeline management tools
Comprehensive construction data
Emailed bid updates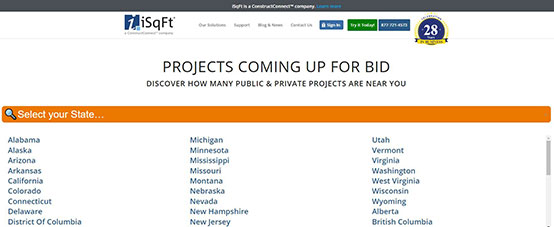 Overview:

Calling itself Canada's No. 1 source of business opportunities, Merx is certainly a contender in the fight for best construction bidding website. And it covers U.S. construction bidding opportunities, too.

Key Features:
Automatic notifications when relevant contracts are posted
Community profile that enables owners to find you
Active database of private construction RFPs, in addition to massive government jobs repository
Market intelligence information on Canadian markets
Pay-as-you-go package available

Conclusion
There are tons of construction bidding websites out there, but they aren't all going to be helpful to you. In fact, the vast majority of them are just looking to make a quick buck — not truly help growing construction companies like yours.

Hopefully, this article has given you the information and tools you need to find more work online and grow your business. Speaking of great tools to help you grow your construction business, check out Cedreo. Our powerful 2D and 3D floor planning software can help you show your vision to your clients and win more of those amazing bids you put in through construction bidding websites.