The amount of acronyms and terms in the construction industry is as large and varied as the industry itself. HVAC technicians, drywallers, framers, and bricklayers all have a different vocabulary and in order to complete a job smoothly, teams need to be on the same page about common terms.

This is true especially when your team has English Second Language (ESL) speakers. A new report from the American Council on the Teaching of Foreign Languages (ACTFL) found that the construction industry had the highest rate of disparity between ESL workers and managers. Approximately ⅖ of contractors surveyed noted a significant language barrier on their job sites.

As a construction professional or project manager, it's important to ensure everyone on the team understands home improvement vocabulary to avoid communication errors and misunderstandings.

Here is a list of common home renovation terms and remodeling terms to get you started.




Common Home Remodeling Terms You Need to Know
When communicating with sub-trades, clients, or ancillary professionals, it's important to exercise good communication skills to avoid misunderstandings that could delay a project.

Here are some of the most common terms you should know.
Blueprints
A blueprint is a technical document that provides a visual representation of the project. They lay out specifications on measurements, dimensions, and materials to demonstrate how the project should be constructed.

Blueprints are typically outsourced to architects, engineers, or design professionals in a process that costs construction managers time and money. Advanced design technology such as Cedreo provides home building professionals with a 100 percent cloud-based and user-friendly way to create precise blueprints in-house in under two hours and for a fraction of the cost.
Blueprints created in Cedreo can also be converted into project-ready layouts, 3D designs, and stunning photorealistic renderings. These can improve client satisfaction and increase sales by allowing customers to see the finished product before the work even begins.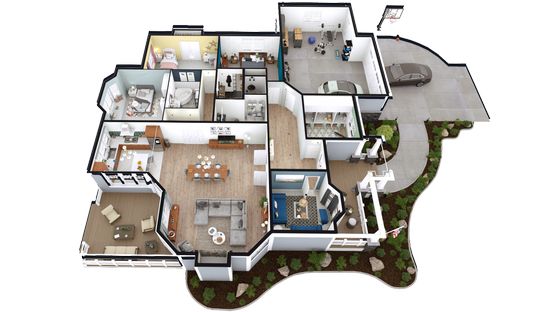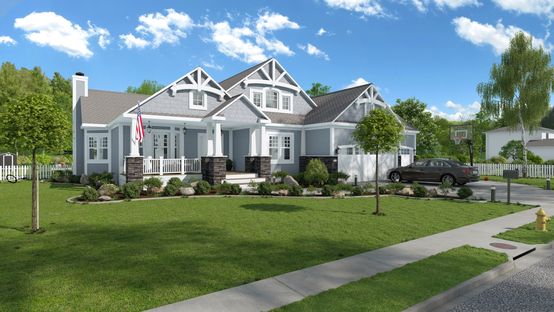 Building Inspector
Building inspectors are professionals employed by local governments who are trained to ensure all construction complies with federal, state, and municipal regulations. They may consult the project blueprint, job site, permits, and any other areas of concern to validate building code compliance.
Demolition
Demolition is the first step in a renovation or remodeling project. The process involves the deconstruction of existing structures in order to create space for the new build. Demolition processes can remove walls, appliances, built-in furniture and fixtures, wallpaper or shiplap, framing, or any other materials.
Design Build
A company that claims to offer design-build services provides both design plans and construction for a project. General contractors can do this by either employing a designer on staff, outsourcing to an architecture or design professional, or by using in-house design software such as Cedreo.

Clients benefit from hiring design-build contractors as these companies provide them with a complete package of services to complete their project.
Footings
Footings are support systems made of concrete and rebar that lay beneath the foundation. Local regulations determine how footings must be designed, as they are a critical part of a building structure.
General Contractor
A general contractor is a professional who manages a renovation project. They are responsible for scheduling contractors, meeting with building inspections, organizing permits, and communicating with clients.

In order to become a general contractor, professionals must obtain a series of licenses and insurance as per local regulations.
Gutting a Room
Gutting a room means demolishing everything inside apart from the basic structure so that construction can begin with no existing obstacles. Typically the only remaining parts of the room after being gutted are the subfloor, insulation, electrical wiring, and frame.
House Footprint
A house footprint is the size of the entire home, including any attached exterior spaces and buildings. Renovations and remodeling projects don't typically alter a house footprint unless the homeowner requests an addition.
HVAC
HVAC is a trade specialty that involves managing the internal home systems that control temperature and airflow. The acronym stands for heating, ventilation, and air conditioning.
Mechanicals
Mechanical systems in a home include heating, cooling, ventilation, electrical, and plumbing.
Pull a Permit
This term is used when general contractors obtain a permit from their municipal code and zoning office that indicates the proposed construction blueprints have passed inspection.

At this stage, an inspector will visit the job site to ensure it is compliant with the blueprint and building regulations.
Subcontractor
Subcontractors, otherwise known as sub-trades, are specialists in a trade that can be hired on an independent basis to perform work for a project. HVAC technicians, bricklayers, framers, plumbers, and electricians are all subcontractors.
Subfloor
A subfloor is typically a layer of plywood that sits under the main flooring. It is placed on top of the joists in order to increase the stability of the floor.
Tradespeople
Tradespeople are professionals who focus on a specific trade. Similar to subcontractors, they can work independently or for a larger company that specializes in that trade.




Understanding Home Renovation Terms
Teams that communicate with each other complete projects with more efficiency. It's important for general contractors, sub-trades, clients, and other home-building professionals to understand these basic terms so that every job can be completed with as few miscommunications as possible.
Cedreo is the 3D design software that helps building professionals improve client relations, increase sales, and establish a professional reputation. Sign up to start using the free version of Cedreo today.