Are you an interior designer looking to promote your business on Instagram? With over 2.35 billion active users, Instagram has become an essential platform for businesses of all kinds, including interior designers.
Instagram is a visual platform which makes it perfect for interior designers like you who want to showcase their work, attract new clients and build their brand. 
However, coming up with fresh content ideas is a challenge, especially for busy professionals. No worries, we're here to help! In this article, we'll explore 10 successful Instagram content ideas for interior designers that can help you grow your business and reach new clients. From tutorial videos to sharing those dreaded "oops" moments, you'll never be without content ideas again. 
How to Promote Interior Design Business on Instagram
Before we dive into the content ideas, check out these pro tips for promoting your interior design business on Instagram. Your killer content won't work as well unless you first follow these tips.
Define your brand: Before you start posting on Instagram, you need to define your brand. So ask yourself…
What makes your interior design business unique?
What values do you stand for?
What kind of aesthetic do you want to convey?
What kind of clients are you trying to attract?
These questions will help you create a consistent brand image that resonates with your target audience.
Use hashtags: Hashtags are an essential part of Instagram marketing. They allow users to find your posts when searching for specific topics or keywords. Research relevant hashtags in your industry and use them in your posts to increase your reach. A great way to do that is to check which hashtags your successful competitors are using.
Engage with your audience: Building a community on Instagram requires engagement. And the more engagement you have, the more likely it is that Instagram's algorithm will bump you to the top of users' explore page and search results.
Tips for engaging:
Respond to comments
Follow other accounts in your industry
Like and comment on other users' posts. Just remember…a few genuine comments are better than tons of generic ones like "Cool post!".
Engage like this and it'll help you build relationships with potential clients and other interior designers.
Use Instagram Stories and IGTV: Instagram Stories and IGTV are great ways to share behind-the-scenes content, showcase your personality, and engage with your audience. Use Stories to show your process, highlight your latest projects, or promote upcoming events. Use IGTV for longer videos like project tours and updates.
Use CTAs (Calls to Action): Make it clear what you want your followers to do. So don't be afraid to add some CTAs to your posts. Invite followers to check out your profile, visit your website, sign up for a consultation, like a post, comment on a post, or give you a call.
Ok, ready for some epic content ideas to revamp your feed? Check out the next section.
10 Instagram Content Ideas Every Interior Designer Should Create
Try creating one of these content pieces every day and see how it helps keep your feed fresh and exciting.
1. Share Your Story
Share your personal journey as an interior designer, including what inspired you to pursue this career and how you developed your unique style. By sharing your story, you can build a personal connection with your audience and showcase what sets you apart from other designers.
PRO TIP – Be authentic. Authentic stories where you open up about your struggles, mistakes and things you've learned along the way create a deeper emotional connection with your audience.
2. Show Off Your Latest Completed Project
Use Instagram to showcase your latest completed project, including before and after photos, design details, and your thought process behind the design. This can help build credibility and inspire potential clients to work with you.
And if you used Cedreo to create photorealistic renderings of your design before starting the project, show how they compare to the finished result.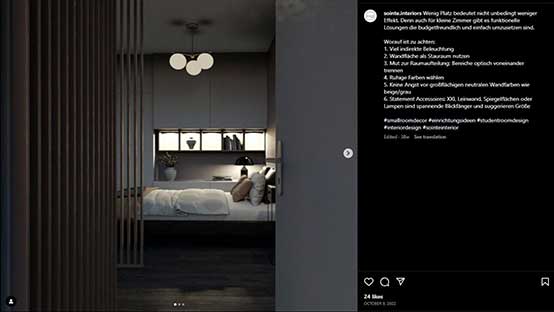 3. Share Industry Knowledge
Share your insights and knowledge about the interior design industry, including trends, tips, and tricks. This can position you as an authority in your field and demonstrate your expertise to potential clients.
This is a great opportunity for quick list-style posts like "3 Paint Colors that are Trending Right Now" as well as longer and more informative how-to posts like "How to Decorate a Small Room to Make it Look Twice Its Size".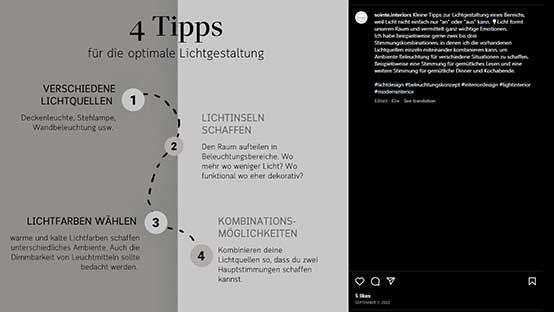 4. Film Tutorial Videos
Use Instagram to create short tutorial videos that showcase your design process, techniques, and tips. This can help your audience learn more about your design approach and inspire them to tackle their own design projects.
If you have a big enough audience, try a live broadcast so your followers can ask questions as you film the tutorial. That helps increase engagement while also giving you valuable observations about what your clients want.
5. Create a Shopping Guide
Create a shopping guide that features your favorite furniture and decor pieces from various retailers. This can help your audience discover new products and help you establish relationships with industry partners. Plus, if you have a website with affiliate links, it can even increase your earnings!
6. Share Client Testimonials & Success Stories
Share testimonials and success stories from satisfied clients to showcase the impact of your design work. This can help build trust with potential clients and demonstrate your ability to create stunning designs that meet your clients' needs.
PRO TIP – Written testimonials are good. Video testimonials are better! Ask a satisfied client if you can film a quick video of them commenting on their newly designed space.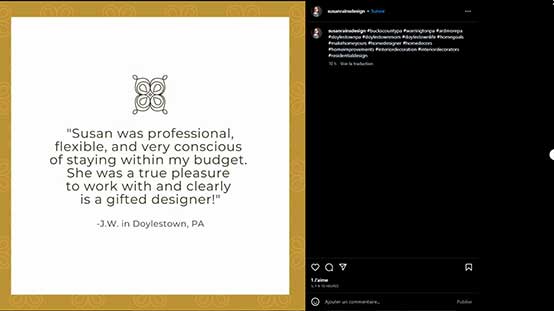 7. Before & After Images
Share photos of your before and after transformations, including details about the design process and your decision-making. This can inspire your audience and demonstrate your ability to transform even the most challenging spaces.
PRO TIP – You don't have to wait until you're finished with the project to showcase "after" photos. Use Cedreo 3D design software to create a 3D model of your idea and use it to get clients and followers excited about the project.
Try Cedreo Home Design Software for Free.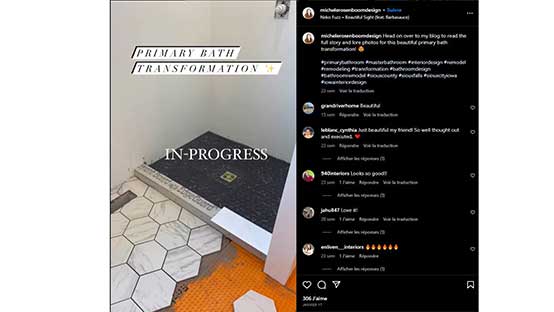 8. Post Behind the Scene Clips
People love to see the logic behind your design approach. So use Instagram to share behind-the-scenes footage of your design process, including sketches, material selections, and progress updates. This can help your audience feel more connected to your design work and build excitement around your projects.
9. Highlight Milestones
Use Instagram to showcase important milestones in your design projects, such as the start of construction or when key elements get installed like flooring or furniture. This can help build anticipation and engagement around your projects. It also demonstrates your ability to manage complex design projects.
10. Share Your Mistakes
Share stories about design challenges and setbacks, and how you overcame them. You can even share times when a client wasn't completely happy with the end result. Don't worry about this hurting your reputation. In reality, this helps humanize you as a designer and build trust with your audience, while also showcasing your problem-solving skills and creativity.
How to implement these ideas – Make a content creation schedule. Consistently posting great content is the key to growing your following and attracting more clients. So look ahead at your work schedule and make a plan for when to implement each of these 10 ideas.
Keep going for one last tip on how to boost your social media presence as a designer.
How Interior Design Software Can Punch Up Your Social Media
Clients and followers love high-quality visuals! That's why we created Cedreo, an easy-to-use home design software that helps you create premium 3D visuals that get people excited about your projects.
Create an entire set of 2D and 3D home designs in as little as 2 hours
Cedreo automatically creates 3D designs as you draw in 2D
Get realistic textures and lighting effects
Choose from thousands of materials and furnishings in the design library
Customize furnishings as needed
Tips for combining the power of Cedreo and Instagram
Post screen grab videos of you creating designs in Cedreo to showcase your design process
Post 3D photorealistic images from Cedreo to show your vision of a finished project
Post several images of a 3D design with different color schemes or furniture options to see which your followers like best
But Cedreo doesn't just work to punch up your social media presence. You can also use it to streamline your entire interior design business.
Save loads of time and hassle during the planning process
Land more clients thanks to better project presentations with Cedreo's 3D images
Get more accurate estimates with the CostCertified integration.
With a free version, you've got nothing to lose. Sign up for Cedreo today!