Not all design-build projects need to be completed in one stage. In fact, large-scale projects are typically completed in a series of construction phases. As such, comprehensive and robust architectural master planning is required to ensure the project is completed on time and within budget.

As a general contractor, it's important to manage the expectations of clients. Typically, in an introductory meeting, clients will establish goals, timelines, budgets, and other general information. Using these details, a contractor will then create a master plan for the project.

This initial planning phase lays the groundwork for a successful design-build or remodel. Keep reading to learn more about how architectural master planning can support your next construction project.




What's the Difference Between a Master Plan and a Whole Home Remodel?
Master plans and whole home remodels are not entirely separate things; they are different ways of achieving a similar outcome. A master plan is a breakdown of a home remodel or large-scale construction project into more manageable phases. When done correctly, this can result in major cost and time savings that could make a significant difference in a contractor's ability to sell a project.

A whole home remodel is less common and involves completing all the construction work in one large phase. However, even these projects have some level of master planning involved, as different subcontractors will need to be scheduled at different times.

Design-build contractors will complete a master planning process in the early stages of selling a construction project to give a client an idea of how long a project will take, and when each phase will be finished. These projects can be completed over weeks or even years.

Choosing to remodel a home with a master plan means a client will be able to pay for the work in phases, as the project is completed in chunks. A whole home remodel, on the other hand, is typically paid for upfront to cover to cost of all the work that is to be completed.




Benefits of Master Planning Your Remodeling Project
There are a variety of benefits involved in master planning a design-build project, both for clients and general contractors.
Master Planning Increases Affordability
In general, clients looking to remodel more than one space in their home will have to save thousands of dollars to complete a whole home remodel. While these projects can increase the home's resale value significantly, they require an inaccessible upfront investment.

Occasionally, these costs can be offset by grants and government home improvement programs, but most clients pay for their own renovations.

By opting for a master plan remodel, homeowners can break the payments into manageable sums correlated with each phase of work. For this reason, clients who select a master plan remodel can typically afford to begin construction sooner.
Master Planning Improves Project Organization
By taking the time to create an architectural master plan with a client, contractors can set a project up for success. This is because a master plan allows more potential for improved project management and cost savings.

By breaking down all the work that needs to be completed, homeowners can avoid having to rent living space for the duration of the remodel. Designers and contractors are also more equipped to collaborate on the project to create plans that prevent costly mistakes, delays, and accidents.
Master Planning Reduces Construction Errors
Sometimes whole home remodels are done hastily so that mistakes are inevitable. By taking a more measured, well-planned approach, clients and contractors can avoid mistakes that require additional work and money.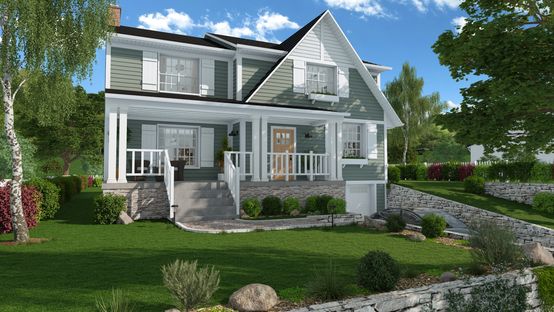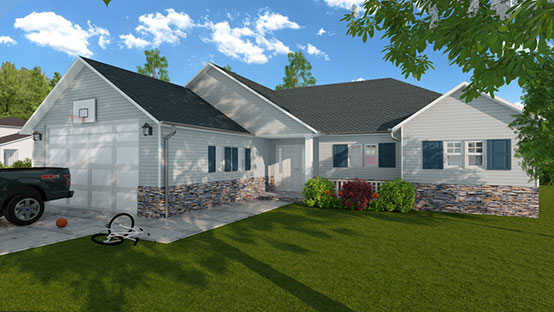 Master Planning Process
The level of specificity of a master plan will dictate the success of the overall project. For that reason, it's important to dedicate time to the planning phase.

In the planning phase, be sure to discuss and determine the following:
Goals and objectives
Budget
Timeline
Design, style, and overall look
Spaces to be remodeled
Once the client and contractor understand and agree on the above elements, it's time to begin master planning.

First, begin by breaking the work into phases. This might take multiple attempts to find the optimal solution. Some tips for this process are outlined below:
Organize large tasks to be completed by the same subcontractor in a single job. Electrical work and plumping, for example, can be performed on multiple spaces in the same phase. This will save the client time and money.
Consider the livability of the space during construction. In a master plan remodel, clients often continue living in the home during construction. Since construction can last for multiple years, contractors can improve client satisfaction rates by ensuring their comfort for the duration of the project.
Provide comprehensive design plans, including layouts, blueprints, 3D floor plans, and photorealistic visualizations of the completed project. When you use Cedreo, you can complete designs and drawings of master plan remodels in under two hours.
Master Planning: Phase One
Phase one of your master plan should include a framework of plans to ensure the project is completed as efficiently as possible. This stage addresses the overarching structure of the project, including the number of phases, a brief description of the work to be completed in each phase, and a general time estimate for completion.
Master Planning: Consecutive Phases
The phases that follow the initial planning phase will vary based on the scope of the project. This will be determined in phase one, but typically it involves grouping major work to be performed in a single space or by a single subcontractor, to limit costs and save time.

In one phase of a basement remodel, for example, the contractor could complete the demolishing, electrical, and plumbing. The following phase could include foundation and framing. The final phase could include finishes, fixtures, and decor.




Create a Master Plan with Cedreo
Yes, creating a master plan creates significant value for both general contractors and their clients. But outsourcing master plans and layouts to architectural and design professionals is expensive and time-consuming.

General contractors can use Cedreo to design breathtaking, precise, and accurate layouts for renovation projects in-house.

Cedreo provides features and functionality to create construction-ready drawings while also providing the ability to conjure impressive 3D renderings that will set your team up for success.
Cedreo is the 3D design software that helps contractors improve client relations, increase sales, and establish a professional reputation. Sign up to start using the free version of Cedreo today.