Solar panel architecture may sound bland, unattractive, or bizarre, but it's actually a growing movement in home design.

According to research conducted by the Building Energy Research Group at the University of Wyoming, solar panel designs are attractive to prospective homeowners. The same homeowners were also willing to pay a premium for well-designed solar panels.

As more homeowners opt for green energy solutions in their homes, general contractors who provide ways to make those solutions aesthetically pleasing will be able to impress clients and land more sales.

In this article, we'll explore the different ways designers and builders are making homes eco-friendly and visually pleasing. If you're ready to add solar architecture to your list of services, keep reading.




What is Solar Architecture?
Solar architecture is a field in which architects specialize in the aesthetic implementation of solar energy technology into buildings. Solar architects are focused on innovatively harvesting sustainable energy with the structures they design.

These initiatives are frequently used in combination with other energy-efficient building practices to create environmentally friendly buildings such as Zero Energy Ready Homes.

They can also be used during remodeling projects or to replace, adapt, or retrofit existing multi-family housing structures that currently make use of unsustainable energy sources.

Solar panel architecture can be used in the following applications:
Residential spaces like homes and apartment buildings
Commercial spaces like malls and office buildings
Community spaces like schools and activity centers
Farms and agricultural buildings
Building owners who invest in solar panel design can benefit from lower energy costs and a reduced carbon footprint without sacrificing the aesthetics of the project.




Obstacles to Making Solar Architecture the Standard
Solar architecture has the potential to significantly reduce carbon footprints as well as energy bills. So, what's preventing it from becoming a standard practice?
Aesthetic Appeal
Aesthetic appeal is a major reason why homeowners reject solar panels as a source of energy for their homes. But, according to some of the leading sustainable architects in the country, this problem is not inherent to the product. It is, in part, a failure of design.

One of the primary concerns solar architects aim to address is aesthetics. They use their design skills to create buildings that either disguise solar technology or highlight it in a visually appealing way.
Home Value
A common misconception is that adding solar technology to a home could decrease its overall resale value. It's important to remember that resale value is dimensional and relies on a variety of factors. As public perception of the value of home solar systems improves, it's more likely these systems will be considered an asset.
Costs
For many homeowners, the upfront cost of installing solar panels seems inaccessible. This is a problem that is gradually resolving itself, as the cost of solar technology has been falling consistently.

U.S. homeowners who invest in solar can also look to a wide range of programs intended to make solar energy more affordable. Not only can installing solar panels at your place of residence help reduce energy bills, but homeowners can also qualify for tax credits, installation incentives, and utility rebates.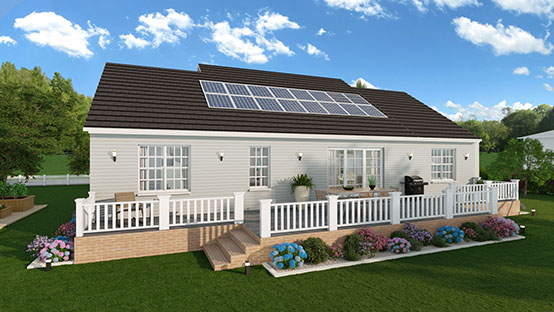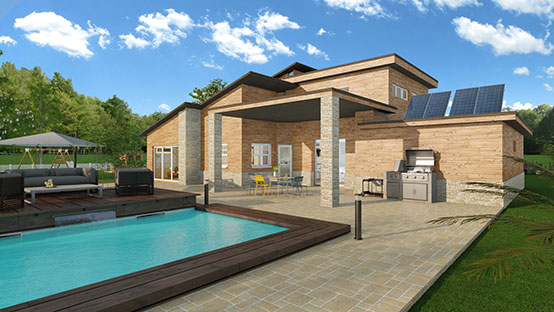 Solar Panel Design Ideas
Just because a customer asks for an eco-friendly home design, doesn't mean they want to sacrifice aesthetics. Here are some ideas for visually pleasing solar panel design.
Mounted Panels
Mounted solar panels are the most common type of solar panel. They are affordable, easy to work with, and can be purchased from most solar retailers. Homeowners who want to limit the amount of construction performed on their roofs can opt for this option.

Their popularity means that repairing and updating mounted panel systems is simple and straightforward, so homeowners won't need to search for a specialist repair person. It also means these panels are compatible with many of the common systems on the market. Overall, this option is a safe and accessible choice.
Solar Shingles
Solar shingles are an attractive emerging technology that many eco-friendly homeowners are excited about. While they are not capable of generating the same level of power as mounted panels, solar shingles are considerably more discreet. This makes them a great option for customers looking for a solar design that blends into the rest of their homes.

One important note: some states and jurisdictions have restrictions on shingles to prevent potential damage due to added weight. As a general contractor, it's your responsibility to ensure that solar shingles are compatible with local building codes and state regulations.
Photovoltaic Slates
Instead of replacing shingles with solar alternatives, photovoltaic slates can be placed above a customer's existing roof. This minimizes the cost of roof construction and could even decrease the amount of roof maintenance needed over time.

Photovoltaic slates can also be installed on roofs during the construction of new builds. They are versatile in terms of style, color, and design, making them a great option for those looking to enhance the aesthetic appeal of their homes.

Not only can photovoltaic slates decrease roof maintenance costs, but the slates themselves are also low maintenance. They have few parts, which limits the potential of damage.
Solar Canopies
Customers looking for solar solutions that don't require roof installation can consider solar canopies. These are affordable and easy to install, making them an ideal solution for budget-conscious homeowners or those who have never used solar before.

Solar canopies can be installed over decks, balconies, patios, sheds, or garages. They are ideal solutions for electric cars, as custom-designed carports with solar canopies can produce enough energy to power an EV.




Create Aesthetically Pleasing Solar Architecture Designs in Cedreo
Whether your customers are looking for solar architecture or you want to sell more environmentally-conscious projects, it all begins with a flawless design.

In Cedreo, general contractors can create 2D layouts, blueprints, and 3D photorealistic renderings of a solar design project in under two hours.

Outsourcing project layouts to architectural and design professionals is expensive and time-consuming. By designing breathtaking, precise, and accurate plans for solar projects in-house, home-building professionals can improve client relationships and land more sales.
Cedreo is the 3D design software that helps general contractors improve client relations, increase sales, and establish a professional reputation. Sign up to start using the free version of Cedreo today.