Staircases are notoriously difficult to design. There are just so many factors to consider — tread width, riser height, number of steps, handrail design, headroom, etc.
That's why an easy-to-use staircase visualizer really comes in handy.
A 3D staircase designer, like Cedreo, saves you loads of time and hassle and helps you get your stair designs right every single time.
Want to see how easy it is to use staircase visualizer software and then get some ideas for staircases you can design?
In this 5-minute read, we'll show you all that and more.
The Value of a Staircase Visualization Software
Staircases are an important part of any home design. They're a high-traffic area that needs to be easy to access, safe to use, and visually appealing.
And it's important that you design them correctly the first time. If you make a mistake and need to change the staircase design once the house is already under construction, you'll likely need to make major structural changes that cost a lot of money.
So be sure to use a program like Cedreo to create your staircase plan. Then download a high-definition 3D visual of the staircase to help your clients visualize the final design.
Here's how to use the staircase designer in Cedreo.
Step #1 – Start by drawing or importing your floor plan.
Step #2 – Head to the Layout step for the 1st floor.
Step #3 – Use walls or hidden walls to trace the staircase location.
Step #4 – Select the "Under Stairs" room type.
Step #5 – Head to the 2nd floor and add walls that match the stairwell opening from the first floor. (The magnetism tool makes this really easy!)
Step #6 – Select the "Hopper" room type.
At this point, you have an opening for your staircase.
Step #7 – Head to the Furnishings step and select Stairs in the left panel.
Step #8 – Drag your desired type of stairs onto the floor plan.
Step #9 – Position and adjust the size as needed to fit the opening.
Step #10 – Finalize the materials for the staircase and flooring underneath it.
Once you've installed the staircase in your 3D home model, visualizing how it will look in real life is easy.
Head to the HD Visual tab.
Adjust the lighting options as needed.
Request a photorealistic visualization.
In 5 minutes it will be ready to view!
Want to see some examples of staircases you can design with Cedreo staircase visualizer software? Check out the next section.
3D Stair Design Examples
Check out these examples of staircases you can design and visualize in Cedreo. With each type of design, you've got the freedom to customize the size and materials of the steps, risers, balusters, handrails, and stringers.
Straight Staircase with Risers
A simple, straight flight of steps.
L-Shape (or Quarter Turn) with Landing
Stairs with a landing and a 90-degree turn.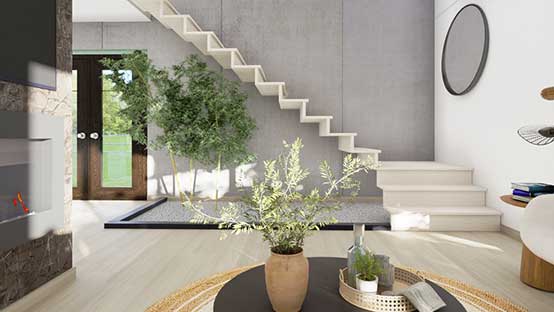 Winder
These stairs also have a 90-degree turn, but instead of a landing, there are several triangle-shaped steps that make the turn.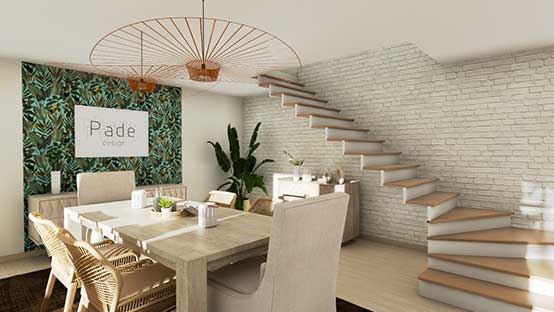 U-Shape (or Half Turn)
A set of stairs with a landing and a 180-degree turn.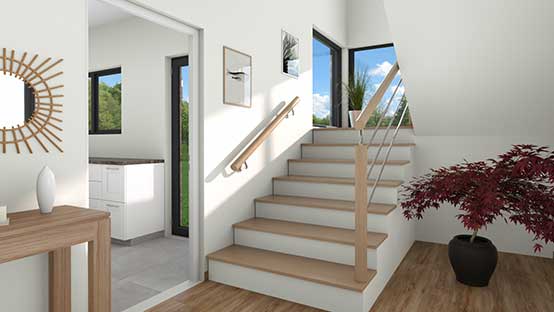 Spiral Staircase
Popular in homes that lack the space for a normal staircase.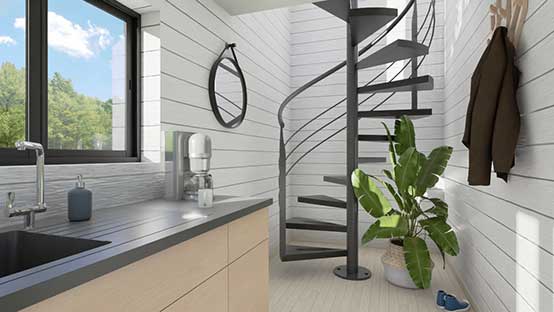 Exterior L-Shaped Modern Staircase
With metal and cable handrails, these would make a nice addition to a modern outdoor deck area.
Simplify Staircase Design With Cedreo
Ready to design your staircase? Then sign up for Cedreo's FREE version to get started right now.
Create multi-level home designs complete with staircases in as little as 2 hours
Add complicated staircase designs to your home plans in just a few clicks
Get professional 3D staircase visualizations to impress potential clients and sell your building or remodeling projects
Start using Cedreo today to see how it saves you time and helps you close more deals!