Technology in architecture has advanced rapidly in recent years. While some architects and home builders still prefer to work with CAD software, newer technology lets users create 2D floor plans, 3D designs, and 3D renderings in minutes.

Architects and home builders are using technology to work faster, streamline communication, and give clients virtual tours. In this post, we'll take a closer look at the benefits of technology in architecture, architectural technology trends, and how today's most successful architects and home builders are using technology to close more deals.




Benefits of tech in architecture
Technology has played a significant role in supporting and strengthening architectural designs. Here are three primary benefits of technology in architecture:
Improve communication
With the right technology, you can effectively communicate your vision. Technology like 3D rendering software and virtual reality software can help clients understand what to expect from a completed project, reducing the risk of miscommunication.
Manage costs
Technology in architecture can reduce the cost of executing projects. With 3D renderings, clients can see what they might want to change before construction begins, and architects can update the 3D plans in real time.

For large-scale commercial projects, drones can collect preliminary build site data, eliminating the need to hire land surveyors.
Support collaboration
Cloud-based design and rendering software improves collaboration for every team member involved in a project. It allows architects, designers, and engineers to work effectively as a team from wherever they are and store their work securely.




5 technologies changing architectural design
Here are five technologies changing architectural designs:
3D printing
One key technology in architecture is 3D printing, in which designers and architects use a 3D printer and a CAD program to create physical models.. 3D printing is faster than model creation by hand, and you can easily customize and update existing 3D models to your desired specification.
BIM software
Building information modeling (BIM) software helps in creating intelligent 3D building models. It is also essential in streamlining building plans, enabling all parties involved in the building project to work effectively.
Virtual reality
Designers and architects can use virtual reality (VR) from the early conception stage to the finishing stage of a building. With VR headsets and a smartphone, clients can get a 360-degree view of building designs. The technology isn't intuitive for architects, however, so VR may not be a viable technology unless it becomes easier to use.
Drones
Drones make it possible to quickly obtain aerial images of building sites. Architects can use drones to create accurate 3D models of site and terrain and monitor construction..
Photorealistic renderings
Photorealistic rendering is not a new technology, but it becomes more sophisticated every day. Software platforms with 3D rendering capabilities routinely expand their library of 3D furnishings and objects and add new features that let users work even faster.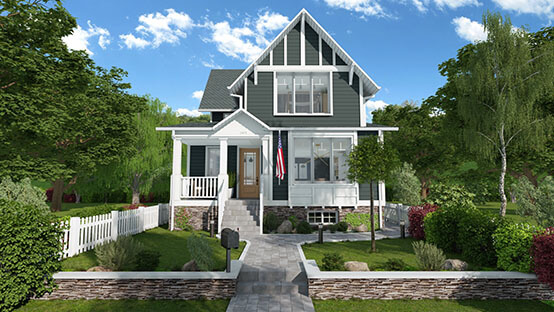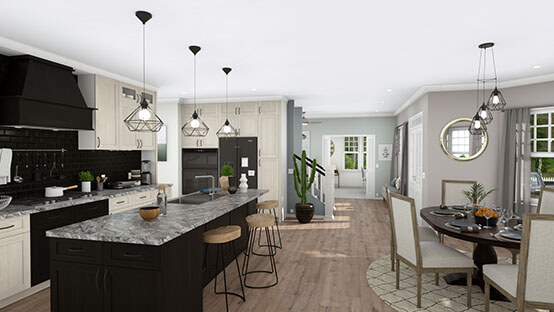 The Best Technology for Architects, Home Builders, and Designers
When considering new technology in architecture, cost may be a concern. With the right platform, however, you don't need several different tools to enhance your workflow and close more deals.

Cedreo is a single solution for designing feature-rich 3D rooms and homes, storing and managing designs, and collaborating with colleagues and stakeholders. Take a look at the technology included in our platform:
3D renderings
Cedreo generates 3D renderings in just a few minutes — without the need for complicated CAD software. With Cedreo, you can see your 3D plans take shape as you draw in 2D We also a suite of features that help you customize your designs, quickly and easily:
With Cedreo, you can change the orientation and position of the sun to create a more realistic view of your 3D home design.
Interior and exterior lighting
Show clients how their home will look in the evening by adding exterior and interior lighting.
Choose individual pieces of decor or coordinated pieces to furnish the 3D home design. You can also choose all of the materials for the home, including flooring, wall coverings, window styles, landscaping, and more.
Adding a roof takes no time at all — just click the automatic roof feature to add your roof.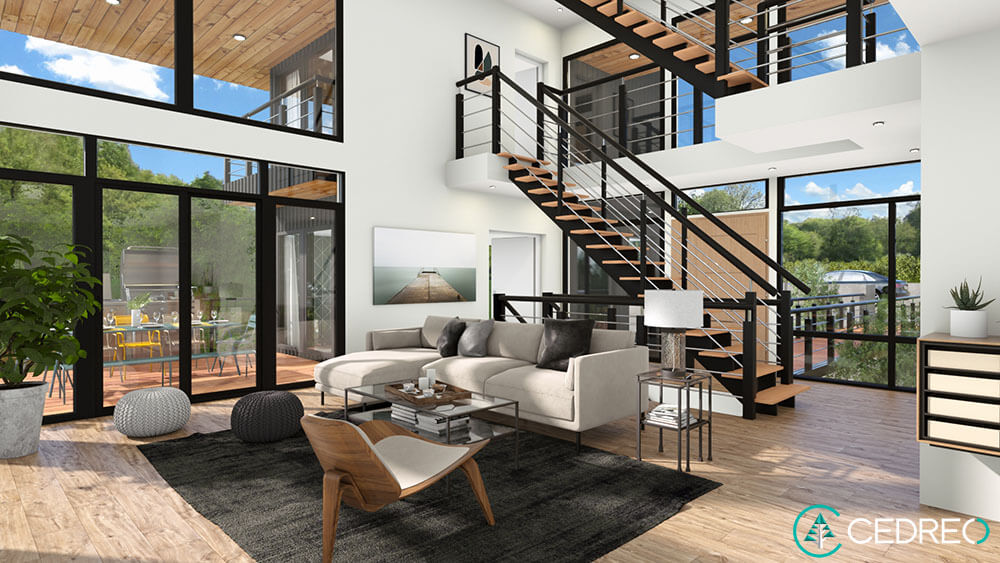 Efficient workflow
Cedreo enables all team members in a project to work effectively, and it makes workflow more efficient through the following features:
You can save your 2D plans and 3D models as templates in Cedreo and reuse them for future projects.
You can make client revisions on the spot and show clients the updated design.
Cedreo Enterprise users can share designs within the platform and simultaneously work on the same design.
Cedreo is a flexible solution with complete scalability — pay only for the licenses you need now, and add more when you need them. You can make that change from your account dashboard.
Outstanding support
Cedreo has an outstanding support system that helps users navigate around the software and better understand its functions through the following ways:
The Cedreo tutorial library serves as a guide for beginners to learn about the various functions of the Cedreo software.
You can contact Cedreo's customer support team via phone, email, or chat.
Looking for a custom item to finish your 3D home design? Submit a feature request! We may be able to create it for you.




Try Cedreo today!
Technology in architecture doesn't need to be complicated — try Cedreo today and see how easy it is to create stunning designs in a fraction of the time!

Start your free trial now!