Looking for a SmartDraw Alternative?
Switch to Cedreo, the #1 SmartDraw alternative for floor plans and home design. Say goodbye to glitchy and outdated software and start using a design program that doesn't limit you to simple 2D floor plans. Land more clients and close more deals with Cedreo's impressive 3D designs.

Join the thousands of other builders, remodelers, and interior designers who've made the switch to Cedreo. Are you ready to take your business to the next level?
Why Professional Builders and Designers Switch to Cedreo
Feeling frustrated with rudimentary SmartDraw alternatives, or overwhelmed by complicated CAD programs? Cedreo offers the perfect balance: a simple user interface with powerful design features. Read on to learn more about why contractors, architects, and designers are making the switch to Cedreo.
Cedreo Does More Than Just 2D Plans
Unlike SmartDraw, Cedreo gives you the power to instantly create and view 3D floor plans as you draw in 2D. This unique feature helps you and your clients visualize the space and make faster design decisions. Then, turn your design into photorealistic 3D renderings. Cedreo's renderings show realistic details like textures, reflections, and shadows based on natural and artificial light. And since Cedreo is cloud-based, our servers process the 3D imaging so you can get your renderings in 5 minutes or less.
"The 3D renderings that came out from the software were phenomenal!" – Steven R.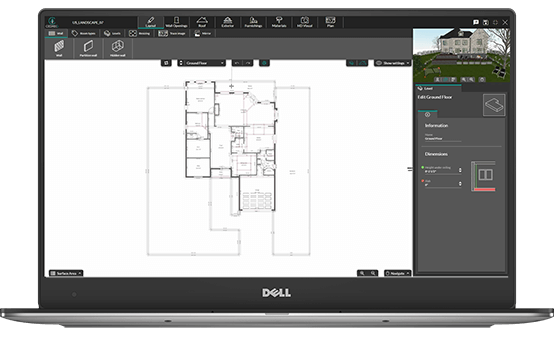 Cedreo's Features Are Both Powerful and User-Friendly
Compared with most drawing software, Cedreo's features are intuitive and simple to use. The Cedreo workspace is easy to navigate for beginners, but still filled with features for advanced users. If you're switching from a 2D program like SmartDraw, don't be intimidated by Cedreo's 3D drawing tools. Even with no 3D design experience, you can progress from simple 2D floor plans to 3D renderings of an entire home in just a few hours.
"It is so easy to use! Everything is intuitive and anyone can use the software even without watching the tutorial videos." – Darius
Cedreo Offers Personalized Support Every Step of the Way
You don't have time for SmartDraw alternatives that make you wait for a reply to your support request. At Cedreo, we do everything we can to help you succeed — from a free one-on-one training session, to assigning a dedicated Success Manager you can contact by phone, chat, or email. Anytime you've got a question, we'll work quickly to provide the answers you need to keep your project moving forward.
"It is very user friendly and my customer success manager is always willing to help. They take feedback well and strive to accommodate your needs." – Kevin S.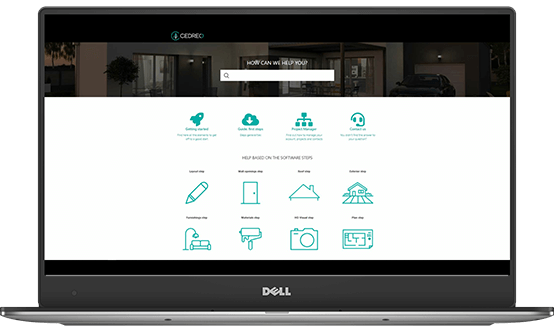 CEDREO HELPS YOU CLOSE SALES 2X AS FAST
Finally, a SmartDraw alternative that's designed to help you win over clients faster than ever.
Cedreo Helps You Stand Out as a Professional
Cedreo's unique combination of features helps you improve the overall customer experience — from initial conversations to the last day of the project. Earn clients' trust with a combination of 2D and 3D plans that show them exactly what you're proposing. Avoid miscommunication by helping clients visualize design options from a variety of viewpoints. And if your client requests changes, quickly make edits in the field with a laptop and Wi-Fi connection and instantly show your clients the updated 3D plans.
"Cedreo helped us increase the output of renderings, decreasing overall costs of labor per customer." – Sebastjan S.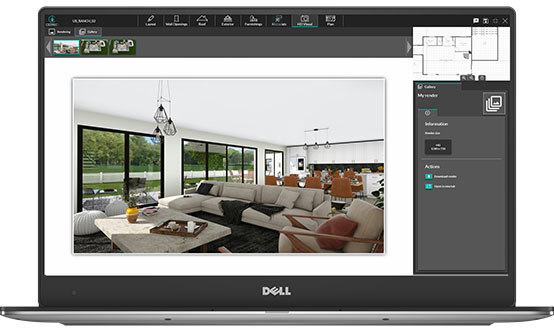 Cedreo Gives You Streamlined Collaboration and Sharing
Unlike desktop-based SmartDraw alternatives, Cedreo's 100% cloud-based software doesn't limit you and your team to your office computers. Choose the enterprise plan so your team of architects, designers, and builders can view and collaborate on projects wherever they have a laptop and an internet connection. And when it's time to share your ideas, it's easy to download the plans and renderings in PDF, JPG, or PNG formats for hassle-free sharing with clients.
"This software is easy to use and gives me the ability to let our customers see the finished product of their home before it's built. Many customers have a hard time visualizing typical construction plans, but the 3D view lets our customers get a true feeling of the finished product they will be getting. There are many customizable furniture and household items to give the 3D views a very professional outcome." – Gail B.
Cedreo Is Right For You If…
You are frustrated with glitchy 2D floor plan software that limits your creativity.
If you're a contractor, remodeler, or designer who is tired of being held back by 2D plans, outdated interfaces, and constant software bugs, skip the hassle and expand your capabilities with Cedreo. Imagine completing your next project in record time with intuitive tools, fast cloud processing, and easy-to-create 3D renderings.
You want a program that helps you grow your business.
Don't lose any more clients because of dull and hard-to-understand project presentations. Switch to Cedreo, your one-stop shop for creating professional designs and stunning 3D presentations that wow potential clients. Achieve this with one easy-to-use platform that reduces your design time, so you can spend more time focusing on your business.
You need a time-saving design program that works for all your projects.
Feeling limited by the functionality of SmartDraw and other alternatives? Whether your next project is a bathroom remodel, hardscape patio, or new home construction, Cedreo is up to the task. You can even import and export plans as templates to save loads of time on future projects. Cedreo truly is the top SmartDraw alternative that helps accelerate your productivity and reduce costs on virtually any home project.
Don't Take Our Word For It
Thousands of users trust Cedreo as their SmartDraw alternative. They love its advanced 3D imaging, user-friendly interface, and world-class support. That's why we get incredible reviews like these:
"Cedreo's library of furniture, decor and covers is constantly growing. If something is missing that I need I let my CS Manager know and they work on creating it."
– Josh T.
"Cedreo is a very user-friendly platform with exceptional features. I would highly recommend for any Construction and/or Interior and Architectural Design Firms."
– Sheree R.
"Easy to learn, fast to use. I like the combination of 2D and 3D views and the ease of switching between the two."
– Tom S.
"The customer service has been amazing when I've had to reach out"
– Frankie S.
Try the Best SmartDraw Alternative Today
Join the growing number of construction, remodeling, and design professionals who are already expanding their businesses, thanks to Cedreo. When you compare Cedreo to other SmartDraw alternatives, the best choice is obvious. No other software offers the unique combination of powerful tools and advanced 3D imaging in such a user-friendly package. Switch today and see the difference Cedreo makes on your next project.