Outdoor Patio Floor Plans
With Cedreo's patio planner, you can quickly create professional 2D and 3D patio floor plans to help clients visualize their dream outdoor space.


Create Professional Outdoor Patio Floor Plans in Minutes


View Patio Design in 3D simultaneously while drawing in 2D


Generate photorealistic 3D renderings in 5 minutes or less
6 Steps to Design Professional Patio Layouts
Don't let Cedreo's simple interface fool you — this software is powerful and fully capable of creating detailed, breathtaking patio floor plans in just minutes. Here's how you can put Cedreo to work for you in six simple steps: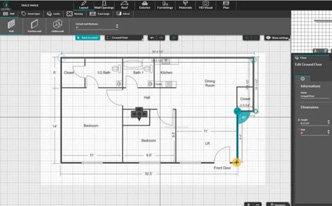 1. Draw or import patio layout
If you're starting from scratch, Cedreo gives you a blank canvas on which to draw your brand-new patio floor plan. But if you have an existing blueprint or floor plan and you want to add a patio, you can quickly import the plan and draw on top of it.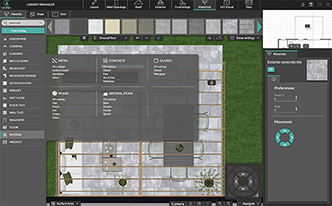 2. Select patio materials
Once you have the basic plan imported or drawn, you will want to select the materials for your patio. With Cedreo, you'll be given a wide range to choose from, which will help you achieve the ideal construction plan and design to fit into your patio build.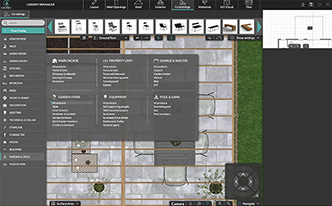 3. Add objects and decor
With the layout of your patio nailed down, your next goal is to make the space into an outdoor oasis. You can do that easily in Cedreo by adding plants, patio furniture and thousands of other customizable furnishings from Cedreo's object library.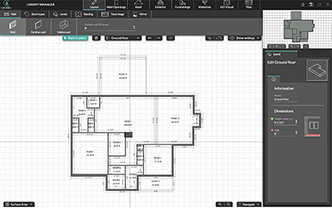 4. Instantly view plans in 3D
With Cedreo, there's no wait time or extra cost when you want to see your 2D backyard patio floor plans in 3D. That's because it's already in 3D, updating constantly in another window as you draw. Take a look at your 3D patio plan any time you like.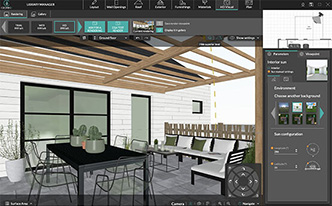 5. Create a lifelike rendering
Cedreo doesn't stop at floor plans, you can take your design a huge step further by generating a photorealistic rendering in Cedreo. It takes just minutes and leaves you with a detailed and tourable 3D rendering that's sure to turn heads.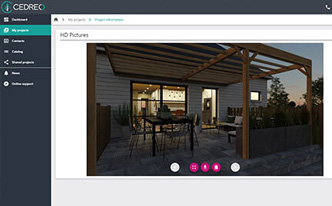 6. Export and share your plan
You won't wow anyone with your outdoor patio floor plan until you actually show it to them! Cedreo makes that easy, too. Simply export the plan as a downloadable file and send it or present it how you see fit.
Outdoor Patio Floor Plan Examples
See the magic of Cedreo in action with the examples below. These patio plans run the gamut of what you can do in Cedreo, from detailed 2D floor plans to fully furnished 3D floor plans and renderings.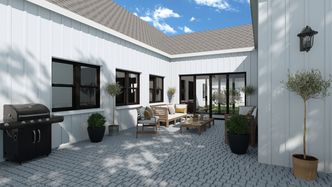 Backyard Patio
Large Outdoor Patio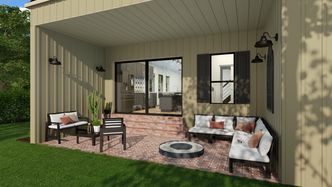 Small Outdoor Patio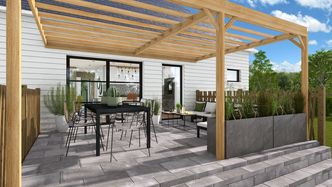 Patio with Pergola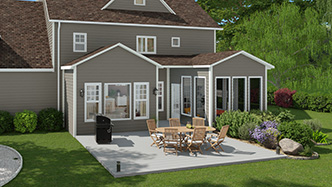 Outdoor Patio with Dining Set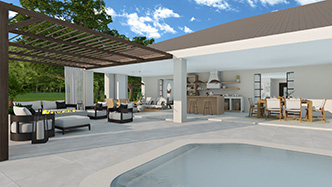 Outdoor Patio with Pool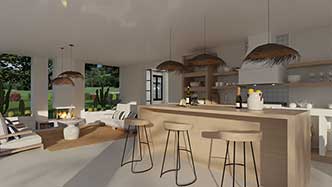 Outdoor Patio with Outdoor Kitchen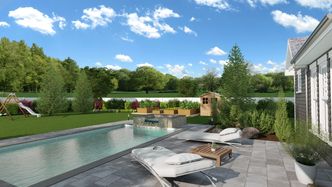 Outdoor Patio with Landscaping
Outdoor Patio Floor Plan FAQs
Designing the perfect outdoor patio floor plan is easier than you might think. With the right tools, you can create plans easily. Even so, you might have some questions about the design process. To help you along the way, here are a few frequently asked questions and answers.
How Much Does an Outdoor Patio Cost?
While it might not be as costly as a home addition, outdoor patios still require a considerable budget. On average, you can expect to spend $5,000. Using cost estimation software can help you better understand your project budget even before you start buying materials.
What Are Some Benefits of an Outdoor Patio?
One of the big benefits of an outdoor patio is the curb appeal of this type of project. These kinds of renovations are sure to wow a potential buyer. Also, if you don't intend to sell, the benefits of being outside on your health are well documented.
Should You Add an Outdoor Kitchen?
Outdoor kitchens might seem like a luxury, but, in reality, you can add this kind of feature without breaking your budget. Whether it's just a bar area or a full-fledged kitchen, you'll be sure to enjoy outdoor cooking when summer hits.
Which Outdoor Patio Design Software Is the Best?
You'll certainly find several different types of design software on the market. Most will offer different features and cater to different skill levels. If you're searching for comprehensive software built for everyone, from professional contractors to DIYers, consider Cedreo