The architecture software scene was long dominated by Windows. But these days, there are plenty of options for die-hard Mac users — whether they're looking for user-friendly 3D design software or a BIM platform with all the technical bells and whistles.

In this article, we'll go over some key things that Mac users should consider when searching for architecture design software, and look at 9 of the best tools in the game — with options for home builders, CAD pros, beginners, and everyone in between.
How to Choose the Best Architect Software for Mac
While there may be other variables that will influence this decision, here are some of the most important factors to consider when choosing architecture software for your business.

Ease of use
Ease of use is a big one. See, architecture software runs the gamut from the basic to the super advanced.

On one end of the spectrum, you'll find drag-and-drop applications that feel more like a children's game than a tool for professional architects. On the other, there are advanced CAD/BIM platforms that may require some formal training (and a lot of time) to learn.

Ultimately, you'll want to find something that makes your life easier. So, you'll want to weigh your technical experience against your goals for this investment, as well as what you can realistically expect your team to learn within a reasonable timeframe.

Cost
Figuring out how much you're willing and able to spend on a new solution as early as possible can prevent you from wasting time evaluating options that are too expensive and overpowered — as well as those that don't offer the robust feature suite you need to achieve your business goals.

Feature set
Before you kick off your search, make a list of the features/capabilities you're looking for.

For starters, ask yourself if you'll need a complete CAD solution or 3D design software? CAD software caters to the needs of professional architects, engineers, and industrial designers — these programs often include a number of 3D design tools but the real selling point is the emphasis on technical documentation, planning, and modeling.

3D design software, on the other hand, focuses primarily on the creative aspects of home design. Think — floor plans, 3D renderings, virtual tours, etc.

Some users may opt for both. CAD software is often quite complex and requires a lot of computing power. Meaning, it's not always the most practical solution to bring to site visits or client meetings. 3D home design software like Cedreo allows architects to update designs in real-time, confirm changes, and get the approvals needed to move forward with a project. Additionally, architects can use the platform as a sales tool — to win proposals, promote the business on social media, or showcase their work on their website.

Cloud-based
Cloud-native apps have become standard fare — across all industries and business functions — for a couple key reasons. For one, business, in general, has become much more data-driven in recent years and cloud-based software is better equipped to provide real-time insights than its on-prem counterparts.

Cloud-based tools also support real-time data syncing— ensuring that everyone involved in a project is working with the latest insights and the most recent version of each project.

It's worth noting that not all of the "best" architecture apps for Mac are cloud-based. Many CAD and BIM platforms are available as a one-time download, in part, because they require so much processing power and storage.

These solutions work well for supporting the deep work performed by architects, engineers, and designers – but they're not ideal for collaborating with various stakeholders, making minor changes to a project, or anything else that requires access to up-to-the-moment data and communications records.

If you end up with on-premises architect design software for Mac, you might also look into a cloud-based 3D design platform to fill in the functionality gaps that come with the territory.

Collaboration
The next thing you'll want to consider is what kind of collaboration capabilities you'll need. Is it easy to share files with colleagues, clients, and other stakeholders? Are there built-in search capabilities, automated approval flows, or version controls? What about mobile support? Data syncing?

Support
Finally, you'll want to find out what kind of support prospective vendors have to offer. While this may seem like something of an afterthought, support is a big deal, particularly if you're looking at some of the more complex options on our list. As you start evaluating options, make sure you check out the platform's self-service options – i.e. do they have a comprehensive knowledge base, video tutorials, or a community forum? What about live support? Does the company provide live training? What kind of support do they offer during onboarding? Or if you run into trouble some time down the line?
9 Best Architecture Software for Mac in 2022
The Cedreo team has reviewed a long list of architect software for Mac and put together a list of the best options on the market. Below, we'll take a closer look at our top picks, their features, benefits, pricing, and target audience.
1. Cedreo
Best for: Architects, home builders, remodelers, contractors, real estate professionals.

Overview: Cedreo is a 3D home design platform that allows users to create a complete design project in under two hours. Designers gain access to a suite of intuitive tools — including 2D and 3D floor plans, photorealistic 3D renderings, a 3D catalog with thousands of surfaces, materials, and objects, and more.

Cedreo's cloud-based platform makes it easy to put together sales presentations and proposals and instantly share them with stakeholders (as well as on their website and social accounts) – without leaving the platform. Altogether, the platform's features help architects and designers shorten the sales cycle, win new business, and collaborate with clients in real time.

Best of all, the platform is easy to learn. Meaning beginners and trained CAD pros alike can quickly start leveraging the benefits of Cedreo to lock down big wins for their business and bottom line.

Key features:
Create virtual presentations and proposals
Collaborate with clients and colleagues directly from the app
Save reusable design templates
Access a comprehensive 3D library with 3500+ building materials, 3000+ objects, and pre-defined product packs
1:1 training sessions and phone support
Price: Cedreo offers a range of plans that cater to every budget – from free to enterprise. You can check out our pricing and plans here, or sign up for a free account.
2. Archicad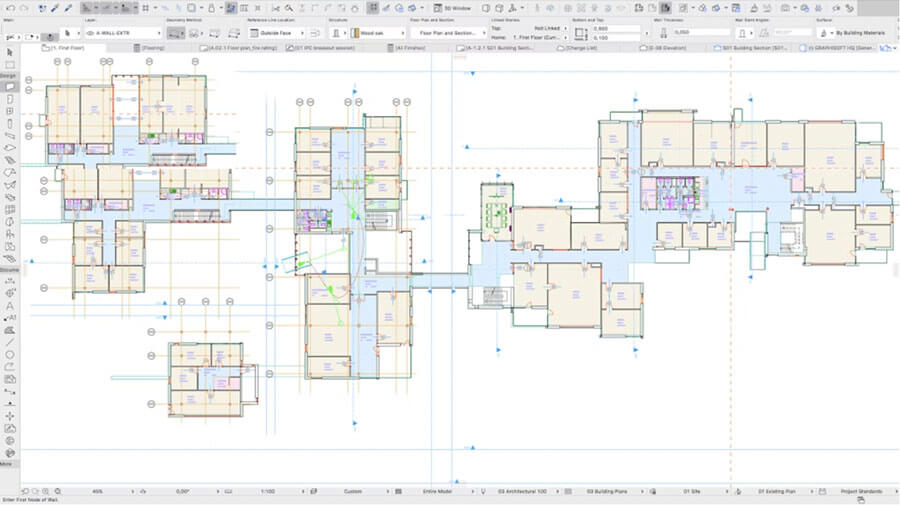 Best for: Architects, remodelers, builders, contractors.

Overview: Archicad is among the best CAD software for Mac. It's a 3D BIM solution designed to help architects generate high-quality designs, collaborate with clients, engineers, and other stakeholders, and embrace a more data-driven approach.

Inside, you'll find a long list of design tools – 3D rendering, 2D floor plan design, 3D modeling, an impressive catalog of objects and materials, and so on.

Additionally, Archicad makes it easy to create accurate BIM documentation that complies with regulatory requirements and project specifications. Users can set up automated workflows, define version controls, and ensure real-time data syncing across all docs and connected apps.

That said, Archicad is an advanced piece of software that comes with a serious learning curve. It's worth considering whether these features will help you on the job or prevent you from making the most of your investment.

Key features:
Freeform modeling
2D floor plans
Photorealistic rendering
3D documentation
Algorithm-based design
Automated workflows
Price: You'll need to reach out to the company for pricing, but Archicad is offered through a variety of licensing models. You can subscribe on a monthly basis, rent the software for a predefined period, or pay for a perpetual license. Additionally, users can sign up for a 30-day free trial license.
3. AutoCAD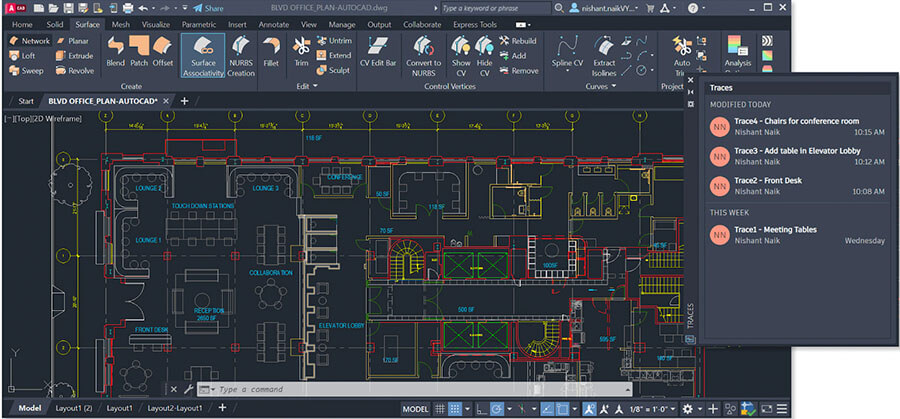 Best for: Architects, designers, and contractors.

Overview: AutoCAD is an architecture platform, designed by Autodesk. The platform provides a specialized suite of tools that aim to help architectural professionals work more efficiently – while maintaining the level of quality and precision the job demands.

AutoCAD boasts an impressive range of capabilities. Users can create realistic 3D models, compare different versions of a project, and automatically generate dimensions, markups, and centerlines.

The only real downsides of this platform are that it may be too expensive and/or advanced for many users, and that it requires a lot of computing power. AutoCAD was built for professional architects with existing CAD experience and top-tier tools – i.e. access to newer Macs and plenty of processing power, storage, and RAM.

Key features:
3D modeling and visualization
2D drawing and drafting
Annotation
Collaboration tools
3D rendering
Project insights
Version control
Integration with other CAD programs
Price: Users can choose from a few different pricing options. You can pay $185 per month, $1470 per year, $2940 for two years, or $4410 for three years.
4. Chief Architect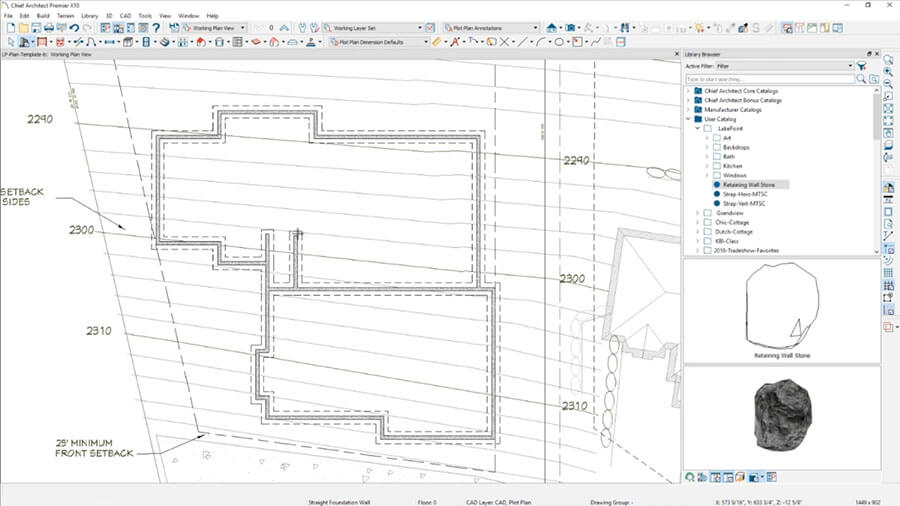 Best for: Home builders, remodelers, contractors, landscape designers, and architects.

Overview: Chief Architect is a popular home design platform, available on both PC and Mac. Users gain access to a powerful suite of features – including automated building tools, landscape design tools, and the ability to design floor plans and 360-degree panoramic renderings in one user-friendly interface.

The platform is explicitly designed for residential design and makes it easy to generate construction documents, floor plans, elevations, roofs, dimensions, and more.

While Chief Architect is designed to be "intuitive," it's important to understand that there's still a significant learning curve, particularly for professionals with minimal technical experience. Some reviewers complained that certain tasks took more steps or clicks than necessary. Overall, people tend to like this platform, it's just that it takes some getting used to. It's worth taking the free trial for a spin before making any big commitments.

Key features:
Floor plan design
Photorealistic 3D renderings
CAD capabilities
Built-in templates
Virtual tours
Landscape design tools
Custom backdrops
Price: Chief Architect users can choose to purchase a lifetime license for $2965.50 or subscribe to the software for $195 per month.
5. CorelCAD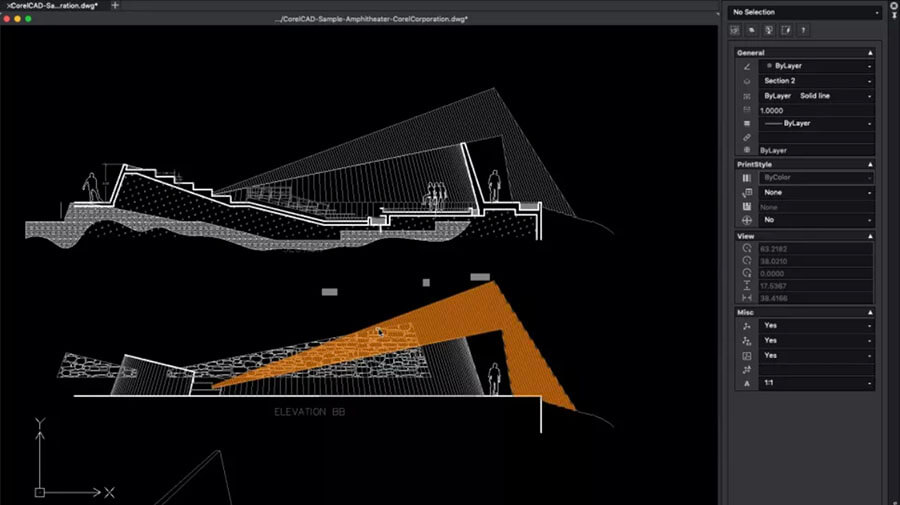 Best for: Architects, engineers, manufacturers, construction professionals

Overview: CorelCAD is a CAD platform that comes loaded with 2D and 3D design and drafting tools, productivity features, annotation and collaboration tools, and more.

The platform is positioned as an affordable CAD solution, packed with industry-standard capabilities. Some reviewers mention that it's a solid replacement for more expensive CAD platforms like AutoCAD and Archicad – as it comes with many overlapping features, but it's offered at a much lower price point ($699 for a one-time license).

Users can design in 2D and generate 3D models within a matter of clicks, create customizable dynamic blocks, and even print designs from a 3D printer. The platform also includes productivity and collaboration tools that make it easier to edit projects, share ideas with stakeholders, and document changes.

Ultimately, though, CorelCAD isn't the most user-friendly platform and you'll need some CAD experience under your belt to get the most out of the software. It's best suited for architects, engineers, and industrial designers who need a solution for creating technical documentation and 3d-printed models.

Key features:
2D drafting
3D design tools
3D printing
Collaboration and sharing
Automated workflows
Native .DWG and .STL support
Price: The full version of CorelCAD is available for $699, upgrades are $199. Additionally, there's a downloadable free trial for Mac and PC.
6. DraftSight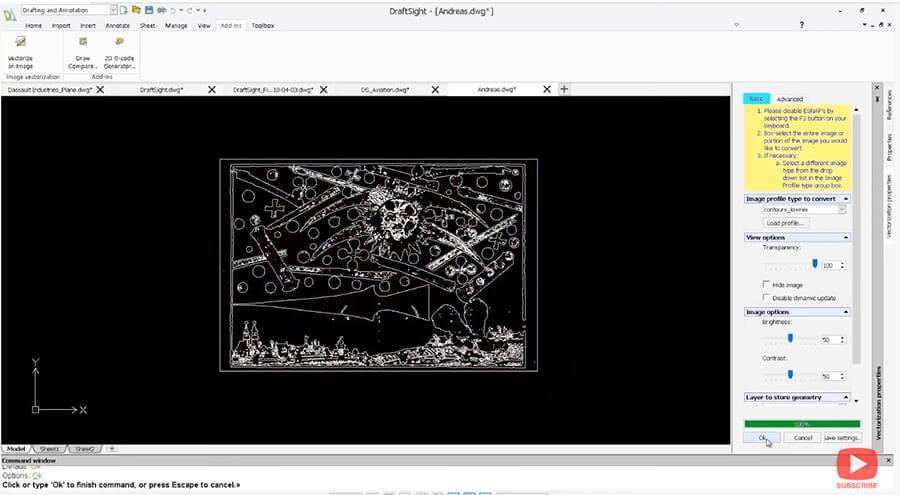 Best for: Architects, construction professionals, and engineers

Overview: DraftSight is a CAD platform for architects, construction professionals, designers, students, and engineers. Inside, you'll find a range of tools spanning 2D and 3D design and editing, built-in automations, resource library, batch printing, an image tracing tool, and more.

Like CorelCAD, DraftSight is a more affordable alternative to platforms like AutoCAD. However, it does seem like there's a notable drop in quality compared to the programs we just mentioned. Some reviewers noted that DraftSight seemed a bit outdated – it's a bit clunky and the UI feels a bit old. Others mentioned issues with frequent crashing.

That said, it's available as a cloud-based subscription and many users felt that, for a CAD platform, DraftSight was relatively easy to use – particularly for layout design.

Key features:
Drawing tools
Layer preview
Editing tools
Built-in templates
Price: DraftSight is offered at a few different price points – each billed on an annual basis. The Standard plan is $99 per year, the Professional plan is $199 per year, the Premium plan is $499 per year, and Enterprise pricing is available upon request.
7. HighDesign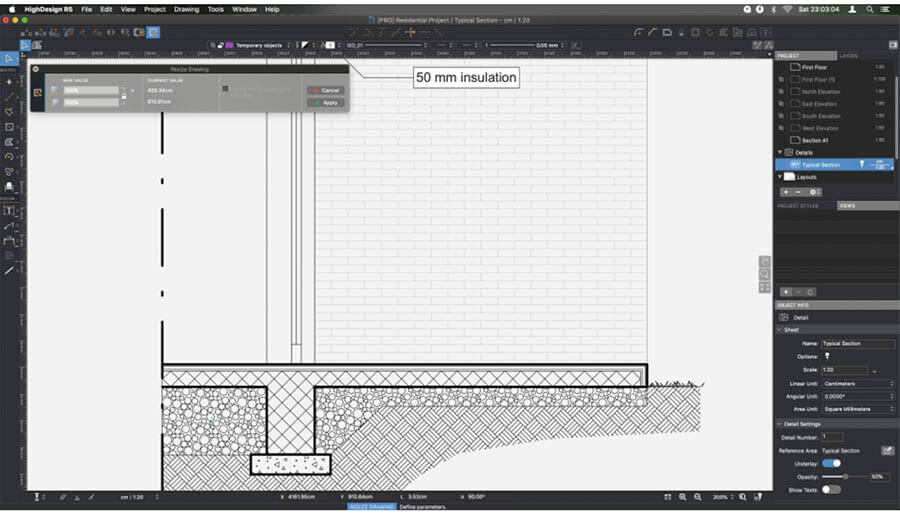 Best for: Architects, engineers, and designers

Overview: HighDesign is a CAD platform for Mac that provides a suite of drafting and design tools for professional architects, designers, and civil engineers. Inside you'll find a number of pre-built building elements like walls, windows, pillars, and columns, as well as a set of features that make it easy to organize and refine designs. Users can also generate documentation and publish and share their work.

While HighDesign bills itself as a CAD platform, it's not quite as robust as some of the other options on this list. It's almost more of a hybrid between a 3D design platform and a CAD app – focused mostly on design and drafting, but with a few extra features.

Key features:
Precision drawing tools
Smart organization
Annotations
Publishing & sharing
Documentation
Price: HighDesign is $219 for a one-time license.
8. Revit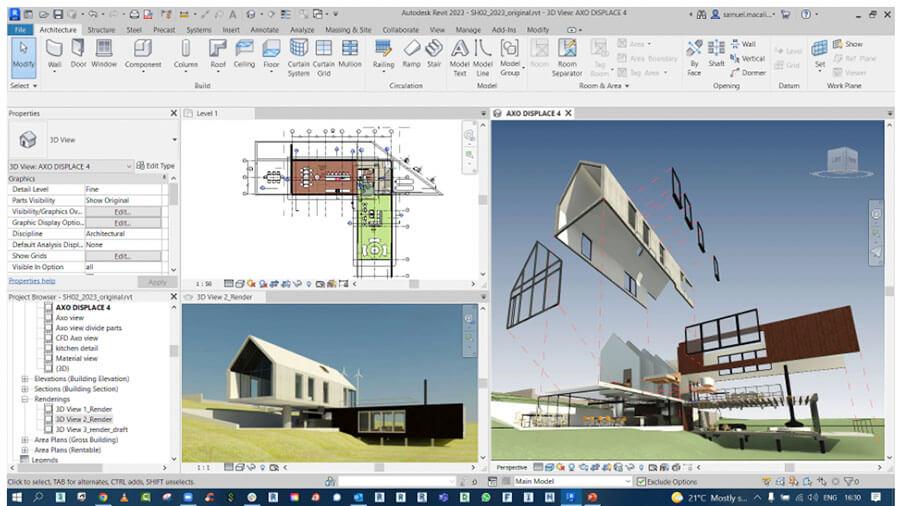 Best for: Architects, landscape designers, engineers, contractors

Overview: Revit is a BIM platform made by Autodesk to support "multi-disciplinary collaborative design." Users can design buildings and infrastructure using the app's built-in model-based process, which enables them to analyze and simulate various components, generate documentation, and create high-impact 3D visualizations.

The platform also includes a number of tools aimed at making it easier for all project stakeholders to collaborate – in context with their role. For example, engineers, electricians, architects, and project managers can all access and modify centrally-shared models.

Revit is a highly technical platform that comes with a steep learning curve. It's a great tool for organizations that specialize in complex construction projects, but it requires a lot of previous CAD/BIM experience.

Key features:
3D modeling
Parametric components
Architectural modeling
3D design visualization
Worksharing/collaboration environment
Annotation
Scheduling
Price: Revit is available for $285 per month. $2675 per year, or $7625 for three years. You can also download a free trial before you commit.
9. VectorWorks Architect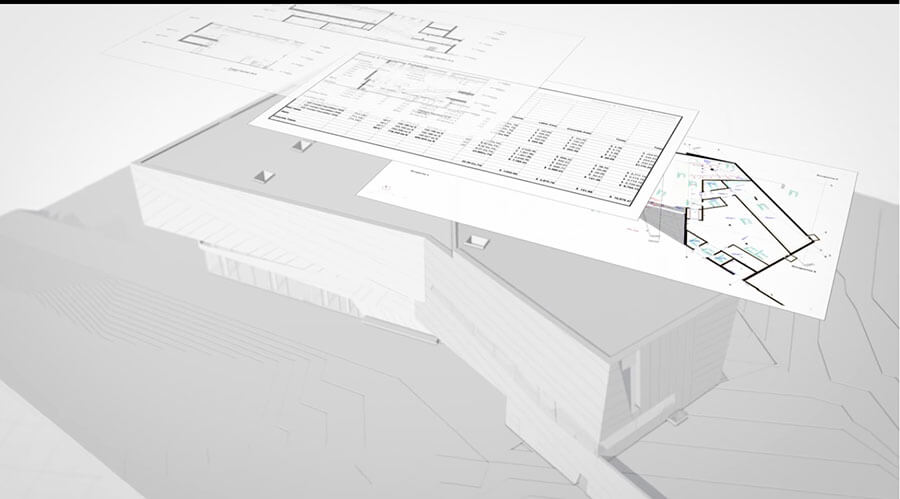 Best for: Professional architects, builders, and contractors.

Overview: VectorWorks is a comprehensive architecture platform for both Mac and PC. It's positioned as the "architect's BIM software" for its ability to marry design-centric features with the more technical aspects of architecture. For example, the platform aims to bring more "information" (aka the "I" in BIM) into the design process – allowing architects to run "what if" scenarios, calculate costs, and analyze things like the energy efficiency of their design.

VectorWorks boasts an impressive array of features and offers deep integration with other popular design, CAD, and architecture applications. Think – Photoshop, SketchUp, Rhino, and OpenBIM. The downside, however, is, it's not cloud-based and for some, the cost may be prohibitive.

Key features:
3D modeling
2D graphics and presentations
Live data visualizations
GIS improvements
Scenario planning
Structural grids
Materials
Quick search
Price: VectorWorks charges a one–time licensing fee of $3045 for the software. You'll need to pay extra for annual updates.
Which Mac Architect Software is Right for You?
Finding the right architect software for Mac isn't exactly easy. Hopefully, this list gives you a clearer picture of what you're looking for and how to approach your search. Start by considering your budget, CAD experience, and what you hope to achieve with your investment to find the best option for you.

You can sign up for a free account to take Cedreo for a test drive. It's not a CAD-based platform, so it requires very little effort to learn. At the same time, ease of use doesn't get in the way of quality. Users can generate professional-looking floor plans and renderings in minutes – then use their creations to collaborate with clients, win new business, and more.

Contact our sales team or sign up for free to get started.