Like all companies, architecture firms need a steady stream of leads to remain successful.

Marketing for architects might seem a little different than marketing for other businesses, but there are still many similarities. The good thing is that you don't need a huge budget or a big marketing team to implement these tactics.

In this guide, we'll show you eight effective marketing strategies that you can use for your architectural business.




8 Proven Marketing Strategies for Architectural Firms
In this section, we've listed eight strategies that can help you expand your reach and start generating new leads for your architectural business.
1. Create a portfolio page on your website
Creating a portfolio page on your website is a great way to showcase completed projects and attract potential clients. Exploring your previous work can inspire potential clients to consider similar designs and give them confidence in your abilities.

At the center of your portfolio, you need high-quality images and videos so that you can showcase examples of your work. Images can include 2D and 3D floor plans, before-and-after photos, and 3D renderings.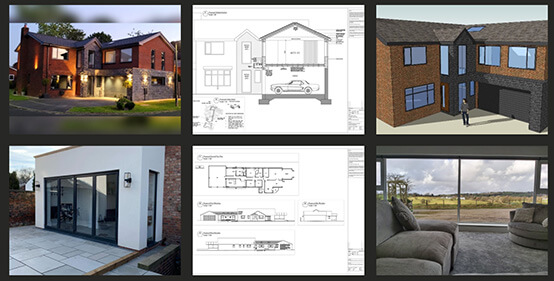 2. Optimize your Google Business Profile (Maps)
An optimized Google Business Profile helps potential clients to choose your business over competitors, especially if you have a Google Maps listing, too.

It's one of the best tools for generating free leads and reaching users actively searching for local architects. In fact, up to 64% of consumers rely on Google My Business to find contact details for local businesses.

Nowadays, people rely more on "zero-click searches" to find all the information on the search results page.

Google's algorithm for ranking Business Profiles not only considers proximity and relevance but also activity and quality of information. So, you must optimize and maintain your profile with quality content and customer reviews.

For architects, that means you can upload photos and images that appeal to your ideal clients. For example, you could feature some redesigned kitchens or major property extensions.

Pro tip: geo-tag those images with your business location.

Plus, you can add a Request a Quote or Message Button to your Google profile.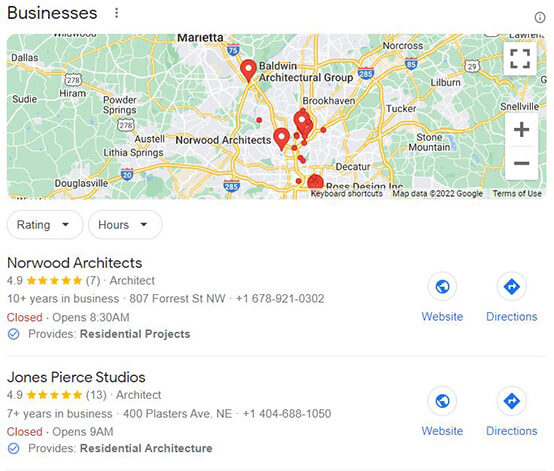 3. Use photorealistic 3D renderings to close deals faster
Small-business architects have historically been slow to adopt new technologies. But learning and using 3D-visualization and -modeling tools can give your firm an advantage.

With Cedreo's 3D architectural design software, you can create a complete proposal in 2 hours. The minimal learning curve enables architects to significantly reduce the time spent drawing 2D floor plans, choosing the decor, and creating 3D renderings.

Producing photorealistic 3D renderings helps clients visualize the completed project and increases your chances of closing new deals faster.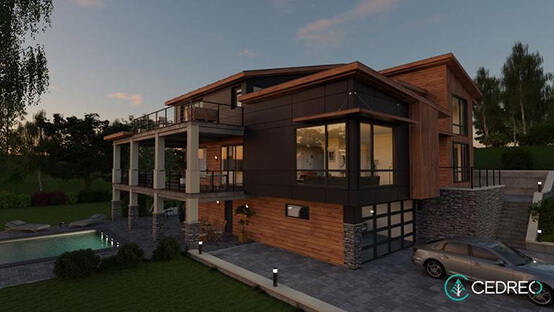 4. Run Google Ads to rank for service-based keywords
Google Ads is an online advertising platform where businesses pay Google for search or display ads to promote their business.

With search ads, you bid for service-based keywords, like "architect", "design services", "your brand name", or even misspellings, and pay for each click you receive.

Ads appear at the top of the search results, denoted with the little "Ad" icon, so you have an immediate chance of attracting new clients.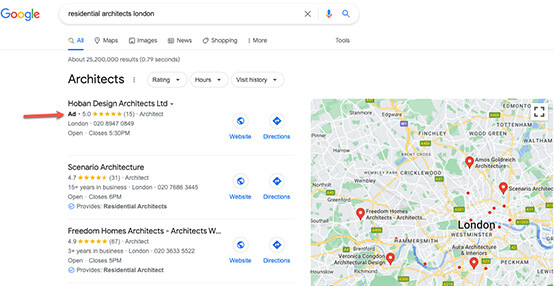 5. Collect and promote online reviews from past/current clients
Reading the reviews posted by past and current clients helps potential clients find an architect they can trust. In fact, 90% of consumers say online reviews influence their purchasing decisions.

Ideally, you want to capture reviews right at the point of service or as soon as possible after completing a project. Simply ask your clients to leave a review on your chosen sites. For example, you might want reviews on your Google My Business profile, a social media site like Facebook or LinkedIn, or third-party sites like Home Advisor and Yelp.

Major industry review platforms include:
Google Maps shows your average review ratings and contact information about your business.
Yelp is the most used review site for any industry, so you can't afford to ignore any reviews here.
Home Advisor is specifically for home services, so architects specializing in residential design services will find it invaluable.
Don't fret if you happen to get a negative review. Put a positive spin on it by answering professionally, so potential clients can see how you handled the situation.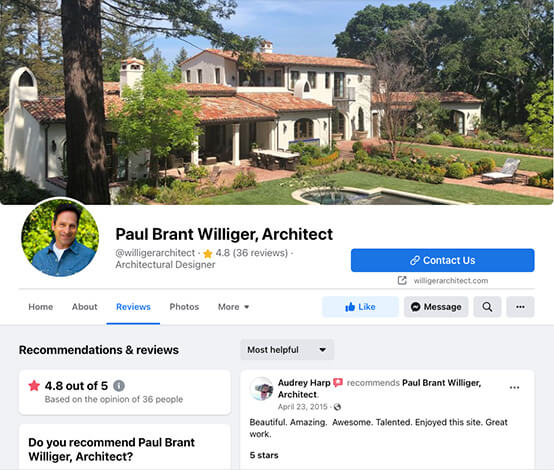 6. Share architectural renderings on social media
Architects can also take advantage of social media to market their business. As well as creating pages, you can also look into creating groups. For example, you could set up a Facebook Group and build a community around design and architecture.

Elsewhere, you could use LinkedIn to network and establish yourself as an authority in the sector. And use image-based sites like Pinterest and Instagram to share architectural renderings from your portfolio.

Aside from mainstream social platforms, you could consider creating a profile on Houzz, which attracts a natural audience of people wanting to remodel their homes.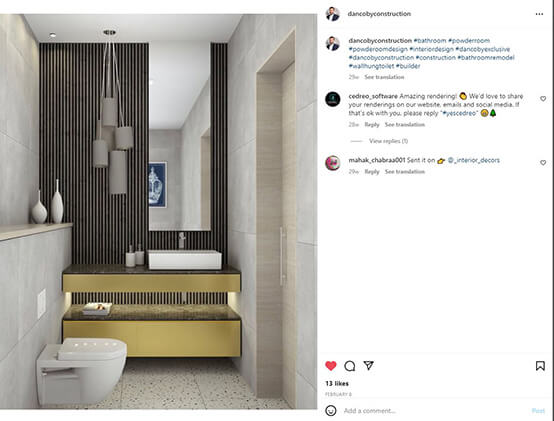 7. Create a referral program
Referrals are a great way of getting new business. In fact, people are 4x more likely to make a purchase when referred by a friend.

Aside from friends and family passing on referrals, you could create a referral program with companies and contractors that provide complementary services. For instance, you could link up with builders, electricians, plumbers, and other tradespeople to create a 2-way referral program – i.e. they refer you, and you refer them.

For example, suppose someone approaches a building firm to build an extension. They could recommend your architecture design services for the client to get proper plans drawn up.

The key is to form a solid network of related professionals who are more than happy to recommend your work.

8. Speak at industry conferences and events
Speaking at industry conferences and events isn't for everyone, but it's an excellent way of winning new clients.

Ideally, you want to find an opportunity to speak about an area of your expertise to your potential clients.

For example, if you specialize in office design, you'll want an audience of business owners looking to build or modernize their office space.

Or, if you're looking for residential clients, you may want to speak about home remodeling ideas at a local community group.

When potential clients see and hear your expertise, many will naturally want to work with you.

You can search for online and offline speaking opportunities.




Level-Up Your Architectural Marketing Strategy
If you want to start generating more leads for your architectural business, make sure you use these eight proven marketing strategies:
Create a portfolio page on your website
Optimize your Google Business Profile (Maps)
Use photorealistic 3D renderings to close deals faster
Run Google Ads to rank for service-based keywords
Collect and promote online reviews from past/current clients
Share architectural renderings on social media
Create a referral program
Speak at industry conferences and events
With Cedreo's 3D architecture software, you can quickly generate high-quality 3D home designs that shorten the sales cycle and increase your conversion rate. Get started with a free account today!