For housing professionals, keeping up with bathroom style trends can mean the difference between a good project and an unforgettable one. As the place where comfort meets functionality, the bathroom style you choose speaks volumes about your expertise as a housing professional.
So whether you're a builder, remodeler or interior designer, diving into these 10 popular bathroom styles will help you enhance your next project and impress your clients. With each idea, you won't just get a description of the style, you'll also get pro tips for implementing it in your next bathroom project.
Let's get started!
10 Popular Bathroom Styles
From timeless classics to modern marvels, here's a look at bathroom styles that never fail to make an impact.
1. Traditional
Characterized by classic details and ornate features, the traditional bathroom style projects elegance. Think clawfoot tubs, pedestal sinks, and intricate tile patterns. This style, inspired by historical periods, offers a warm and inviting ambiance and is perfect for clients who appreciate a touch of luxury.
Tips for implementing this style in your designs:
Opt for classic fixtures like clawfoot tubs and pedestal sinks.
Use soft and warm color palettes. Consider using floral or paisley patterns.
Incorporate brass or gold fixtures.
Add vintage wall sconces or chandeliers for ambient lighting.
Use marble or granite countertops to elevate the classic feel.
2. Modern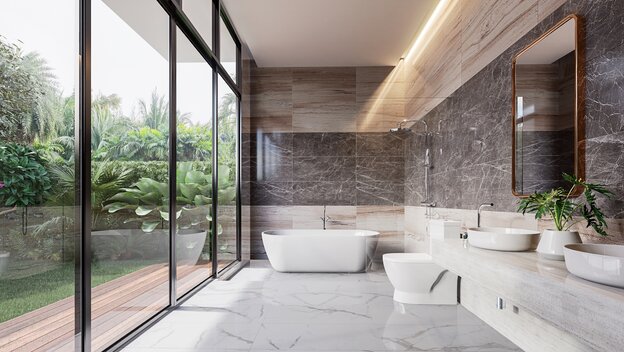 The modern bathroom boasts clean lines, minimalistic features, and a neutral color palette. Emphasizing functionality over frills, it often incorporates innovative fixtures and frameless glass showers. This style suits clients looking for a sleek and clutter-free space.
Tips for implementing this style in your designs:
Embrace neutral color palettes with pops of bold accents.
Use geometric shapes and clean lines in fixtures and decor.
Prioritize storage to maintain the uncluttered look.
Install under-cabinet lighting for a subtle glow.
Consider wall-mounted vanities for a floating effect.
3. Transitional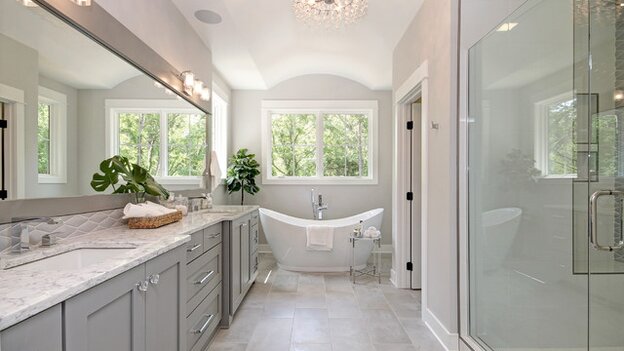 The Transitional bathroom style is like the best of both worlds. It blends traditional elegance with modern simplicity. So expect to see contemporary vanities paired with ornate mirrors. Or you might see modern tubs set against classic tiling. It's the go-to choice for clients who are indecisive about fully committing to one style.
Tips for implementing in your designs:
Pair modern fixtures with traditional finishes.
Play with different texture combinations such as combining glossy and matte surfaces.
Keep the color palette neutral but consider a statement wall.
Add a vintage rug or accessory for a touch of nostalgia.
Consider mixing metal finishes for added depth.
4. Contemporary
Contemporary bathrooms are ever-evolving since they reflect current design trends. This style often features bold colors, unconventional shapes and the latest tech. It's ideal for clients who love staying updated with the latest in design.
Tips for implementing in your designs:
Experiment with bold patterns and colors.
Incorporate tech features like LED mirrors or touchless faucets.
Opt for modular storage solutions for flexibility.
Play with asymmetry in design elements.
Use glass partitions for a spacious feel.
PRO TIP! – Use 3D home design software like Cedreo to help your clients visualize the finished project before you even start construction. This ensures clients choose the correct style to fit their tastes and helps you avoid miscommunications during the planning process. And if you go with Cedreo, you don't need to be a 3D design whiz to get professional visualizations. Sign up for FREE today!
5. Rustic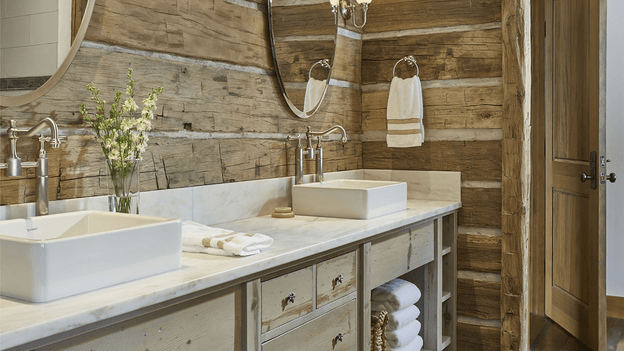 Rustic bathroom styles transport you to a serene, countryside retreat. With natural wood, stone finishes and vintage fixtures, they radiate a cozy and cabin-like charm.
Tips for implementing in your designs:
Use natural materials like wood and stone extensively.
Incorporate vintage or reclaimed fixtures.
Add plants for a touch of greenery and freshness.
Use warm, ambient lighting for a cabin-like feel.
Consider freestanding bathtubs for a touch of luxury.
6. Industrial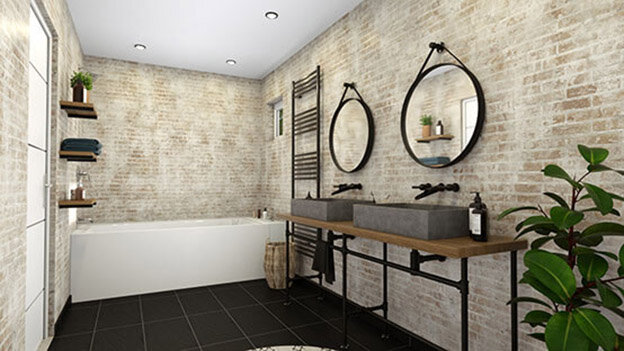 Industrial bathrooms are all about raw and unfinished elements. Picture exposed brick walls, metal fixtures and concrete sinks. Their edgy, urban vibe appeals to clients who love a touch of ruggedness in their bathroom sanctuary.
Tips for implementing in your designs:
Expose structural elements like brick walls or beams.
Use metal fixtures and accents.
Opt for matte finishes to enhance the rugged feel.
Add industrial pendant lights or Edison bulbs.
Use open shelving with metal framing.
7. Farmhouse
Farmhouse bathrooms are a delightful mix of old and new. Expect to see shiplap walls, vintage tubs and apron-front sinks in a combination that has a cozy, laid-back aura. This bathroom style is a hit among clients who value comfort and nostalgia.
Tips for implementing in your designs:
Use shiplap walls and weathered wood.
Go with apron-front sinks and traditional fixtures.
Incorporate open shelving and vintage decor.
Add touches of green with plants or botanical prints.
Use barn doors for a distinctive farmhouse touch.
8. Coastal/Beach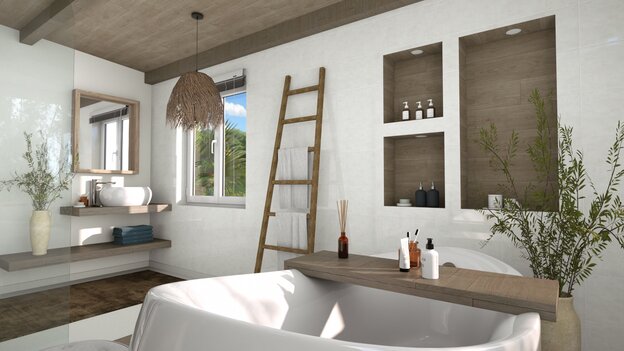 Inspired by the sea, these bathrooms are breezy and light. Soft blue tones, sandy beige and nautical decor create a tranquil, beachy vibe. The coastal style is ideal for clients who want to turn their bathroom into a seaside escape.
Tips for implementing in your designs:
Use soft blues, whites and sandy hues.
Incorporate nautical decor and motifs.
Opt for natural light with large windows or skylights.
Use driftwood or seashell accents.
Consider a freestanding tub with a view.
9. Mediterranean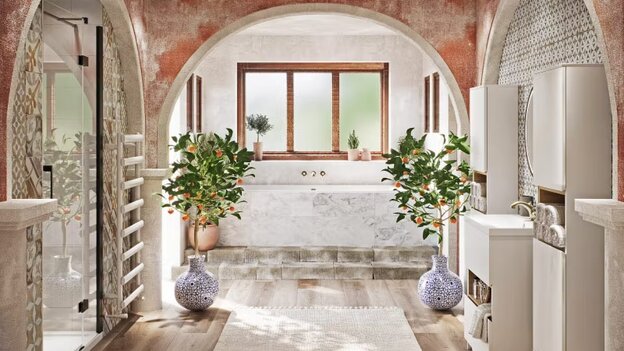 Mediterranean-style bathrooms are warm, earthy and inviting. They encapsulate the rich cultures of the Mediterranean coast with mosaic tiles, wrought-iron fixtures and terracotta floors.
Tips for implementing in your designs:
Go with vibrant tiles and mosaic patterns.
Incorporate arches and curves in design elements.
Choose earthy and sun-baked color palettes.
Use terracotta or clay pots for planters.
Add wrought iron fixtures or decor pieces.
10. Craftsman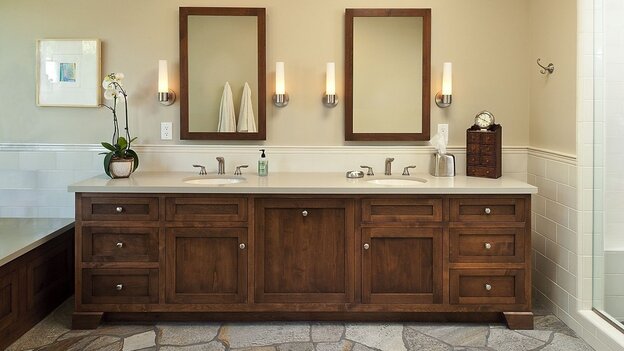 Craftsman bathrooms prioritize handiwork and quality materials. Detailed woodwork, built-in cabinetry and handmade tiles define this style. It's a perfect style choice for clients who value artisanal craftsmanship.
Tips for implementing in your designs:
Emphasize hand-crafted woodwork and detailing.
Use natural materials and finishes.
Incorporate built-in storage and cabinetry for a custom feel.
Consider using stained glass windows or accents.
Add craftsman-style tiles with geometric patterns.
Using Floor Plan Software to Create Professional Bathroom Designs
Want an easier way to implement these bathroom styles in your next designs? Designing bathrooms is a breeze when you've got the right tools like Cedreo home design software. Cedreo empowers housing professionals like you to visualize and create impeccable bathroom layouts.
Cedreo's Features that streamline your design process::
Intuitive user interface helps you create bathroom designs in minutes, not days
Extensive library of bathroom fixtures and finishes
Real-time 3D visualizations help you envision the finished product as you work
Professional 3D renderings that help you impress potential clients
Ready to elevate your bathroom designs? Try Cedreo for FREE today!