There are a ton of kitchen design software apps out there and there's no one-size-fits-all solution. The program that will serve you best will depend on your unique situation.

For example, are you a professional designing for clients? Or are you a consumer planning your own kitchen renovation project? Think of how you'll be using the program — which features are important to you?
The Top Kitchen Design Software
We've detailed the primary use cases, top features, and pricing information of 17 of the best kitchen design tools below, so you can choose the right one.
1. Cedreo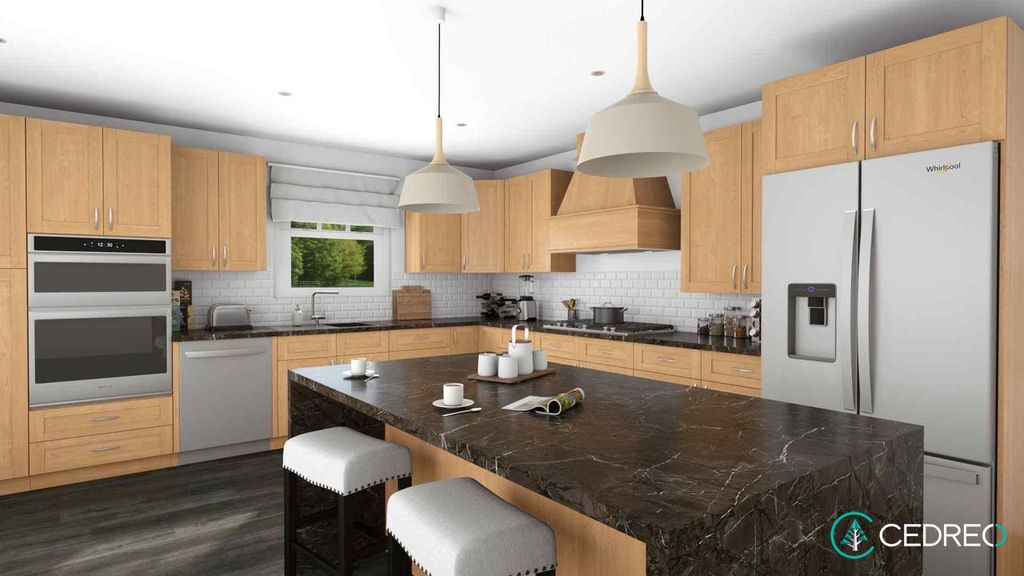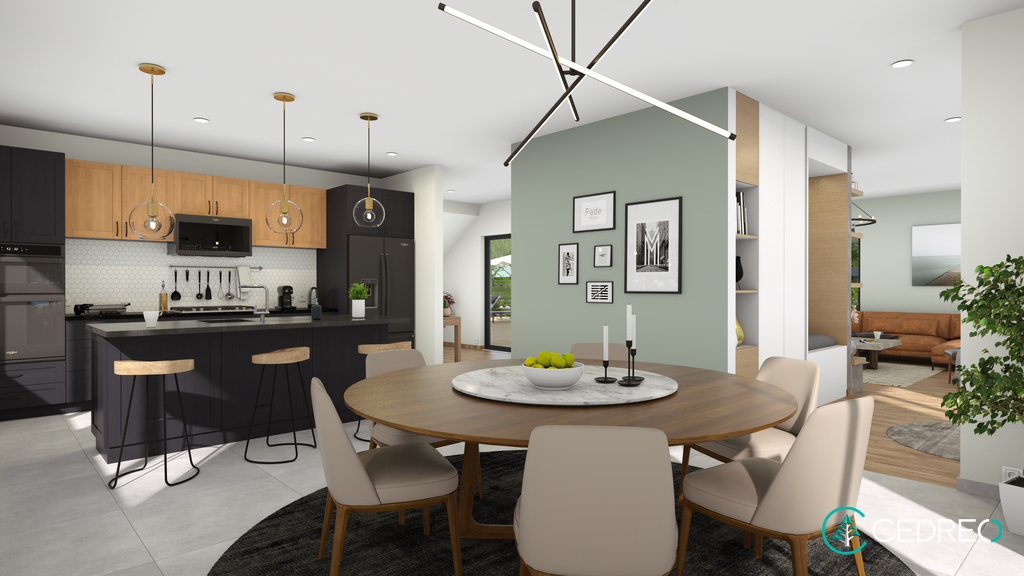 Best for: Professional home builders, remodelers, and interior designers.

Cedreo is the best kitchen design software for builders, interior designers, and remodeling professionals, allowing you to easily draw 3D-rendered kitchen plans to your desired dimensions in minutes, and ultimately increase your sales and optimize the way you work.

The key differentiator between Cedreo and other kitchen design software on this list is that it's not limited to kitchen design. You can design an entire 3D home layout with this one program in under 2 hours.

Here's how Cedreo's kitchen design platform works: After you draw the floor plan, you can furnish, decorate, customize, and accessorize the kitchen, using items from Cedreo's 3D object library. Then, you can customize the color and texture of the cabinets, baseboards, and doors, as well as adjust the sink and hood colors to your liking.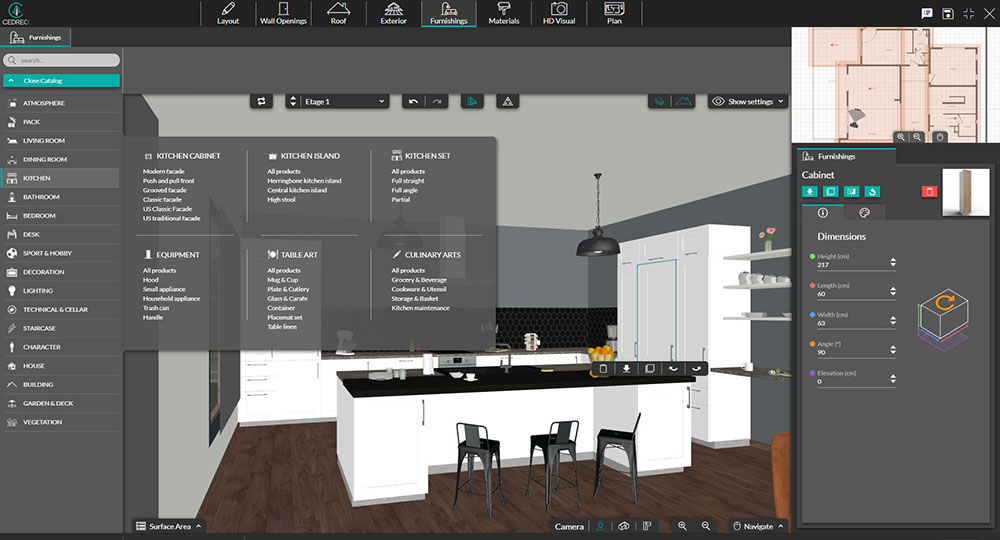 In a few clicks, you'll have a 3D rendering that you can share with clients and team members, and reuse as a template for future kitchen design projects.
Top kitchen design features:
Generate instant 3D renderings and photorealistic visualizations
Access a library of 10,000+ customizable home decorations and materials
Reuse past projects as a starting point for new kitchen designs
Import blueprints
Alter light orientation
Create unlimited design projects
Share kitchen design projects within teams
Create complete proposals and sales presentations
Get one-to-one training sessions and phone support
Full-featured interior design software
Pricing: Try our free offer, or see all of our pricing options.
2. Planner 5D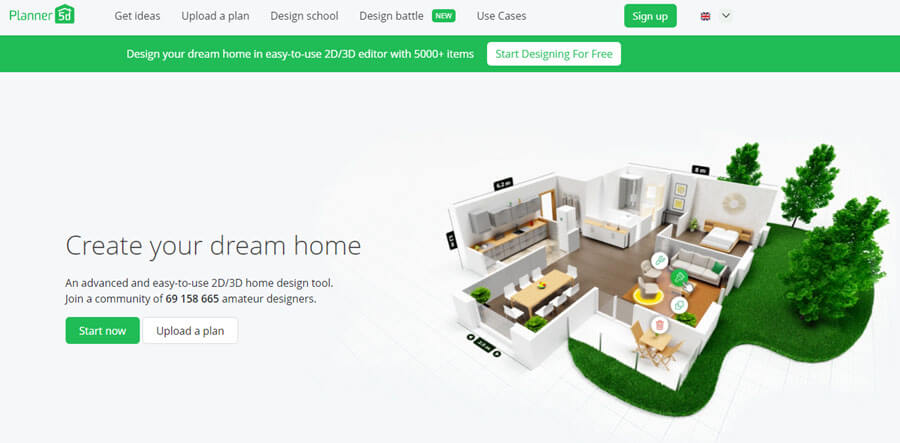 Best for: Individual consumers.

Planner 5D is a great option for novice consumers looking to design their home kitchens. It's easy to use and readily accessible, available for both iOS and Android devices, macOS, Windows, and as a web app.

The basic version of the app lets you generate 2D renderings for free. To create photorealistic 3D renderings, however, you'll need a paid bundle.

While this is an excellent tool to teach you how to plan your kitchen, the design options are limited compared to some of the others on this list. But if you're looking for just the basics, this is a solid free option.
Top kitchen design features:
2D rendering available for free
3D rendering available on premium plans
Mobile-friendly
Pricing:
Consumers can access the basic features for free, but to gain access to all of the features in the Planner 5D library, you'll need to pay a fee: $6.99 for 30 days, $15.99 for a year, or $24.99 for a premium account. Paid bundles that allow for 3D renders range from $9.99 to $49.99.
If you're planning to use this app for commercial use, the fees are about double.
3. Home Hardware Kitchen Design Software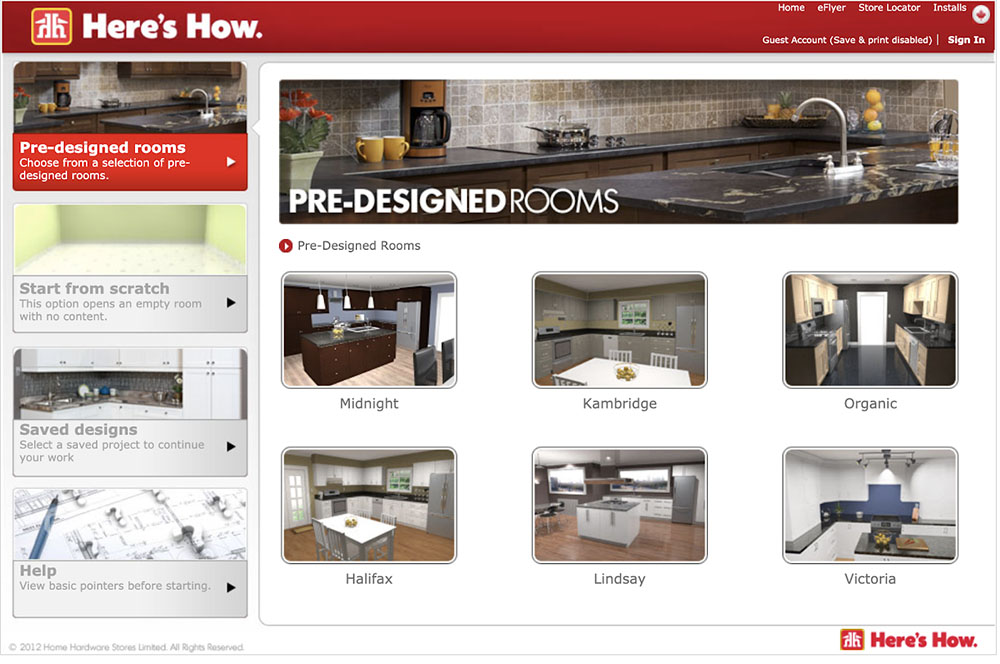 Best for: Individual consumers.

Home Hardware offers a simple, free kitchen design platform. It's easily accessible online, so there's no need to download any software.

The app has a fair number of templates that you can use as a starting point when creating your kitchen design. Just choose one and get started, or if you prefer, create your own design from scratch.
Top kitchen design features:
Easy-to-use, drag-and-drop interface
Option to start with pre-designed templates or from scratch
Customizable layouts, items, and decorations to work with
Pricing: Free
4. Lowe's Virtual Kitchen Designer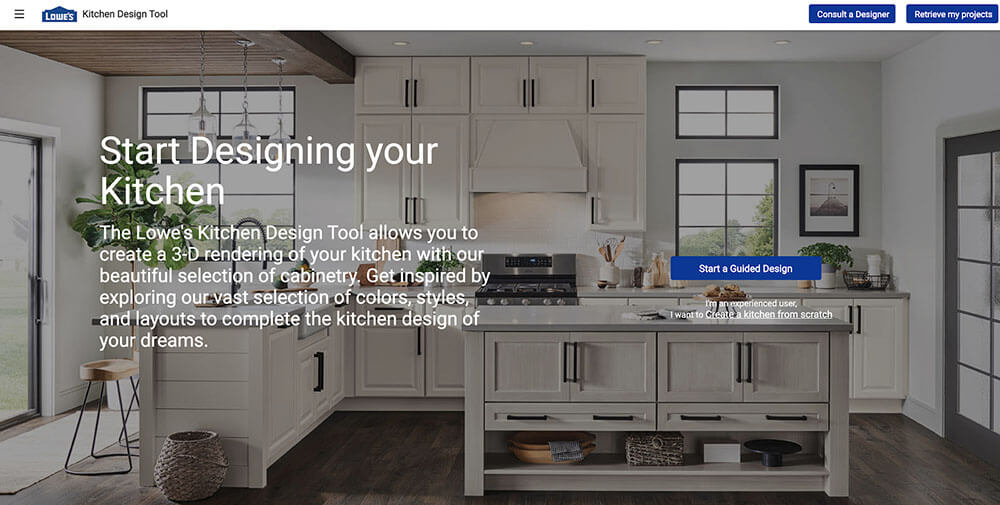 Best for: Individual consumers.

Lowe's Virtual Kitchen Designer, like Home Hardware's tool, is completely free and easy to use. An advantage this app has is the ability to support 3D designs and illustrations. This means you can see professional renderings of your design. Renderings can be a bit slow to load though, so keep that in mind.

You can set the dimensions of kitchen layouts and choose cabinets, islands, appliances, and counter and backsplash options, to reveal what your kitchen will look like in real life. If you want design help, you can schedule a consultation with a Lowe's design specialist.
Top kitchen design features:
Ability to support 2D and 3D designs
Extensive customization options
Option to schedule a consultation with a Lowe's design specialist
Pricing: Free
5. Roomstyler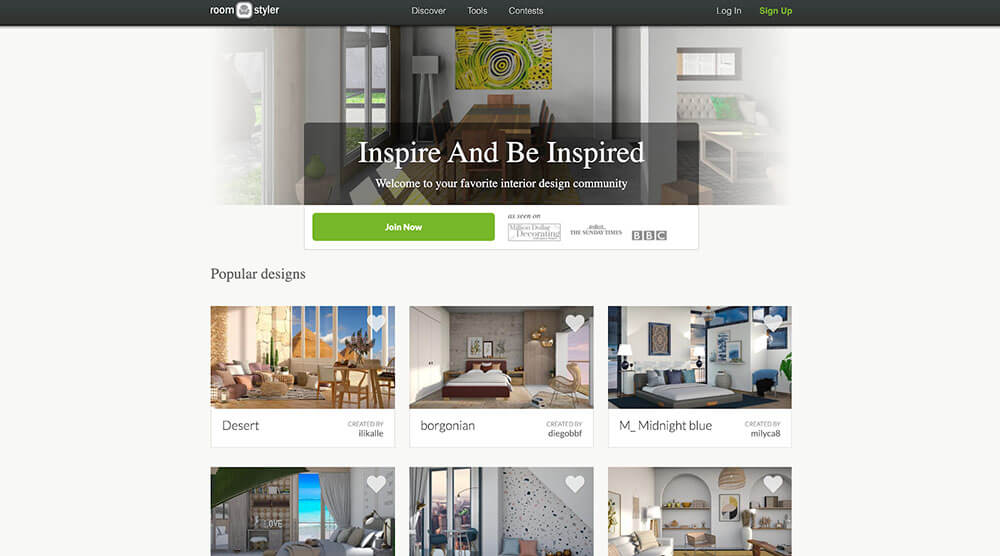 Best for: Individual consumers and professionals.

Roomstyler (formerly known as Mydeco) is a kitchen design program that works well for both casual users and businesses. To start, you have the option to choose from a library of preloaded room layouts, or you can come up with your own.

Customizing your design is easy with drag-and-drop walls and windows. Your changes will instantly be reflected in both 2D and 3D and can be viewed from any angle.

Like most of the other programs on this list, Roomstyler gives you the option to customize coverings in terms of colors, sizes, and placement. It also offers the option to furnish the interior with products from real-life brands including IKEA, John Lewis, Moooi, and Marcel Wanders, among others. This helps you visualize exactly how the design will look once the project is completed.
Top kitchen design features:
Supports both 2D and 3D rendering
Furnishings from real-life brands
User tutorial videos
Pricing: Custom; you'll need to contact them for a quote.
6. Homestyler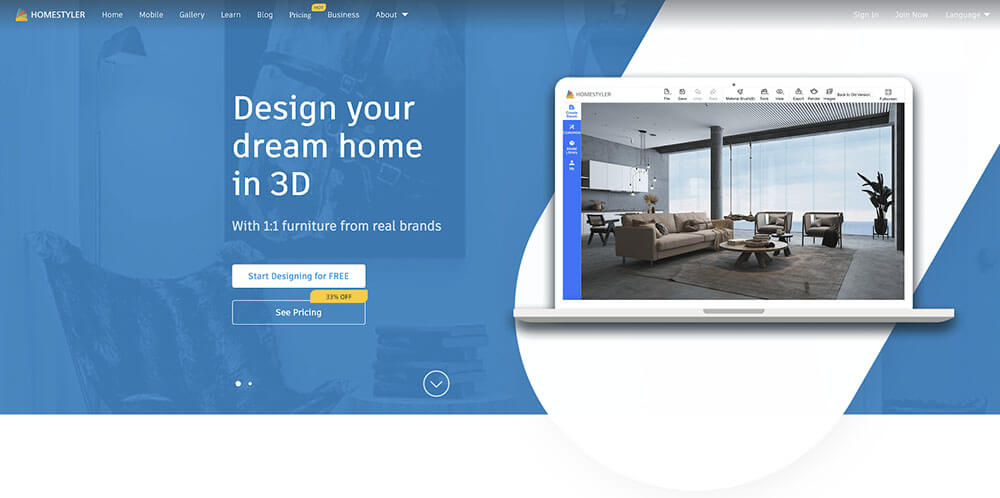 Best for: Individual consumers or interior designers.

Homestyler is an intuitive, user-friendly tool great for both amateurs and professional interior designers. The app supports both 2D and 3D rendering, which is a big plus. Once you're done designing, you can walk through your virtual kitchen in a photorealistic 720°panorama view.

You can furnish and decorate your kitchen with furniture from real, well-known brands, which makes bringing your project to reality easier since you'll know exactly where to buy everything afterward.
Top kitchen design features:
Supports both 2D and 3D floor plans
Vast furniture library that includes thousands of furniture products from world-famous brands
Immersive visualizations when walking through your design
Pricing:
Basic plan: Free
Pro plan: $238.80 annually
Master plan: $478.80 annually
7. Formica "Design A Room"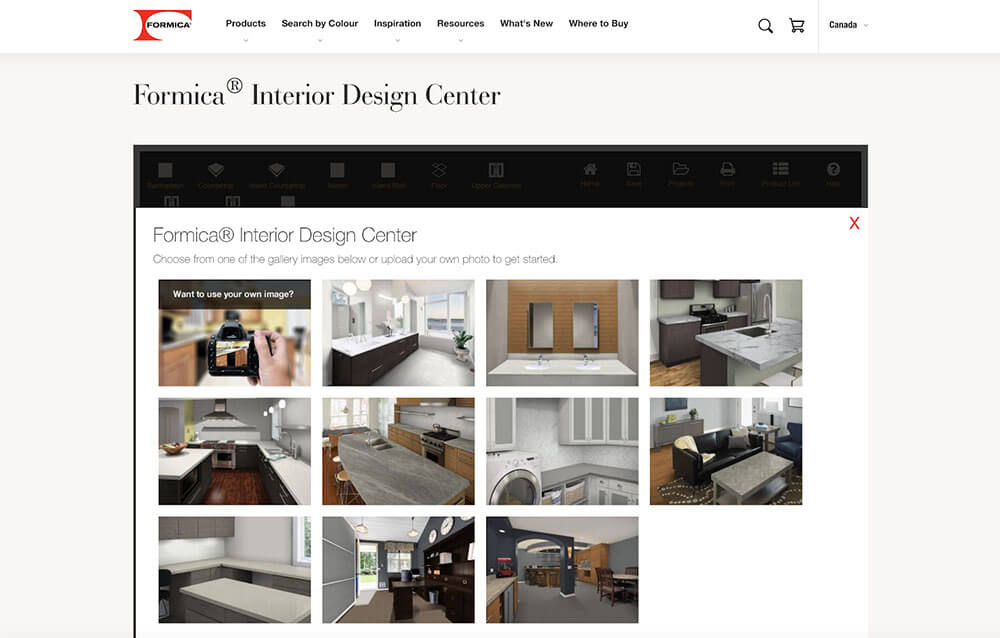 Best for: Individual consumers.

Like some of the other options on this list, Formica's "Design A Room" software lets you design a customized kitchen either by uploading your own photo or using the room template provided.

From there, you can experiment with different colors and materials to create a kitchen that suits your style. The interface lets you see what different options would look like in your kitchen by simply hovering over them versus clicking or dragging.

This is a program you can flex your creative muscle with, as it lets you mix and match different cabinet colors, islands, backsplashes, flooring, shelves, and more.
Top kitchen design features:
Start with your own photo or by choosing a room template
Extensive kitchen customization options
User-friendly interface
Pricing: Free
8. SmartDraw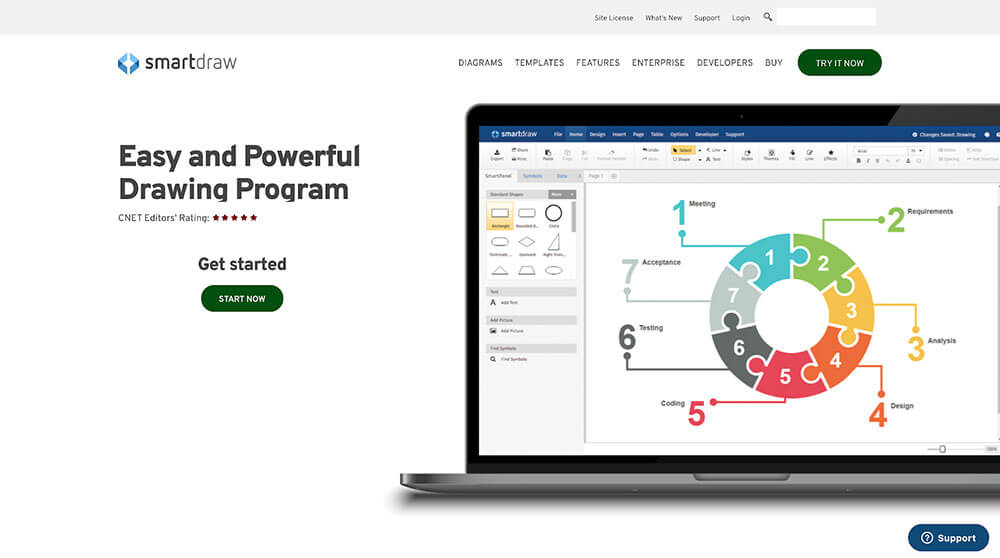 Best for: Individual consumers.

SmartDraw is a tool for creating flowcharts that can also be used to create 2D kitchen floor plans and visuals. You can access the tool on your computer, phone, or tablet, letting you take your work to-go.

While SmartDraw is a handy tool to draft 2D models, it doesn't offer 3D rendering or modeling. This is a drawback as most people want to see exactly what their kitchen is going to look like.

SmartDraw is a relatively inexpensive tool and easy to use, though, making it a good starting choice for the beginner designer or small teams.
Top kitchen design features:
2D rendering
4,500+ templates and 34,000+ symbols
Simple, easy-to-use interface
Pricing:
Single user: $119.40 annually
5+ users: From $71.40 per user, annually
9. ProKitchen Software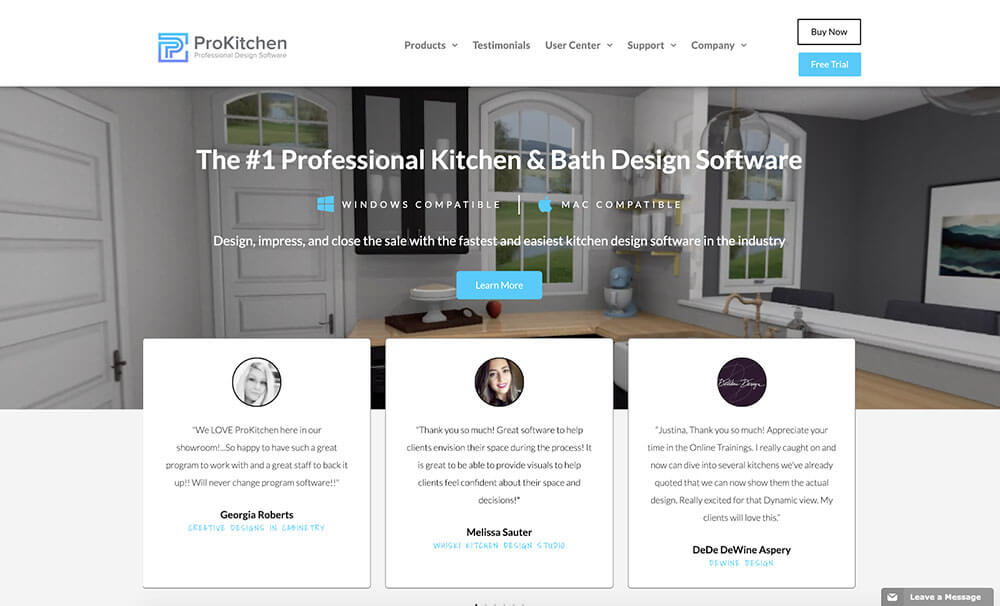 Best for: Kitchen and bathroom designers.

ProKitchen Software was created specifically for professional designers with a laser focus on realistic kitchen and bathroom design. It offers a generous catalog of designs and layouts, including kitchen products and appliances from over 300 real-life manufacturers (available on the highest-tier plan).

Since you'll be furnishing and decorating your kitchen with real products, the design will look as true to life as possible, letting you visualize the exact placements of products before committing to purchasing them.

ProKitchen Software is a powerful program, but it's also one of the most expensive options on this list.
Top kitchen design features:
Compatible with both MacOS and PC
Design with products and appliances from real brands
Specifically created for kitchen and bathroom design
Pricing:
No manufacturer catalogs: $1095 annually
Single manufacturer catalog: $1395 annually
Multiple manufacturer catalogs: $1595 annually
10. HomeByMe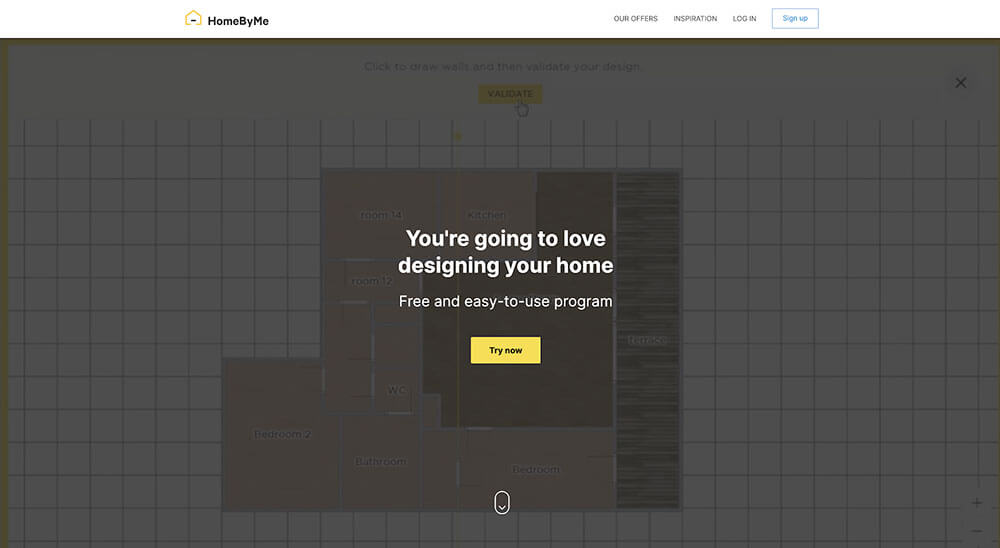 Best for: Individual consumers and professionals.

HomeByMe is a nifty little program that lets you design your kitchen in one of two speeds — you can choose to "go fast" and build your room using blocks, or "be precise," meaning build your room from scratch. You also have the option to upload an existing floor plan to the program to work off.

Another unique feature of HomeByMe is the ability to modify your floor plan in both 2D and 3D mode, letting you see what fits into your space right away. Overall, this is a program that knows its different types of users and caters to each of them.
Top kitchen design features:
Two build speed options
Ability to make changes in 2D or 3D view mode
Pricing:
Up to 3 projects: Free
Up to 5 projects: $16.50 monthly
Unlimited projects: $29.99 monthly
11. HGTV Kitchen Design Software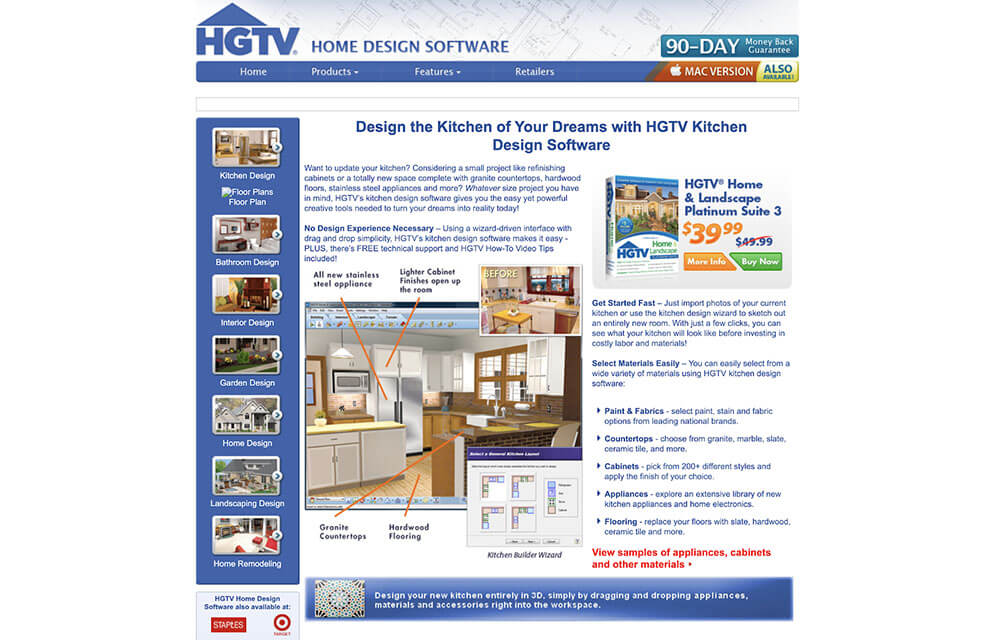 Best for: Individual consumers.

You may be familiar with HGTV, but what you might now know is that it has design software programs. HGTV Kitchen Design Software is one of them.

The application isn't free, but it's not too pricey either, and you can start using it right after downloading. It offers powerful creative tools and a wide selection of materials, paint and fabrics, countertops, cabinets, appliances, flooring, and more.

The drag-and-drop interface is easy to use, but in case you get stuck, you can get free technical support and access to HGTV's library of how-to video tutorials.
Top kitchen design features:
Supports 2D and 3D design
Technical support and how-to tips included
Simple, drag-and-drop software
Pricing: Starts at $19; contact them for more info.
12. Backsplash and Cabinet Design Software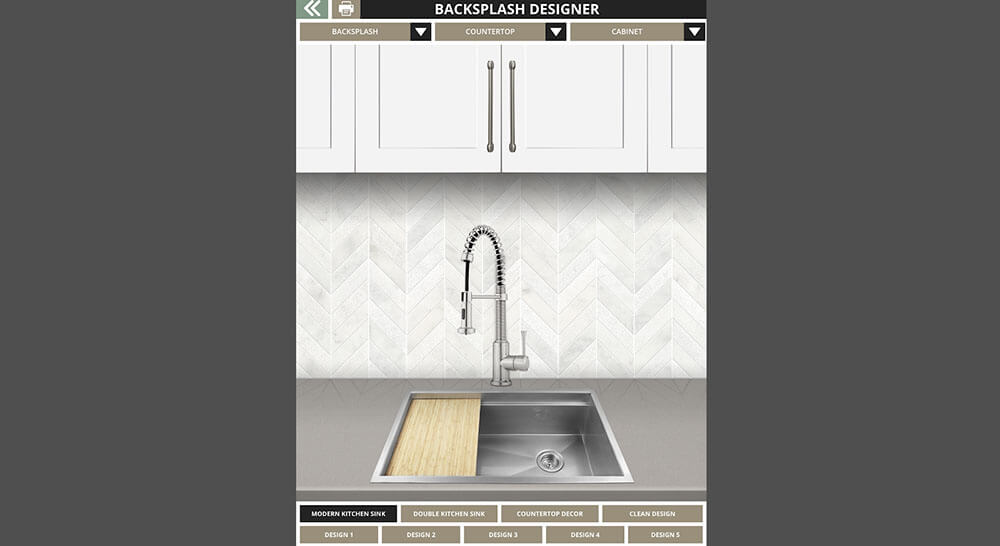 Best for: Individual consumers.

If you're only looking to get a new backsplash or cabinets, this is the perfect tool for you. It's simple to use. All you need to do is choose a kitchen style, then you can start playing with different patterns, colors, and materials.

The tool was developed by a backsplash retailer, where you can also find all the different options you put together in your design, making it easy to go from designing to implementing.
Top kitchen design features:
Specific to backsplash and cabinet design
Little to no learning curve
All products used in the program are available to buy in one place
Pricing: Free
13. IKEA 3D Kitchen Planner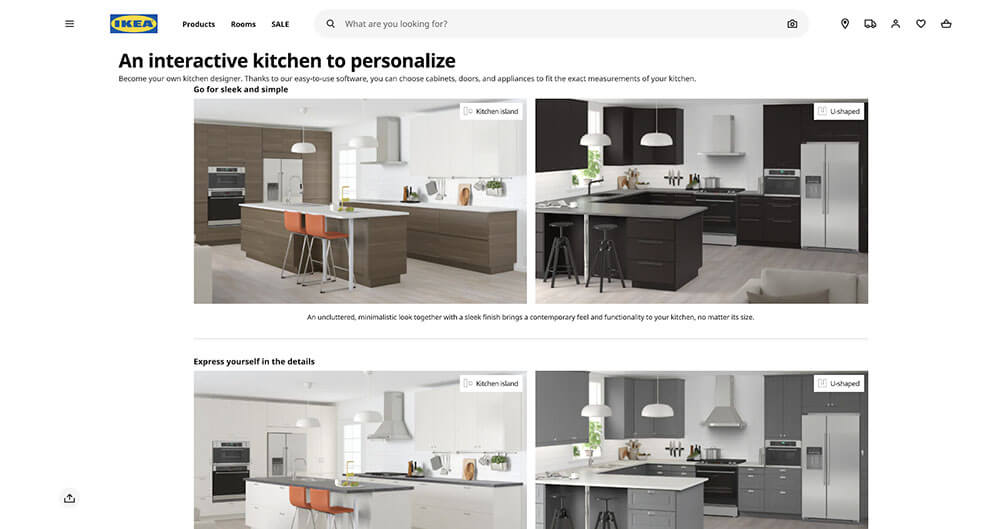 Best for: Individual consumers.

Have your sights set on an IKEA kitchen? The IKEA 3D Kitchen Planner was made for that very purpose.

IKEA is well-known for its minimalist, Scandinavian-inspired furniture that looks good and doesn't cost a lot. These same properties apply to their kitchen systems and appliances.

You can access the tool on their website and once you've completed a design, generate a shopping list of everything you'll need to buy from IKEA. If you live near a store, you also have the option to ask an IKEA staff member to help outfit your kitchen (for a small fee).
Top kitchen design features:
Modern products make it easy to design
Ability to generate a shopping list so you know exactly what you'll need to buy and how much the final project will be
Option to hire a kitchen designer from IKEA to help (for a fee)
Pricing: Free
14. RoomToDo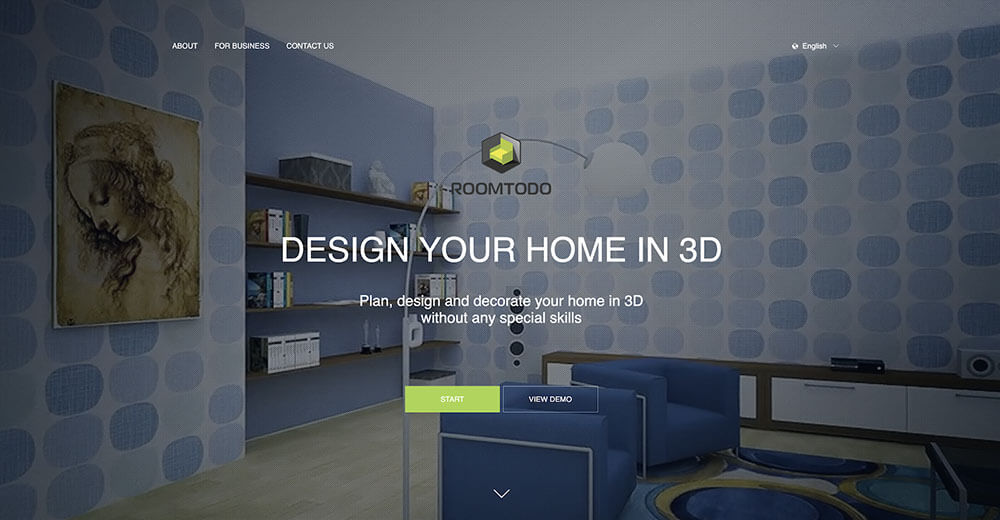 Best for: Individual consumers.

RoomToDo kitchen design software lets the average user plan, design, and decorate their ideal kitchen — no prior design skills are needed! It's a free tool that also supports 3D design, which makes it stand out on this list.

You'll see all the design options when you open up a new design canvas. From there, you can experiment with the different tools available to design your kitchen.

While RoomToDo does claim to be suitable for commercial use, better options are available.
Top kitchen design features:
Supports 2D and 3D designs
Mobile version available
Pricing: Free
15. Colonial Kitchen Visualizer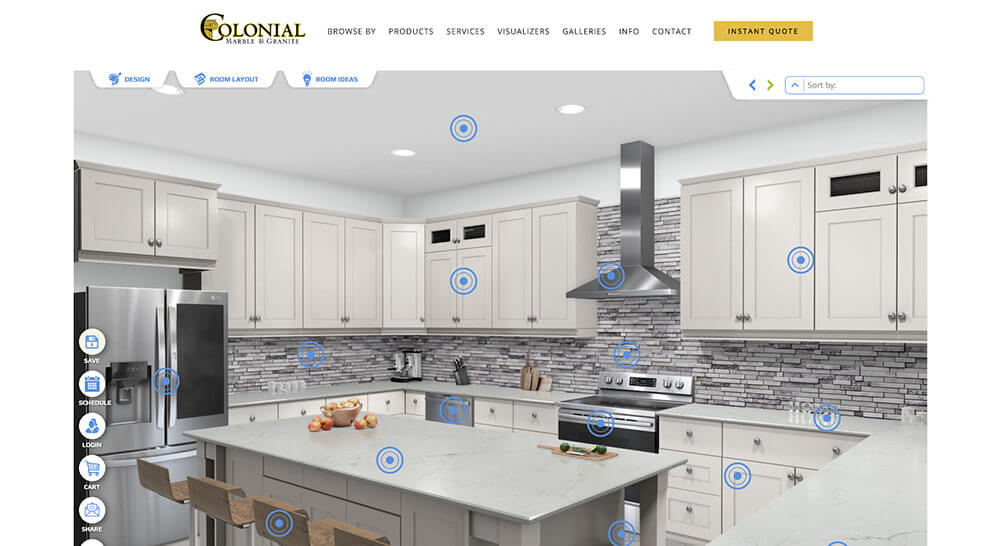 Best for: Individual consumers and professionals.

Colonial Marble and Granite is a family-owned business that designs and fabricates stone products for residential and commercial clients. Colonial Kitchen Visualizer is a program they've developed to help make kitchen design easier for their customers.

This is a large company with an expansive selection of products, which is reflected in its design platform. A benefit of using this tool is that a member of their team can help you order everything you need for your project as soon as you're done designing. The team is also available to help with the design process itself, as well as the stone selection and installation.
Top kitchen design features:
Easily accessible through a web app
Option to have someone help with your design
Pricing: Free
16. SketchUp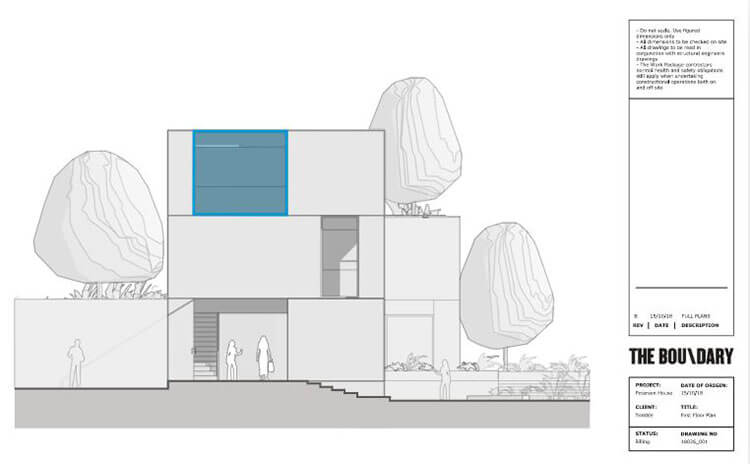 SketchUp's 3D modeling software provides professional designers and laypeople alike a program to design kitchens from scratch. The program can create anything from new kitchens to woodworking projects to remodels. For those new to the industry or looking to design their own home or space, SketchUp's web-based program offers a free version, which any browser can access.

Users can easily revisit 2D and 3D designs, or access SketchUp's premade models and designs. Despite its extensive features and tools, the software's user-friendly interface is easy to navigate, and the company's peer support and blog make learning new features simple.
Top kitchen design features:
Premade designs and models
2D and 3D designs
Pricing: Free for basic features; pro version is $65.
17. PlanningWiz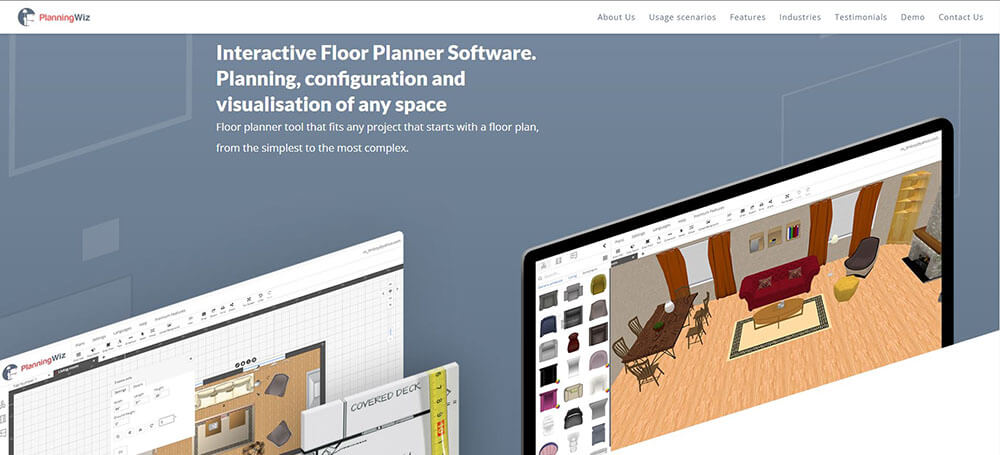 PlanningWiz helps users craft their dream kitchens from the ground up, letting them visualize ideas and make informed remodeling decisions. PlanningWiz enables you to plan, visualize, and configure your kitchen and other rooms in your home.

The program provides insights and statistics and lets professionals communicate design details to their customers from anywhere through PlanningWiz's cloud-based interface. Add your professional logo to the planner, for a customized, professional look. With shopping cart integration, you can design, purchase materials, and kick off remodels from one platform.
Top kitchen design features:
Shopping cart integration
Customizable branding with your identity
Pricing: Free for basic features; personalized version pricing upon consultation.
Start Creating Better Kitchen Designs Today
The kitchen is arguably the most important room in the home, as it's where many families spend the most amount of time together. To make sure it is perfect, choosing the right kitchen design software is critical.

As a starting point, we recommend checking out the companies that stood out to you the most from this list. Chances are, they offer a free trial or demo option so you can take it for a test drive before deciding to invest your money. If you are looking for something more simple, like just simply virtual staging, there are programs for that as well.

Want to see how Cedreo can help you create and sell more kitchen design projects? Get started now or get in touch with our sales team today.