Everybody loves a well-crafted outdoor space.
Whether it's lounging in nature or cooking on the grill, having a well-thought-out patio area is always a welcomed addition to a home.
But where do you start? What do you need to know to make the most out of a project like this?
A patio remodel is no small feat. It often requires careful planning, an understanding of your or your client's needs and a firm grasp of the materials and specialists that can make it all possible.
To help you get started, let's explore some simple patio design ideas.
We'll walk you through everything you need to know to get started planning an elegant and practical outdoor patio.
Small Outdoor Patio Tips & Tricks
If you're looking to plan out a patio but are short on space, what can you do?
Here are some small patio design ideas that can help you make the most out of your limited outdoor space:
Use folding furniture—finding elegant and stylish furniture is a must, but don't think you can't opt for folding chairs and the like to save some space while still staying trendy.
Utilize your corners—while you might think of keeping everything near your home, optimizing the corners of your yard is an easy way to create some extra space. Some easy additions are corner seats or benches.
Add a rug—rugs are a great way to trick the eye into thinking there is more space. It's also a great way to create some separation between areas.
Build a fire pit—everyone loves sitting next to a nice fire. Adding a fire pit that doesn't take up too much space is a simple way to add some wow factor to your small patio area.
Disguise walls—if you're looking for some extra privacy, consider using plants to cover up the walls. Wall climbing plants are often easy to care for and can really make a patio feel secluded.
Painting exterior walls—exterior paint colors can make or break a small patio space. Go for either neutral tones, something bold or a plain white to stay safe.
Of course, these are just a few tips and tricks to help you make the most out of a small outdoor area. To really customize the space, you should consider your or your client's needs.
For instance, some people may be more interested in something like an outdoor kitchen.
While this can take up a good bit of space, if cooking outside is something important, you'll need to consider how this area will fit into your designs.
In the end, though, with just a few simple design ideas, you can make a small outdoor area into an inviting natural oasis.
8 Outdoor Patio Design Ideas for 2023
If you're looking to get started planning out an outdoor patio area, here are a few ideas to get the creative juices flowing. 
1. Create Different Zones/Spaces
One of the big issues with most outdoor patio ideas is that they don't consider zones.
Zones allow for a greater feeling of space when the area might actually be quite small. Having an area for seating, an area for a fire pit and a space for a grill is great, but a few simple additions can make each space feel unique.
Here are a few tips:
Use plants to create barriers between areas
Add outdoor rugs to create a visual separation
Build small walls around areas
Use hardscaping elements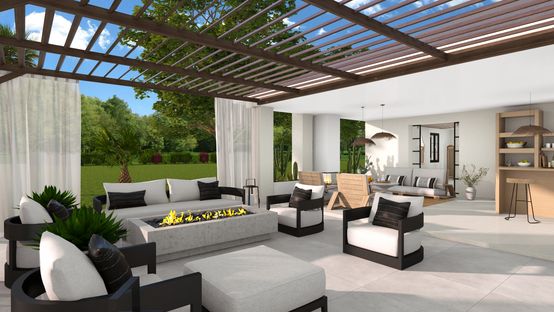 2. Mix & Match Lighting Elements
While the sun can bring in a lot of light, you'll need to think about how you'll light the way when it goes down.
One thing people often don't understand is the power of mixing and matching lighting styles. Most people imagine a single set of solar lights will suffice.
In reality, you need to have several different types of lighting to meet the changing needs of an outdoor patio.
For instance, if you're entertaining and eating, you'll want enough light to see friends and food. On the other hand, if you've got a fire pit going, you won't need as much light. What you will need, though, is accent lighting to illuminate paths and other important areas.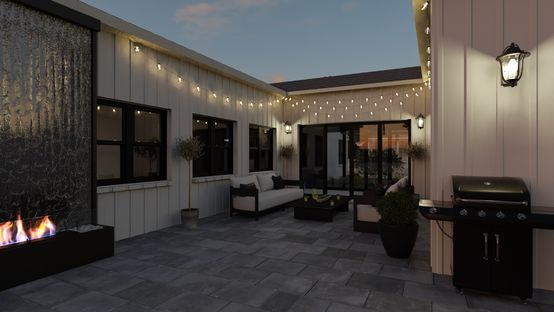 3. Functional Furniture
Trendy furniture is great, but make sure it has a purpose.
With space at a premium, it's essential to consider every single element you add to your patio. A lot of outdoor patio furniture is modular in nature.
This makes it easy to move pieces around to create a fresh seating arrangement.
You can also find patio furniture that serves a few purposes. Foldable lounge chairs are great for laying out but can double as a seat in a pinch.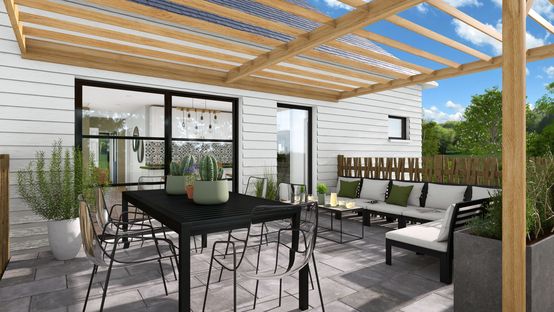 4. Implement a Bar & Cooking Area
What's a patio without a grill?
Plenty of people love going outside to cook and entertain. Adding a small bar or cooking area is a great way to add a bit of extra incentive to get outside and enjoy nature.
It's not only a great way to have fun with friends or family, but it also has some stellar health benefits as well.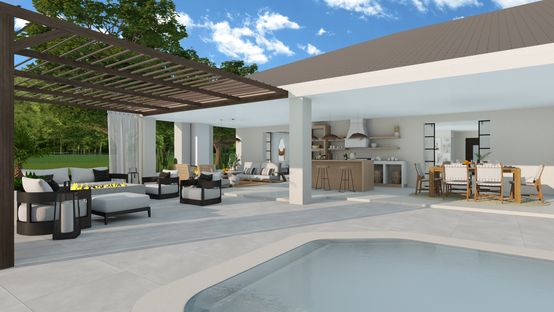 5. Add Those Special Features
These days, you can get as creative as you'd like with your outdoor patio ideas.
Here are a few special features to consider:
A sound system
Outdoor TVs
Smart home integrations
Fountain features
Hot tubs or pools
Screened in areas
Those are just a few creative ideas. You'll find hundreds more to explore and add to your own designs.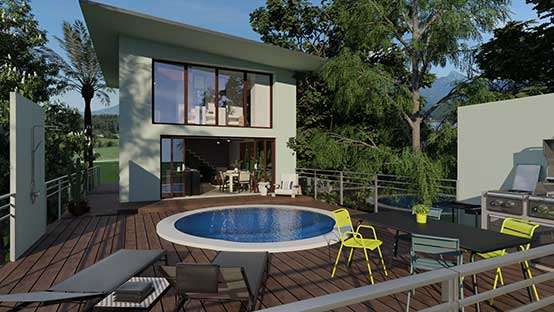 6. Consider the Elements
While the great outdoors can be relaxing and refreshing, you can't always count on calm weather.
If you're hoping to use your patio space during the rain or colder months, consider adding things like awnings, porch screens and heaters.
This will ensure you can get comfortable and enjoy yourself even when the weather is sour.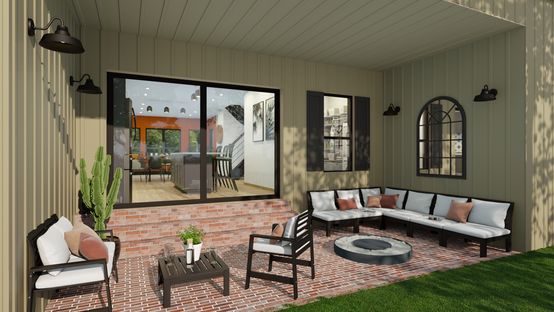 7. Add or Update Hardscapes
If you're looking to really add some extra elegance and intention, hardscaping is a great choice.
Whether it's stone paths or cobblestone firepits, hardscaping can help create space, direct traffic and make a patio stand out.
If you already have hardscaping elements, consider a quick update. With a little bit of work and some new materials, you can really breathe some new life into your outdoor patio.To make the most out of your hardscaping designs, consider using landscape architecture software. With the right software, you can quickly take designs from ideas to plans in minutes.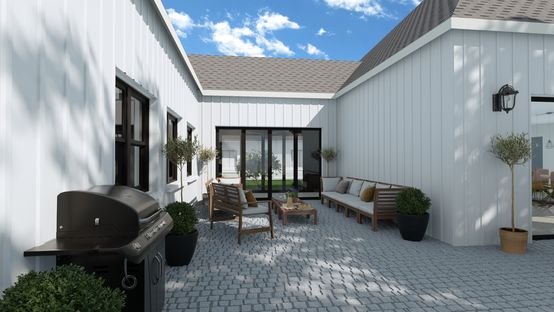 8. Accessorize & Style
Now that you have an idea on what furniture to use and how to create some space in your outdoor area, now it's time to stylize and accessorize.
This is really where you get to let your or your client's personality shine.
Add wall decorations, throw pillows or anything else that help make the space feel more personal and comfortable.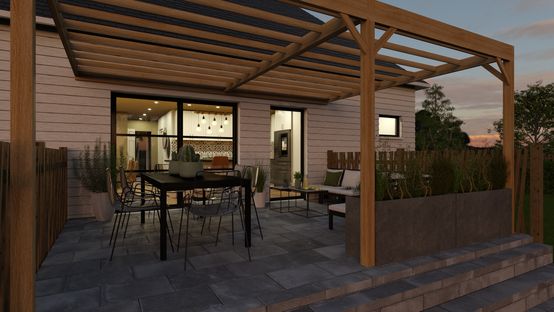 Use a Patio Planning Software & Start Designing Today!
With the average cost of a patio averaging around $5,000, it's important that you master the planning and design process to make the most out of your project and budget.
We've already explored some amazing patio design ideas, but what about taking those ideas and turning them into plans?
To make that happen, you need the right tools.
Cedreo is an easy-to-use all-in-one design platform that can help you turn all your amazing ideas into 2D and 3D plans.
With Cedreo's powerful software, everyone, from contractors to amateur designers, can quickly create streamlined plans in under a few hours.
If you're ready to get started planning out your patio, get in touch with the Cedreo team today.