Whether your clients want to host the perfect barbeque or they're looking to make up for a smaller indoor space, outdoor kitchens are the perfect solution. Many general contractors receive an influx of requests for these projects in the fall in order for construction to be completed in the winter.

In this article, we'll discuss exterior kitchen ideas and inspiration for designing the perfect outdoor oasis. If your client is looking for an outdoor kitchen design to make their backyard a hosting hotspot, keep reading.




Things to Consider When Designing an Outdoor Kitchen
Advice for outdoor kitchen designs is usually too generic to be of immediate use to general contractors. That's because drafting a winning blueprint or layout requires customization. Climate, client needs, and budget will significantly impact the finished product.

Here are some important considerations to keep in mind when designing an outdoor kitchen:

1. Protection From the Elements
Depending on where your business is located, the climate could be accommodating for year-round outdoor cooking. In many states, however, these spaces will need to be designed to withstand winter weather.

Consider the climate when creating your design to predict how the elements may impact the wear and tear of your craftsmanship. An outdoor cottage kitchen in the Pacific Northwest will need to account for heavy rainfall. A Minnesota suburban backyard barbeque space will need to be protected from harsh winter elements. An Arizona rooftop kitchen may seem ideal, but these spaces will need UV and heat protection.

2. The Right Materials
When considering the elements, it's a good idea to think about which materials are best suited for the climate.

Aside from climate, factors that could influence which materials are best suited for a project include:
Budget
Availability
Style and aesthetic
Intended use
The materials used in a construction project will have a significant impact on the longevity of your work. If clients continue to enjoy a space you designed and crafted for them, they're more likely to become repeat clients or to recommend your services to others.

3. Lighting
Outdoor electrical work can be complicated and time-consuming since the existing framework doesn't typically exist outdoors. Solar lights, firepits, and string lights are ideal alternatives to traditional lighting.

This doesn't mean traditional lighting is impossible, but selecting one of the alternative options can save clients money and result in a more manageable space.

4. Appliances
In an outdoor kitchen, mobility and resistance to the elements are two key features to consider when purchasing appliances. Some common appliances used in an outdoor kitchen include:
Barbeque
Pizza oven
Gas stove
Smoker
Fridge
Depending on whether or not the outdoor kitchen is covered with a ceiling, and the degree to which it is protected from the elements, your clients may wish to install a full kitchen. Clients on a strict budget are more likely to gravitate toward traditional outdoor appliances.

5. Functional Layout
Every amazing outdoor kitchen beings with a well-thought-out design. Outsourcing the drawing process to architects and designers is time-consuming and expensive, but general contractors can use Cedreo to complete outdoor designs in under two hours.

Create precise blueprints, functional 2D and 3D layouts, and stunning photorealistic renderings of your project to impress clients and expedite the pre-sales phase. Sign up to start using the free version of Cedreo today.

6. Enough Seating
Clients who request outdoor kitchen designs often want to use their new spaces to host friends and family. In the preliminary meeting, be sure to get an idea of how big the gatherings will be. This will ensure your plans can be tailored to accommodate everyone's seating needs.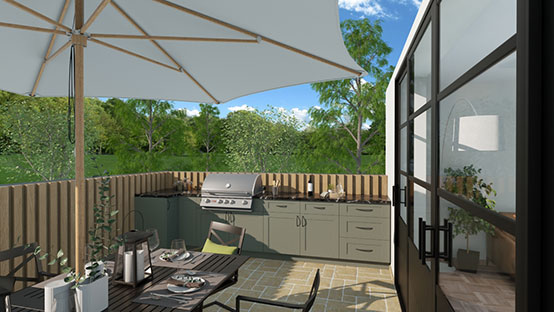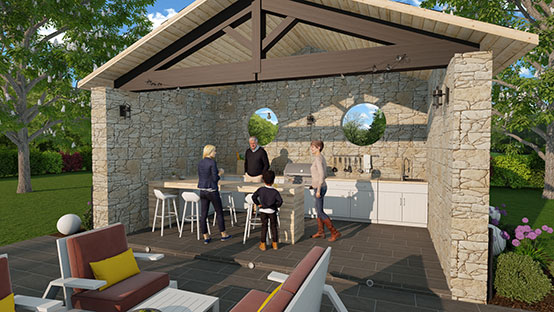 Ideas and Inspiration for an Outdoor Kitchen
Bring these ideas to your clients to impress them and land more outdoor kitchen projects.

1. Vertical Garden
Biophilic design has been trending for the past year. Studies have shown that access to green space, indoor plants, and gardens have a positive impact on mental health and emotional well-being.

A vertical garden in an outdoor kitchen will not only add significant aesthetic value but will also contribute to a better mental state for everyone enjoying the space.

Bonus: vertical gardens are the perfect place to grow fresh herbs and small vegetables such as cherry tomatoes, making this idea perfect for those who love making salads with ingredients from their own garden.

2. Beverage Station
Who can resist a cool glass of lemonade on a hot summer day? For clients with a pool or hot tub, a beverage station will provide all the refreshments a family needs to maximize enjoyment in their outdoor space.

All you need to include a beverage station in a customer's design is a drink fridge, an ice machine, a bar sink, and a cabinet for storing glassware.

3. Outdoor Bar
No outdoor gathering would be complete without an ice-cold beer. If your client plans on hosting guests in their outdoor dining space, suggest a beverage station for creating cocktails, keeping cans chilled, and adding to the overall atmosphere.

A wine cooler, a bar sink, a cabinet for bar utensils, and a liquor cooler will make the perfect setup for hosting parties and gatherings.

4. Indoor Outdoor Space
Clients in colder climates may opt for an outdoor kitchen that is more of an indoor-outdoor hybrid. In this case, your design could include an enclosed roof and patio heaters.

When choosing this option, any permanent appliances that will remain in the space for the duration of winter should be graded for colder temperatures.

If a solid roof is out of budget, consider a pergola or awning that can be opened as needed. This cost-effective option will protect the outdoor kitchen from the elements while allowing clients to use the space in less-than-ideal weather conditions.

5. Grill, Smoker, or Pizza Oven
No outdoor kitchen would be complete without a grill, smoker, or pizza oven centerpiece.

If the client is investing in a high-quality cooking appliance, chances are that appliance will be the central point of many of their gatherings. Consider this when planning the layout.

Often, these features are among the most expensive appliances in an outdoor dining area, so make sure the client thinks critically about how often they will actually use them. A pizza oven sounds great in theory, but if half the family is lactose intolerant, that money might be better spent on a luxury grill.

6. Fire Pit and Patio Heaters
Finally, to ensure the space is comfortable and enjoyable year-round, remember to include amenities for winter. Fire pits and patio heaters can be useful in any state, but they are absolute essentials for outdoor kitchens in colder climates.




Create Outdoor Kitchen Designs in Cedreo
Outdoor kitchens are more than just spaces to prepare and eat meals—they are places to gather with loved ones. Because of this, customers seeking these projects are more open to ideas and inspiration for increasing the possibility of connection.

If you're designing an exterior kitchen, use Cedreo. Outsourcing project drawings to designers and engineers is expensive and time-consuming. In Cedreo, general contractors can create flawless designs, layouts, and blueprints for outdoor kitchen projects in-house in a fraction of the time. Sign up today to start using the free version of Cedreo.