Landscape architecture renderings allow designers to show potential clients what they can expect a project to look like. As you might imagine, renderings go a long way in helping landscape pros close the deal, win the bid, and promote their business.

Landscape architectural renderings have long been created by hand — or with expensive, complicated CAD software. These days, designers have access to a wide range of tools that are easy to use and can save them time and money

In this article, we'll discuss some of the benefits landscape rendering software brings to the table. Then we'll take a look at nine tools landscape pros can use on the job.




What Is Landscape Architecture Rendering?
Landscape architecture rendering is the process of generating 2D or 3D images of a landscape design concept using a software program.

Landscape design renderings give prospects and clients a clear picture of what the final product will look like, ensuring they have all the visual information they need to make decisions or request changes.

We should mention that landscape renderings — unlike interior design or architectural renderings — are somewhat controversial. Some professionals feel that because landscaping involves plants that are all unique, the end product may not look exactly like the rendering.

That said, most clients understand that you can't always control how plants grow. So, as long as you're transparent about this basic fact, you'll likely see more "pros" than "cons" by embracing landscape design software.




Benefits of Landscape Architectural Renderings
Landscape rendering software offers a whole host of benefits for both designers and their clients. Here's a look at some of the big ones:

Clients can visualize their outdoor space
Landscape architectural renderings help clients envision what the project will look like when it's finished — and evaluate proposed designs from multiple perspectives.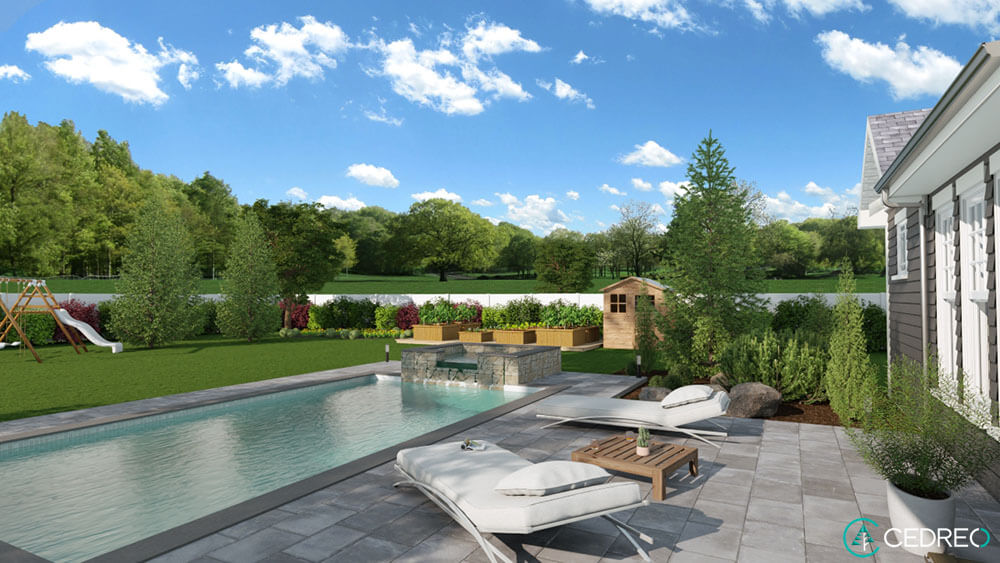 They'll get a clear picture of how the deck works with the exterior of their home, how pathways flow through their drought-resistant garden, and whether the shrubs on the perimeter will provide a shield from nosy neighbors.

Designers and clients can make changes in real-time
Cloud-based 3D rendering software allows landscape designers to generate designs in moments and incorporate feedback as it comes in. This enables landscape designers to collaborate with clients and involve them in key decisions — thus ensuring that the final result exceeds expectations.

Real-time collaboration tools can also streamline the decision-making process. For example, if several people need to sign off on something, you're not waiting for a single hard copy to make the rounds.

Designers can sell more landscape projects (faster)
Finally, landscape architecture renderings are a powerful sales tool. Designers can instantly build trust with prospective customers by speaking to their emotions — something that's hard to accomplish through words or with 2D technical drawings.

Photorealistic renderings help clients imagine how they'll use their outdoor space once it's been transformed into their personal oasis. If you're using a tool like Cedreo, you can even customize the lighting and sun position to strike the perfect mood.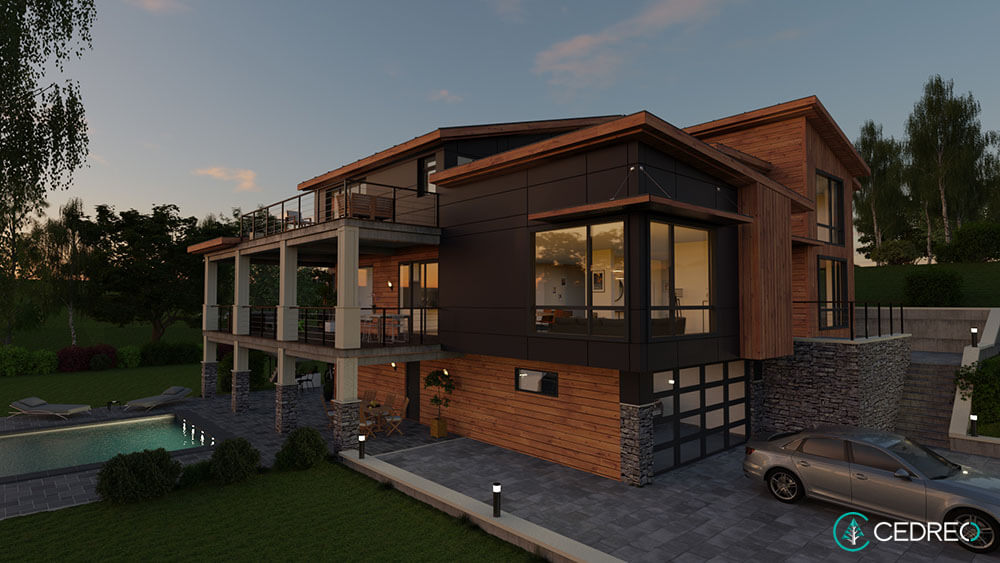 Rendering software can also produce a similar effect in your marketing materials — use renderings in your targeted ad campaigns, blog posts, local listings, and more to attract and convert new leads.




9 Best Rendering Software for Landscape Designers
While many landscape design firms still use "old-school" methods like hand drawings and manual rendering techniques, the right software can streamline the process and bring projects to life in a matter of minutes.

Here are 9 of the best options in the game:
1. Cedreo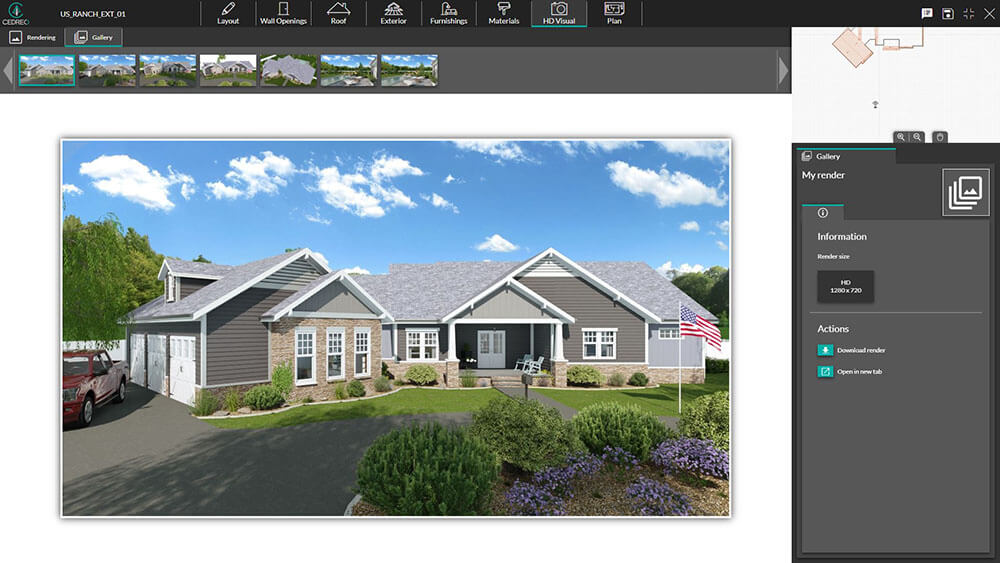 Overview: Cedreo offers a cloud-based 3D home design and landscape rendering software that enables users to generate photorealistic designs within minutes — no design experience necessary. Landscape architects can put together 3D presentations that easily communicate their vision with clients and prospects.

Cedreo allows users to create accurate 2D layouts, define boundaries, and draw areas like decks, pools, and driveways. Toggle between 2D and 3D views to see updated designs in real-time and customize lighting displays. You can also choose from a variety of trees, shrubs, potted plants, and other outdoor elements that bring outdoor living areas to life.

Key features:
Accurate 2D landscape layouts
3D landscape designs
Photorealistic renderings
Collaboration features
Customize sun orientation and outdoor lighting
Access to Cedreo's item catalog that includes 8,000+ items, materials, plants, outdoor furniture — even playground equipment
Pricing: There's a Cedreo plan to meet any budget. Check out our plans here. But, why wait? [Sign up for our free offer today](There's a Cedreo plan to meet any budget. Check out our plans here.).
2. SketchUp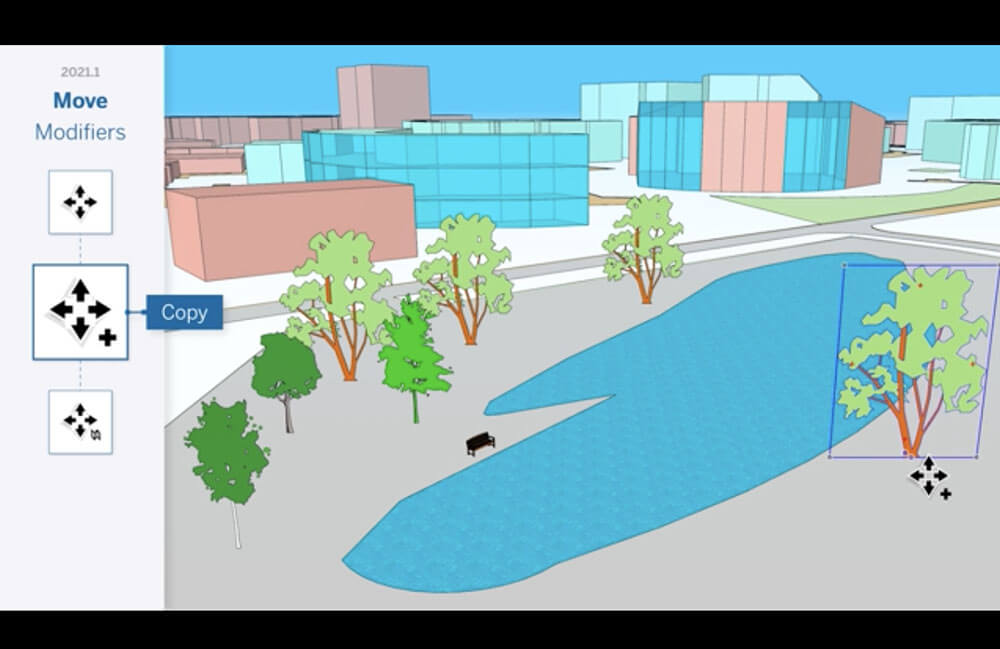 Overview: SketchUp is a top-rated 3D design platform that allows designers to show off their ideas with photorealistic renderings, flyovers, and interactive walkthroughs. While the app does include some outdoor elements, SketchUp seems to be geared more toward architects and home builders than those focused on landscape design.

SketchUp's Extension Warehouse and APIs allow users to integrate the software with the rest of their tech stack and customize project style and workflow, so, you can really make it your own.

We should mention that of all of the landscape rendering tools we're featuring in this post, SketchUp is one of the top alternatives to Cedreo. That said, there are some core differences between the two. For starters, SketchUp is missing some features that cater to specific occupations — including landscape design. In addition, users will need to purchase additional add-ons to generate 3D renderings.

The platform also comes with a steep learning curve for designers that don't have experience with CAD tools.

Key features:
2D floor plans & construction documents
3D modeling
Mixed-reality presentation tools
In-app reporting tools
Extension Warehouse and Custom APIs
Pricing: SketchUp offers four different plans:
Free plan with limited features
Shop — $119 per year (web-only)
Pro — $299 per year (web and desktop)
Studio — $1,199 per year (web and desktop)
3. VizTerra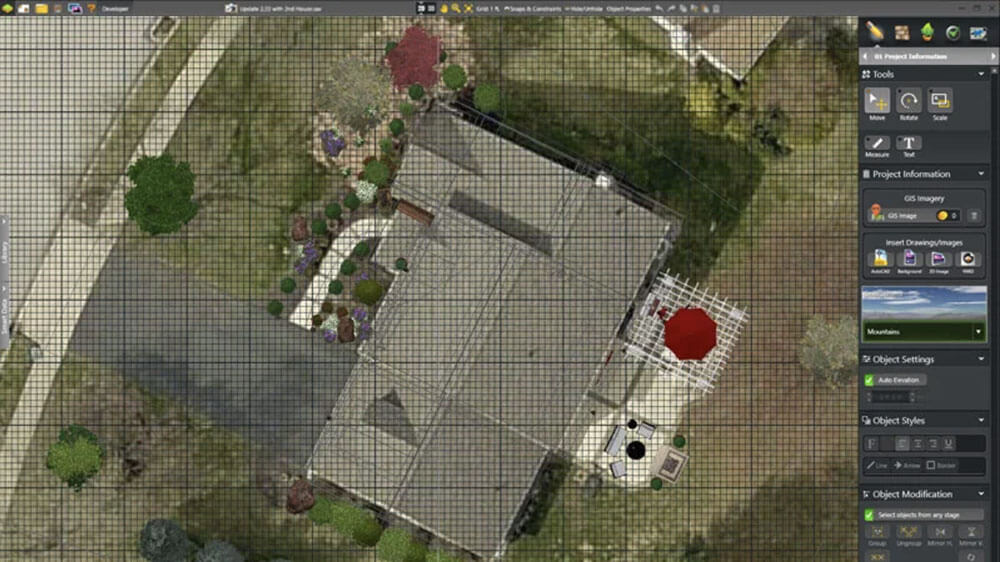 Overview: VizTerra's landscape design software boasts an impressive array of features — all focused on outdoor design projects. The platform aims to help landscape architects and designers streamline workflows

Additionally, VizTerra offers high-res, GIS-surveyed terrain data that allows users to get an accurate view of a client's property from every angle. Users can calculate square footage, outline boundaries, and size-up the outdoor living space from anywhere.

While VizTerra offers a ton of great features that make it easier for landscape designers to do their job, it's not perfect. Overall, users on G2 Crowd, Capterra, and Software Suggest mentioned that the software was buggy. Others said the graphics felt a bit outdated. Additionally, the learning curve may be a bit steep for users that don't have CAD experience.

Key features:
3D topographic terrain mapping
Instant measurements
Integrated deck design software
Smart landscape design stages
Smart library
Presentation & collaboration tools
Pricing: Plans start at $95.00 per month. While there's no free plan available, VizTerra does offer a free trial.
4. Revit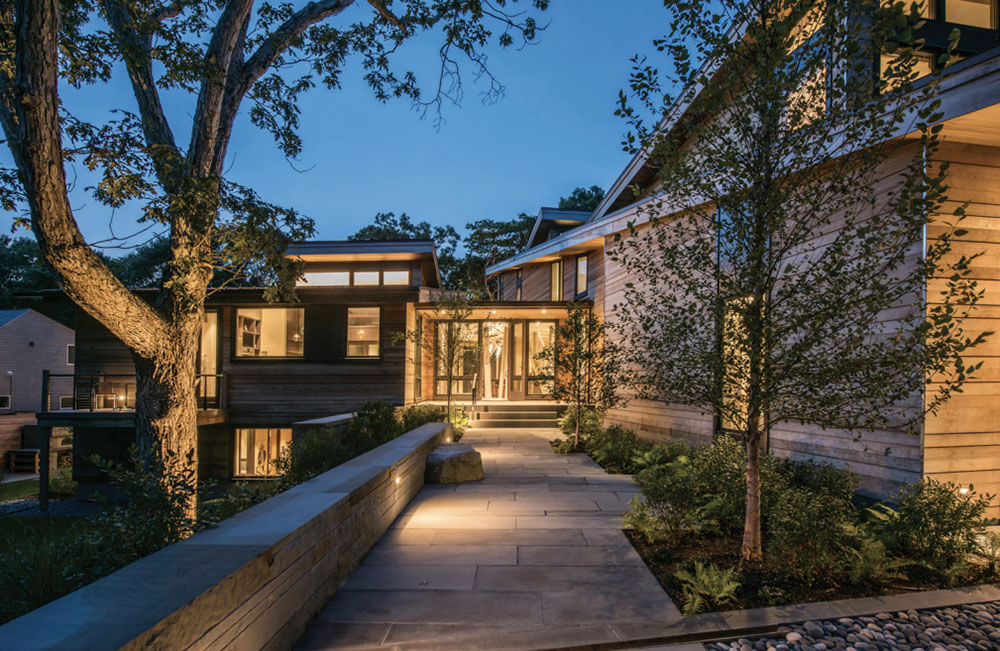 Overview: Revit is an architectural design platform made by Autodesk. It's not necessarily designed for landscape designers (it's designed for architecture, construction, and engineering) but it does include some landscaping features that might be useful.

This software allows users to generate photorealistic renderings, create 2D designs and documentation, and run visual reports that help project managers estimate costs and optimize building performance at every stage in the construction process.

While Revit does include exterior rendering features, it's not built for landscape designers. Its core use case is as a "multidisciplinary BIM platform." The idea is, it gives designers, contractors, and engineers a shared platform for collaboration.

We should also mention that this platform is not easy to learn. While Revit is designed to be more intuitive than the last generation of BIM platforms, it's still pretty sophisticated — and, novice designers will likely be overwhelmed.

Key features:
2D drawing
3D imaging
Drag-and-drop editor
Visual reporting tools
Project and document management
Collaboration tools
Pricing: Revit plans start at $299 per month. Free trial available for download.
5. HGTV Home & Landscape Platinum Suite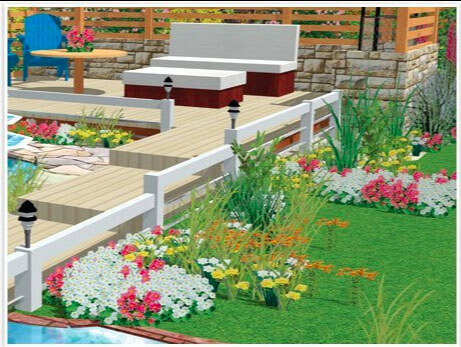 Overview: HGTV's home and landscape design software is for individual homeowners, not professional landscape architects, home builders, or interior designers.

The platform is intended to help homeowners take on DIY upgrades to their home and garden and comes with a suite of features that allow users to design decks, gazebos, pathways, and more. From there, you can use HGTV's extensive plant library to add trees, flower beds, shrubs, and ground cover.

Additionally, users can share their final designs with the platform's presentation tools, which include a 3D virtual tour.

The key benefit of this platform is, it's really easy to use. And, even if you do get stuck, you can access HGTV's video library of tutorials and free technical support.

Finally, it's important to note that this app is not cloud-based. It's available as a CD-ROM or as a download, and unsurprisingly, looks and feels a bit outdated.

Key features:
Plant library with 7,500+ different species
Design in 2D and 3D
Virtual tour feature
Simple drag-and-drop editor
In-platform how-to tips and free technical support
Pricing: Software is available via BestBuy for $79.99. There are also multiple sellers offering this product on Amazon at various price points.
6. Planner 5D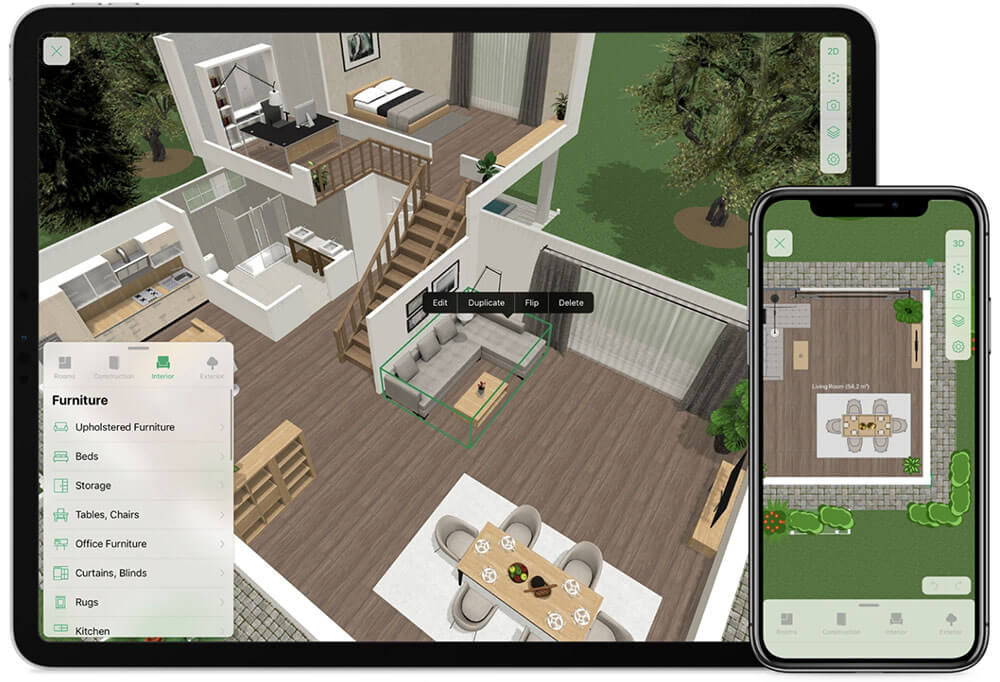 Overview: Planner 5D is an architectural rendering platform that was designed with amateurs in mind — though unlike many of the tools that target the DIY community, Planner 5D produces professional-looking designs on par with many of the commercial offerings available today.

That said, Planner 5D is better suited to interior design and remodeling projects and may not be the best choice for someone looking to create detailed landscape renderings.

Key features:
HD visualizations
Item catalog with 5,000+ customizable objects
Design and edit in 2D and 3D
Photorealistic renderings
AR and VR presentation tools
Pricing: Free plan available to "DIY-ers." There's also an Enterprise plan that offers a more robust set of features, though you'll have to contact the company for a quote.
7. Chief Architect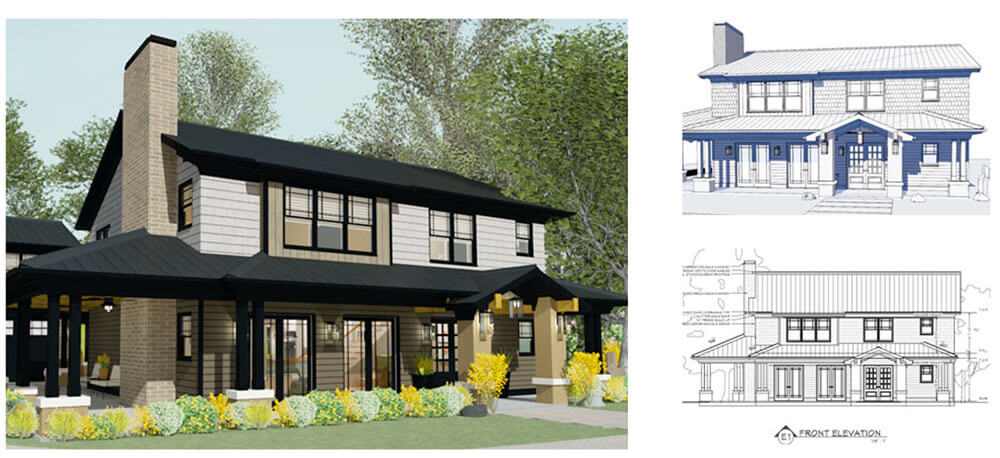 Overview: Chief Architect Home Designer software is designed for architects and home builders working on residential and "light commercial" projects. The platform includes some seriously impressive features. For example, if you're drawing out a floor plan, the software automatically creates a 3D model and starts putting together a materials list.

You can also create 3D presentations from every possible camera angle, impress clients with virtual walk-throughs, and apply a number of stylistic effects to your renderings. The only issue here is that, while Chief Architect allows users to create detailed exterior renderings, it's not really made for landscape designers.

If you're looking for something specific to landscaping, Chief Architect probably isn't your best bet. You'll get features you don't need and may need to find workarounds to create your design.

Key features:
Photorealistic 3D renderings
Automatic floor plan, foundation, and wall generator
Object library
Cost estimator
3D presentation tools
Pricing: The software costs $2,995 for new users. Upgrades cost $695 and SSA renewals cost $525.
8. Lumion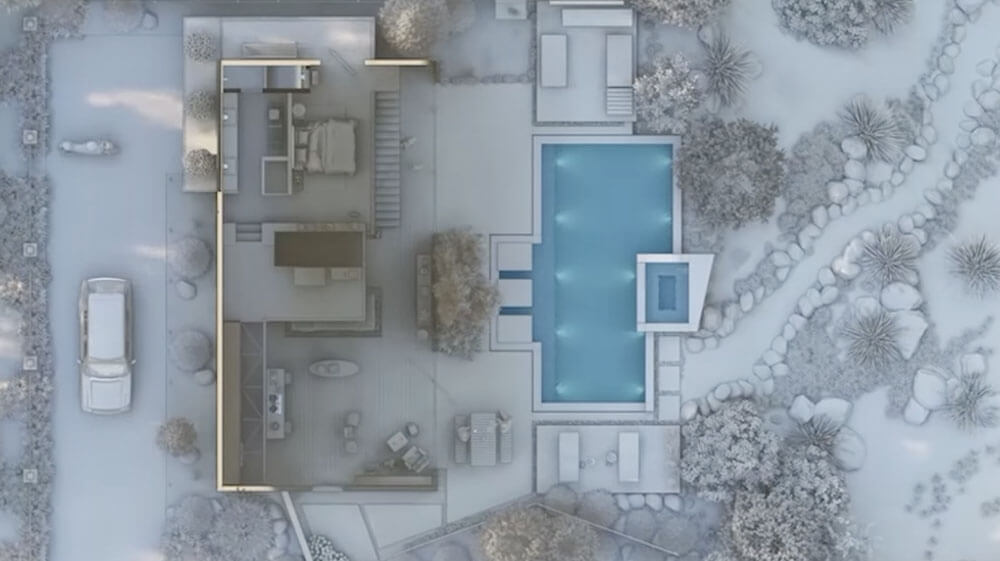 Overview: Lumion's architectural design software produces some impressive renderings and animations. The graphics are incredible, and the platform includes features like rain-streaking effects, displacement matching, and daylight simulation technology that kick the emotions up several notches. Lumion also allows you to import data from Open Street Maps so you can add real-world terrain in a single click.

Some reviewers on Capterra and G2 Crowd reported that they had some trouble customizing materials and orienting the camera, though people had generally positive comments about the software.

Lumion does offer several landscape design features — but businesses focused exclusively on landscaping might find themselves paying for more than they need, as the platform is geared more toward architects.

Key features:
3D renderings in eight different styles
3D panoramas
Full content library boasting 6,300+ items and 1,250+ materials
Live syncing with CAD software
Pricing: Lumion is available in two versions: Standard ($1,766) and Pro ($3,533). You'll pay for the license and upgrade as needed. Free trial available.
9. SmartDraw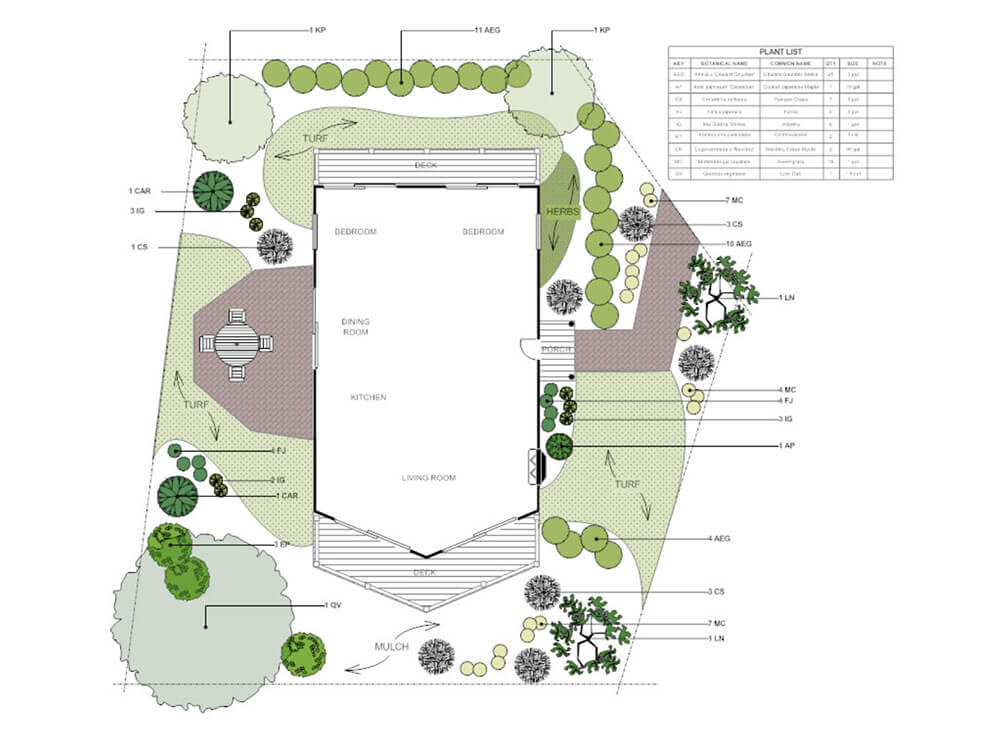 Overview: SmartDraw's landscape design software allows users to quickly create detailed landscape designs with its intuitive drag-and-drop editor. The platform includes dozens of quick-start templates you can customize, or you can design your own 2D plan from scratch.

Users can also collaborate with clients and colleagues by saving plans to a shared SmartDraw folder or via Dropbox, Google Drive, or Microsoft OneDrive.

It's important to mention that while SmartDraw offers several useful features for landscape architects and designers, it's not ideal for users looking for a platform that includes presentation tools. SmartDraw is a diagramming app that only allows users to design in 2D. That said, it does come with a development platform you can use to create custom extensions. So if you have in-house capabilities, you could integrate this software with a different platform that offers 3D renderings, virtual tools, and so on.

Key features:
Garden design and layout software
Deck designer
Quick-start templates for landscape design and backyard planning
Access to SmartDraw's extensive landscape symbol library
Integrates with Google Workspace, the Atlassian stack, the Microsoft Suite, and more.
Intelligent formatting
Pricing: Limited free version available. Enterprise plans start at $2,995 per year, though pricing depends on how many people will be using the account.
Which Software Is Right for You?
Cedreo's 3D landscape rendering software is designed to help users streamline the planning process, close more deals, and ensure clients are happy with the end result.