3D Deck Design Software
Create Professional 2D & 3D Deck Designs Online.
Draw Deck Designs in 2D and Visualize in 3D
Extend your floor plans to the outdoors with Cedreo's online deck design software. In just minutes, you can design a deck with custom features and blueprint-standard symbols. Cedreo functions as both a 2D and 3D deck designer, allowing you to create complete documentation for your building project. You can even render your designs as lifelike images that perfectly reflect the finished result.
Learn more about Patio Planner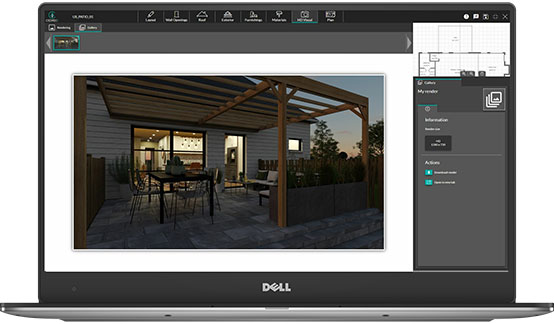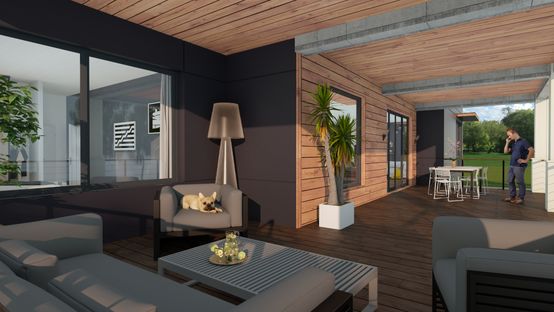 Fast-Track Design Approvals
Cedreo's cloud-based deck designer works much faster than on-premise solutions. You can update your deck project plans as you review them with clients and create new renderings in minutes. This speed and agility can help you get signoff quickly, without a lot of back-and-forth.
Learn more about Garden Design Software
Create a Client's Dream Deck With Cedreo
No matter how intricate your client's vision for a dream deck might be, Cedreo's deck designer gives you the ability to execute it perfectly.
Draw 2D Layouts
Cedreo's online deck designer allows you to create top-down views of your deck design as an extension of your full home floor plan. You can quickly add architectural symbols and placeholders for patio furniture. Cedreo has a massive library of icons you can use to create the most accurate 2D representation of your customized deck project.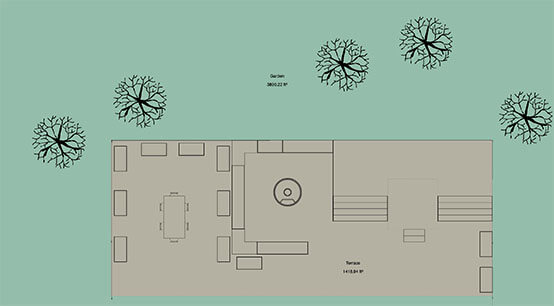 View 3D Layouts
The detailed 3D deck designs you can create with Cedreo help your clients see how all of the elements will come together in the finished project. Show clients their finished deck from multiple angles, and adjust the sun orientation for a more dramatic effect.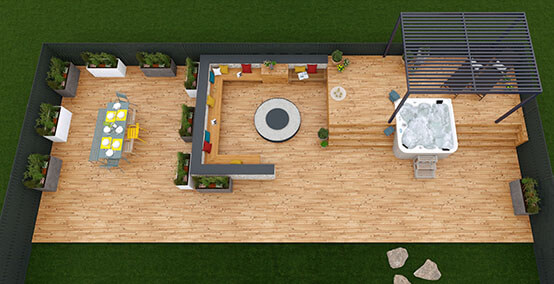 Create Photorealistic Renderings
Quickly produce breathtaking images of your deck design as it would appear in real life. The deck design tool operates fully online, so there's no need to install a large program. Generate and download your high-resolution 3D renderings within Cedreo's cloud server.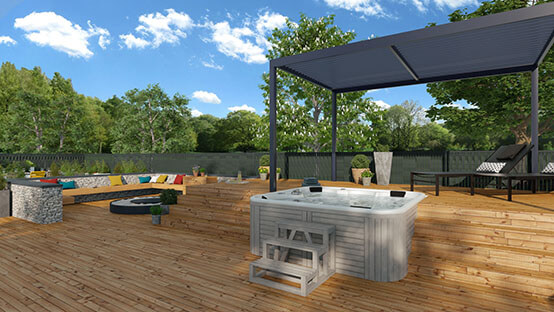 Who Uses Cedreo's Deck Designer?
Cedreo's ease of use, deep product library, and high-resolution renderings help many people do more work, with minimal effort.
Builders
Building a home can take months, and builders need to stick to their timeline to prevent customer frustration. Cedreo's deck designer helps builders clarify deck plans and get faster approvals.
Remodelers
Whether you're remodeling or expanding a deck, homeowners want some assurance that the finished deck will match their home's style. Cedreo's customization options help you create a perfect match.
Contractors
Contractors can use Cedreo to design a deck, estimate costs based on the materials they chose, and get signoff from customers or builders they're working with.
Architects
Cedreo offers 2D deck designer tools that architects can use to show the correct placement of key elements, such as support beams, railings, steps, and pergolas.
Homeowners
While Cedreo is designed for professionals, homeowners can use the free deck design tool to lay out their deck design ideas, then save them and share them with builders or contractors.
Team members
Cedreo Enterprise users can collaborate with team members on deck designs, working on and sharing plans inside the software. This functionality helps teams work more efficiently.
A Deck Designer for Any Layout
Take a look at what Cedreo can do — these are actual projects that housing pros have created with our 3D deck design software.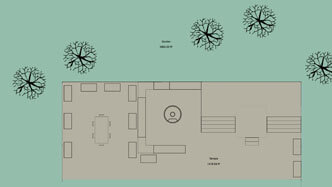 2D deck layout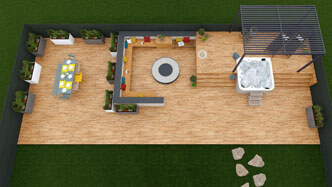 3D deck design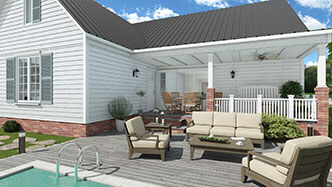 Backyard deck design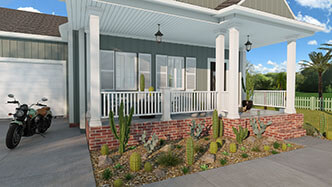 Deck design with stairs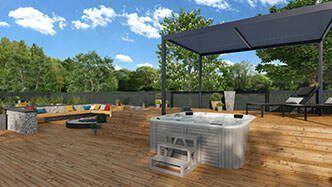 Deck design with hot tub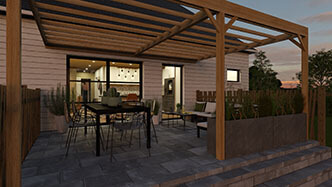 Deck design at night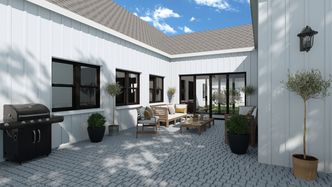 Deck design with BBQ
Deck design with outdoor kitchen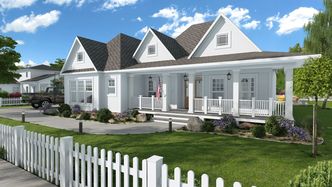 Front porch deck design
Features for Easy 3D Deck Designs
Cedreo's 3D deck design software lets you create stunning, feature-rich designs that delight clients and help you close more deals.


Customize the Deck
Choose your decking material and customize it to match your client's home.

Add Furniture
Add furniture that helps clients see seating capacity and traffic flow.

Include Landscaping
Surround the deck with garden beds, plants, or shrubs.

Add People and Pets
Include people and pets to illustrate scale.

Adjust Lighting
Show clients daytime views, and nighttime views with deck lighting.

Save and Share Your Work
Save and download your work to share with clients or on your website.
How to Create Professional Deck Designs Online With Cedreo
Cedreo's deck designer streamlines the step-by-step process of drawing and rendering your design. With drag-and-drop functionality and a library of customizable objects, this deck planner couldn't be any simpler to use.
1. Draw or Import a Deck Layout
Import an existing layout, or draw your deck floor plan from scratch. The click-and-drag style deck design tool gives you the ability to completely customize your deck design's shape, size, and dimensions. Quickly add elements to symbolize the placement of railings, stairways and other features.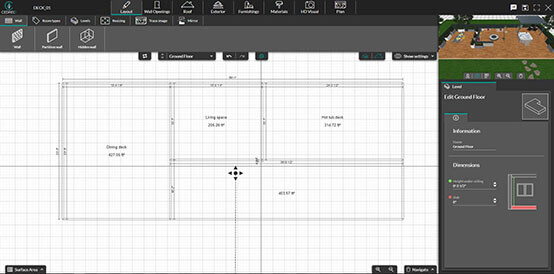 2. View 3D Visualization
Get full clarity as you work by opening the 2D and 3D views simultaneously. The dual views allow you to work faster than ever, with full visibility of how your 2D floor plan translates into a real-life deck design. This ensures that you'll catch any design mistakes early, preventing the need to make revisions when you're trying to wrap up the design phase of your project.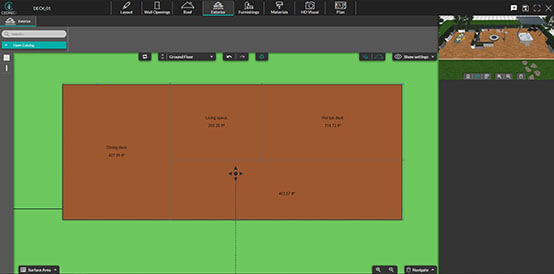 3. Customize Surface Materials
Building in the Cedreo deck designer gives you the ability to present your plans in a way that fully meets your client's expectations. You can quickly search Cedreo's constantly-growing library of materials and finishes to select the perfect finish for your deck's wood, tile, railings, or other surfaces.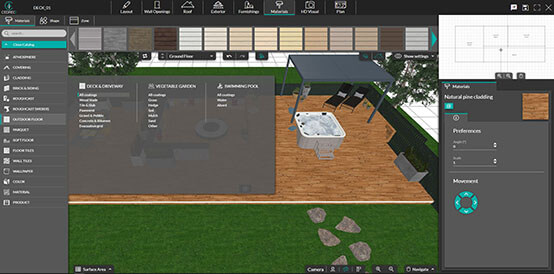 4. Add Deck Furnishings
Click on the tab for 3D items to access deck furnishings and decorations that match your client's style and the deck design. Inside the "Garden & Deck" category, you'll find everything you need to compose a beautiful and lifelike design for your outdoor space, including tables, chairs, barbecue grills, and more.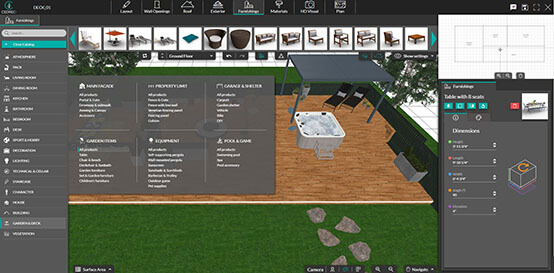 5. Add Exterior Objects
Right inside your deck model, you can recreate your client's current backyard or update the landscaping to reflect a planned overhaul. The materials library includes a variety of vegetation, so you can select trees, shrubbery, plants, pools, and other elements that enhance the scenery surrounding your deck.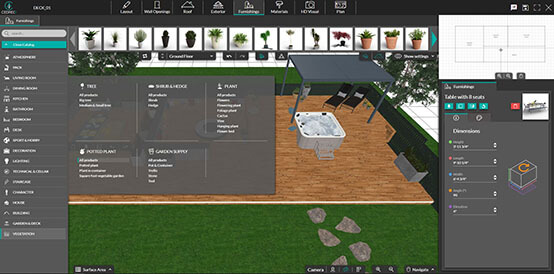 6. Generate Photorealistic Renderings
In less than 5 minutes, the deck designer's powerful cloud-based processor can generate a high-resolution 3D rendering of your project. Choose your preferred angles, lighting, and even sky details to create a beautiful and realistic result.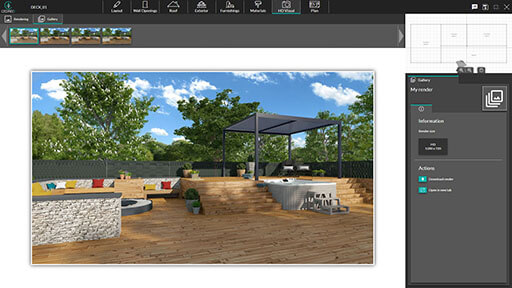 7. Download or Share Deck Designs
Cedreo's deck design software makes it easy to download all of the imagery created in the program so you can share your project with your clients. If you have the Enterprise plan, you can share the project with team members inside the Cedreo app.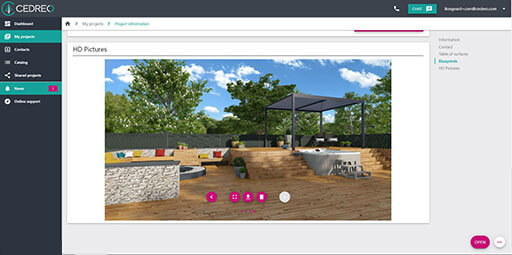 Deck Designer FAQs
Can I try Cedreo for free?
Yes! We offer a free trial — no strings attached — that you may cancel at any time.
How does Cedreo compare to SketchUp?
Both Cedreo and SketchUp offer 3D modeling, but Cedreo is specifically for home building and design. SketchUp requires add=ons to create 3D renderings; Cedreo doesn't.
How do I use my existing deck plans in Cedreo?
If you have plans in JPG or PNG format, just upload them to Cedreo's deck designer and draw over them.
What type of support does Cedreo offer?
Support options include email, phone, and online chat, as well as video tutorials and one-on-one training for Pro and Enterprise customers.