Even for experienced remodeling professionals, it's incredibly difficult to generate accurate project estimates without the right set of tools.

There are just way too many intangibles in the mix that you can't plan for with Excel spreadsheets. And those intangibles can add up to big problems: bad data, delays. budget overruns, negative profit margins — the list goes on.

Inaccurate estimates also force contractors to make the choice between breaking promises to clients or taking a hit to the bottom line — which, either way, spells trouble for your business.

In this article, we'll go over what to look for in an estimating solution, then get into our top remodeling estimating software picks.


8 Things to Consider When Choosing a Remodeling Estimating Software
Software investments should always be made with your customers and business goals in mind. So, it's worth mentioning that different businesses will use different criteria to make their decision.

Wondering what to look for in remodeling estimating software? Here are a few things to consider during the evaluation process:

1. Simplicity over complexity
It's sometimes easy to forget that software is designed to help you solve a problem or drive improvements. If it makes your life harder, it defeats the purpose. Your remodeling estimating software should simplify the process of generating accurate estimates.

Consider the learning curve when evaluating potential solutions. How long will it take to get it up and running? Does it include more features than you actually need? Or unnecessary complexities? Does the software provider offer support or self-service resources?

2. Legal compliance
One of the biggest challenges remodelers and contractors face is dealing with regulatory compliance and legal requirements. The best remodeling estimating software offers built-in tools for navigating legal challenges and maintaining compliance. That way, you can avoid the small errors that can lead to delays, citations, fines, or completely derail a project.

3. Custom templates
Most modern estimating software for remodelers allows users to create custom templates they can reuse for future projects. It seems like a small thing, but that ability to bypass some of those initial admin tasks goes a long way.

Templates save you a ton of time, help you maintain compliance with brand guidelines and standards, and ensure that you've included all important details.

4. Training
If your team has trouble learning how to use the new software, they either won't use it or they won't maximize its potential. Before committing to a software solution, you'll want to find out if the vendor offers any specialized training options. Does the platform come with self-guided tutorials? What does their knowledge base look like? Do they offer hands-on training sessions?

5. Pricing
The right solution is one that you can afford. While this sounds a bit obvious, it's worth mentioning because defining your budget early-on helps you avoid wasting time evaluating too-expensive solutions. Keep in mind, however, that you shouldn't focus on finding the cheapest option. Instead, it's better to consider how much value it creates for your business.

6. Reviews
The main benefit of using remodeling estimation software is that it reduces the chances that errors or mistakes make their way to the client. As such, you'll want to make sure you're buying from a vendor that has a solid reputation and that uses the latest and best technology to deliver the promised results. One of the best ways to do your due diligence is to see what "the people" have to say.

Check out review sites like Capterra, G2, and TrustPilot. Look for reviewers within your industry who are targeting the same problems/use cases. Ultimately, your goal is to make sure that a solution works as intended before reaching out to the company for a demo.

7. One end-to-end solution
Finally, it's a good idea to look for an all-in-one solution for running your business, rather than an estimation tool that has only one or two functions. The reason is, estimating is directly tied to your accounting processes, financial records, sales process, client accounts, and the rest of your business. When you're working with multiple platforms that don't talk to each other, there's the risk that estimates will be based on outdated or inaccurate information. That, in turn, impacts everything from client satisfaction to sales performance to profitability.

13 Best Estimation Software for Remodeling
Now that we've gone over some basic selection criteria, let's take a closer look at some of the best estimating software for remodeling available on today's market. Here are 13 options to help you start your search:

1. Cedreo + CostCertified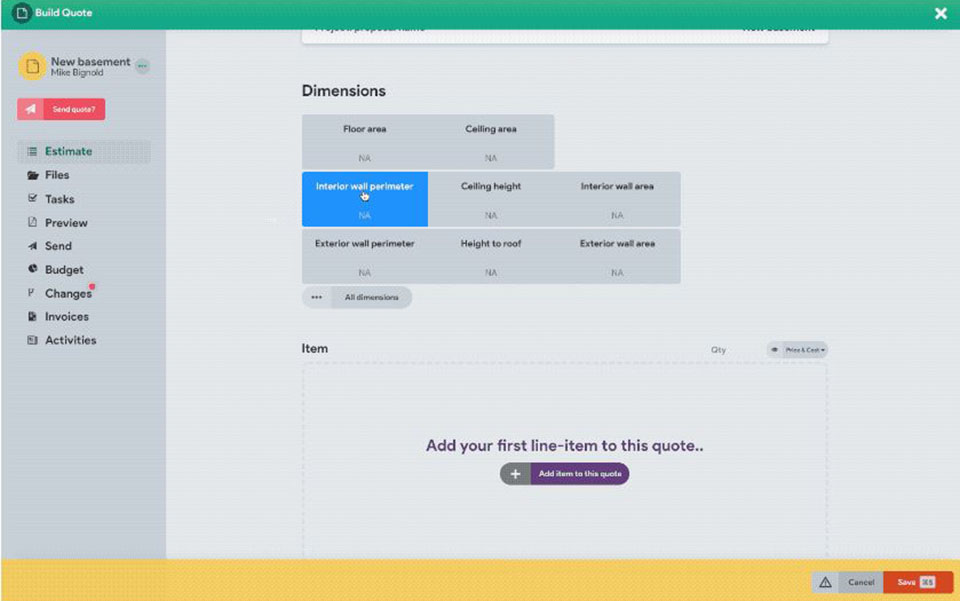 Overview: Cedreo 3D home design software with the CostCertified integration is the gold standard for remodeling estimating software. It gives you an all-in-one solution for easily creating designs and estimates for just about any residential project.

In the past, remodelers had to create takeoffs and material lists from their home designs. All that takes loads of time to do manually or requires extra software. But now, Cedreo and CostCertified save you a lot of that hassle.

Design your project in Cedreo and it automatically transfers your plan info into CostCertified so you get an accurate estimate faster than ever.

Plus, CostCertified lets you create custom templates you can use and adapt for future clients. You can even give clients several product options to choose from. When they select their preferred product, your estimate automatically gets updated. Can't get any easier than that!

Key features:
Design an entire home in as little as 2 hours — no CAD experience necessary
Get PRO-level 3D renderings that impress clients
Create accurate estimates without having to manually input material lists into a program
Easily give your clients multiple product options
Quickly adapt estimates based on your clients' needs
Easily check your project margins
Offer clients upgrades to increase your earning potential
The combination of 3D designs and streamlined communication leads to happier clients
Price: There's a Cedreo plan to meet any budget. Check out our plans here. CostCertified pricing is available upon request.

2. 123worx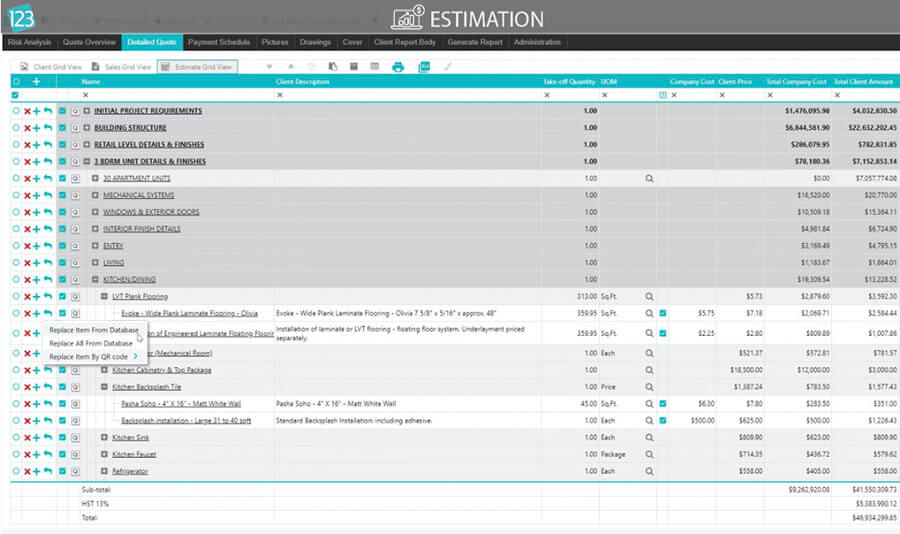 Overview: 123worx is an all-in-one, cloud-based construction management platform that unifies the entire business in a single app. Inside, you'll find a flexible suite of project management, collaboration, and business management features that cover everything from estimates and proposals to scheduling, marketing, and contact management.

Key features:
Job estimates
Job costing
Change management
Scheduling
Document management
Activity management
Contact & companies database
CRM
Incident reporting
Time-tracking
Proposals
Price: There are two versions of 123worx: Pro and Enterprise – and within each option, there are a few different pricing tiers, which determine the features included in your plan. You'll need to contact the company to get a definitive quote for any of them.

3. B2W Estimate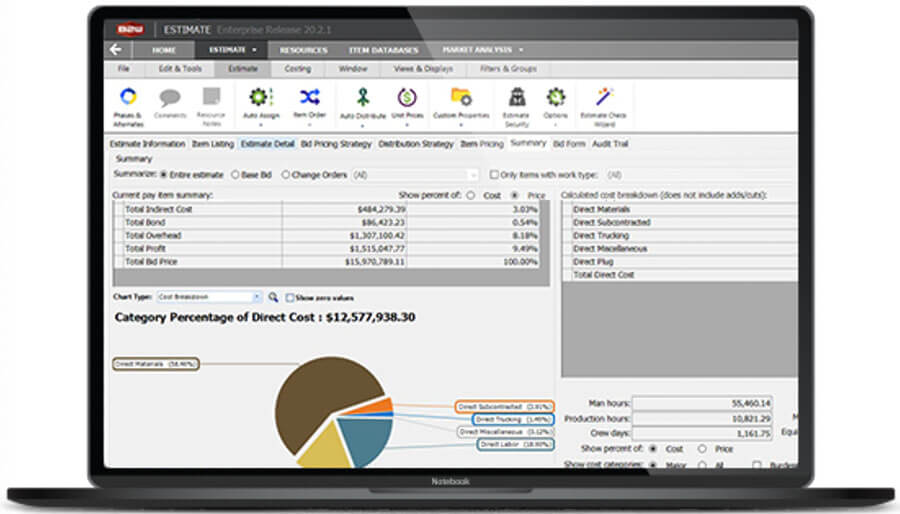 Overview: B2W Estimate is designed to help contractors across all heavy construction sectors improve costing accuracy, increase bid volume, and streamline the change management process.

B2W promises to help teams move away from spreadsheets and manual processes and instead, embrace data-driven estimating. Users gain access to a single database for managing project resources, teams, costs, and tasks. Multiple estimators can work on the same bid at the same time without worrying about version control or tracking changes.

Key features:
All-in-one database for managing projects and resources
Ability for multiple users collaborate on bids and estimates
Customizable bid forms
Integrated change order management
Support for traditional, flexible, WBS, or hybrid bidding
Price: Pricing available upon request. B2W offers several apps in addition to its estimation solution, so plans are based on which capabilities you'll need to support your business.

4. Bid Builder

Overview: Bid Builder is an easy-to-use software platform designed specifically to help general contractors gain control of their finances and drive profitability. Key features focus on estimation, bid management, and managing inventory and accounting tasks.

Additionally, Bid Builder users will gain access to reporting tools that highlight areas of improvement. For example, it will reveal examples of where you could have generated more profit, allowing you to use those insights to improve the financial performance of future projects.

Key features:
Estimating
Bid management
Accounting
Reporting tools
Audit trail
Subcontractor management
Database that includes thousands of common items, assemblies, materials, and jobs
Ability to customize database entries
50+ pre-made reports
Custom proposal generator
Price: $1,295 per license. 15-day free trial available.

5. Buildertrend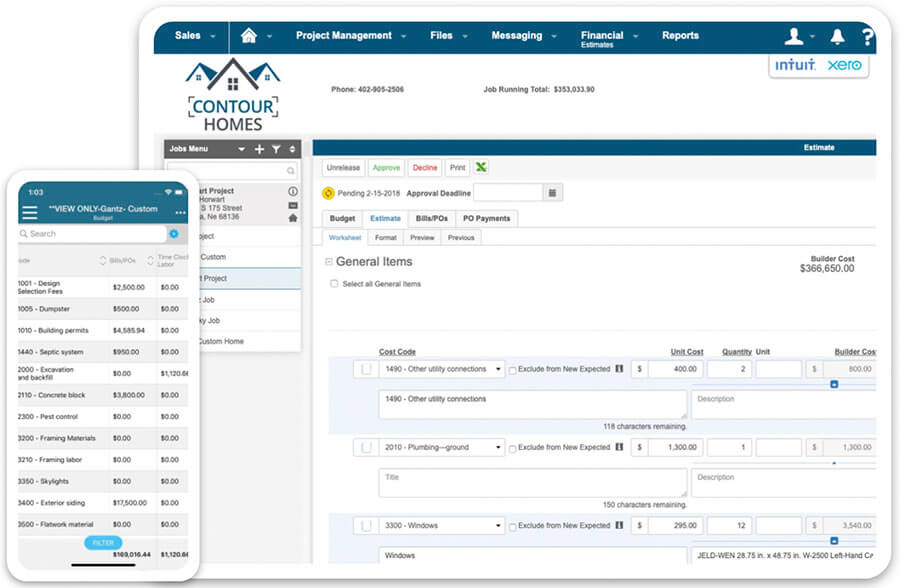 Overview: Buildertrend is a cloud-based project management solution that helps construction pros manage their entire business from a single platform. Subscribers can access the files and data they need from any location, keep track of customers and projects in a single database, and collaborate with colleagues, clients, and subcontractors in real-time. Plus, it integrates with popular accounting tools like Xero and QuickBooks.

In addition to all the features and functionality it brings to the table, Buildertrend also provides a dedicated support team, unlimited training, and support resources.

It is worth noting that some users reported that the platform could be slow at times and occasionally experience "hiccups" in functionality during tasks like batch uploads, capacity planning, and payment processing.

Key features:
Estimates
Proposals
Bid requests
CRM
Lead management
Email marketing
Scheduling
Task management
Invoicing
Time-tracking
Budgeting
Purchase orders
Change orders
Price: Pricing available on request.

6. Candy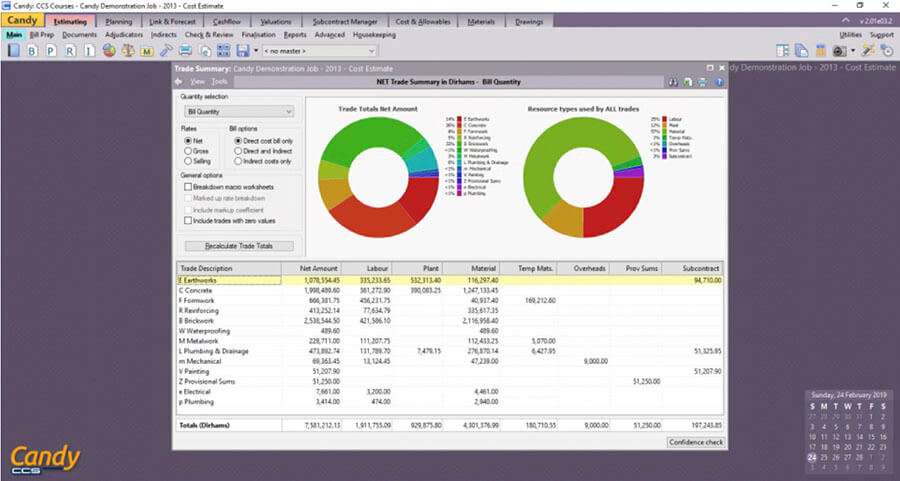 Overview: Candy combines estimating, project management, and planning features to help construction companies run their business more smoothly. The platform includes a wide range of features — including tools that tackle project planning, scheduling, forecasting, estimating, and subcontractor management, as well as direct integration with popular accounting solutions. Ultimately, Candy is a solid solution that eliminates the silos and fragmentation that cause problems for companies that specialize in complex, project-based work.

Key features:
Estimation
Cost-to-completion tracking
Customizable templates
Change order management
Bid management
Accounting integration
Audit trail
Gantt charts and timelines
Price: Available upon request.

7. Clear Estimates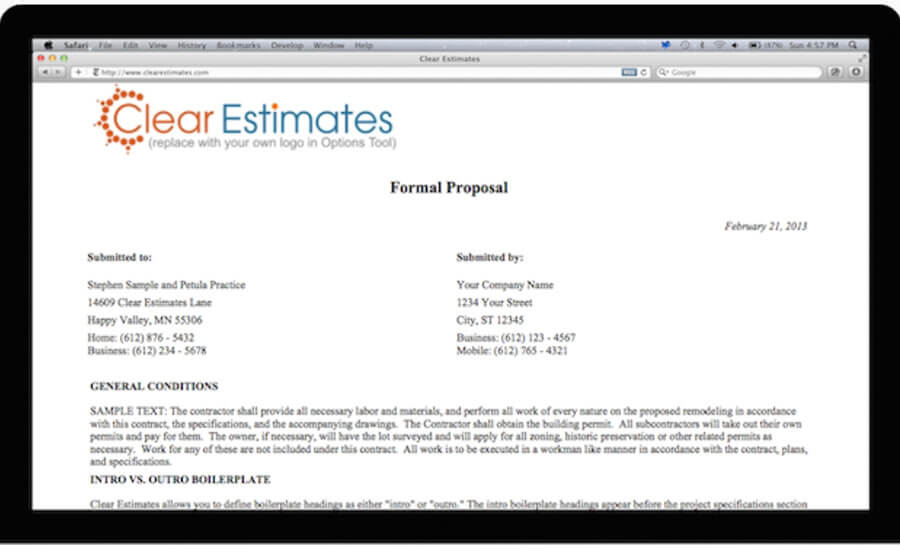 Overview: Clear Estimates is a cloud-based estimation tool for smaller remodeling and renovation companies. Users can create estimates, manage customers and projects, and calculate the costs of materials and labor.

This platform is a cost-effective option for individual contractors or business owners with a small team. It's not an end-to-end solution for managing complex construction projects, but it can help users generate professional proposals and estimates with accurate pricing information.

Clear Estimates does offer limited mobile support, which allows users to check updates and bid prices on the go. However, you'll need to use your web browser to access the full feature suite.

Key features:
Accurate cost data
60+ pre-built templates
Proposals
Estimates
Customizable fields/documents
Price: Plans start at $59 per month. Free trial available.

8. Contractor's Office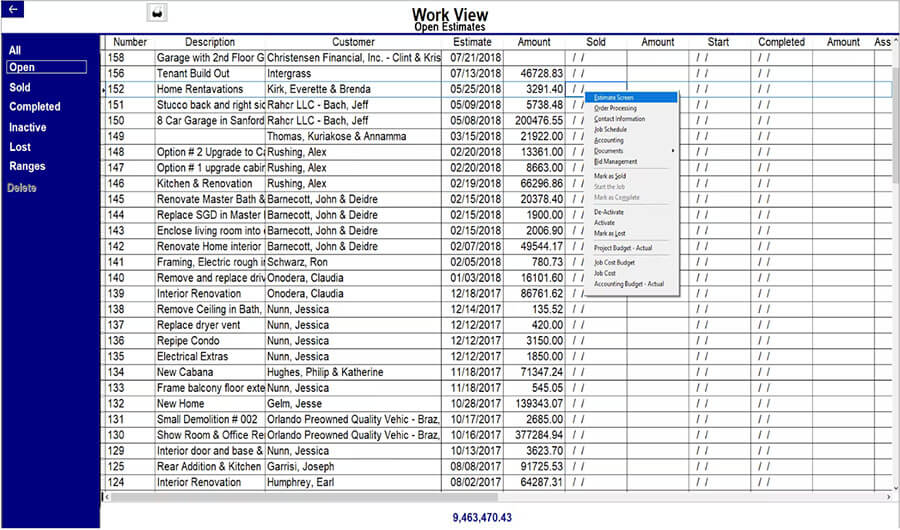 Overview: Contractor's Office is an estimating software for remodeling pros and other contractors operating within a wide range of industries: electrical, plumbing, HVAC, real estate, and more.

The platform is hosted on-premises, which means it doesn't support the mobile access modern contractors need to stay connected.

For smaller firms with a handful of employees, few stakeholders, and straightforward projects, Contractor's Office could be a cost-effective solution for managing estimates, bids, and client relationships.

Key features:
Customer database
Task management
Estimation & quotes
Work order management
Job management
Scheduling
Bid management
Accounting
Price: $795 one-time licensing fee. Option to download a free trial before you buy.

9. DASH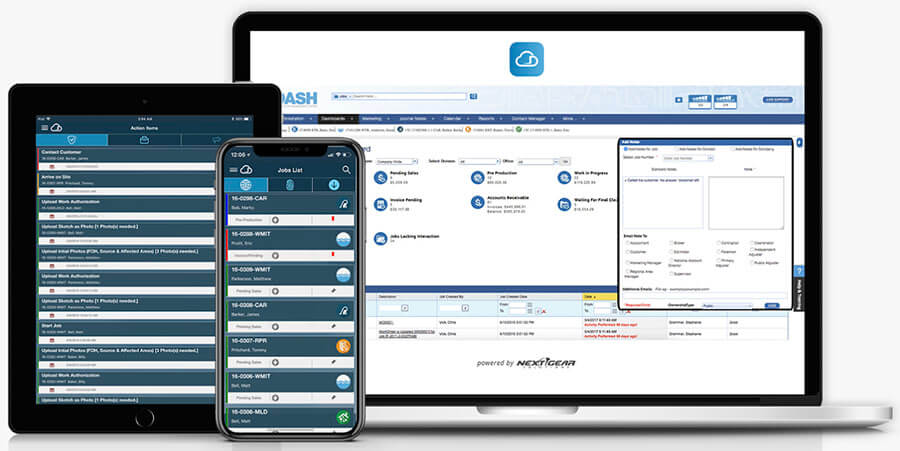 Overview: DASH is a cloud-based project management app that offers real-time insights, data syncing, and collaboration and enables construction teams to work from anywhere. DASH makes it easy for users to create jobs, upload photos, submit reports, track equipment, and more. Workers can dictate notes and seamlessly upload them to the job file.

Key features:
Estimation
Job scheduling
Compliance manager
Real-time data
Offline functionality
Job lists
Workflow builder
Support for third-party integrations
Price: Pricing available on request.

10. EasyEst Pro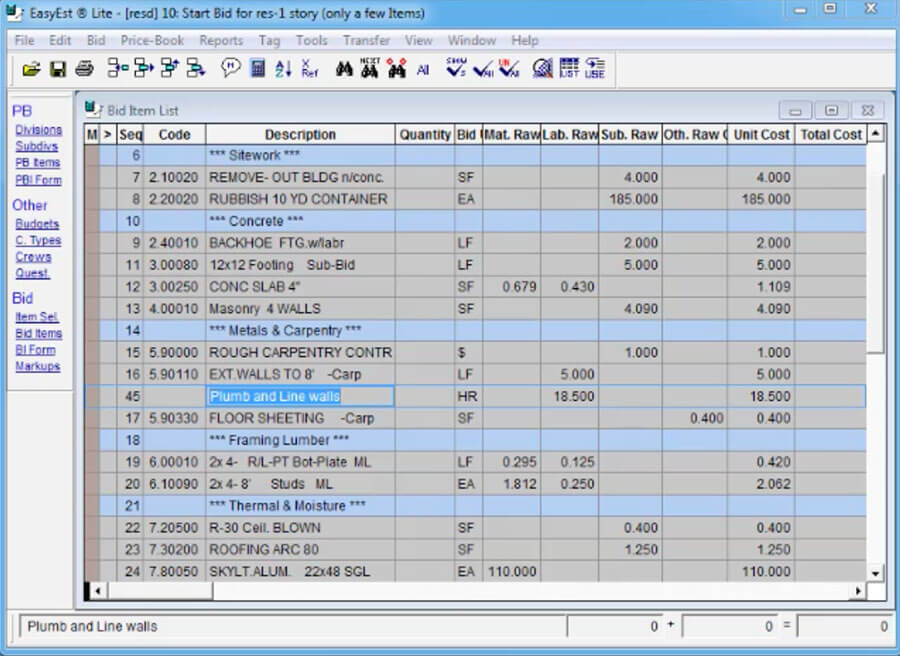 Overview: EasyEst is a construction estimating platform, designed for remodelers, builders, and sub-contractors. It includes a whole host of features and templates that tackle the unique challenges of this space.

While EasyEst has the benefit of being a hyper-targeted, niche solution, it doesn't feel especially modern. For example, one of the selling points featured on the homepage is "only pay once," which tells you that it's not a cloud-based solution. Explore the features a bit more, and you'll quickly learn that the user interface has a distinctly "Windows 95" vibe and it doesn't offer mobile support.

That said, the platform does include pre-built reports and templates that stand to make life easier on contractors — assuming they're already using an end-to-end solution to manage their business. It does integrate with popular accounting and CAD tools, and allows users to customize in-app features to meet their needs.

Key features:
Estimations
Bid reports
Templates
Standard formula calculations
Custom markups
Budgeting & costing
Waste factor monitoring
Scheduling
Price: $199 per license. (Keep in mind, it's not a standalone solution, so you'll need to plan on paying for other platforms to complete your tech stack).
11. Estimator360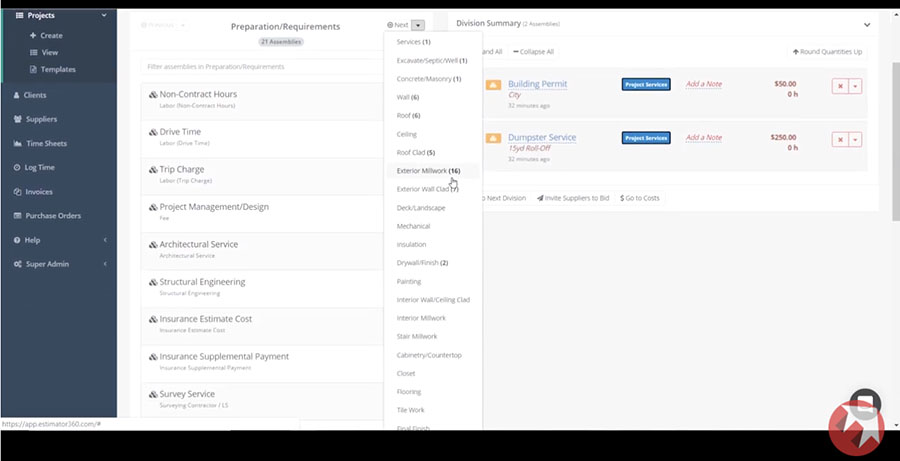 Overview: Estimator360 is a construction estimation solution that automates and tracks all project-based interactions, including building calculations, assemblies, and document generation. The platform includes customizable, pre-made templates that enable users to create estimates, proposals, and change orders, populate docs with custom project specs, and calculate costs within minutes.
Key features:
Estimation
Proposals & contracts
Time-tracking
Project management tools
Digital takeoff features
Price: Pro plans are $269 per month, billed annually. Enterprise pricing is available upon request. You'll also need to get in touch with the team to schedule a demo.

12. EZ Construction Estimator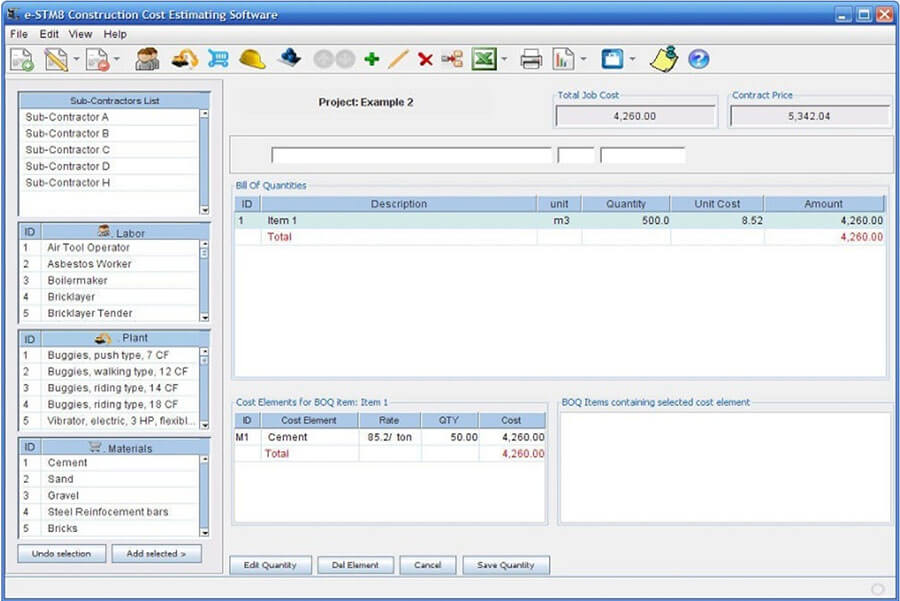 Overview: EZ Construction Estimator is an estimating tool for contractors, regardless of trade. The platform offers an easy-to-use drag-and-drop interface, customizable templates and reports, and integration with Excel. Users gain access to a suite of tools that make estimation a breeze and set the stage for successful, profitable bids. At the same time, EZ Construction Estimator was designed for a different era. It's offered as an on-prem download, and minimum system requirements reference Microsoft Excel 2003 and Quickbooks' 2009 Contractor's Edition.

Key features:
Estimation
Bid management
Change order management
Database pre-loaded with 2,000+ items and assemblies
Automatic calculations
Ability to produce scope-of-work docs
Integration & data-syncing with Microsoft Excel
Reporting tools
Price: One-time licenses start at $150. They do offer a free trial upon request.

13. EZcontractPro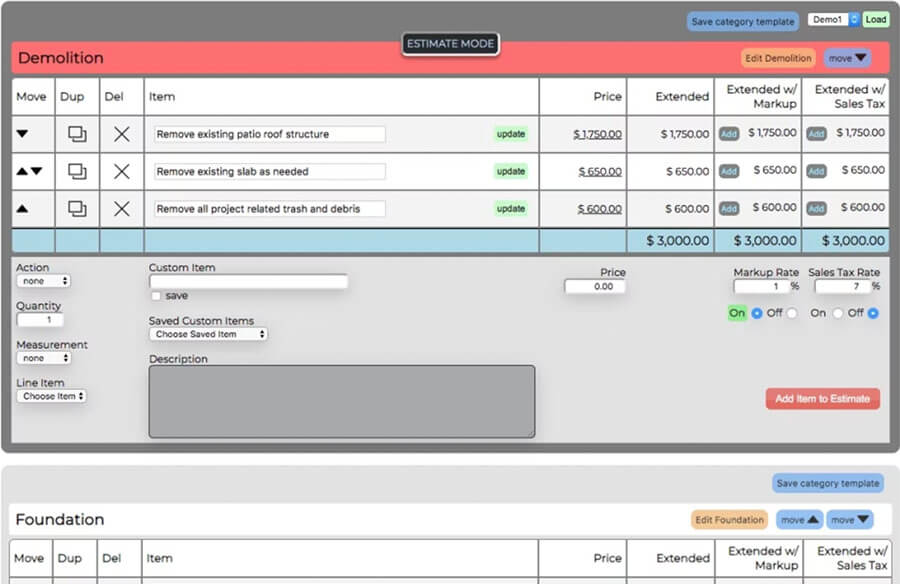 Overview: EZcontractPro is a cloud-based app for remodelers, electricians, plumbers, and other contractors, designed to help them manage critical tasks like invoicing, estimation, and proposal generation. It's best for small companies or individual freelancers and is positioned as an alternative to other entry-level accounting, invoicing, and proposal options that fail to address industry-specific needs.

Key features:
Budget management
Change order management
Cost estimation
Contract management
Quote management
Custom templates
Billing & invoicing
Price: $19.99 per month for the Starter plan. $39.99 for the Essentials, $59.99 for Pro, and $79.99 for Pro+.
Which Home Design Software Is Right for You?
If spreadsheets, manual processes, and fragmented systems are preventing you from delivering accurate estimates to your clients, it's time to upgrade your stack. The right remodeling estimation software depends on several factors: budget, compliance, features, and compatibility with existing tools and processes.

Like the best estimation tools, Cedreo helps remodelers win more business and keep clients happy. Tools like 2D & 3D floor plans, 3D renderings, and in-app collaboration features make it easy to revise design plans and approve changes. Together, these features ensure that projects are delivered on-time and under-budget — and align perfectly with the client's vision.

Sign up for a free account to see key features in action.