Talk to just a handful of contractors and you'll quickly realize that construction delays are the norm, not the exception. In fact, according to a recent report, only about 30% of construction projects finish on time and within budget.

That means most projects end up going beyond deadlines and over budget. Fortunately, that doesn't have to be the case with your business!

So what can you do to prevent delays on your projects? The first step is understanding the top reasons for construction delays.
In this 5 minute read, we'll go over:
5 of the biggest reasons most construction projects get delayed
A few pro tips for handling them
Plus an awesome tool that helps you avoid common delays
What Are the Main Causes of Construction Delay?
Here are 5 of the most common reasons construction projects get delayed. Any of these happen to you recently?
Budget Inaccuracies
Incorrect estimates can lead to huge delays on the construction site. Bid too low for a project and you'll end up spending days or even weeks figuring out how to pay workers and purchase materials. Or you'll risk losing time negotiating with clients for a larger budget.

One of the best ways to avoid delays caused by poorly prepared budgets is to use modern estimating software like CostCertified. Its new integration with Cedreo design software means it's easier than ever to create accurate estimates for your residential projects.

And since Cedreo is so easy to use, in addition to avoiding delays, it'll help you save loads of time during the planning process.
Subcontractor Challenges
In addition to managing your own workers, managing subcontractors can also suck up a lot of your time and lead to delays.

Even if you spend time reviewing bids and vetting subcontractors, chances are you'll eventually hire one that's problematic. Maybe they're not as skilled as you thought. Or maybe they don't complete their part of the project on time. Untrained subcontractors could even cause accidents or property damage that leads to delays.

So be sure to properly vet any subcontractor you hire.
Ask them for references.
Check with previous employers or contractors they've worked for.
Ask for examples of past work.
And don't wait to speak up if there are problems.
Labor Shortages
Almost every industry is facing labor shortages and construction seems to be one of the hardest hit. A lot of this is due to older construction workers reaching retirement age and the younger generation not being as interested in construction careers.

When you just don't have enough workers to complete the job, delays will usually follow.

If this happens to you, be careful you don't make it worse. In order to meet deadlines, if you push the workers you have too hard, you're more likely to keep losing employees which will lead to more delays.
Here are two things you can do to avoid labor shortages:
Take care of your employees. Happier workers lead to fewer delays.
Look for ways to increase your project efficiency in other areas. That'll help mitigate any delays you might suffer from a labor shortage.
Weather and Unavoidable Events
There are a lot of things we can control but the weather isn't one of them. Weather can be a factor, especially during long projects that span several seasons. Rain, wind, snow, heat, storms, and even natural disasters like floods and hurricanes can cause serious construction delays.

So while you can't control the weather (and other unexpected events like a pandemic), you can take this into account during the planning stages of the project.
Here are a few tips:
Plan your project so that, if possible, your workers can complete most of the structural and exterior work during seasons with better weather. Try to plan most of the interior finishes over the winter months.
Keep your team well-equipped to deal with inclement weather. That could involve providing them with temporary shelters, waterproof or cold-weather gear, and other tools needed to keep working comfortably and safely in bad weather.
Leave a cushion in your schedule for lost time due to unexpected events and bad weather.
Design Issues
Serious design issues can cripple a project's timeline. And the worst part is, usually they're only noticed once the project is underway. This leads to change orders and rework which drive up costs and extend timelines.

Fortunately, you can minimize common design issue delays during the project planning phases. One easy way to do that is to use modern home design software like Cedreo.
Here's how it can help:
See designs in 2D and 3D simultaneously. This helps contractors and their clients visualize exactly how the final project will look. Clients know exactly what they're getting which avoids unwanted surprises during the construction phase.
When a client requests changes, Cedreo's cloud-based software helps your team quickly adapt and implement those changes to the project. With a laptop and Wifi in the field, make changes to the plans that your design team back at the office can instantly see and approve.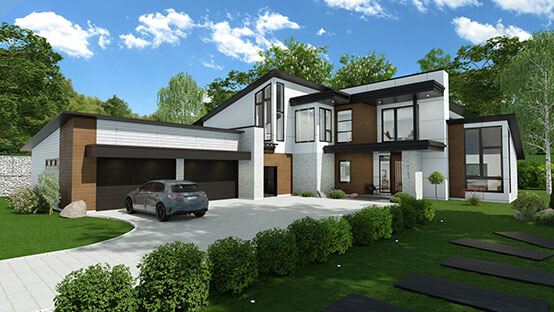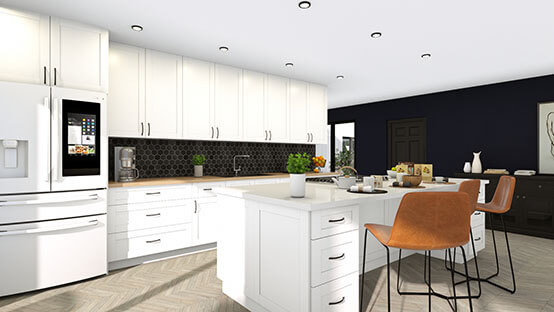 Increased Communication Can Help
If you analyze the top reasons for construction delays, you'll notice that one of the biggest factors for helping reduce delays is effective communication.
Effective communication between all parties during the planning process leads to more accurate budgets and timelines.
Good communication between design team members helps produce more accurate plans.
Open communication with subcontractors and employees leads to happier workers, fewer mistakes, and less rework.
Clear communication with clients decreases their frustration and boosts their satisfaction.
So look for ways to create systems that promote effective communication.
Have a clear channel of communication within your company.
Make sure everyone knows who to talk to if they have a problem or suggestion.
Use cloud-based software to keep everyone up-to-date and on the same page.
Look for tools to help you communicate clearly with clients, such as using 3D renderings to help them visualize your project proposals.
Start implementing those suggestions and see your projects get completed faster and within budget!




Conclusion
Tired of construction delays? Then why not take some time to look at your recent projects and figure out which were the biggest causes of your delays.

Thanks to this article, you know where to look.
Poorly prepared budgets
Problems with subcontractors
Labor shortages
Weather
Design issues
As you work to reduce your construction delays, why not sign up for Cedreo home design software with the CostCertified integration? No other home design software saves you so much time during the planning and construction phases.
With its intelligent software, you can design an entire home in as little as 2 hours
Create pro-level 3D renderings in just 5 minutes
Streamline communication with cloud software and team collaboration
Create accurate estimates with the CostCertified integration
Stop losing time by working with multiple programs.
With a FREE version, you've got nothing to lose. Switch to Cedreo all-in-one residential design software today!