For the past two years, the global housing market has been surging, leading many homeowners to seek alternative, affordable solutions. Granny flats are a cost-effective way to increase the livable space on a single property.

Due to the rising popularity of granny flats, many home building professionals may have noticed an increase in clients looking to have one built on their property. For the most part, these projects are fun and relatively easy to complete. Still, due to their novelty, there are plenty of questions about the different types of granny flats, their benefits, and the best practices for building one.

This article is designed to provide home builders with a better understanding of the important information to know before building a granny flat for their customers. Keep reading to discover the answer to many common questions.




Types of Granny Flats
A granny flat is an additional suite or living space that sits on the same property as a house or multi-family housing unit. It can also be known as a:
Guest house
In-law suite
Accessory dwelling unit (ADU)
Backyard cottage
Laneway house
Secondary unit
Basement apartment
Granny flats can come in many different forms. Let's discuss the three main types.
In-Home Granny Flat
An in-home granny flat is one of the most common varieties. These units typically have fewer laws governing construction and habitation. They are also considerably easier and more affordable to build, as the primary structure already exists and needs only to be modified to include a new entrance and living amenities.

These units are ideal for customers who have a lower budget, or who will not be using the unit as a source of rental income. The lack of separation between the main home and the granny flat, however, is ideal for homeowners who wish to build a space for their in-laws or children to cohabitate with them.
Home-Extension Granny Flat
These granny flats are additions to an existing home. They extend the structure of the main building so the ADU is attached, but still separate. Often, these flats are equipped with a separate entrance, kitchen, bathroom, living space, and bedroom.

This type of suite is ideal for homeowners who don't mind the additional unit being attached to the structure of their main home. For housing friends and family members, home-extension granny flats are suitable, but they may not be a good match for homeowners looking to build an income-generating unit.
Detached Granny Flat
Detached granny flats are structures that are completely separate from the main house. They are significantly more expensive to build, but the cost can be considered an investment as detached granny flats can be used as rental income units.

In addition to the extra costs associated with building a detached ADU, there are many bylaws and regulations to consider. Depending on the location of the property, city laws may prohibit or heavily regulate this type of construction. It's important to ensure clients have a good understanding of the restrictions their project may face due to local regulations.

Regardless, detached granny flats are coveted because of their ability to provide privacy and autonomy to those living in both the main and secondary units.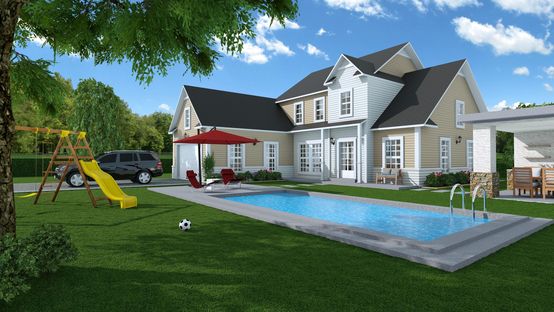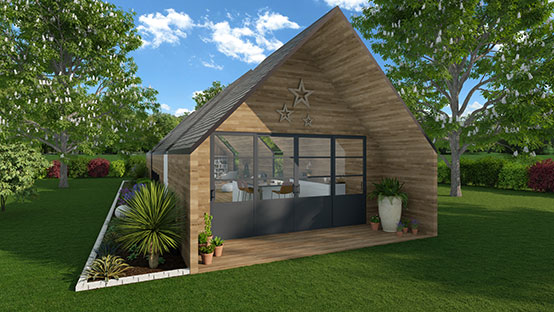 Benefits of a Granny Flat
There are many benefits for homeowners, communities, and building professionals who take on granny flat projects.

A few benefits for homeowners and communities include:
Potential rental income
Affordability (They cost half as much as single-family homes to build)
Ability to share living expenses
Opportunity to care for loved ones
More dense, walkable communities
Increased availability of affordable housing
Fewer resources are required to build and manage
In addition to the benefits for their customers, home building professionals will enjoy working on these rewarding projects. Granny flats also make for excellent portfolio pieces to add to construction websites or social media profiles. Since ADUs are growing in popularity, this will attract more customers seeking similar projects.




How Do I Build a Granny Flat?
Before beginning construction on an ADU, it's important to consult with local officials on the laws surrounding additional units in that area. If ADUs are allowed, then the homeowners and building professionals will need to obtain all the necessary permits before construction can begin.
Draft a Site Plan
For home building professionals, the first step in building a granny flat for a customer is to develop a site plan. If the customer knows which type of suite they want, it will be easy to draft up a detailed plan for where it will sit on the property.

If the customer doesn't know which type of unit is ideal for their property, builders can make a mock-up of multiple options so the customer can visualize the completed project.

Using an in-house design tool like Cedreo allows home builders to create premium quality, precise, and construction-ready site plans in as little as two hours, saving them time and money on outsourcing to expensive design professionals.
Draw a Floor Plan
Once customers approve the site plan, it's time to develop a floor plan. Cedreo helps home building professionals cut design time by 50 percent.

To design a floor plan in Cedreo, start by adding dimensions or uploading an existing layout. Add walls, wall openings, and a roof. When the structure has been established, select from a library of surface coverings, then customize the space with furniture, appliances, and more.

For presentation-ready designs, select the preferred lighting and camera angle settings, then allow Cedreo to create stunning 3D visualizations of the finished project. With photorealistic renderings, customers can view their finished granny flat before construction even begins.
Create an Estimate
Floor plans and layouts created with Cedreo are precise, meaning home building professionals can create estimates using the measurements and calculations provided.

Once a client approves the estimate, you can start doing what you do best: building their dream project.




Design and Build a Granny Flat For Your Customer
As a construction professional, it's important to stay on top of the latest trends. Granny flats are increasing in popularity due to their affordability, versatility, and unique ability to add value to a homeowner's property. For those same reasons, they will likely continue to become more common.

With any new or unknown project, Cedreo can help lay the groundwork for exceptional results. It is the intuitive, 100 percent cloud-based 3D design software that simplifies project planning and expedites the sales process.
Visit our website to start using the free version of Cedreo today.