Professional home building and remodeling companies need a steady stream of new business.Even big jobs have an end date, and remaining profitable is all about bringing new leads in the pipeline.

Lead generation is a struggle for a lot of professionals. You can be the best in the business, but if you're not bringing in enough leads to keep your team busy, your business is probably suffering. We're here to help.

In this post, we will start with some basic home improvement lead generation strategies and then dive into more detail about how to actually engage with prospects across a large variety of platforms. Read on to learn more.




Why Is Lead Generation Important for Professional Home Builders and Remodelers?
You need exclusive home improvement leads to keep the revenue flowing for your business. That is the simplest way to describe why lead generation is important in the home building and remodeling industries.

Lead generation is a critically important consideration for home improvement professionals. You can't simply flip a switch and watch the leads start pouring in. That would be nice, and it's what many marketing companies would like you to believe they can do, but it's not reality.

Instead, you have to truly engage with prospects across a variety of platforms to build a lead-generation framework that not only brings in a lot of leads, but a lot of high-quality leads. As any professional in this business knows, there are too many "tire-kickers" to count. If you get 300 contractor leads that are just shopping around but will never turn into actual clients, where did your investment in lead generation get you? Nowhere.

Now, let's look at 12 ways to get high-quality home improvement leads.




12 Tactics to Generate Quality Home Improvement Leads
You probably know a few competitors and colleagues who buy home improvement leads and make their businesses work with those leads alone. That's a great start, and we discuss a few lead-purchasing tactics below, but the world of home improvement lead generation is a big one.

Why go all-in on the most expensive lead-generation tactic when you could devote some time to all of the tactics and get lower-cost, higher-quality leads coming in on a regular basis? Below, we give you the knowledge you need to get leads from all the best sources and grow your business.
Optimize your GMB profile and rank in Google Maps
Google My Business (GMB) — have you heard of it? If you haven't yet, it's only a matter of time before this platform becomes a centerpiece of your marketing budget. Why? Because optimizing your GMB profile is the best way to rank in Google Maps. And Google Maps is where an enormous number of people find local builders, remodelers, and other home improvement contractors.

Your GMB profile is your business's identity on Google's business directory. Keeping your profile updated helps ensure that Google will serve up your GMB information in Maps results when people search for your business or relevant services.

When it comes to "optimizing" your GMB profile, the first step is claiming it (telling Google that it's your official profile). From there, you need to fill out every available field that describes your business. Provide all of the information possible, including photos, hours, directions, rates, your contact details, and more. You also need to include relevant keywords in your business descriptions and encourage happy clients to leave reviews on your GMB listing.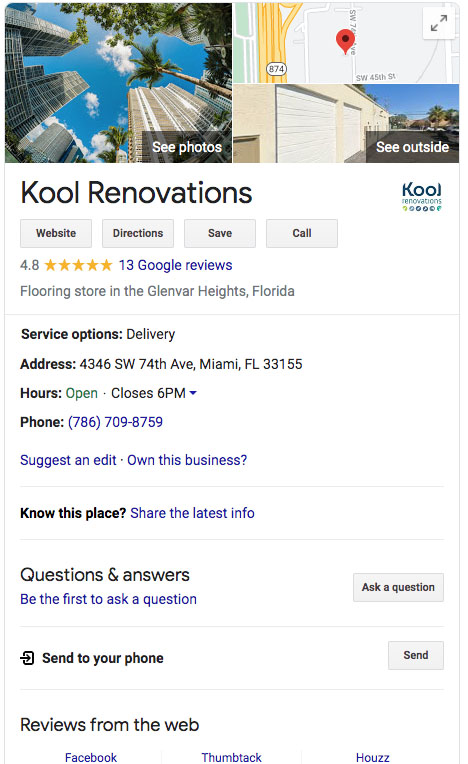 An example of a GMB listing with reviews.
Optimize industry review site listings
In home building and remodeling, reviews matter — a lot. In fact, 87% of consumers in 2020 said they read online reviews of local businesses before contacting them. What does that mean for you? You need to have a presence on all of the major business review platforms, encourage reviews from customers, and respond to reviews.

Here are a few of the most important review platforms for home improvement businesses:
HomeAdvisor
Google Maps
Yelp
Trustpilot
There are, of course, many more review sites, and you can probably also find some that are specific to your location. To generate more home improvement leads, you need to completely fill out your profiles on each of these review sites. You also need to pay attention to the reviews you're getting. Thank customers who leave positive reviews, and respond calmly to negative reviews while offering a way to resolve the issue.
List your business on industry lead gen sites
Home improvement lead generation is only going to happen for your business if homeowners know where to find you. That's why it's so important to make sure your business is listed on every site where prospects might see you.

Every industry has its own lead generation sites, and there are dozens in the home improvement space. Here are some of the most important ones — some of which we already covered in the previous section — for businesses like yours:
GMB
Bing Places
Yelp
HomeAdvisor
Houzz
Construct Connect
Bark
BuildZoom
The Blue Book
Porch
Launch a review campaign
We already discussed the importance of ranking in Google Maps and asking customers for reviews. But how, exactly, can you find the time to reach out to potentially hundreds of customers to ask for reviews? By launching review campaigns.

You can ask customers for reviews on social media, through your email list, via a blog post on your website, by offering a discount or other incentive, and through many other strategies. Your best bet is probably a combination of most or all of these strategies.

Here's the payoff: You get more reviews, and those reviews build trust with prospects. That brings in more leads. In 2020, 94% of consumers said positive reviews made them more likely to use a business, and 79% said they trust online business reviews as much as they would trust a recommendation from a friend or family member.
Use paid ads to get immediate exposure
Many of the ways to generate home improvement leads that we have discussed so far involve a lot of sitting and waiting. You set up your online properties and wait to see the effects. We believe that time investment is worthwhile, but what if you need leads now?

That's where paid ads come in. You can purchase paid advertising on a variety of platforms, but pay-per-click (PPC) advertising campaigns on search engines and social media platforms like Facebook and Instagram are probably the most popular and effective paid ad methods for home services businesses.

The cost per lead acquisition for paid advertising is likely going to be much higher than it would be for the more organic methods we discuss in this post, but there is a payoff: You get immediate exposure. You don't have to wait for people to notice your great reviews or for Google to rank your website higher. You pay for the ads, they run, people click on them, and you get leads. Even when people don't click on your ads immediately, they should remember who you are when they decide to move forward with their home improvement project.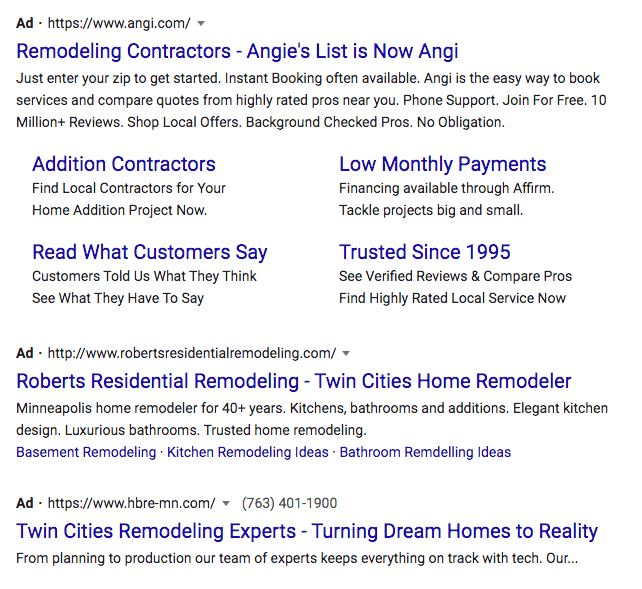 Paid ads display at the top of search results
.
Build strategic local partnerships
Sometimes, homeowners aren't looking for only your services. They may want you to build or remodel their home, but they may have further plans to complete their living space, which might involve interior decorating, landscaping, roofing, and similar services. The same is true of consumers who contact roofers or interior decorators — they may also be interested in home remodeling or adding to their existing home.

What if you could get businesses that complement yours to send leads your way? You absolutely can. This is a common home improvement lead generation method. You build a strategic partnership with a business that offers services related to (but not competitive with) yours. Then, you and the other business exchange high-quality leads as part of that partnership.
Canvass neighborhoods where you're working
When you're at a job site, you're probably surrounded by dozens of other homes. You know so many of these homes could benefit from your services, but do the owners of those homes know that? Probably not, which is why you should tell them.

This is the perfect lead generation opportunity. Your work is already on display in the neighborhood, and you and your equipment are already there. Knock on a few doors, and don't be afraid to drop your client's name when you tell the homeowners about your services. Also, if it's feasible, consider adding a discount for the job since you're already there.
Send out direct mailers
You read that right. In the digital age, when everyone is using email marketing, SEO, online reviews, and even cold calls, you can stand out if you show up in the mailbox. Sending out direct mailers gives you an edge over many competitors seeking home improvement leads if they're not using this method. That means more potential sales.

If possible, avoid a simple text-based mailer. Images are worth a thousand words, as they say, so include images of some of your best home improvement projects to give recipients an idea of what you can do for them. You can squeeze even more lead generation out of this method if you include a limited time offer for those who received the mailer.
Offer free quotes
You might be surprised to learn how many of your competitors are charging for quotes and inspections. If you offer free quotes with no obligation to move forward with the project, you're going to get more leads — plain and simple.

People love getting something for free, and a quote for a home improvement job is no exception to that rule. Be detailed about what you can do for the estimate. If you can, provide some mockups or models to bring the quote to life.
Use 3D home design software to sell the vision
Why tell potential clients what you can do, when you can show them? Create a photorealistic 3D home design that illustrates what a home improvement project will look like once completed. This is what Cedreo is all about. Our industry-leading 3D home design software helps professionals create detailed, realistic designs in less than half the time of other leading software.
Publish and promote question-based blog content
Publishing blog posts on your business website is a long-term investment, but the payoff is a consistent stream of home improvement leads. However, you have to do this the right way — you can't put just anything on your blog and expect it to rank well in search engines and bring in qualified leads.

Effective home improvement blogs answer questions. By brainstorming and doing keyword research, you can gain an understanding of what your prospects want to know. Then, you can deliver that information to them via your blog. This allows you to build trust with your audience by educating them and positioning yourself as the expert.

If you're having trouble coming up with ideas, turn to Google. Search a term related to home improvement services, such as "remodel a home," and scroll down until you see the box labeled "People also ask." There, you will see a list of questions, and if you click on one, similar questions will appear at the bottom of the page. These questions come from actual user searches on Google, so if you answer these questions on your blog, you have a good shot at capturing some search traffic that could turn into qualified leads.
Build a referral program
In home improvement lead generation, a referral program can be the gift that keeps on giving. That's because you can turn one job into several jobs if you do great work and offer the proper incentives for referrals.

You can structure a referral program in a number of ways, such as the following:
Simply ask customers if they know of anyone who is looking for services similar to yours.
Offer a discount to customers who are referred to you by your past customers.
Offer a discount to current customers who are willing to make a referral.
People trust their friends and family members to recommend high-quality products and services. You can capitalize on that trust by building a strong referral program that brings in sales.
Frequently Asked Questions About Home Improvement Leads
How can I get exclusive home improvement leads?
Exclusive home improvement leads can come from a variety of the sources we have discussed so far in this post. Examples include paid advertising, a referral network, and positive online reviews.
Can I buy home improvement leads?
You can buy home improvement leads on several platforms, but keep in mind that these are likely to be the most expensive leads on the market. Because there are so many free and inexpensive home improvement lead generation methods, make sure you will see a good return on your investment before you spend money on the paid route.
How much do home improvement leads cost?
The answer to this question will depend on the specific field you are in, the size of the potential job, and the lead generation method you use. For example, qualified leads for an entire home construction project will be a lot more expensive than leads for a smaller remodeling job. Another factor is whether you are buying exclusive home improvement leads or shared leads. Shared leads will cost less, but you are less likely to get the job.
Where can I get free home improvement leads?
Free home improvement leads are available, but you will have to work for them. By beefing up your online presence, setting up referral partnerships, and doing the best work, you can encourage free home improvement leads.
Use the Right Technology to Close More Leads
Once you get a lead, how do you close it? Success is convincing the prospect that you can not only do the job, but do it beautifully. Here's how you can make your case: Use software that reveals the brilliance of your designs. Cedreo is the software that can help you do that.

Cedreo is a home design software that allows you to:
Create photorealistic 3D renderings
Make plan revisions on the spot with clients
Create and store several versions of your plan
Save projects as templates that you can repurpose in the future
The faster you complete designs, the more projects you can close. The more projects you close, the more revenue you bring in. That's how Cedreo helps home builders, remodelers, and other contractors take their businesses to the next level.

Ready to see what Cedreo can do for your business? You can try our platform 100% free of charge. Click here to get started.